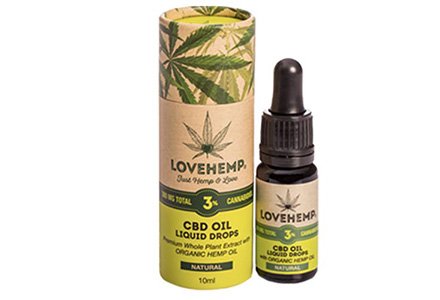 Love Hemp is one of those names that anyone who's living in the UK and has ever looked for some high-end CBD products has surely heard about. Well, whether you've heard about the company or not, in this Love Hemp review, we'll try to figure out all of the ins and outs of the brand in question, and see if the products offered by this particular company are worth checking out.
As per usual, we'll cover both the pros and the cons of Love Hemp CBD. This way, you'll be able to "get the full picture", and decide if the CBD oil products offered by the company are even worth your attention.
TL;DR: Customer Love Hemp reviews are going to tell you that the company offers some of the highest-end CBD products in the UK. They are all thoroughly and independently-tested, are THC-free, yet still derived from full-spectrum hemp. That said, you should note that the prices of the oils are going to be very high, and that the product selection is pretty limited, too.
Pros
UK-made CBD products
US-grown hemp
Full-spectrum CBD products
CO2 CBD extraction
Cons
Expensive
Comparatively small product selection
Some confusion regarding the "full-spectrum, yet THC-free" ordeal
Love Hemp Review: PROS
A single look at Love Hemp UK's official website will show you that the company deals in a few different CBD products - that's true with both the oils, and other types of cannabidiol-based products, too.
Having said that, though, in this Love Hemp review, we'll focus on the "CBD Oil Liquid Drops" sold by Love Hemp. Judging by other customer Love Hemp CBD oil reviews, this does seem to be the most popular product as far as oils go, and it does come in a few different potency options, too.
Thorough, Independent Lab Tests
One of the most important aspects when you're trying to find a reliable CBD provider has to do with independent lab testings.
Lab tests happen when a CBD provider goes to some independent, third-party (that's very important - more on that in a minute) laboratory in order to test their products before putting them up for sale. The tests would include everything from the quantities and amounts of CBD and THC, all the way up to checks for some potentially-harmful materials, such as pesticides, heavy metals and other toxins.
Any and all customer Love Hemp reviews are going to tell you that lab tests are an essential part of any CBD provider that wants to be seen as reliable - it makes perfect sense. Still, as noted above, the "independent" part of the testing process is simply crucial.
When a CBD company tests their products independently, you can be sure that there isn't going to be any foul play involved. There are actually CBD providers out there that simply pay off some labs, or "test" their products within their own, in-house laboratories - needless to say, the results of such tests are always going to be skewed to favor the provider.
I'm very glad that, in this Love Hemp review, I'm able to state that Love Hemp UK does, in fact, test all of their CBD products independently, with third-party labs. On top of that, the company in question actually takes it a step further - they utilize the HPLC analysis with their CBD oils.
HPLC stands for "High-Performance Liquid Chromatography". In layman's terms, this simply means that the tests performed on the CBD oils of Love Hemp are more accurate and precise than most other, similar processes. This is great, since it assures you - the potential customer - that the results are going to be up-to-standard, and that the quality of the CBD oils is truly top-tier.
Full-Spectrum CBD Oil… Yet "THC-Free"?
Now, no matter where you go online to read customer Love Hemp reviews, this is surely going to be one of the main points that are brought up about the company in question, and it's CBD products - the whole "full-spectrum" debate.
Let's get the confusion out of the way, first.
I'll elaborate on this a bit more as we progress through the Love Hemp CBD oil review, but the general idea is that full-spectrum CBD products are always going to contain some amounts of THC - them being THC-free is simply impossible.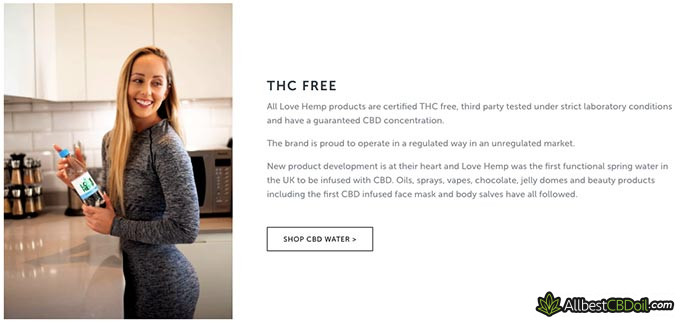 Anyone who knows this probably thinks - OK, so Love Hemp is straight-up lying to their customers?
Well, no, not really. From what I can they are simply using clever language.
You see, "THC-free" could mean exactly that - devoid of any traces of THC. However, it can also mean something else - if the products don't breach a certain line that signifies the amount of THC, the can be considered "THC-free", even if there are some traces of the cannabinoid within the end product.
To put it simply, Love Hemp's products contain so little THC that they can, in fact, be considered "THC-free". Now, let's tackle the actual "full-spectrum" part.
I mention this in every CBD brand review that I write, but there are three types of CBD products that you can encounter when shopping for CBD online - isolates, broad- and full-spectrum ones.
CBD isolates are pure CBD products that contain no other cannabinoids except for cannabidiol. Broad-spectrum products are those that have multiple different cannabinoids in their composition, but are completely THC-free (like, really THC-free - meaning, they don't contain any traces of THC, whatsoever… Most of the time. It's quite complicated and case-dependent).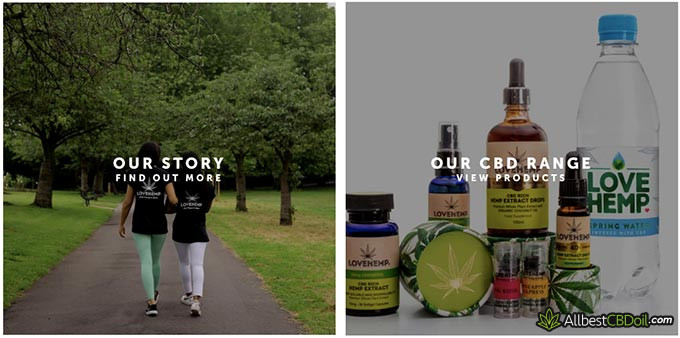 Finally, full-spectrum CBD products are the ones that we're covering in this Love Hemp review, too. These products contain a wide range of cannabinoids (hence the "full" tag in the name), including some traces of THC. They are also the most potent and effective of them all - once you've figured out how to use CBD safely[1], and would like to get the full experience, these would be your go-to products.
And, as noted earlier in this Love Hemp CBD article, that's exactly what the company in question offers to its customers, too.
US-Grown Hemp, CO2 Extraction Method - High-Quality Products
The quality of a CBD oil product depends on a number of different factors. None of them is more important than the other - everything from the hemp growing and farming location, all the way to the production procedures, extraction and additional addons makes a difference.
Truth be told, this Love Hemp review is a prime example of that, too. Judging by the vast majority of customer Love Hemp CBD oil reviews, the company surely does deal in some of the highest quality CBD products on the UK market.
What makes Love Hemp CBD oils stand out? Well, for starters, the company grows and farms its hemp from within the US. While the United States sure does have some strict regulations regarding industrial hemp, it's also one of the more popular places to grow industrial hemp, especially in the state of Colorado (Love Hemp grows their hemp there, too).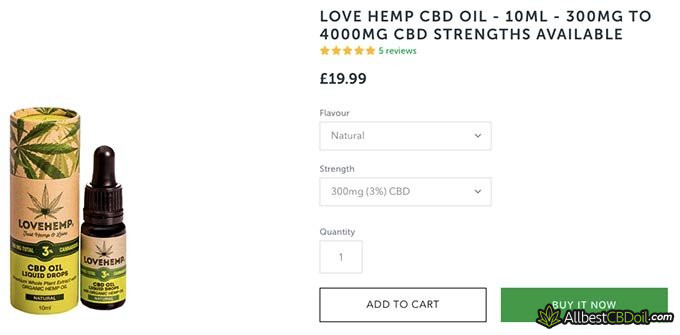 The brand in question also utilizes the CO2 extraction method in order to extract the actual CBD out of the hemp plants. Without a doubt, CO2 is the best extraction method to utilize - it guarantees quality and, more importantly, purity of the cannabidiol in the end product.
Any way you look at it, it's pretty clear - Love Hemp UK surely does provide its customers with some superb-quality CBD products, be it the oils, or anything else.
Love Hemp Review: CONS
So - we've figured out some of the most well-known and important benefits that you'd receive if you choose Love Hemp as your go-to CBD product provider. That's great and all, but a Love Hemp review wouldn't be complete without referencing some of the more notable complaints that customers have regarding the company and its products, too.
Truth be told, there aren't all that many complaints to talk about - the vast majority of customer Love Hemp reviews that can be found online are actually very positive towards the brand. Still, there are a few things worth mentioning, nonetheless.
Products May Not be Legal in Some Countries
Anyone looking to buy CBD oil from Love Hemp can rest assured that it's going to be completely legal… In the UK. When it comes to some other countries within the European Union, however, things might no be as smooth as you'd expect.
THC being a psychoactive substance, it's no wonder that it's banned in many countries around the world, altogether. Having said that, cannabidiol isn't completely off the hook, either (although there are still debates about whether the substance should be considered psychoactive or not[2]) - while CBD isolates are going to be legal in more countries than, say, full-spectrum CBD products, it may still face trouble in others.

Granted that Love Hemp sells full-spectrum products, well… Let's just say that, if you're looking to buy some CBD products outside of the UK, you better do some prior research and figure out whether or not CBD is legal within your country of residence.
Online, there are some customer Love Hemp reviews that appear to be saddened by this very same fact - sure enough, it does limit the availability of the brand's products, and who can buy them. The whole "full-spectrum, but THC-free" ordeal is really confusing, too - it throws a lot of people off, since the brand doesn't even take the time to give a formal explanation in an easily-understandable way.

Did you know?
Lack of Product Variety
This is yet another popular complaint that you may see floating around in some customer Love Hemp reviews.
If you're a CBD industry newcomer, then Love Hemp is going to have all of the necessary items for you to start off - this is especially true seeing that most people who want to try CBD out for the first time choose the oil route, either way.
The same, however, cannot be said about industry veterans - people who have been using CBD products for a long time already, and now want to try Love Hemp's products out.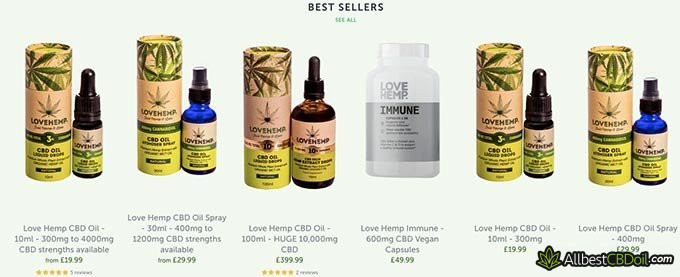 Thing is, Love Hemp truly does have a pretty limited stock of CBD products for sale. It includes oils, edibles, cosmetics and vaping - that's it. No lotions, no gummies, no pet products - in other words, some of the most popular CBD product variations that are offered by most other high-end brands are missing.
Again - just how much of an issue this is will depend solemnly on what it is that you want. Still, it's worth keeping in mind, nonetheless.
Price
Pricing is also one of those things that many customer Love Hemp reviews aren't too happy about.
In fact, you could go as far as to say that the vast majority of complaints and negative feedback towards Love Hemp come from the fact that the price tags of the brand's products are "outrageous".
Is that really the case, though? Well, let's take a look for ourselves - these are the prices fo the CBD oil offered and sold by Love Hemp, on the brand's official website:
Well, it's probably quite self-evident - the prices really are quite high. Needless to say, this is that one, single factor that can turn away a lot of otherwise-potential customers from the company and its products.
Here is The Best CBDistillery Offer I Found:
30% Exclusive Discount
On All CBDistillery Products
You have an exclusive chance to save 30% on your CBDistillery order. Grab this limited-time promo code & enjoy top-rated CBD products!
Expiration date: 13/12/2023
931 People Used
Only 37 Left
Conclusions
So, as a final note, what's my own, personal opinion on Love Hemp - would I recommend it?
I mean, I would, but it's not going to be for everyone.
Quite evidently, the company is a high-end CBD product provider - that's obvious from reading other customer Love Hemp reviews, too. Independent lab tests, high-quality industrial hemp from Colorado, quality full-spectrum CBD oils - you name it!
Having said that, though, Love Hemp still lacks product variety on their site, which can turn potential customers away from the brand. The thing that's even more likely to do so, however, is the price tags - they truly are some of the higher ones out there.
If you're somewhat on the edge about Love Hemp, and aren't quite sure if this particular company (or its products) are for you, you can also check out our list of the best CBD oils in the UK. Perhaps the perfect alternative is waiting for you there?
Please keep in mind, though, that before you start using any CBD-based or related products, you should always consult with your family doctor. While I can tell you about the general collective feeling that most people have about certain CBD providers, this information should never substitute that of professional advice.
Scientific References

1. Kerstin Iffland, Franjo Grotenhermen: 'An Update on Safety and Side Effects of Cannabidiol: A Review of Clinical Data and Relevant Animal Studies'
2. Federica Pellati, Vittoria Borgonetti, Virginia Brighenti, et al.: 'Cannabis sativa L. And Nonpsychoactive Cannabinoids: Their Chemistry and Role Against Oxidative Stress, Inflammation, and Cancer'
Leave your honest Love Hemp review
Leave your genuine opinion & help thousands of people to choose the best cbd. All reviews, either positive or negative, are accepted as long as they're honest. We do not publish biased reviews or spam. So if you want to share your experience, opinion or give advice - the scene is yours!