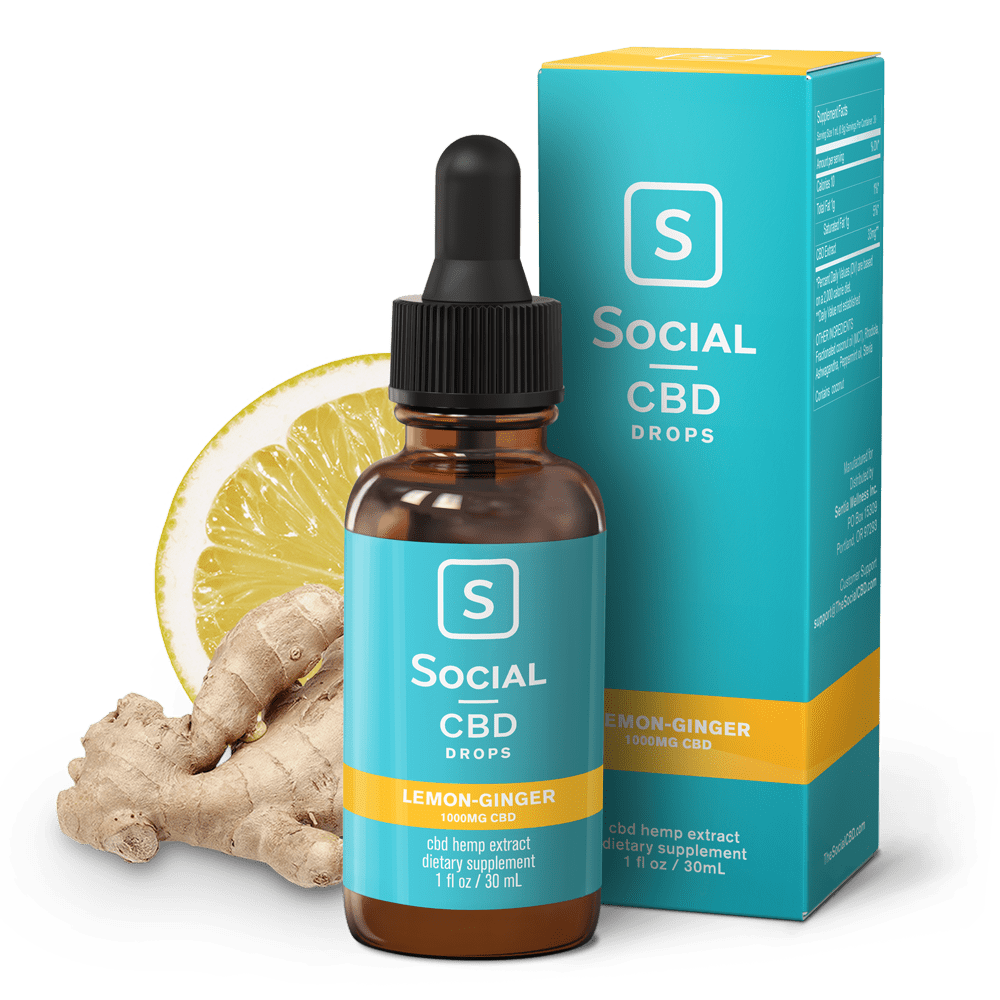 As you may or may not have noticed already, CBD is an ever-growing phenomenon. Every single day, an increasing number of people are discovering CBD, and all of its contentious benefits. In this Social CBD review, we'll take a look at a brand that deals in some high-quality broad-spectrum CBD products.
Now, just to let you know in advance, if you were looking for Select CBD reviews and "somehow" ended up here, in a Social CBD review, that's because it's the same thing - the company has rebranded, but has brought all of its values and products over to the new brand.
Even though Social CBD has potential, there are top-rated brands that have been in the industry for years and know what it is exactly that customers are looking for. Such brands include cbdMD, Charlotte's Web and CBDistillery.
Table: cbdMD, Charlotte's Web and CBDistillery comparison.
TL;DR: Customer Social CBD oil reviews are mostly positive towards the CBD oil provided by the company. The brand itself sources its hemp from within the US, and offers potential customers an array of products, stretching from CBD vape pens all the way up to the most popular - broad-spectrum CBD oil drops.
Pros
Broad-spectrum and CBD isolates
Hemp grown in the US
Good pricing
Third-party lab-tested
Cons
Some reports about long shipping processes
Isolates might not be potent enough for some customers
Social CBD Review: PROS
In the TL;DR section of this Social CBD review, I've mentioned that the brand offers its customers a somewhat wide variety of products to pick from. While this is something that we'll discuss briefly down the road, the article itself will focus on the pure Social CBD drops and broad-spectrum drops, since they seem to be the most popular products from the company, to date.
Hemp Grown in the US
Admittedly, this is likely to be one of the very first things that you notice mentioned in multiple customer Social CBD reviews.
As you may know, CBD - in other words, cannabidiol, - is extracted from the hemp (cannabis sativa) plant. To be more specific, from its stem, leaves, and other parts - except the seeds (that's where you'd get hemp oil from).
Now, when it comes to growing hemp for CBD extraction, it's a pretty important topic, and one that many companies that have their farms based in the US try to emphasize. You see, depending on the location, there are going to be different regulations in place - if your hemp is grown in the US, you can rest assured that it's going to be in-line with the US Hemp Farming Act.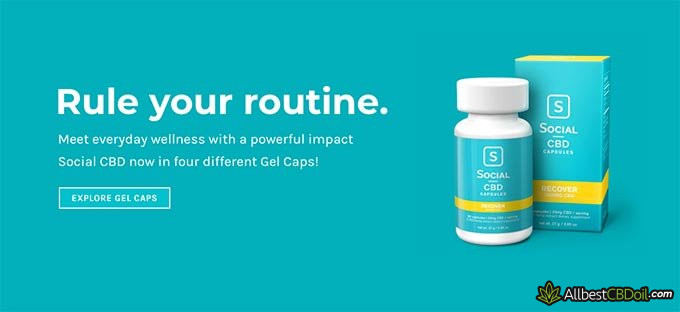 To add to that, if you see that the hemp plants from which your CBD products come from are based out somewhere closer to home, it adds to the legitimacy of the brand, too. If you were to come across a company that claims to grow their hemp overseas, it likely won't inspire much confidence, since you can't really be sure about the intricacies of the farming procedures there.
Sidenote - some trustworthy brands do supply their hemp from overseas, namely - from Scandinavian countries. These can be considered an exception to what we've talked about above, since the countries in question do have strict hemp farming laws in place.
With all of that said, let me be frank - in this Social CBD review, I'm glad to be able to say that the company does grow its hemp within the US. Oregon, to be exact - all the way on the west side of the country.
While cannabis has been used from the early days of the humankind[1], it's still a very contentious topic, to this very day. Customer Social CBD reviews will tell you that it's pretty good to at least be able to know that the brand sources its hemp locally.
Independently-Tested Products
Yet another point that adds to the legitimacy to the brand in this Social CBD review, the company's products are tested by third-party labs. Now, why is that important?
Lab tests help everyday-CBD-users learn more about the products that they are purchasing and trying out. These tests are conducted in order to reveal if the brand uses any malicious chemicals within the production processes, and if there's any other fishy business going on behind the curtain.
Believe it or not, but this is actually a more common occurrence than you'd think. There are some companies out there that are willing to cheat their way into coercing you to purchase their less-than-ideal products - keep an eye out for those!

That said, the term "third-party tested" is to be noted here, too. While it's not an issue in this Social CBD review, you should make sure to only purchase your cannabidiol products (whether it be vapes, oils, topicals, or else) from brands that have their stock INDEPENDENTLY tested.
Third-party testing means that there isn't likely to be any "picking favorites" happening in the background - I mean, how would you feel if a lab owned by the CBD company comes out and says that the company's products are "perfect"? Not very confidence-inspiring, that's for sure.
Yet again, let me reiterate - customer Social and Select CBD reviews note how the brand tests their products independently. Honestly, you can access the test results at any given time, too - just request them from one of the pages on the brand's official website.
CBD Isolates VS Broad-Spectrum
I've hinted at this at the beginning of this Social CBD oil review, but the company offers customers two kinds of products - pure ones, otherwise known as CBD isolates, and broad-spectrum ones. Both are available in the form of CBD drops, and seem to be of equal popularity.
That said, they are both very different from one another, too.
CBD isolates are products that contain (quote, unquote) "pure cannabidiol". This means that you won't find traces of any other compounds within the product - it's going to come in the purest form possible. The tradeoff here, however, is that CBD isolates tend to be less potent than their broad- and full-spectrum counterparts.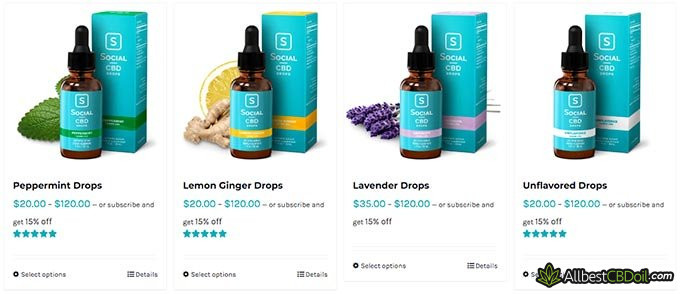 Broad-spectrum CBD products are usually considered to be the "middle ground" between isolates and full-spectrum products. They are popular because of the "entourage effect" - a mixture of the different compounds together with the actual, pure form of cannabidiol that creates an enriched user experience.
If you're looking for full-spectrum CBD products, there are 3 highly-recommended brands that you should check out: cbdMD, Charlotte's Web and CBDistillery.
Table: cbdMD, Charlotte's Web and CBDistillery comparison.
The product of choice depends solemnly on your own, personal wants and needs. Some people prefer the isolates, others just want as potent of an experience as possible - customer Social CBD reviews will tell you that this is exactly what you can expect out of the broad-spectrum drops.
A Pretty Good Selection of Products
Admittedly, this might be a topic that's not exactly "essential" when it comes to looking for and reading through Select SBD reviews. Still, it's a pretty cool point to keep in mind, nonetheless.
Social CBD might not have the widest product selection out there, but there are still a few different options to pick from. Naturally, the most popular of them are the already-discussed Social drops (pure CBD) and the broad-spectrum drops.
In addition to those, you can expect to find vape pens, topicals, caps, and even CBD oil that's designed for your pets. Some of the products are even available in bundles that will save you some money in the long run.
Not many Social CBD oil reviews mention this, but the company seems to have checked all of the main, most-common product checkmarks out there. While there are countless methods of using CBD nowadays, the most popular ones are still oil drops, vaping and various topicals.
Social CBD Review: CONS
Even though the vast majority of customer Social CBD reviews are more than positive towards the brand, there are still some notable customer complaints that we should address, too. One of the bigger of these complaints has to do with the potency of some of the products.

Did you know?
Isolates Might Lack Potency
As explained earlier on in the Select CBD review (or Social - remember, they are the same company!), the brand offers customers a few different kinds of products, with CBD isolates being at the forefront of them all.
Well, given that isolates are the purest form of CBD, they are also the weakest when it comes to feeling the effects, too.
This isn't anything "game-breaking", though - no matter which brand it is that you go with, if it provides isolate products, you're always going to find customers complaining about the potency. All that you'd need to do is increase the amount of the CBD product that you take, or simply choose another version of it, altogether.
And this is the other thing, too! Many brands that sell CBD isolates are exactly that - isolate-exclusive brands. If you find that an isolate is too weak for your own liking, all that's left to do is change the actual provider.
As you might have gathered from this Social CBD review, however, the situation is different with the company in question. Frankly, if you're not a fan of the Social drops, you can always go with the broad-spectrum ones, instead.
Reportedly Long Shipping Periods
While this doesn't really have anything to do with the actual quality of the products offered by the company, it's still an annoyance that some customers have expressed.
It would seem that many of the Social CBD reviews, while being positive, in general, do note that the shipping of your products can take a while. This, however, is a bit of a difficult topic to discuss.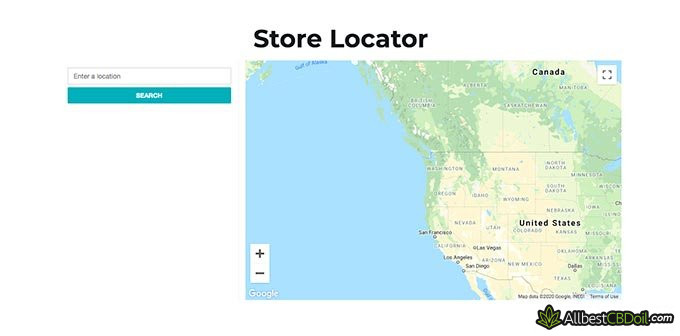 Why is that the case? Well, shipping doesn't only depend on the product provider, but also on a huge array of other variables, too - the post company, time of the year (holiday seasons?), product delays, and so on.
That being said, there's still the fact that this doesn't seem to be a one-off thing - there are multiple complaints from different customers regarding the shipping times. Again, not exactly related to the quality of the products, but still something that can be an annoyance, for sure!
Price
As mentioned earlier, Social CBD does sell a few different kinds of products - that said, we'll focus on the price tags of the two main ones in question.
The prices for the natural-flavored broad-spectrum CBD drops are:
You can also subscribe for a monthly delivery, and get a 15% discount on all of the above-given prices.
As for the pure CBD Social drops, there are four different flavors that you can choose - peppermint, lemon ginger, lavender and unflavored. The prices all range from $20 up to $120, with lavender being the one exception (prices start at $35).
In all honesty, the prices are definitely in-line with the customer-reported quality of the products! Furthermore, you'll also receive a chance to get yourself a refund in the first 30 days after you bought the products. It does have to be unopened and undamaged, though.
Here is The Best CBDistillery Offer I Found:
30% Exclusive Discount
On All CBDistillery Products
You have an exclusive chance to save 30% on your CBDistillery order. Grab this limited-time promo code & enjoy top-rated CBD products!
Expiration date: 04/10/2023
931 People Used
Only 37 Left
Conclusions
Research shows that, at some point in their lives, approximately 10% of people are going to be affected by post-traumatic stress disorder - PTSD[2]. This is just one of the disorders for which CBD is often considered to be one of the best mitigators, because of its calming and soothing abilities.
Judging by the majority of the customer Social CBD reviews, it would seem that the company truly does provide some high-quality, independently-tested CBD products. You'll find pure and broad-spectrum CBD drops, vape pens, topicals, caps and pet oil - all extracted and produced from hemp grown within the US.
The only notable complaints that some customers have towards the brand in question have to do with the potency of the isolates, and the shipping length. Both of these topics, however, have pretty strong counterarguments.
If you're still not sure about Social CBD, and would like to check out some other CBD brands and products out there, you can take a look at our list of the best CBD oil products of the current year. Who knows - perhaps the perfect brand (or product, or both) for you is somewhere on that list?
Keep in mind that it's recommended to check out top-rated brands, such as cbdMD, Charlotte's Web and CBDistillery first. They're reliable, popular and rated as truly effective.
Table: cbdMD, Charlotte's Web and CBDistillery comparison.
All of that said, I hope that this Social CBD review was useful to you, and that you now know more about the company, and the topic of CBD, in general. Remember - Social CBD is the same company as Select CBD, only rebranded. So, if you were a loyal customer of Select CBD, all that's changed is the company name - you can expect the same quality.
Thanks for reading, and until next time!
Please keep in mind, though, that before you start using any CBD-based or related products, you should always consult with your family doctor. While I can tell you about the general collective feeling that most people have about certain CBD providers, this information should never substitute that of professional advice.
Scientific References

1. Emilio Perucca: 'Cannabinoids in the Treatment of Epilepsy: Hard Evidence at Last?'
2. Rafael M. Bitencourt and Reinaldo N. Takahashi: 'Cannabidiol as a Therapeutic Alternative for Post-traumatic Stress Disorder: From Bench Research to Confirmation in Human Trials'
Leave your honest Social CBD review
Leave your genuine opinion & help thousands of people to choose the best cbd. All reviews, either positive or negative, are accepted as long as they're honest. We do not publish biased reviews or spam. So if you want to share your experience, opinion or give advice - the scene is yours!