With CBD consumption being a common, everyday theme now, people are constantly looking for the next best way of how they could consume their beloved products. Methods that allow you to use CBD "on the go" seem to take the lead - everything from vaping to gummies and chews are rising in popularity. And today, we'll talk about the best CBD gummies.
We'll take a look at 7 of the most popular brands that sell the best CBD gummies for pain, sleep and everything in between. The 7 brands are, as follows:
Best CBD Gummies
Now, the way that we'll go about this is by taking a look at each of the best CBD gummies brands individually. Naturally, the companies all have something special about them - perhaps their products are the best CBD gummies for anxiety, or they use some sort of a special CBD extraction method.
Don't worry - we'll cover all of that in the list to come. So, without further ado, let's dive straight into it.
Ranks #1 out of 7 CBD Oils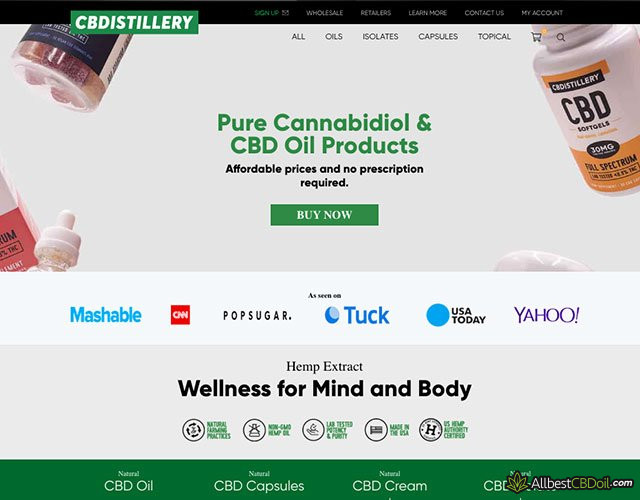 Things we liked:
+ Plenty of products to pick from
+ CBD oil tested with 3rd party labs
+ The company uses coconut oil as the CBD oil base
Things we didn't like:
- Some people complain about the potency of CBDistillery's products
- No official information of where the hemp is located
CBDistillery frequents many top CBD lists - gummies are just one of them. The company has managed to establish a good name for itself in the industry - a few different reasons contribute to that.
First of all, you'll notice that quite a few customer CBD gummies reviews mention the fact that CBDistillery tests their products with independent, third-party labs. While that has become a common practice among the top-tier CBD providers around, it's still a big deal!
Third-party lab tests show that the company is transparent in what they do, and do not try to hide anything from their customers. If there's a problem with the products that the brand provides (i.e. they're full of pesticides or some heavy metals), the test results will display exactly that.
As far as gummies are concerned, CBDistillery sources them from non-GMO, organically grown hemp. The company is keeping it natural all the way - that's already a good sign!
You'll find that there's a dose of some 30mg of cannabidiol within each and every gummy - that's a pretty good dosage as far as most of the user CBD gummies reviews are concerned!
What is the Price of CBDistillery Gummies?
The original price of the vegan CBDistillery's gummies is $70. As of writing this list, however, there's a $10 discount going on - you could grab yourself a can of 30 gummies for $60 bucks.
While not being the cheapest option around, CBDistillery is still a huge player in the market of the best CBD gummies. Furthermore, people really do seem to love the brand and its chews - consumers often talk about how CBDistillery's gummies are the best CBD gummies for sleep and stress relief.
Ranks #2 out of 7 CBD Oils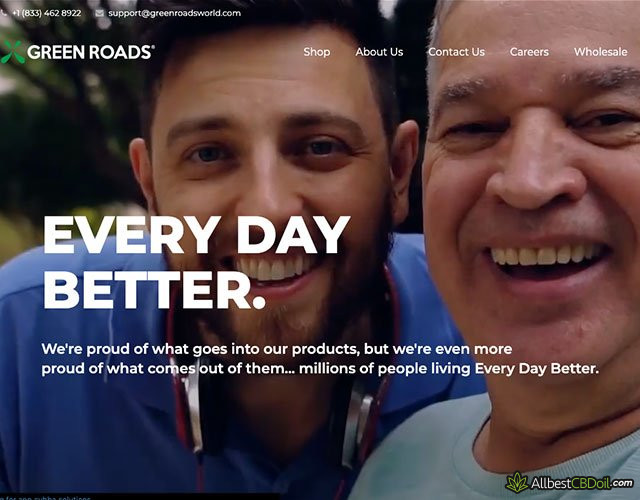 Things we liked:
+ Harvested in Colorado, processed in Florida
+ Undetectable amounts of THC
+ High concentration of CBD
+ Organic hemp
Things we didn't like:
- Shipping might be unpredictable
- Some people don't like the taste
By now, Green Roads is a household name of the CBD industry - everyone who's ever browsed through the various CBD reviews has definitely come across the company once or twice before.
So, what's so cool about Green Roads? Well, as the name probably implies, the brand is definitely a health-conscious one - it constantly has its products tested by 3rd party laboratories, and grows their hemp within the US.
US-grown hemp is regulated by the United States Department of Agriculture. This is an important factor, since it guarantees that your products come from clean, pesticide-free hemp, and that there's no fishy business going on with the harvesting processes.
Furthermore, on the topic of hemp harvesting and management, Green Roads utilize what is known as the "CO2 extraction method" to extract cannabidiol from their hemp. It is widely accepted as the best form of CBD extraction - something to take into account when looking for the best CBD gummies for pain, sleep and everything else.
What is the Price of Green Roads' Gummies?
Green Roads offers its customer a really wide range of choices as far as the best CBD gummies are concerned. Their most popular product (according to user CBD gummies reviews, at least), though, appears to be the gummy bears. They come in a box of 30, with each having 10mg of CBD within them.
While not being the strongest potency gummies out there, it would seem that they are still beloved by many Green Roads customers.
Ranks #3 out of 7 CBD Oils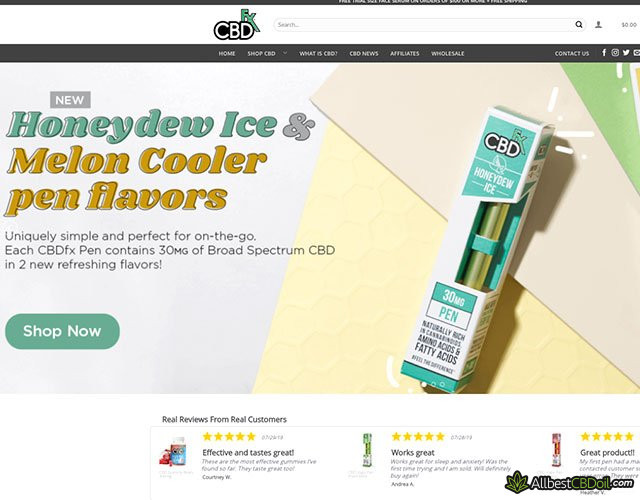 Things we liked:
+ Huge range of products
+ Independent lab tested
+ Organically-grown
Things we didn't like:
- Little information about the company
CBDfx prides itself on the fact that it offers customers broad-spectrum CBD products (gummies included).
When it comes to CBD, there are two main types of products that a company can offer - full-spectrum and pure. Pure CBD refers to CBD isolates - these do not contain any additional additives within them, and are thus completely free (at least in theory) of THC - a drug-substance that's found in cannabis.
There's a downside to that, however.
Pure CBD products are generally seen as less-potent than full-spectrum ones. Since people like to feel the effects of their CBD, most commonly they choose to go the full-spectrum route.
However, if you need the best CBD gummies for sleep or any other non-severe condition, there's also a third option - broad-spectrum CBD products.
CBDfx offers its customers just that - CBD gummies that aren't exactly "pure", but that should also contain less THC than the 0,3% legal limit.
What is the Price of CBDfx's Gummies?
CBDfx stocks multiple different types of their best CBD gummies. You'll even find specific melatonin CBD chews that are considered to be the best CBD gummies for sleep - that's rather cool!
Depending on what it is that you want and need, the prices are going to range from $9,99 up to $99,99. Honestly, this makes sense - most CBDfx customers agree that these prices are adequate to the quality of the products sold by the brand.
Ranks #4 out of 7 CBD Oils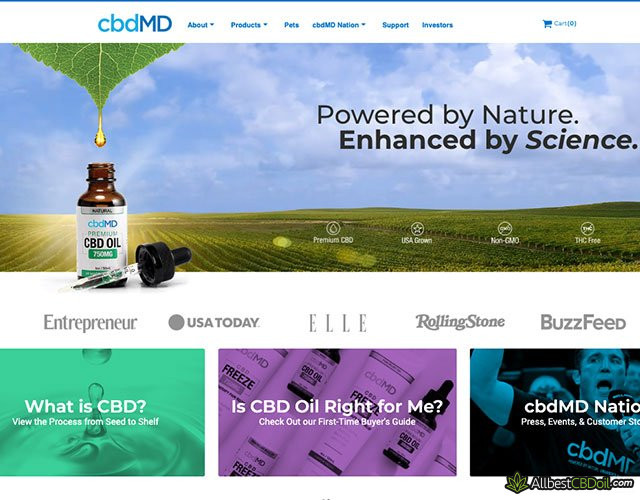 Things we liked:
+ Different CBD concentration levels
+ Full-spectrum CBD oil
+ Products tested by a third-party lab
+ Hemp sourced from the US
Things we didn't like:
- Not enough information on certain claims
- Some customers talk about the taste not being up-to-par
- User reports on bad customer support experiences
cbdMD is one of the less-known CBD providers on this list, but that doesn't mean that the company offers less-than-good products.
The brand has earned a reputation for being trustworthy and reliable. They test their CBD stock with independent labs, grow their hemp in the US and are transparent with their production practices.
As far as their "best CBD gummies" are concerned, the company seems to keep it simple. You'll find that they sell two different types of gummies - 300mg and 750mg ones. These two potency options are seemingly enough to satisfy everyone, whether they're looking for the best CBD gummies for anxiety or stress relief, or insomnia and pain alleviation.
What is the Price of cbdMD's Gummies?
Just as with their stock options, cbdMD keeps their pricing simple. The 300mg version of their gummies is going to cost you $29,99, and the 750mg version totals out at $69,99. That said, they are currently running a promotion for the latter - there's a $10 discount available.
Even without the discount, cbdMD really does not charge an arm and a leg for the gummies! It's definitely one of the cheaper options around for the best CBD gummies for anxiety, insomnia and pain - customer CBD gummies reviews seem to agree.
Ranks #5 out of 7 CBD Oils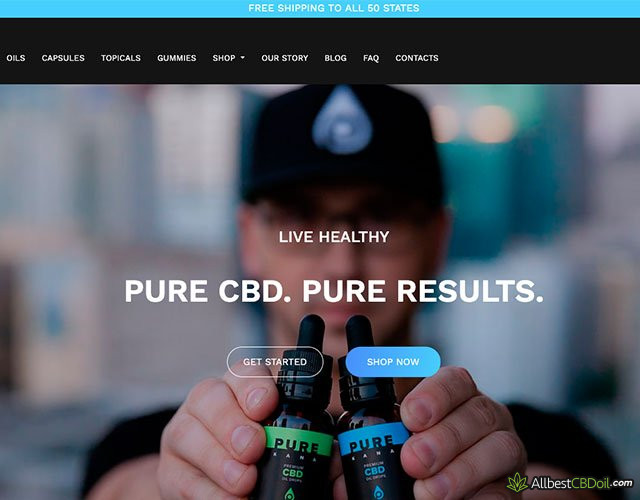 Things we liked:
+ Good for people who are new to the CBD industry
+ 30-day refund policy
+ A wide variety of products
Things we didn't like:
- Might be a bit weak for experienced CBD users
- Bigger CBD oil bottle sizes might get expensive
- Some reportedly bad customer experiences
Ahh, Purekana - a really interesting CBD provider with some hard-earned reputation.
Purekana has managed to garner itself a reputation of being a very beginner-friendly brand - this means that if you're just starting out with CBD and are searching for your first product, chances are that Purekana's going to be one of the best options for you.
Now, it's worth mentioning that this reputation mostly stems from their CBD oils - the company has a wide selection of potencies available, and is thus loved by industry newcomers and veterans alike. That being said, their gummies aren't really an exception - Purekana promises organic, vegan-friendly gummies.
It is worth mentioning that there's a significant amount of user Purekana reviews that talk about how the company's CBD products have helped people cope with their anxiety and sleep disorders.
Now, seeing as the effects of CBD still haven't been properly proven, this shouldn't be taken at face value. That being said, the fact that people have collectively noticed the effects of the CBD gummies, oils and other products provided by Purekana should still serve as a waypoint for how the company operates.
What is the Price of Purekana's Gummies?
Purekana keeps things extremely simple with their version of the best CBD gummies. There's only one product available - CBD Vegan Gummies with a potency of 25mg each.
A can of these gummies is priced at exactly $40. The pricing seems completely fair, given that 25mg of CBD is on the bigger side of potency as far as gummies are concerned.
Ranks #6 out of 7 CBD Oils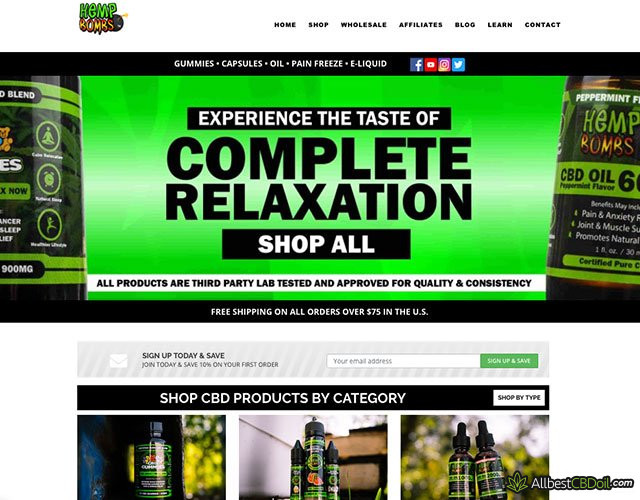 Things we liked:
+ CBD isolates - a THC-free brand
+ Potent
+ Hemp sourced from EU
+ Third-party lab tested
Things we didn't like:
- CBD oil could have more taste choices
- Customers claim that effects take a long time to kick in, since it's a CBD isolate, and not full-spectrum product
As the name might imply, Hemp Bombs is one of the more potent brands on this list. While they follow a strict no-THC rule, you would have a pretty difficult time finding significant complaints that would be aimed at the potency of their products.
Hemp Bombs source their hemp from the EU. That's the only company on this list that grows and ships their hemp from overseas. While this might seem like a cause for suspicion for some, Hemp Bombs assure people that all of the products are tested by independent, third-party labs.
The company is also pretty well-known for the range of their product selection - while they don't offer such oddities as CBD-infused toothpicks (I'm looking at you, Purekana), there should still be enough of choice for every CBD enthusiast.
What is the Price of Hemp Bombs' Gummies?
Judging by their customer reviews, it would seem that the most popular gummies that Hemp Bombs has to offer are the 5-count ones. These are 5 gummies with a CBD potency of 15mg each, and they total out at $14,99 per pack.
$14,99 per pack of 5 gummies seems like a completely reasonable price. Hemp Bombs have decided to go on the lower end of the potency spectrum, offering 15mg of CBD per gummy, but this does not appear to be a problem for most.
Ranks #7 out of 7 CBD Oils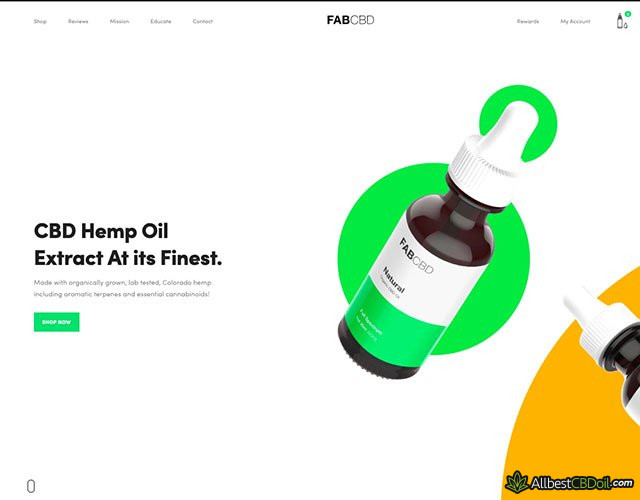 Things we liked:
+ Third-party lab tested products
+ GMO-free
+ Vegan-friendly
+ Hemp grown in Colorado
Things we didn't like:
- Small product selection
- Might not be potent enough for some
Fab CBD is, undoubtedly, the least-known brand on this list. This might have something to do with the fact that they have a pretty small CBD product variety, but it definitely does not reflect the quality of the products that they do have.
Fab CBD focuses on providing its customers with the best CBD gummies for pain, sleeping and anxiety. The brand, just like the rest of its competitors on this list, tests their products independently, and promises users that the hemp used in the creation of their CBD lineup is grown completely GMO-free and vegan.
The before-mentioned hemp is also grown and processed in the US. Combined with the "third-party-tested" part, this makes Fab CBD to be a pretty reliable and trustworthy brand.
What is the Price of Fab CBD's Gummies?
Fab CBD sells CBD chews - even though they are fruit-flavored, these chews are natural and completely vegan-friendly. They come with a combined potency of 750mg - that's definitely on the higher end of things!
While the original price of Fab CBD gummies is $64, as of writing this list, there's a promotion going on that brings the price down to $59. A perfectly reasonable price for a contender of the best CBD gummies for pain and stress alleviation!
Conclusions
When compared to CBD oil, things like gummies are a recent occurrence in the CBD industry. However, since the demand for alternative ways of consuming CBD seems to constantly grow, there's a big chance that we'll be seeing some other, elaborate ways of consuming CBD pretty soon.
People like gummies because they are discreet, usually taste better than their oil counterpart and are simple to carry around and consume at any given time. CBD providers know this - out of all of the CBD products available, gummies and chews are probably top 3 when it comes to popularity.
I hope that this list of the best CBD gummies and their providers has helped you pick and choose the right provider for yourself. Since gummies don't tend to cost all that much (especially when compared to some of the best CBD oils out there), you could always purchase them from a few providers, and then compare and contrast.
Thanks for reading, and have a good one!
Please keep in mind, though, that before you start using any CBD-based or related products, you should always consult with your family doctor. While I can tell you about the general collective feeling that most people have about certain CBD providers, this information should never substitute that of professional advice.
Leave your honest Best CBD Gummies review
Leave your genuine opinion & help thousands of people to choose the best cbd. All reviews, either positive or negative, are accepted as long as they're honest. We do not publish biased reviews or spam. So if you want to share your experience, opinion or give advice - the scene is yours!