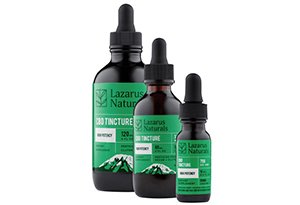 A single look online will reveal that there are a whole lot of Lazarus Naturals reviews that claim this CBD provider to be one of the more popular options as far as decent CBD products go. Well, in this article, we'll try to figure out whether there's any merit to those claims.
Frankly, we'll take a look at some of the more prominent customer and expert Lazarus Naturals CBD reviews. While there are plenty of trolls to go around, we'll focus only on trustworthy, in-depth reviews. By the end, you should have a pretty good idea about the company and the products that they sell.
TL;DR: Lazarus Naturals reviews concentrate on the fact that the company offers a wide range of CBD products to the average user, has a discount program in place and sticks their lab results to their CBD merchandise. However, many people don't like the taste of the CBD oil, and there are some issues with the lab-testing part of the products.
Pros
Organic hemp grown in the US
THC-free
Potent
Friendly customer support
Cons
Taste won't suit everyone
Missing some essential 3rd party lab test information
Lazarus Naturals Reviews: PROS
Let's kick things off on a positive note, shall we? Also, note that the main product that we'll be talking about checking and focusing on is going to be the actual CBD oil (in Lazarus' case - tincture). Many companies nowadays have tons of CBD-related products for sale. However, as it stands today, the old-school CBD oil is still the go-to products for most.
Tested by Third-Party Labs
If you try to google information about 3rd party lab tests that the company performs, you'll find many conflicting Lazarus Naturals reviews that claim pretty different things.
Don't worry - we'll clear everything out ASAP.
The main issue stems from the fact that Lazarus Naturals seems to provide insignificant amounts of information on their lab tests. We'll get to that in a hot minute, but let's first appreciate the fact that there are 3rd party lab tests, in the first place.

You see, while product legality management is a must, companies don't really need to display their test results out in public. Sure, there are certain issues and exceptions with that, but there are also many CBD providers that don't bother with lab tests, in general (some Lazarus Naturals reviews even hint to that).
The company in question, however, doesn't only test their products independently - they also stick the results on each of their products. That's not only "neat" - it helps the customer stay informed, and shows the willingness of Lazarus Naturals to remain transparent in their production and business practices.
Plenty of Different Discounts
While this isn't something that you would find to be a highlight of any of the Lazarus Naturals reviews, I do believe it's a very important aspect to stress.
Lazarus Naturals offers those who struggle financially various discounts ranging up to 60% off.
Now, it's worth mentioning that quite a few companies that deal with CBD products have similar programs in place. Most of the time, these programs are aimed at two groups of people - US military veterans and first responders to an emergency.
It makes sense, though - CBD is believed to work in a way that would help you relax and calm your mind from thoughts. Cannabidiol is thought to alleviate physical pain, help deal with insomnia and anxiety. The before-mentioned groups of people are usually the ones that need this the most.
As Lazarus CBD oil reviews will tell you, though, the company offers discounts to an even wider variety of people.
Once you go to their official website, you'll see the tab "Assistance Programs" at the top of the page. After checking it out, you'll learn how veterans, long-term disability-possessing individuals and people with a low income can apply to get massive discounts for their CBD products.
In all honesty, that's a great thing to do from the company's side of things. The fact that someone might struggle with low income or a long-term (or even permanent) disability can work as major stress amplifiers. And, just as other Lazarus Naturals reviews have pointed out, the company is fully aware of this.
A Wide Selection of CBD Products
At the beginning of this analysis of Lazarus Naturals reviews, I mentioned that the vast majority of the getter-known CBD companies these days have wide selections of products available for you to purchase.
Lazarus Naturals is no different.
Browsing through their online shop, you'll see multiple different products - capsules, tinctures, oils, isolates, pet products, and so on.
Now, you might say - why would anyone need that many different products?
The answer is pretty simple - people have different preferences of how they like to take their CBD.
It is true that oil is the "traditional" route, and frankly, the one that everyone talks about the most. However, some people, for example, can't stand the taste of natural CBD oil. These individuals can then choose from a vast array of possibilities, such as capsules or balms.
These days, CBD oil can even be vaped! Naturally, you wouldn't vape the CBD oil product, but there are companies that sell specifically-designed CBD vape juice - how about that!
Finally, there are pet products, too. While there are people who still view this through a suspicious lense, pet CBD products are becoming increasingly more popular among owners.
Good Customer Support
You know, it's funny - you wouldn't believe the number of people that complain about customer support as far as CBD companies are concerned. I'm not talking about Lazarus CBD reviews, though - rather, some of its competitors. There are horror stories of how impossible it is to get in touch with support, how you have to wait for days on end to get an answer, and so on.
Thankfully, though, from the looks of Lazarus Naturals reviews, things are a bit different with this company. Throughout doing research for the article, I've found very few complaints that would be directed to the customer support department.
Most people talk about how they had a pleasant and communicative experience with support over at Lazarus Naturals. Questions answered, competence proven, little-to-no waiting time for a response - good stuff!

Did you know?
Natural, Vegan Products
One thing that you'll see constantly come up in Lazarus Naturals reviews is the fact that the company is organic to its core - they get their hemp from a source in the US, and guarantee that it's grown in a GMO-free way.
Furthermore, from the process of growing the hemp all the way to the extraction and creation of the final products, everything is kept 100% vegan.

I guess that was kind of coded within the name, wasn't it?
All jokes aside, it seems like it's a pretty big deal! The number of Lazarus CBD reviews that mention how happy people are to be supporting a vegan brand are surprising, to say the least!
Lazarus Naturals Reviews: CONS
Right, so we've discussed the main pros of Lazarus Naturals. By the looks of things, you could say that the company is really playing the A-game, right? Well, we can't really make that conclusion before observing and analyzing some of the more prominent complaints stemming from Lazarus Naturals CBD reviews.
Insufficient Testing Information
Remember when I mentioned that Lazarus CBD reviews are rather two-fold when it comes to the whole "3rd party testing" thing? Ya, well, let's finally talk about it.
You see, Lazarus does have a 3rd party lab test their products - that's true. AND they provide the results with the products they sell - that's also correct. However, Lazarus Naturals reviews notice that the company seems to be rather picky about what results to display, and what to withhold.

Most companies that partake in third-party lab tests tend to provide the full results of these tests. Lazarus, however, focuses on things like purity, but avoids discussing things like agents and solvents.
Now, granted, this might just be a coincidence - that's fully possible! However, with the number of Lazarus CBD oil reviews calling them out on this, it would be impossible for the company to have not noticed and addressed this for so long.
Not the Best-Tasting CBD Oil Around
Let's be frank here - CBD oil isn't something that you would take and say "hm, tastes great, I should really enjoy it!". The vast majority of times, the oil tastes somewhat bitter - while there are people who like that, most would probably frown even imagining it.
Well, If we were to believe the Lazarus Naturals reviews, the oil provided by this company is going to make you frown quite a bit.
It all kind of boils down to the fact that we're talking about an organic company here. Them being organic means that there are no extra added artificial supplements or additives in your tinctures - Lazarus keeps it 100% organic. This, in turn, enhances the taste, which most people deem to be a bad thing.
Price
Pricing is a bit difficult with Lazarus Naturals. The company has many different products in stock, and they don't really talk about a "flagship" CBD oil that they would deem to be their best-seller.
That said, there is one product that, according to some Lazarus Naturals reviews, we should probably focus on - the Flavorless High Potency CBD Isolate Tincture.
The tincture seems to be one of the more popular products that Lazarus has in stock. It's a high potency tincture with a fractionated coconut oil base (that's awesome!), and is THC-free. The tincture is made in the US, was not altered with any GMOs and is completely suitable for vegan use.
All of that being said, there are only two options for you to pick from. Take a look:
Well, one thing's for certain - with these prices, Lazarus is certainly one of the cheapest and most affordable CBD products around. $125 for 3000mg of oil is frankly nothing - there are companies that would charge you four times that amount.
If the flavorless option of the tincture isn't really your cup of tea (it isn't for most), there are some other, naturally-scented CBD tinctures you could choose from - judging from the Lazarus Naturals CBD reviews, the added tastes don't really "save the day", so to speak.
A quick sidenote - throughout my research, I've noticed that there are quite a few Lazarus Naturals listings on sites such as Amazon. NEVER PURCHASE YOUR CBD FROM THERE - always go to the providers themselves. The absolute majority of useless or washed down CBD products are sold on websites such as eBay or Amazon - don't fall for it!
Here is The Best CBDistillery Offer I Found:
30% Exclusive Discount
On All CBDistillery Products
You have an exclusive chance to save 30% on your CBDistillery order. Grab this limited-time promo code & enjoy top-rated CBD products!
Expiration date: 04/10/2023
931 People Used
Only 37 Left
Conclusions
So, with all of that out of the way, we've reached the end of our analysis of the Lazarus CBD oil reviews. As you can probably tell, people are pretty divided on whether or not Lazarus is a company and a CBD provider that's worth checking out.
At the end of the day, though, while Lazarus might not be the "CBD industry leader", it's definitely up there.
Your opinion on the company and its CBD products is going to depend solemnly on what you're looking for in a CBD provider. If you value taste and are meticulous about knowing every single detail about the creation of that particular product, then Lazarus might not be the brand for you.
That being said, if you're more in it for "the kick", and don't really care about how it tastes, Lazarus Naturals reviews might persuade you to try the tinctures out.

In general, Lazarus is a health-conscious, organic and vegan-friendly CBD provider. They have a pretty clear mission and objective, are generous enough to provide multiple discounts to the ones that need them the most, and sell their CBD products super-cheap, in the first place.
So - I hope this article has helped you familiarize yourself with Lazarus Naturals and the CBD products that the company offers. If you need potent CBD tinctures or even a hat or a t-shirt, Lazarus Naturals has got you covered - do check them out!
Please keep in mind, though, that before you start using any CBD-based or related products, you should always consult with your family doctor. While I can tell you about the general collective feeling that most people have about certain CBD providers, this information should never substitute that of professional advice.
Leave your honest Lazarus Naturals review
Leave your genuine opinion & help thousands of people to choose the best cbd. All reviews, either positive or negative, are accepted as long as they're honest. We do not publish biased reviews or spam. So if you want to share your experience, opinion or give advice - the scene is yours!