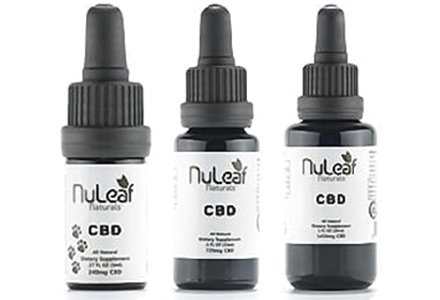 If you're more of an old-school CBD user (or if you're simply looking to try a new CBD product), chances are that you've come across one or two NuLeaf Naturals reviews at one point or another.
That wouldn't be surprising at all - NuLeaf is one of the most well-known CBD product providers in the current market. However, it can be really difficult to know which providers are trustworthy, and which are simply elaborate cash grabs in disguise.
That's exactly what we'll be figuring out today - with the help of our extensive research and a vast array of reliable customer NuLeaf Naturals reviews, you'll be able to get a thorough look into the company behind the famous CBD oil products.
TL;DR: NuLeaf provides locally-grown, natural and independently tested CBD oil products. While the product supply itself is limited to oil, it doesn't seem to be a problem to a whole lot of customers - the transparency and extraction methods that NuLeaf use are universally loved.
Pros
Natural
Full-spectrum CBD oil
Third-party lab tested
Different levels of potency available
Cons
Lack of CBD product variations
Some customers aren't too happy with the taste
NuLeaf Naturals Review: PROS
Let's start this NuLeaf Naturals review by talking about the positive aspects of the company and its CBD products.
Independent Lab Tests
While reading various different NuLeaf reviews (and any other mainstream CBD provider reviews, too), you'll notice the fact that NuLeaf CBD oil being tested by third parties is a theme that keeps on surfacing. Naturally, you'd probably come to a conclusion that it's an important factor.
Well, honestly, it's extremely important.
Whenever CBD products are tested by a "3rd party lab", it means that there is no room for biased opinions or foul play. Third parties have no immediate interest in the company whose products are being tested, and are thus able to provide reliable test results.
Admittedly, there are companies out there that hire "dependent" labs to perform the before-mentioned tests. Needless to say, such tests - rather, their results - cannot be trusted. Since it's in the lab's best interest to provide results that would benefit the company, there's a big chance that these results are going to be skewed.
NuLeaf CBD oil reviews will tell you that, with this company, the situation is different.

NuLeaf Naturals allow a third-party lab to test their products. Now, going to their official website, chances are that you're not going to find any results of the before-mentioned tests. That's not because there's something fishy going on here - instead, if you want to view these results, you should "contact customer support and ask them to provide you with it".
Or at least that's what some NuLeaf Naturals reviews would want you to believe.
While doing research for this article, I had found reviews that claim NuLeaf hides their test results. I can tell you with absolute certainty - that's bullocks. All that you need to do to actually access the before-mentioned results is go to one of their product pages and read the descriptions.
And the link will be right there.
Curious ignorance of some NuLeaf reviews aside, the fact stands true - NuLeaf tests their CBD products with a third-party lab, and provides the results for everyone to view. That's awesome!
Grown and Produced in the US
If you're not aware, CBD products are produced from hemp flowers. Hemp is a plant that's somewhat similar to cannabis (at least appearance-wise), with the main difference being that it contains minimal amounts of THC.
NuLeaf Naturals reviews reveal that the company sources their hemp locally, which means that it's grown in the US. To the untrained eye, this might seem like yet another, trivial fact. However, it's actually one of NuLeaf's strengths.
You see, the fact that the company sources their hemp locally (from Colorado, to be exact) means that the growing, managing and farming processes are monitored closely by the USDA - the United States Department of Agriculture.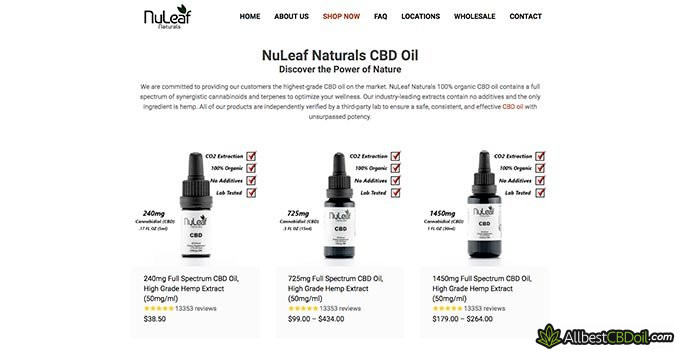 CBD products (and everything related to them, hemp not excluded) are somewhat in a grey area as far as legality is concerned. That's why you'll find conflicting information on certain topics in some NuLeaf Naturals reviews - it can be difficult to really know which states enforce stricter or lighter regulations on CBD.
That being said, this also means that hemp grown in the US is constantly being monitored and, well… regulated. This is good news for the customer - you can rest assured that there isn't going to be any fishy business going on with what will soon be the products that you're purchasing.
CBD Oil With and Entourage Effect (Potency)
If you frequent forums or other groups that discuss NuLeaf reviews and other CBD provider reviews, you might have heard the term "entourage effect" before.
It sounds pretty fancy, but I assure you - it's quite simple.
Often referred to as just "full-spectrum", an entourage effect with CBD happens when a provider (such as NuLeaf) enhances their CBD products with other cannabinoids. To be honest, this practice is somewhat controversial - not because it's dangerous or illegal (it isn't), but rather because people can't really agree on what is better - pure or enhanced CBD.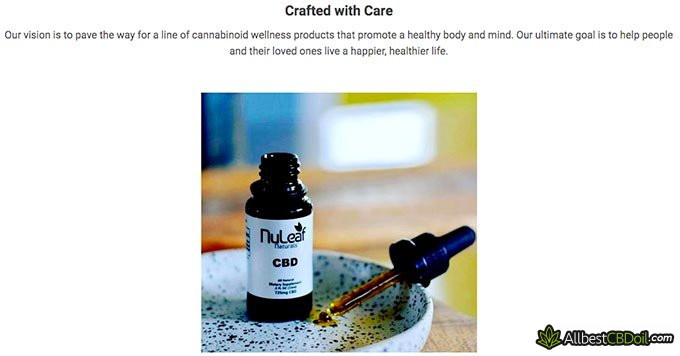 Whatever the case might be, if potency is what you're looking for in your CBD oil, you'll be happy to hear that all NuLeaf Naturals reviews concur - the oil offered by the company is quite potent. That's because NuLeaf utilizes the entourage effect in their production.
It's pretty simple, really - if you want to feel the effects of CBD relatively fast, full-spectrum CBD products are your thing. If you're a purist, however, then there are other companies that supply pure CBD products (although they're quite rare). Do note, though, that most NuLeaf Naturals reviews agree - full-spectrum oil is often a better choice than the pure option.
Natural + Great CBD Extraction Method
If you try to purchase your CBD from sites like Amazon or Ebay, you probably know that quite a few providers supply GMO-enhanced CBD products.
Let me put it this way - stay as far away from these products as possible.
Not to throw any shade on Amazon or Ebay, but since anyone can sell their products on these sites, there's a whole lot of shady (no pun intended) business going around. The fact of the matter stands, though - no matter the popularity or "reliability" of a CBD product seller, you should always look for non-GMO products.
NuLeaf is a great example.
Customer NuLeaf CBD oil reviews will tell you that not only does the company use non-GMO hemp in their CBD production, they also employ what is known as the "CO2 extraction" method. Not to go into too much detail, let me just tell you that out of all CBD extraction methods out there, the CO2 one is considered to be the best.

Did you know?
Accessible
Accessibility is an important factor with any merchandise or service. User NuLeaf Naturals reviews will tell you that CBD products are no different - if you have to go through excess lengths to order CBD oil and then wait two months for it to be shipped, you'd probably want to look for a different provider.
Yet again, this is not a problem that many NuLeaf CBD reviews would be pointing out.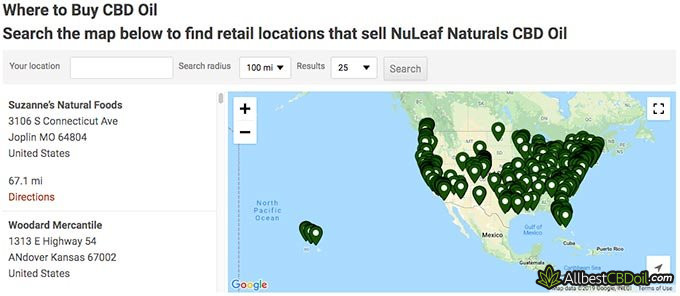 The purchasing process on their official site is quite straightforward - there are no difficult hurdles that you'd need to pass in order to make an order for a bottle of CBD oil.
On top of that, NuLeaf's products are extremely accessible offline, too. There's a significant number of customer NuLeaf Naturals reviews that are praising the fact that you can purchase the company's products in brick and mortar stores around the country.
NuLeaf Naturals Review: CONS
So, those are some of the main pros that we've found during our research, and that are often mentioned by customer NuLeaf Naturals reviews. Now, let's move on and take a look at some of the more notable complaints that people have concerning the company and its products.
Small Product Selection
The most common issue associated with NuLeaf is the fact that the company only sells two types of products - CBD oil for humans and pets.
That's literally it. Only two different products, if you don't count the varying potencies of the oil. When you compare this with selections of some other well-known CBD providers, well… Let's just say that the situation looks pretty sad.
Truth be told, however, the severity of this "issue" is going to be different from person to person. Some people might actually see no problem at all here - if you don't want any (for the lack of a better word) fancier ways of consuming CBD (vaping, gummies, topicals, etc.), and are content with the traditional CBD oil, this is an "issue" that won't bother you at all.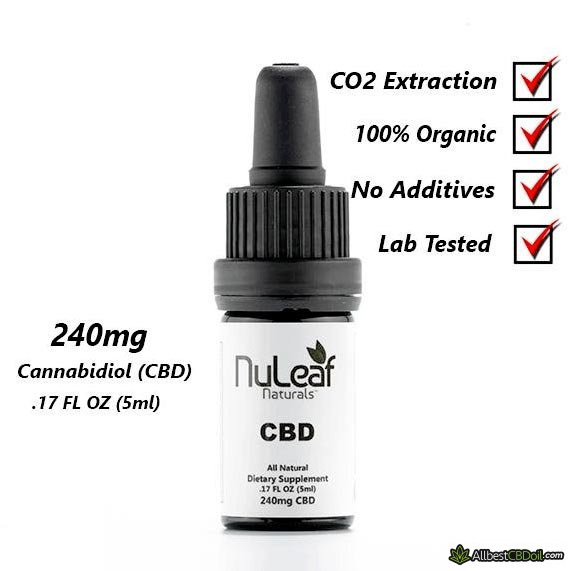 However, taking a single look at user NuLeaf CBD reviews, it's quite evident that the vast majority of people would actually like a bit of variety on the company's side of things.
Not the Best Taste
While taste is a subjective topic in itself, there's a certain palette that people associate whenever they hear the term "CBD oil".
If you've ever used CBD before, you're probably frowning right about now.
Various NuLeaf CBD oil reviews will quickly reveal why that's the case - CBD oils don't tend to taste (quote on quote) "good". This is especially true when it comes to "natural" CBD oils - ones that don't have any artificial sweeteners or other taste-enhancing additives within them. Users usually describe the taste as "earthy".
While there aren't that many customer NuLeaf Naturals reviews that would point this out, you'll still come across the occasional person who talks about the fact that NuLeaf oils aren't really the tastiest products around. So, if the taste of the CBD product is something that appeals to you, NuLeaf might not be the best choice.
Price
Finally, let's take a look at the pricing options of the CBD products available over at NuLeaf Naturals:
Each concentration of CBD from 725mg all the way to 4850mg comes in a few different choices - you could either purchase a single bottle, or buy a few with an added discount.
NuLeaf isn't the cheapest CBD product provider out there, but the vast majority of NuLeaf Naturals reviews will tell you that the products are well worth the money. And honestly, seeing that NuLeaf offers natural and 3rd party tested CBD oil, the price tags really do make sense.
On top of decent prices, NuLeaf also offers customers a 30-day money-back guarantee. Now, it's worth mentioning that you won't be able to purchase the oil, test it and then send it back - that's not how it works. If you want a refund, you'll have to ship an undamaged, unopened product back to NuLeaf. That said, this is standard practice within the industry.
Here is The Best CBDistillery Offer I Found:
30% Exclusive Discount
On All CBDistillery Products
You have an exclusive chance to save 30% on your CBDistillery order. Grab this limited-time promo code & enjoy top-rated CBD products!
Expiration date: 03/12/2023
931 People Used
Only 37 Left
Conclusions
Out of all the "mainstream" companies that deal with CBD, NuLeaf is on the interesting side of things. The company is pretty well-known, and there are quite a few customer NuLeaf CBD reviews about its products online, but they still seemingly refuse to broaden their product variety.
Some people will see this as a con, while others might actually be happy about it - perhaps the company is concentrating on providing the best possible product they can, and are prioritizing depth instead of width?
Whatever the case might be, based on our research and a huge number of reliable NuLeaf Naturals reviews, the company is definitely worth checking out.

NuLeaf offers its customers high-quality, natural and potent CBD oil. You'll be able to pick from 5 different levels of concentration, but if you want a potent product, the full-spectrum CBD oil provided by NuLeaf might be just the thing that you're looking for.
And don't forget - once you order your oil, you'll have a 30 day period during which you can send the product back at any given time. This means that, even if you decide that NuLeaf isn't really your cup of tea (or oil, I guess), you can get a full refund.
I hope that now you know a whole lot more about NuLeaf Naturals and the CBD oil products that the company offers!
Please keep in mind, though, that before you start using any CBD-based or related products, you should always consult with your family doctor. While I can tell you about the general collective feeling that most people have about certain CBD providers, this information should never substitute that of professional advice.
Leave your honest NuLeaf Naturals review
Leave your genuine opinion & help thousands of people to choose the best cbd. All reviews, either positive or negative, are accepted as long as they're honest. We do not publish biased reviews or spam. So if you want to share your experience, opinion or give advice - the scene is yours!