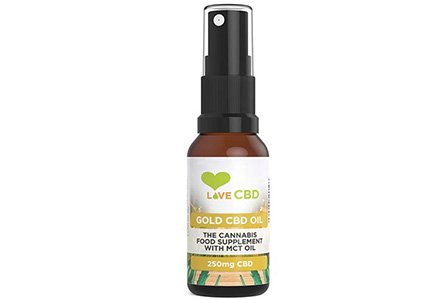 Are you a CBD fan from the UK? Do you simply… Love CBD? Well, if that's the case, I say - what a coincidence! You'll surely enjoy this Love CBD review, then!
All lousy jokes aside, Love CBD is one of the quite a few up-and-coming CBD brands in the UK. While that may be the case, it's seemingly quite difficult to find some trustworthy and reliable customer Love CBD reviews online, and learn whether or not the company's worth checking out.
That being the case, however, worry not - in this article, you'll find all of the important information about Love CBD, and after reading it, you should be able to figure out whether this brand is good for you or not.
TL;DR: Love CBD offers customers THC-free CBD products. Some of them even contain multiple cannabinoids, which ensure that the user is going to be able to enjoy the entourage effect of CBD. That being said, customers do report that some of the oils sold by the brand may lack in potency.
Pros
THC-free CBD products
High-quality, organic CBD oils
Multiple CBD oil selection
Quite affordable
Independently-tested by third-party labs
Cons
The CBD oils may lack in potency for some users
A lack of product type variety
Doesn't ship to some countries within the EU
Love CBD Review: PROS
A single look at some existing customer Love CBD reviews found online will tell you that the brand (and its CBD products) is actually quite well-received in the UK. There are a few reasons for why that's the case - to start off this article, we'll talk about those very reasons.
We'll also be concentrating on Love CBD's Gold CBD oil. Judging by all of the feedback, it appears to be one of the most popular product lines that the brand has in stock. That being said, we'll also talk about the Entourage oil a bit, too.
Let's begin by tackling a big one - Love CBD UK offering customers THC-free CBD products.
THC-Free CBD Oils
One thing that you'll quickly notice while reading customer Love CBD reviews is that there aren't really any "concerned" customers that would be questioning the legality of Love CBD's products. Surely, that's partially the case because of the company's "THC-free" attitude.
THC, otherwise known as tetrahydrocannabinol, is a psychoactive cannabinoid found in marijuana. Because of this very substance, people who smoke weed get "high" - THC specifically is responsible for this effect. Needless to say, it's also the thing that makes cannabis, CBD and everything related to these two things illegal in many places around the world.
In places where CBD IS legal, though, there are usually strict restrictions in place - the CBD has to be derived from the industrial hemp plant, and the products have to fall in-line with some THC amount regulations. Most of the time, it's up to either 0,3% or 0,2% THC - the UK is no different.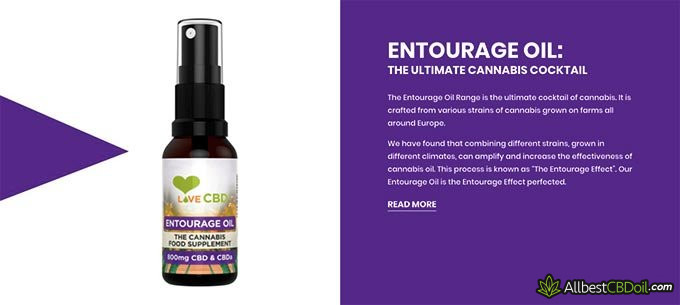 There are, however, CBD products that are actually completely (or close-to-completely) THC-free. Reading through Love CBD reviews, it's evident that the brand deals in these types of products, too.
In order to move forward, you should know that there are three types of CBD products that you may encounter, potency-wise - isolates, broad- and full-spectrum ones. CBD isolates are THC-free, yet also the least potent of the three. Broad-spectrum products contain multiple cannabinoids, yet are still THC-free. Full-spectrum CBD products are the most potent, but also have some THC within them.
If you take a look at Love CBD UK's official website (rather, the product page), you'll notice that there are oils called "Entourage". This means that they should contain a variety of different cannabinoids, excluding THC.
So - Love CBD deals in CBD isolates (completely THC-free CBD oils) and broad-spectrum CBD oils. That's great! Not only does that mean that you'll be able to rest assured that there won't be any trouble with the UK law enforcement (the products won't exceed the legal THC limits within the country), but you'll also be able to enjoy some of the purer CBD products, too.
Independently-Tested CBD Oils
One thing that not many customer Love CBD reviews seem to mention is the fact that all of the company's CBD are independently-tested by third-party laboratories, with the test results being very simply accessible by anyone on Love CBD's official website.
I mean… That's quite a big deal.
Lab tests allow you - the potential customer of a CBD-based brand - to make sure that the CBD products of your choice are trustworthy, and don't contain any potentially-harmful materials, too. Naturally, these tests also showcase the actual amounts of THC and CBD within the product - if anything, it definitely adds to the company's overall legitimacy.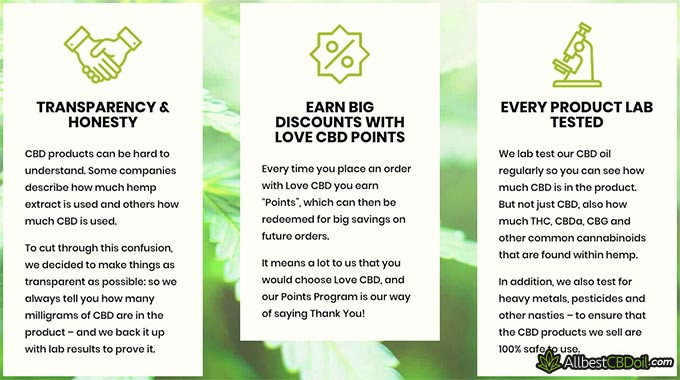 Well… Most of the time. You see, it's crucial that these tests would be independent. Unfortunately, that's not always the case - some CBD companies out there are paying laboratories in order to artificially-improve their test scores, or alter them, altogether.
Definitely not ideal, now is it?
That goes without saying. Again, though - if the tests are made by independent, third-party labs, you have nothing to worry about. While many customers Love CBD reviews fail to point this out, the company in question does, in fact, have an independent lab perform all of the aforementioned tests.
Love CBD UK takes it a step further, though - any and all customers can access the test results super-easily, with just a couple of clicks on the company's official website. This means that the brand is proud of their results, and has nothing to hide - no matter if you're looking for the best CBD in the UK, or in general, this is a huge factor, for sure!
Organic, High-Quality CBD Products
While this is something that's probably expected given the earlier-discussed features of Love CBD's products, it's still worth mentioning separately, nonetheless.
All of the CBD oils (the Entourage, Dutch, Gold, and others) offered and sold by Love CBD are going to be of a very high-quality standard, and completely organic, too. This is something that's quite obvious from both reading customer Love CBD reviews, and also checking out the brand's lab test results.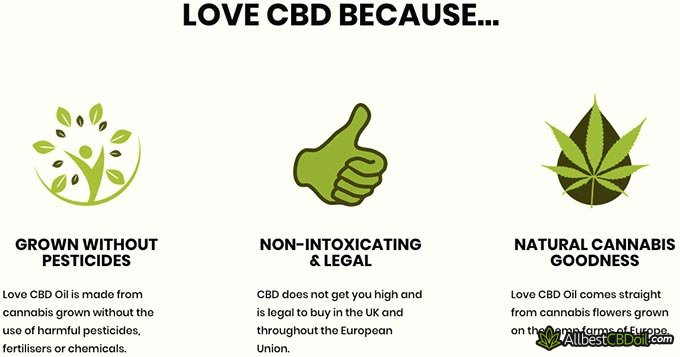 The oils in question aren't going to contain any pesticides, heavy metals, or other types of toxins. This, in turn, means that the hemp used in their creation was both grown and farmed in the appropriate manners, and the production processes were up-to-par, too.
Quality-wise, you just need to read some Love CBD reviews to see that customers are actually very happy in this regard - people are talking about the oils actually "feeling" good, in the sense that it's evident you won't be "cheated" with some knock-off CBD products when purchasing Love CBD's ones.
Love CBD Review: CONS
There's a significant amount of research done in regards to CBD - everything from its effects on certain types of cancer[1] all the way to anxiety and anxiety-related behavior[2]. From the majority of these studies, it's rather evident that cannabidiol can, in fact, help some people out with their issues.
Even if that's the case, though, it's crucial that you purchase and use only the top-quality products. While it's clear that Love CBD UK does offer high-end, trustworthy CBD oils, there are still a few less-positive points that you need to figure out before deciding on whether or not this is the brand for you.
Some CBD Oils May Lack in Potency
As noted a few times in this Love CBD review, the company sells some THC-free CBD products. While that's great for multiple different reasons, it does also have some negative sides, too, with the most notable of them being the fact that the products may not be potent enough for some users.
You see, CBD isolates rank the lowest in regards to potency. They are going to be perfect for industry newcomers, but if you're already an experienced CBD user, the effects of an isolate may prove to be mediocre.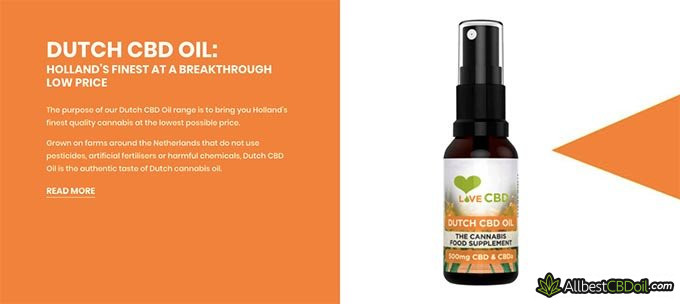 Broad-spectrum CBD products, however, are a tad bit different. They provide the user with the earlier-discussed entourage effects - multiple cannabinoids work together, and create a more potent and noticeable experience. Following this train of thought, the "Entourage" oil offered by Love CBD may be a better choice for those who are already experienced with CBD.
While the "lack of potency" surly shouldn't prove to be a game-breaker when it comes to Love CBD, it's surely something that's worth noting, nonetheless.
A Lack of Product Variety
One of the most common issues that brands similar to Love CBD have when it comes to their product lines is that there's a very small selection of products available to pick from, in the first place.
That's not actually the case with Love CBD, though. On the contrary, customer Love CBD reviews will tell you that the company actually has a pretty good stock of CBD products for sale! That said, the problem arises if you're someone who wants to try some different CBD products, not in the traditional oil form.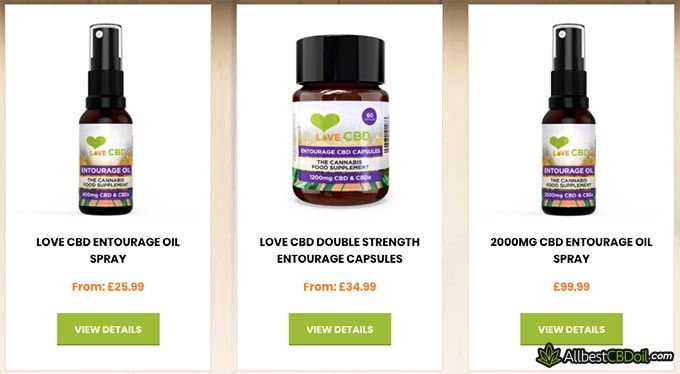 A good example brought up by some other customer Love CBD reviews is edibles. Many higher-end CBD brands tend to offer a good variety of edible CBD products - chews, gummies, and so on. Unfortunately, that's not the case with Love CBD - as of yet, at least. One can only hope that, in the future, this will change for the better.
Limited Shipping Options (Country-Wise)
If you've developed an interest in Love CBD, and are ready to purchase some of the company's signature CBD oil to try it out, you might find that there are a few… Struggles involved. Well, at least if you're not located in the UK.
UK-wise, customer Love CBD reviews are almost unanimous - the shipping is fast, smooth and great, overall. However, if you want to purchase some of the products from, say, the EU, the story might be a bit different.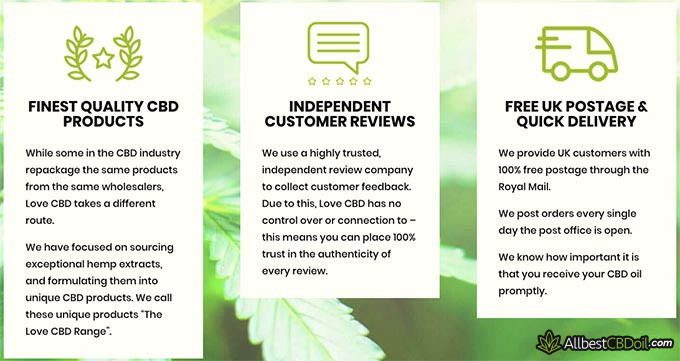 While it's important to mention that these may perfectly well be outlier situations, some customers do report that the shipping process may take longer than you'd expect, and Love CBD might not even ship to your country, in the first place - this seems to be true with Iceland and Norway.
Price
Now, we've covered some of the most notable positive and negative customer Love CBD reviews. With that being out of the way, though, let's finish off this article by talking about the pricing options of the company's Gold CBD oil.
Admittedly, I've mentioned earlier on in the Love CBD review that there are quite a few different products that the brand offers to its customers. If you'd like to check out some Entourage, Dutch and some other oils (or even other CBD products, in general), you can find them here.
For this specific review, though, we'll concentrate on the price tags of the Love CBD Gold oil. The prices are:
You can expect to receive 0,16ml of CBD oil per spray with each of the sizing options. Yes, spray - instead of the traditional dropper design, Love CBD utilizes a spray-type of a bottle.
All things considered, the prices are rather decent! They aren't very affordable, sure, but the quality of the products is definitely worth it!
Here is The Best CBDistillery Offer I Found:
30% Exclusive Discount
On All CBDistillery Products
You have an exclusive chance to save 30% on your CBDistillery order. Grab this limited-time promo code & enjoy top-rated CBD products!
Expiration date: 03/12/2023
931 People Used
Only 37 Left
Conclusions
Now, as a final verdict on my end, is Love CBD UK worth checking out?
Yup, it surely is - the company offers customers some truly high-end CBD products.
The above is especially true if you're into THC-free CBD products, such as isolates or broad-spectrum oils. Love CBD has a wide variety of products to pick from, all of them being independently-tested by third-party labs, and also free of any and all potentially-harmful materials.
Having said all of that, though, do keep in mind that the potency of Love CBD's oils might not be enough for some users, especially those who are already experienced in the realm of CBD use. Also, before you decide to purchase some of the Love CBD's products, do make sure that the company ships to your location!
Finally, if you're still "on the edge" about Love CBD, you could also check out our list of the best CBD oil brands in the UK, in general. Maybe your perfect alternative is waiting for you there?
Please keep in mind, though, that before you start using any CBD-based or related products, you should always consult with your family doctor. While I can tell you about the general collective feeling that most people have about certain CBD providers, this information should never substitute that of professional advice.
Scientific References

1. Uchini S Kosgodage, Rhys Mould, Aine B Henley, et al.: 'Cannabidiol (CBD) Is a Novel Inhibitor for Exosome and Microvesicle (EMV) Release in Cancer'
2. Jerzy Zieba, Duncan Sinclair, Terri Sebree, et al.: 'Cannabidiol (CBD) Reduces Anxiety-Related Behavior in Mice via an FMRP-independent Mechanism'
Leave your honest Love CBD review
Leave your genuine opinion & help thousands of people to choose the best cbd. All reviews, either positive or negative, are accepted as long as they're honest. We do not publish biased reviews or spam. So if you want to share your experience, opinion or give advice - the scene is yours!