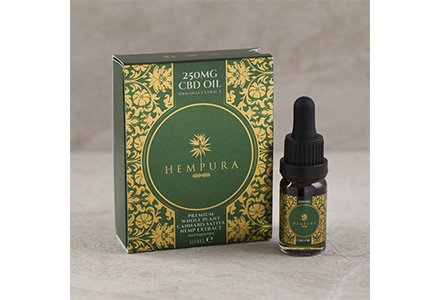 Anyone who's ever searched for reliable, high-quality CBD products probably knows that the process can be quite the struggle. That's not because there are no good CBD providers out there - on the contrary, it's actually more so because there are quite a few! In this article, we'll take a look at customer Hempura reviews, and see what makes this specific brand stand out of the crowd.
Hempura is a UK-based CBD product provider. If you're looking for a US company, you'll surely be able to find one on this list right here. Having said that, though, Hempura UK is actually considered to be one of the better CBD providers within this specific country. Without any further ado, let's get into it and see if the company in question really is as well-rounded as it's claimed to be.
TL;DR: Hempura offers customers broad- and full-spectrum CBD oil options. The products are GMO-free and organic, and made from EU-grown industrial hemp. They are also potent, and independently-tested by third-party labs, too. That said, the product selection isn't all that wide, and the shipping is also reported to be rather slow.
Pros
Broad- and full-spectrum CBD products
Independently-tested
Decent pricing options
Organic, GMO-free products
Cons
Comparatively small variety of products
May not be legal in some countries in the EU
Hempura Reviews: PROS
Taking a look online, you'll notice that the majority of customer Hempura reviews concentrate on the CBD oil products sold by the brand. That's what we'll concentrate in this article, too - while there will be some mentions regarding other CBD products that Hempura deals in, our main focus will still remain the Hempura CBD oil reviews.
One of the very first things that you'd notice mentioned by customers in regards to Hempura UK is that the company deals in two types of CBD oil - broad- and full-spectrum. That is both quite rare, and actually rather cool, so let's start off with this point specifically.
Broad- and Full-Spectrum CBD Oils
If you have any knowledge about the topic of CBD, it probably has to do with the fact that there are different types of CBD product potencies. Depending on the potency of the product of your choice, you can expect to experience different effects, too. While many research articles and studies revolving around the potential benefits of CBD[1] don't really mention this, it's still an important factor!
So - different types of CBD products. There are three, actually - isolates, broad- and full-spectrum CBD products.
Hempura UK offers customers only the latter two types of oils, but let's quickly cover isolates, too, so that you could get the full picture.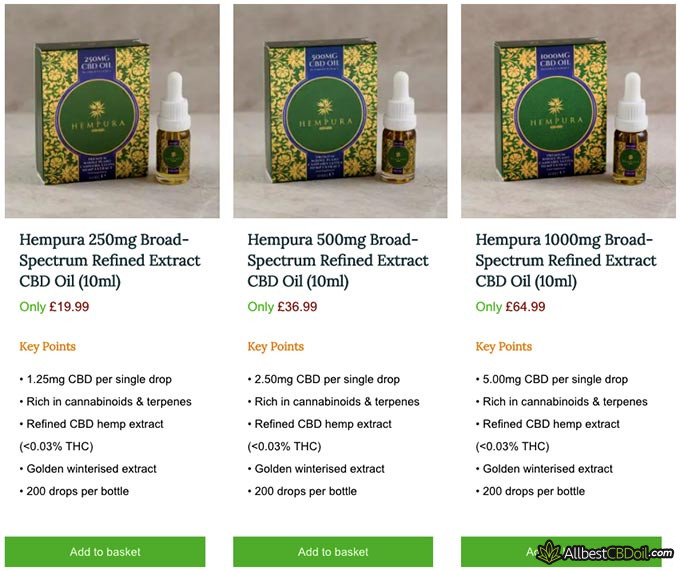 CBD isolates are pure, nearly-100% cannabidiol products. This means that they do not contain any other cannabinoids, except for the purest possible form of CBD. Naturally, oil isolates will also have the carrier oil in their composition, but if you choose to purchase isolate in powder form, you'll definitely get as close to 100% pure CBD as possible (although it'll be insanely expensive, too).
The only thing that keeps some people away from CBD isolates is that these products tend to be the weakest of all types of CBD, potency-wise. After isolates come broad-spectrum CBD products - customer Hempura reviews will tell you that these are among the more popular choices for the brand's CBD oils.
Broad-spectrum CBD oils are going to contain multiple cannabinoids in their composition (naturally, with CBD being at the forefront), but are going to also be THC-free - at least theoretically. It does depend on the company that makes broad-spectrum CBD products, but the general idea is still the same.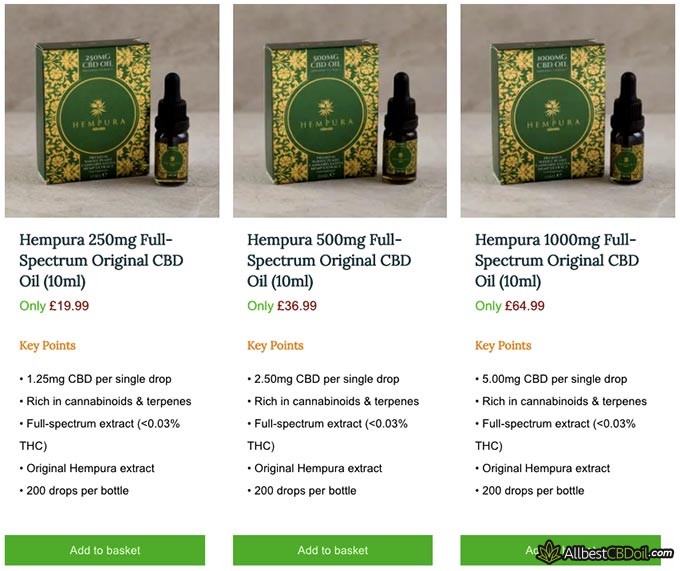 Then there are full-spectrum products - most customer Hempura CBD oil reviews will tell you that the full-spectrum CBD oils offered by the brand in question are going to be the most potent options on the brand's website, and will surely be useful for anyone who's looking for some effective CBD products.
So - Hempura UK deals in broad- and full-spectrum CBD products. That's all fine, but what about the legalities of these very CBD products? Well, worry not - they are completely legal within the UK.
Products do Not Exceed 0,03% THC
Tetrahydrocannabinol (more popularly known as simply THC) is the cannabinoid that makes you feel high when you smoke weed. It's a psychoactive drug, and is thus shrouded in legalities and regulations all around the world.
While I haven't seen customer Hempura reviews mention this, the company actually deals in CBD oils that are made from the Cannabis Sativa plants. This is good - this plant group involves industrial hemp, and is the primary source of cannabidiol products for any and all top-tier CBD providers on the market.
Having said that, industrial hemp still contains THC - this very fact alone still makes CBD a contentious topic worldwide.
Each country has its own regulations regarding CBD and THC, but the laws in the UK are rather similar to those in the US - CBD products are legal, as long as they are derived from industrial hemp and don't breach a legal THC limit. In the States, this limit is 0,3% THC - in the UK, it's 0,2%.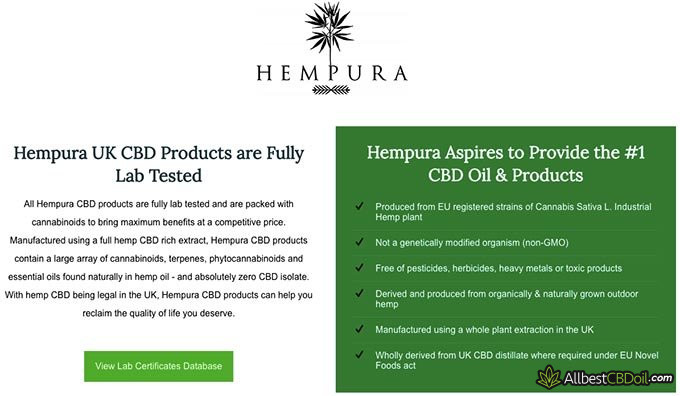 You don't even need to look at customer Hempura reviews to get some answers regarding this topic - the brand states on all of its product pages that each of their CBD oils (both broad-, and full-spectrum ones) contain no more than 0,03% THC. This makes them completely legal within the UK.
The most interesting part here, however, is the fact that the full-spectrum products also contain up to 0,03% THC. One of the main shortcomings of full-spectrum CBD oils, in general, is that they tend to be rich with THC - if Hempura has truly managed to lower the THC amounts in these oils to 1/10th of the legal limit in the US, that's pretty good!
Organic, Vegan-Friendly CBD Products
Yet again - while this isn't really something I found mentioned all that often on other customer Hempura reviews, it's definitely a fact worth talking about, since it's one of the main highlights of Hempura UK's products.
If you're someone who cares about the quality of your CBD products, you'll be very happy to know that the company in question deals in high-end, organic and GMO-free CBD oils. They are made from EU-licensed hemp that's been grown and farmed outdoors, and processed in specific places within the UK.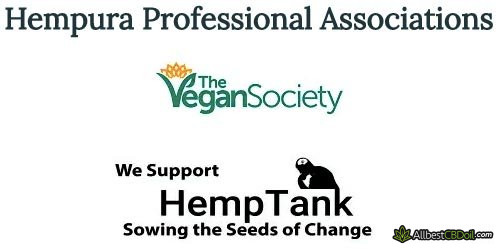 Hempura also guarantees that the CBD products sold on their official websites are completely free of any potentially harmful materials, such as GMOs, pesticides, heavy metals, and other toxins. While this is something that can be showcased in one, specific method, we'll get to that in a minute - now, let's focus on the factors at hand.
Hempura is also registered with the Vegan Society - this means that all of the products sold by the company are completely vegan-friendly, and animal cruelty-free.
Independent Lab Tests - Check!
This is something that I've eluded to in the previous chapter and that's definitely stressed by some customer Hempura reviews, too - the brand tests all of its products with independent, third-party labs.
While that's something that you'd come to expect by now, it's actually still super-important, and definitely adds to the legitimacy of Hempura's claims.
Independent lab tests are performed by laboratories that are simply third-party clients that have no stake or share in the brand's products - this means that the test results are going to be accurate, and won't be skewed or artificially-adjusted.

Now, the tests are also important because they are going to showcase the actual amounts of THC and CBD within any and all products that are tested, and also display any potentially-dangerous materials (and their amounts) within those same products.
That's actually awesome - believe it or not, but while you wouldn't really find any customer Hempura reviews talk about this, there are actually other CBD brands out there that display some sorts of numbers on their products (such as "0% THC!" or "75ml of CBD!"), but have nothing to back these numbers up. That's something you should never believe or fall for.
Not something that you'd need to worry about while reading this Hempura CBD oil review, though - Hempura's oils are, indeed, independently-tested by third-party labs, so you can rest assured that all of the claims made by the company are legit.
Hempura Reviews: CONS
By now, cannabidiol has been analyzed through and through - its effects on physical pains, anxiety, interactions with other drugs[2] and even cancer. If there's one thing that scientific studies can't really help you figure out, though, it's the best CBD oil provider for yourself - for this, you're going to need customer reviews to help you out.
Customer Hempura reviews are a good example, too. By now, we've discussed some of the main points mentioned by customers in regards to Hempura and it's products. Now, let's talk about the more well-known critiques that some customers may have for this very same brand.

Did you know?
May be Illegal in Some Countries in the EU
Earlier on, we've established that Hempura's products are legal within the UK - that's clear from both customer Hempura reviews, and from the information displayed on the company's official website. Having said that, though, this does not mean that those same products are going to be legal in all of the countries within the EU.
Each country in the European Union is going to have their own, specific laws and regulations regarding CBD and THC. Some of them are a bit more lenient, while other countries are going to outright ban any and all CBD products, in general.

The thing that makes it even more difficult is that Hempura's CBD oil does, in fact, contain some THC. The amounts are almost non-existent, but if you're living in one of the strict rule-possessing countries, it may still be too much.
Having said all of that, I can tell you the same thing as some customer Hempura reviews note, too - you should always figure out the legalities of CBD products within your own, specific country, and then see if you can purchase some of the Hempura's oils or not.
A Rather Small Product Selection
In this Hempura CBD oil review, we've focused on exactly that - the CBD oil products sold by the company. Having said that, the brand does, in fact, deal in some other CBD products, too - everything from chocolates and capsules all the way up to tea and cream.
Even so, though, there are actually quite a few customer Hempura reviews that point out how the brand's product selection could be a bit wider. Surely, when you compare Hempura to some other brands that ONLY have CBD oil for sale, the product selection of this company becomes quite varied.
If, however, you compare Hempura with some of the industry-leading brands worldwide, there's still a lot of room for improvement.
This definitely shouldn't be something that would "make it or break it" for any potential customers of Hempura, but it's still something worth keeping in mind, nonetheless.
Price
Let's finish off this Hempura UK review by discussing the pricing options for the brand's CBD oil products.
The prices of Hempura's full-spectrum CBD oils are:
The price tags for the broad-spectrum CBD oils are:
The fact that the price tags for both of these types of CBD oils are the same is a bit… Odd, to say the least. Even so, though, it's evident that Hempura's CBD oils aren't necessarily very affordable. That being said, customer Hempura reviews are pretty clear in this regard - the products and their quality are surely worth the price tags.
Here is The Best CBDistillery Offer I Found:
30% Exclusive Discount
On All CBDistillery Products
You have an exclusive chance to save 30% on your CBDistillery order. Grab this limited-time promo code & enjoy top-rated CBD products!
Expiration date: 09/06/2023
931 People Used
Only 37 Left
Conclusions
If you'd like to know y own, personal opinion about Hempura, I'd surely recommend it.
Without a doubt, Hempura's one of the best CBD product providers in the UK scene at this point in time. The company is trustworthy, sells some independently-tested and GMO-free CBD products and is actually very transparent with their practices, too.
If you'd like to find more companies that would be "in league" with Hempura, you could check out our list of the best CBD oils within the UK. Thanks for reading, and good luck!
Please keep in mind, though, that before you start using any CBD-based or related products, you should always consult with your family doctor. While I can tell you about the general collective feeling that most people have about certain CBD providers, this information should never substitute that of professional advice.
Scientific References

1. Mary-Ann Fitzcharles, Daniel J Clauw, Winfried Hauser: 'A Cautious Hope for Cannabidiol (CBD) in Rheumatology Care'
2. Tyler E Gaston, E Martina Bebin, Gary R Cutter, et al.: 'Drug-drug Interactions With Cannabidiol (CBD) Appear to Have No Effect on Treatment Response in an Open-Label Expanded Access Program'
Leave your honest Hempura review
Leave your genuine opinion & help thousands of people to choose the best cbd. All reviews, either positive or negative, are accepted as long as they're honest. We do not publish biased reviews or spam. So if you want to share your experience, opinion or give advice - the scene is yours!