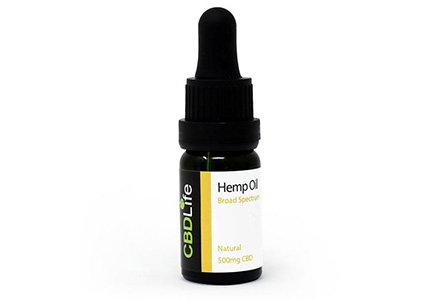 If you're currently looking for some CBD products within the UK, you might be surprised just how rich the market is. What I mean by saying that is simply that there are quite a few high-end CBD providers for you to pick from - choosing the best one can prove to be a slight challenge. Well, in this article, we'll look at customer CBD Life UK reviews, and talk about one of those high-end options.
In all honesty, CBD Life UK appears to be one of the less-discussed brands in the realm of the UK CBD market. That's actually a shame - CBD Life UK oil is actually a decent product, and does come with quite a few benefits, too.
I'm actually getting ahead of myself, though - let's take it from the top and begin from the basics.
TL;DR: While there aren't all that many customer CBD Life UK reviews online, the ones that exist talk about the brand selling low-THC, quality-CBD containing products. The company's CBD oil contains MCT coconut oil, and the brad utilizes the CO2 extraction method, too.
Pros
Broad-, full-spectrum oils and CBD isolates
Independently-tested by third-party labs
Low amounts of THC (>0,2%)
Wide product variety
Cons
No information about hemp growing / CBD product producing locations
Products may be illegal in some countries
Poor refund policies
CBD Life UK Reviews: PROS
One of the first things that you'll notice customer CBD Life UK reviews mention is that the brand actually deals in quite a few different CBD products. While we'll talk about that in just a minute, it's worth mentioning that, for the sake of clarity and consistency, in this specific article, we'll mostly be focusing on the CBD Life UK oil.
Now that we've got that out of the way, let's take a look at some of the more positive sides of the company and its products.
Low Amounts of THC
No matter if you were looking for CBD in the UK, US, or any other country in the world, THC is surely a topic that you'd have to tackle in order to make the right choice with your product.
It's a pretty well-known fact that CBD isn't exactly a very family-friendly topic in many people's eyes, even to this day. While it's been studied and showed to help people with physical pain alleviation[1] and even epileptic seizures (although some studies are still conflicted in this regard[2]), there's still a significant amount of controversy surrounding the topic.
The reason is pretty simple, too - it has to do with THC.
THC, otherwise known as tetrahydrocannabinol, is a psychoactive cannabinoid that's most commonly found in the marijuana plant. It's the very substance that makes people feel high when they smoke weed.

While THC has also been known to have some potentially-beneficial effects on certain groups of people, it's still seen as an illegal drug in many countries around the world, and also in some states within the US. At the very least, the amounts of THC that can be present in any form of product are heavily regulated and limited.
Customer CBD Life UK reviews will likely tell you that this is especially true in regards to CBD products, be it oils, creams, or anything else. Each country (or state) is going to have its own specific rules in regards to THC dosage.
All of the above-provided information is crucial to understand when you're looking at purchasing some CBD Life UK oil. That's because the brand actually prides itself on dealing in low-THC products.
In simple terms, the amount of THC found within CBD Life's products isn't going to exceed 0,2% - that's also the legal norm in the UK, too. All things considered, that's surely some great news for anyone looking at CBD Life UK reviews - it means that the brand's products are all completely legal within the country.
Oils Tested by Third-Party Labs
While reading through some customer CBD Life UK reviews, I've noticed an unnerving trend - some customers claim that they aren't sure if the brand in question tests its products with independent, third-party labs.
Needless to say, I was quite frustrated while reading this - if that was actually the case, any and all CBD Life UK reviews would probably have a very different tone.
You can imagine, then, my surprise, when I visited the company's official website and found their lab reports on the product pages.
Like, literally on the product page, right next to the photo of the CBD Life UK oil - not even tucked somewhere deep within the website. I'm not sure what the customer reviews were talking about, or if CBD Life UK had only recently added the lab reports to their site, but they're there now.
Now, let me tell you why that's so important.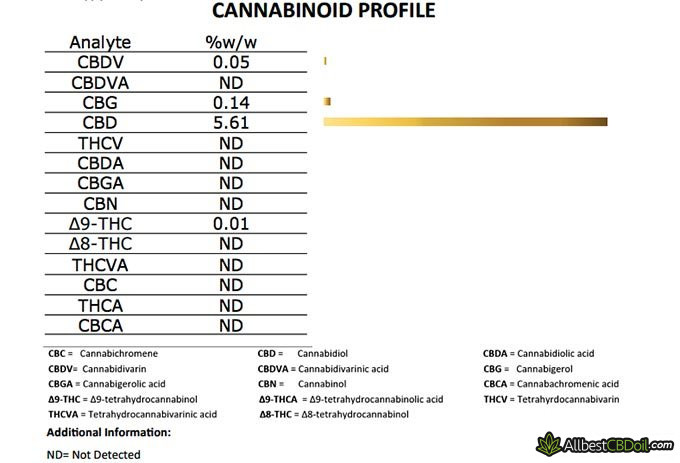 Independent lab tests are the cornerstone of any successful CBD provider. These tests allow the potential customer to learn more about the product that they're intending to buy - the actual amounts of THC and CBD that it contains, information regarding pesticides and other toxins, and everything in between.
It's also important that the tests would actually be independent, too. This ensures full transparency and honesty, and that the reports can actually be trusted.
In short, if you were reading through customer CBD Life UK reviews to find out whether or not the company tests its products, rest assured - they do. Again, though - keep in mind that some of those reviews can be misleading, and if you read that "there are no lab reports", that's not actually the case.
A Wide Product Selection
As noted in the introductory part of the article, we're focusing on customer CBD Life UK reviews that talk about the CBD oil products of the brand. Having said that, though, it would be somewhat uncanny not to mention the fact that the company actually has a pretty good selection of different CBD products in stock.
Upon visiting the company's website, you'll notice that there are multiple different product sections for you to pick from. The traditional oils, naturally, are at the forefront, but you could also check out some capsules, edibles, dabs, vapes, and so on.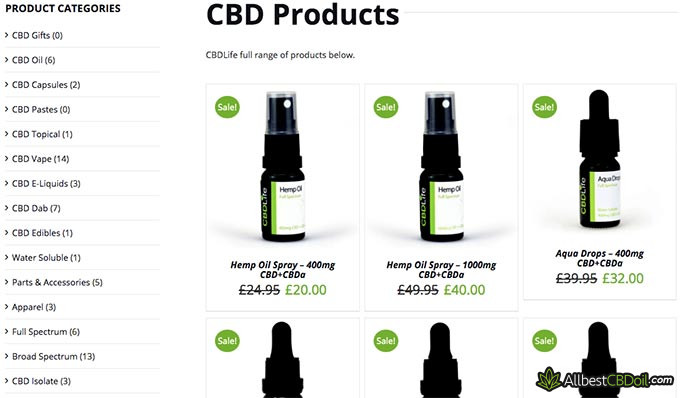 While some of these categories contain but a few products, it's still cool to know that there's a varied choice of products and methods of how to consume CBD.
Broad-, Full-Spectrum and CBD Isolate Products
When looking for CBD products, you'll eventually notice that there are three big types of these products available to pick from - broad-, full-spectrum oils, and isolates.
If you were to rank these types in accordance to their potency, CBD isolates would be at the lowest position. While being the least potent of the lot, though, isolates are actually the purest form of cannabidiol you can find - this is especially true if you stay away from isolate oils and focus on the powder products.
Broad-spectrum products are in the middle of the spectrum (no pun intended) - while their composition varies from provider to provider, the general idea is that broad-spectrum CBD products are going to contain multiple different cannabinoids in their composition, but are still retain the "THC-free" label… In most cases.

Finally, full-spectrum CBD products are the most potent version you can come across. Having said that, though, they do come with a trade-off - full-spectrum products are going to have some traces of THC within them.
Now, with all of that being said, if you aren't looking for CBD Life UK oil specifically, and are open to trying out some different types of products, you'll be very happy to see that quite a few customer CBD Life UK reviews mention how you'd be able to find all three types of CBD products on the company's shop.
Admittedly, that's actually quite rare! Most brands out there usually specialize in one, single type of CBD products - having all three is surely an advantage for CBD Life!
MCT Coconut Oil + CO2 Extraction Method
I probably don't need to tell you this, but whenever you're looking to purchase some CBD oil for yourself, it's important that you pay attention to the quality of the product.
Naturally, the aspect of quality is something that's going to be made up of many different variables - everything from where and how the hemp is grown, all the way to how CBD is then extracted and put into the final oil product.

While not that many CBD Life UK reviews mention this, the CBD provider actually utilizes MCT coconut oil as the carrier for their CBD. This carrier allows your body to take in cannabidiol much easier, thus increasing the chances that you'll feel the effects, and also making those same effects last longer.
On top of that, CBD Life UK also uses the CO2 extraction method. By popular belief, this is considered to be the most effective method of extracting CBD, and one that allows companies to create effective and high-quality CBD products.
CBD Life UK Reviews: CONS
Now that we've discussed some of the most notable benefits and strengths usually emphasized on customer CBD Life UK reviews, let's talk about some of the less-ideal aspects of the brand and its products.
Products May Not be Legal in Some Countries
Admittedly, this isn't something that's exclusive to CBD Life UK, but it's still important to stress this point, nonetheless.
I've mentioned earlier in the article that both THC and CBD are still somewhat controversial topics around the world - while some countries and states have taken (or are starting to take) a more liberal standpoint on the matter, that's unfortunately not the case everywhere.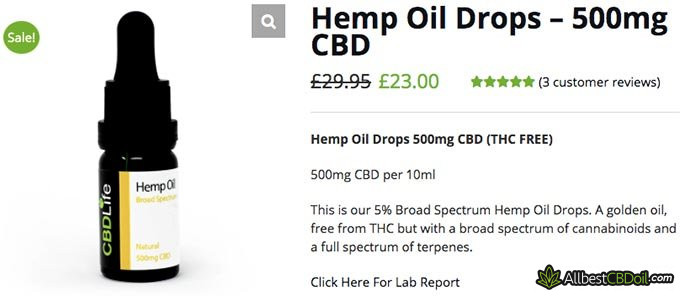 In short, if you reside in a country that has some strict rules regarding CBD, you might not be able to purchase any of the CBD Life's products. That's simply because most of them are going to contain some traces of THC - even though the amounts may comply with the laws of the UK, that may not be the case with other countries, especially those where the legal norm of THC is 0%.
Hemp Growth / CBD Product Production Locations are Unknown
While this wasn't a very common complaint that I'd come across while reading through customer CBD Life UK reviews, it's still something that did pop up a couple of times.
Reading through the information about CBD Life UK that's provided on the brand's official website, there's an apparent lack of data that would talk about the location where the brand grows its industrial hemp, or even where the CBD product production procedures take place, too.
At first glance, this may seem like a non-issue - I mean, who really cares, right?
Well, if you're planning to become a customer of CBD Life UK, you should care. After all, this information would not only help you better understand the entirety of the process that happens with your products behind the scenes, but would also increase the legitimacy of the brand, too.
Price
To finish off talking about CBD Life UK reviews, let's take a look at some of the prices for the Hemp CBD Oil sold by CBD Life UK:
All things considered, the price tags for the Hemp CBD oil products offered by CBD Life UK are actually quite decent! While it may not be the most affordable option on the market, it surely isn't all that expensive, either.
Here is The Best CBDistillery Offer I Found:
30% Exclusive Discount
On All CBDistillery Products
You have an exclusive chance to save 30% on your CBDistillery order. Grab this limited-time promo code & enjoy top-rated CBD products!
Expiration date: 03/12/2023
931 People Used
Only 37 Left
Conclusions
So, is CBD Life UK worth checking out?
Well, CBD Life UK is definitely a decent CBD provider, and it should be on your list of options, but I wouldn't "auto-buy" the products from this brand as soon as I go to their website.
It all actually lies in the fact that there's limited information about the brand online - namely, about where they source their hemp from, and about the production processes, too. Truth be told, while the independent lab tests surely do make a difference, I'd still be careful.
Apart from that, though, assuming that everything's in order, CBD Life UK is surely one of the better options on the UK CBD market. Speaking of which, you can find some more viable CBD options on our list of the best CBD oils in the UK, too - check it out!
Please keep in mind, though, that before you start using any CBD-based or related products, you should always consult with your family doctor. While I can tell you about the general collective feeling that most people have about certain CBD providers, this information should never substitute that of professional advice.
Scientific References

1. Shafik Boyaji, Justin Merkow, R Noel M Elman, et al.: 'The Role of Cannabidiol (CBD) in Chronic Pain Management: An Assessment of Current Evidence'
2. Ayushe A Sharma, Rodolphe Nenert, Jane B Allendorfer, et al.: 'A Preliminary Study of the Effects of Cannabidiol (CBD) on Brain Structure in Patients With Epilepsy'
Leave your honest CBD Life UK review
Leave your genuine opinion & help thousands of people to choose the best cbd. All reviews, either positive or negative, are accepted as long as they're honest. We do not publish biased reviews or spam. So if you want to share your experience, opinion or give advice - the scene is yours!