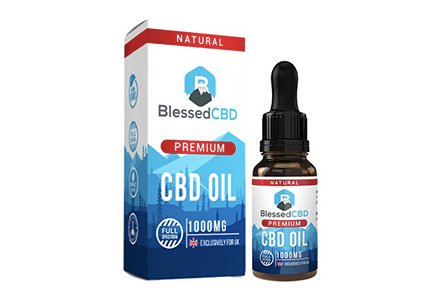 Anyone and everyone who has been looking for some UK CBD options has probably heard about Blessed CBD before, if not about the actual Blessed CBD oil products sold by the brand. All it takes is a single look at some customer Blessed CBD reviews online and it becomes pretty clear - the company truly is popular in this regard.
Being popular, however, does not automatically equate to being "good". Whether or not that's the case, that is exactly what we'll be trying to figure out in this Blessed CBD review.
There are quite a few things to discuss, so strap in and let's get to it.
TL;DR: Blessed CBD is surely one of the most popular CBD oil providers in the UK. The brand sells some high-quality CBD oils, all of which are independently-tested and made from organically-grown hemp. The tinctures sold by the brand are all full-spectrum, too.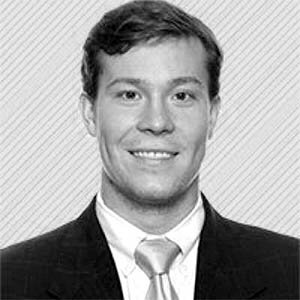 Gus Hanger
CEO of Industrial Hemp Farms
What should users be aware of before starting to use CBD?
Figuring out dosage is more complex than it might sound. Since CBD products are relatively new, there aren't many evidence-based guidelines for dosing as of yet. If it's your first time using CBD, start with the lowest dose and work your way up.
Pros
Organically-grown hemp
One of the most popular UK CBD brands
Vegan-friendly products
Full-spectrum CBD oils
Independently-tested by third-party labs
Cons
The prices could be a bit lower
Only available within the UK
Very small selection of CBD products
Blessed CBD Review: PROS
To start off this Blessed CBD review, we'll take a look and talk about some of the positive customer feedback in regards to the Blessed's oil products. I'll give you some context along the way, too, so that you could fully understand all of the pros and cons of the brand's products.
Independent Lab Tests + Results Being Easily-Available
Without a doubt, independent lab tests are among the most important parts of any successful CBD-based brand.
You could actually say that I'm understating it, too - THAT'S how important such tests are.
If you're not aware (although, if you've read any other Blessed CBD reviews, you should be - it's something that's impossible not to mention), third-party (independent) lab tests are there to test the products sold by CBD providers for a variety of different things.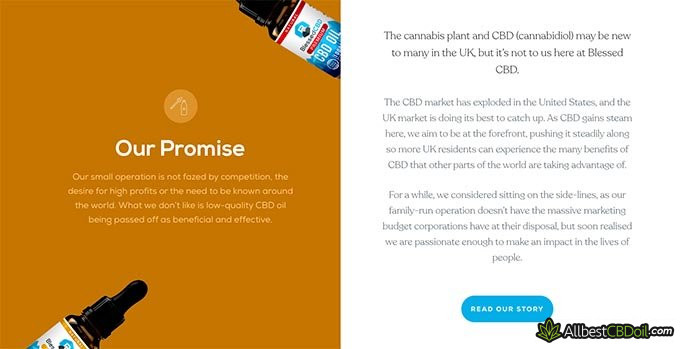 First of all, the amounts of CBD and THC. In regards to CBD, it's pretty simple - some brands try to cheat their way into the business offering less-potent products than they're claimed them to be. Lab tests can point out such cheaters in no time.
THC tests are absolutely crucial, too - they determine the actual legality of the product, and whether or not you, as the customer and user, would get in trouble for possessing or using such product within the country (or state) that you reside in.
Apart from CBD and THC, the laboratories also test the amounts (or presence, in general) of different materials that could be found within the CBD product (in this Blessed CBD oil review, it would be exactly that - oil). Pesticides, herbicides, toxins, heavy metals, and so on - labs are going to sniff everything out.
As you might have gathered, it's crucial that the tests would be performed by third-party labs, too - otherwise, there can arise some conflicts of interest, which would then skew the end results of the testing.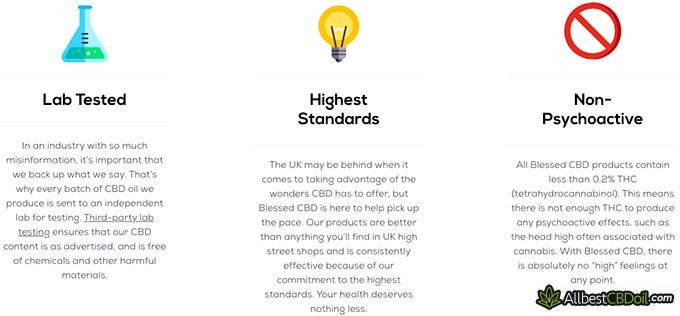 Now, with all of that being said, I'm glad to tell you that, as far as this Blessed CBD review is concerned, you have nothing to worry about - not only does Blessed CBD test all of its products with independent labs, but the company also publishes all of the test results on their official website, in a super-easy-to-access section.
This, in turn, shows that Blessed CBD doesn't only care about its products, but also trusts its own production processes completely - transparency and communication are surely some of the company's strong points that I'm happy to emphasize in this Blessed CBD oil review.
Full-Spectrum CBD Oil
Whenever you're looking for CBD products, you'll quickly learn that there are a few different types of such products available to be purchased. The main types would include isolates, broad-spectrum and full-spectrum ones.
If you were to reference the sequence mentioned above, you'd also be able to rank the types of CBD products in accordance to their potency, too. CBD isolates are considered to be the least potent of them all, but they are also the purest form of cannabidiol you'd find.
No matter how many studies about CBD potency[1] you'd read, chances are that you still wouldn't be able to find a clear and universally agreed-upon answer to the question of what are broad-spectrum products.
The explanation here lies in the fact that broad-spectrum CBD oils are usually those that contain a lot of different cannabinoids, except THC. Some brands, however, choose to add THC into the mix, too - it's very confusing. The general sentiment, however, should be the one mentioned in the first sentence of this paragraph.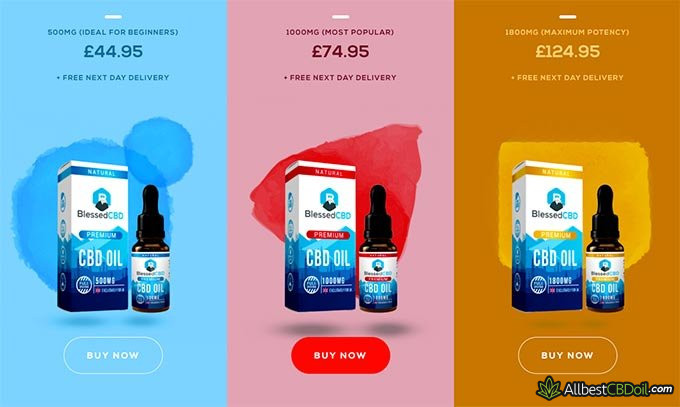 Finally, full-spectrum CBD products, as the name likely implies, contain all of the different cannabinoids that you'd find in the industrial hemp plant, including THC. Naturally, the amount of THC is (should?) be limited by the laws of the territory that you reside in, but traces of the cannabinoid are still going to linger within such products.
As some customer Blessed CBD reviews will tell you, though, full-spectrum CBD products are also usually considered to be the most potent of the three. That's exactly what Blessed CBD offers, too.
While some people claim that full-spectrum products aren't really the best place to start for those who are just entering the world of CBD, and are looking for their very first, entry-level CBD products, they are still going to be great for anyone who wants effective and potent options.
To be frank, if potency is what you're after, you can be sure that Blessed CBD will provide you with that, with all of the legalities kept in mind. Speaking of which…
Legal Amounts of THC
I've mentioned this a few times already in this Blessed CBD review, but one of the main issues that plague any and all CBD products is the legalities surrounding THC - tetrahydrocannabinol.
THC is a cannabinoid whose psychoactive capabilities make you feel high and intoxicated upon consumption, which usually happens in the form of smoking weed. While each country and state is going to have its own, separate laws, rules and regulations surrounding THC, the sentiment still remains the same - it's illegal in most places worldwide.

In the countries where THC is legal, though, it's heavily regulated and restricted. The UK is no different - here, the law states that CBD products can be sold only as food supplements, and that they cannot contain more than 0,2% THC.
Well, you don't even need a Blessed CBD oil review to tell you that the brand in question complies with all of the legal aspects of the UK CBD law - it's stated on the company's official website.
This is, in fact, great news! While you would probably expect one of the most popular CBD brands within the country to comply with all of the rules and regulations set in place by the government, it's still good to have some reassurance, nonetheless.
Organically-Grown Hemp, CO2 CBD Extraction
One of the more common things that you'll notice mentioned by other customer Blessed CBD reviews and even the company itself is that Blessed CBD grows all of their hemp in an organic fashion, while also utilizing the CO2 extraction method during the production processes of their CBD oil.
Let's unpack that statement, shall we?

Organically-grown hemp refers to industrial hemp that's been grown without the help of any GMOs, pesticides, herbicides, and the like. This makes the end product organic, too, and much safer to use by the general consumer. Both the organic aspect and the THC one can be further checked by utilizing the company's lab reports, too.
In regards to the CO2 extraction method, it's simply the best form of CBD extraction that you can utilize. If cannabidiol is extracted from hemp via the CO2 method, it's going to retain a lot of its beneficial qualities, and again - the end product is going to be of a much higher quality than some others.
All in all, when it comes to customer Blessed CBD reviews, this surely does seem to be a big deal!
Blessed CBD Review: CONS
Now that we've gotten all of the positive customer Blessed CBD reviews out of the way, let's quickly discuss some of the more notable cobns mentioned by the users of the company's CBD products.

Did you know?
Very Few CBD Product Options
Undoubtfully, this is one of the most common complaints that you'll see associated with Blessed CBD.
Whenever people think about "the CBD industry leaders", they tend to imagine the highest-quality products, top-notch customer support and - obviously - a huge product variety to pick from. Well, that's not the case with Blessed CBD.
The company in question offers two types of products that you could purchase - CBD oils and cream.

In all honesty, that's superbly low - even some of the least-known CBD brands tend to have some edibles or capsules, in addition to the traditional CBD oil.
The severity of this con, however, is solemnly dependent on the customer's wants and needs - if you're someone who prefers using CBD in its traditional form, this might, in fact, prove to be a non-issue to you.
Price
While pricing is a completely separate section of this Blessed CBD review, it's also worth pointing out that it's one of the more commonly-referenced cons among the customers of the brand.
CBD products aren't cheap - that's a well-known fact. This is especially true when it comes to some high-end products - as soon as you hear "organic", "CO2 extraction", "hemp seed carrier oil" or any other, similar terms, you can be sure that the prices will follow, swiftly.
It's not without good reason, though - making high-quality CBD products isn't a cheap process, so it should be surprising that the end prices are also a bit higher. The tricky part, though, is finding the sweet spot - some brands aren't that good at doing this.
Is this a significant issue in regards to this Blessed CBD review? Well, hey - I'll let you be the judge of that, first. Here are the pricing options for Blessed CBD's oils:
If I had to be the judge of it, I'd say - yup, the prices surely are high. In fact, these oils are probably among the most expensive CBD product options that you'll come across within the UK.
Having said that, though, Blessed CBD does offer its customers a 14-day refund policy. In all honesty, 14 days isn't actually all that much - other CBD brands are usually going to provide their customers with up to 30 days to change their minds and ship the products back, with a full refund guarantee (except the shipping taxes).

Even with that said, though, the CBD provider in question advocates for these price tags by pointing to the fact that they create high-quality CBD products. Whether that's worth it or not, it's up for the customer to decide.
Also, as a final note, it's also worth mentioning that, if you want to try out some Blessed CBD oil for yourself, yet you reside outside of the UK, you're out of luck - the company ships its products exclusively within the country. Needless to say, that's quite a bummer, and is something that'll surely minimize the potential customer that the brand might have.
Here is The Best CBDistillery Offer I Found:
30% Exclusive Discount
On All CBDistillery Products
You have an exclusive chance to save 30% on your CBDistillery order. Grab this limited-time promo code & enjoy top-rated CBD products!
Expiration date: 04/10/2023
931 People Used
Only 37 Left
Conclusions
Having talked about all of the pros and cons of Blessed CBD, all that's left to do is to answer that one, final question - is Blessed CBD worth it?
I'd say, undoubtedly, it's worth checking out.
At the beginning of this Blessed CBD review, I've pointed out the fact that the brand in question is widely considered to be one of the best CBD providers in the UK. Well, that's true - it's not without a good reason, either.
While Blessed CBD might not sell a huge variety of products, such as balms, edibles or vapes (although, according to some research, you'd probably want to stay away from that, in the first place[2]), the CBD oil products that the company DOES sell are top-tier.
In short, if you're content with using traditional CBD oils, and are looking for some of the more potent products on the current UK market, then Blessed CBD should definitely be on the top of your list.
Please keep in mind, though, that before you start using any CBD-based or related products, you should always consult with your family doctor. While I can tell you about the general collective feeling that most people have about certain CBD providers, this information should never substitute that of professional advice.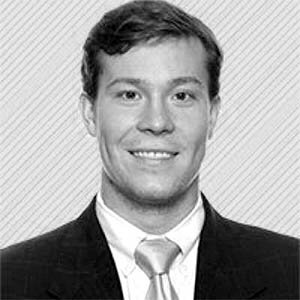 Gus Hanger
CEO of Industrial Hemp Farms
Contributed By Gus Hanger, CEO of Industrial Hemp Farms
Gus Hanger is one of the nation's Hemp experts - from laws and cutting edge news, to the latest research and health benefits, info on agriculture, high-level business insights and, government relat...
Read Full Bio...
Scientific References

Contributed by
Gus Hanger
, CEO of Industrial Hemp Farms
1. Yasuyo Urasaki, Cody Beaumont, Michelle Workman, et al. :'Potency Assessment of CBD Oils by Their Effects on Cell Signaling Pathways'
2. Nadia Solowij, Samantha J Broyd, Hendrika H van Hell, Arno Hazekamp: 'A Protocol for the Delivery of Cannabidiol (CBD) and Combined CBD and ∆9-tetrahydrocannabinol (THC) by Vaporisation'
Leave your honest Blessed CBD review
Leave your genuine opinion & help thousands of people to choose the best cbd. All reviews, either positive or negative, are accepted as long as they're honest. We do not publish biased reviews or spam. So if you want to share your experience, opinion or give advice - the scene is yours!