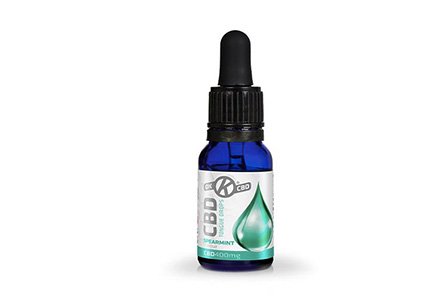 If you're a beginner in the CBD industry, you might learn that it's not all that easy to find a great starting product for yourself. Many of the CBD brands that are out there concentrate on making potent products - while that's great for some CBD veterans, industry newcomers might want to start off a bit… Lighter. That's where customer OK CBD oil reviews come in.
CBD OK isn't a very well-known name in the UK CBD scene, but it's still considered to be one of the better choices for anyone who's looking for high-end CBD products and has never used CBD before. Why is that the case? Well, that's exactly what we'll be focusing on finding out - let's get right into it.
TL;DR: Customer OK CBD oil reviews will tell you that the brand's products are great for any beginner CBD users because they aren't at all potent, and are quite affordable. The products are independently-tested, and made from high-quality, US-grown hemp.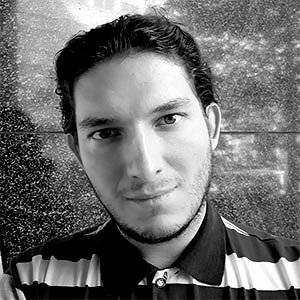 Nikola Djordjevic
MD, Co-Founder of LoudCloudHealth
According to you, what is the best way to take CBD?
Concentrated CBD oil drops are the best way to use it as a supplement. However, some prefer to ingest it with edibles such as cookies or CBD-infused products. Dosing is usually provided in the packaging, and it's generally safe to use. With CBD drops, one has to be more careful, though, as they are more concentrated, and taking too much could have negative effects, such as oversleeping and severe indigestion.
Pros
Beginner-friendly
Low amounts of THC (legal within the UK)
Independently-tested
Affordable
Cons
Not potent enough for most experienced CBD users
Very small product selection
No natural flavour with the oil CBD products
OK CBD Oil Reviews: PROS
To start off this overview of customer OK CBD oil reviews, we'll begin by talking about the positive aspects that you may expect if you were to use the CBD oil offered and sold by the brand in question.
Independently-Tested CBD Oil… Apparently
Right, there's quite a bit to unpack straight from the get-go, so let's try and take it a step at a time. First up, let's address the whole "independent-testing" ordeal.
In the CBD industry, there's a concept known as "independent lab tests". Contrary to what it may sound like when you first hear it, it's not actually a CBD testing procedure from the "research and science" standpoint[1] - rather, it has more to do with the specific products of a CBD provider, and just how good they actually are.
Whenever a company tests its CBD product with independent, third-party labs, this basically means that the brand hands over some samples of their oil to a designated lab in order for them to be tested - that part's self-explanatory, right?

Well, ya, but tested for what, exactly?
Labs test CBD products for everything from the concentration of cannabidiol within the product and the actual amount of THC found within it, too, all the way to the presence of some potentially-harmful materials. As you can imagine, these tests are actually quite important.
Once the product has been independently-tested and all of the data about it has been gathered and presented to the company, the CBD provider could (rather - should) then showcase those same reports on their official website, for the potential customers to see and analyze at their own whim.
Well, customer OK CBD oil reviews are going to tell you that the company in question has seemingly got it "half-right".
Basically, there are quite a few OK CBD oil reviews that mention how OK CBD does, in fact, test their products independently and thoroughly. That's great! Well, it would be great - except for the fact that I couldn't find those lab reports anywhere.
Now, this is an issue for a couple of reasons. First of all, it's somewhat an "unwritten rule" that you (as the CBD provider) should make the results of your lab tests as easy to find and access as possible. It's like a sign of goodwill - it also shows that you're transparent and have nothing to hide, too.

Having said that, though, I must admit that seeing other customer OK CBD oil reviews mention the lab tests threw me off-guard. I accept the fact that I might have missed something, and assume that OK CBD UK does, in fact, test all of their CBD oils with third-party labs.
Some of the Best CBD Oils for Beginner CBD Users
You know, I'll admit - if I was hearing about the fact that OK CBD oil isn't potent, and wouldn't have any context, I'd most definitely place this in the "con" section of the article. I probably don't need to tell you why that's the case, right?
Having said that, though, customer OK CBD oil reviews are actually mostly very positive in this regard - that's quite interesting, for sure!
Before we get to the "whys" and the "hows", we should probably first define what the term "not potent" actually means, at least when it comes to OK CBD UK.
Potency is something that's surely on the mind of any and all potential customers of a CBD brand. I mean, no matter if you're looking to buy the products to help treat physical pain or stress[2], you'll probably want them to actually provide you with the effects that they're intended to (whatever they might be, mind you).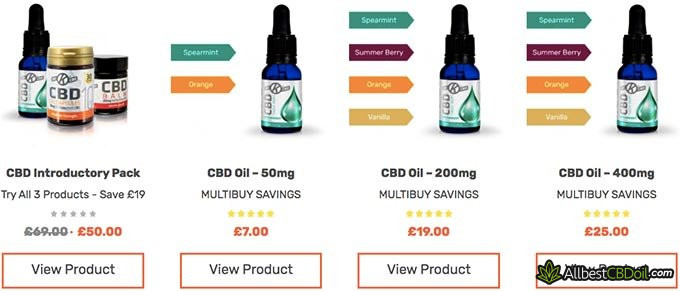 Well, while that's surely the case, it actually does depend on multiple different factors, though. You see, if you're someone who's never used CBD before, then some of the less-potent CBD products (such as those discussed in the customer OK CBD oil reviews) might work just fine for you.
On top of that, it's actually advised that industry newcomers stick to the less-potent versions of CBD products, and work their way up from there. While it can be tempting to find and start using "the strongest, most effective and amazing CBD oil in the world", appearances and first impressions are often deceiving.
With all of that out of the way, you can now probably understand why the fact that OK CBD UK offers and deals in not-so-potent CBD oils is often viewed as a good thing. Sure, it probably won't be the best option for veteran CBD users, but for anyone who's just starting out, OK CBD might actually offer a great alternative.
US-Grown Hemp = High-Quality CBD Products
On their official website, OK CBD UK proudly states that they grow and farm their industrial hemp in the US, while the manufacturing process for the CBD products actually takes place in the UK. That's notable for a couple of reasons.
For starters, US-grown hemp is actually great in regards to quality. While the topic of CBD is still a tad bit contentious within the States, and the legalities depend on each specific state, industrial hemp cultivation is mostly looked upon rather favorably.
Having said that, the country does have some strict laws and regulations in place - both when it comes to legalities, and also quality. While CBD products are still seen as a somewhat-mysterious topic in regards to the FDA, the USDA does look over all of the hemp growing processes, nonetheless.

While not really mentioned by all that many customer OK CBD oil reviews, the brand's products being made in the UK is also a good thing, too. While the laws regarding CBD manufacturing are surely strict within the US, it's actually even more so the true in the UK and the EU.
In other words, if you're looking for high-quality CBD products that would fall in-line with all of the legal requirements and also be of a high quality standard, then OK CBD UK is surely a brand worth checking out.
OK CBD Oil Reviews: CONS
That concludes some of the more positive customer OK CBD oil reviews. As you can probably see for yourself, the company does have a lot of positive aspects to bring to the CBD table.
That being the case, though, there are some less-positive OK CBD oil reviews floating around, too. For the sake of being completely transparent, let's cover some of them, as well.
Oils Not Potent Enough for Experienced CBD Users
I mean, having discussed the fact that OK CBD UK is a great brand for beginner CBD users due to the rather-mediocre potency of its products, you probably saw this one coming.
It's still true, though - if you're already an experienced CBD user, and are looking for a CBD product that would "take you to the next level" and provide you with even more potency, the oils offered and sold by OK CBD are likely not going to be enough.
This does actually extend to yet another point that needs to be emphasized - while the brand does claim that all of the CBD products sold on their website are going to contain less than 0,2% THC, that's only half of the story.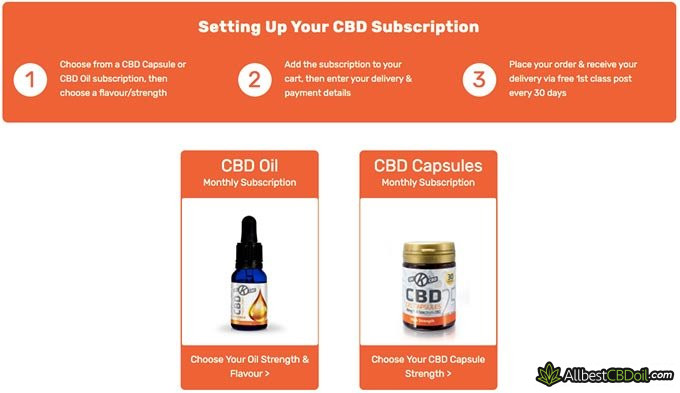 What do I mean by that, you may wonder? Well, simply that there's actually no information on the brand's official website on THE ACTUAL TYPE OF CBD products that it deals in.
Isolates, broad-spectrum and full-spectrum CBD products are the norm - OK CBD deals in one of these types of CBD oils, but which one still remains a mystery. Having said that, granted the lack of potency within the oils, it's unlikely to be full-spectrum.
Small Product Selection
One thing that many customer OK CBD oil reviews are almost unanimous about is that the product selection of the brand in question is small - very small.
Visiting the brand's website, you'll notice that there are three sections for you to pick from - CBD oil drops, capsules, and balms.
That's… It. That's literally it.
Needless to say, with the competition in the CBD market being as tough now as it is, three types of CBD products are surely… Not much. Other CBD brands tend to have a much wider range of products for the potential customer to pick from, so if you're not looking for one of the three specific types of CBD products mentioned above, you're out of luck with OK CBD.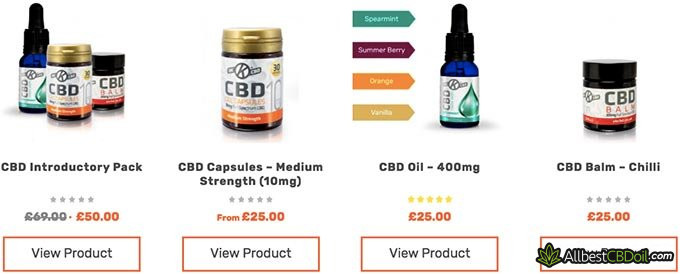 Still, however, a point worth making here is that, since the company has been "designated" to be ideal for beginner CBD users, this might not be such an issue as it would be with any other high-end CBD provider on the market.
You see, beginner CBD users usually tend to start off with CBD oil products, either way. While some variation in the selection is great, it's not really necessary if you're just looking for some oil to start off and try out CBD.
Whatever the case may be, though, it's still quite disappointing that there are so few CBD products available for the potential customers - this is evident from reading through customer OK CBD oil reviews, too.
Price
Now that we've covered some of the most important aspects of OK CBD UK (both the positive, and the more-negative ones), let's finish off the review by talking about the pricing options for the CBD oil product offered and sold by the brand.
The prices for the OK CBD oil are:
Admittedly, it's quite obvious that the oil sold by OK CBD is very affordable. In a way, that was to be expected - since the potency of the products is quite low, the prices reflect that pretty well.
On top of that, you'll also be able to pick from a few different flavors. In total, there are 4 - spearmint, orange, summer berry and vanilla. While that's pretty cool, customers also note that you can't really pick an unflavored version of the oil - that's a bummer for anyone who wanted to try some natural-tasting CBD.
Here is The Best CBDistillery Offer I Found:
30% Exclusive Discount
On All CBDistillery Products
You have an exclusive chance to save 30% on your CBDistillery order. Grab this limited-time promo code & enjoy top-rated CBD products!
Expiration date: 07/06/2023
931 People Used
Only 37 Left
Conclusions
Is OK CBD UK worth trying out?
Well, I think it's rather self-explanatory at this point - if you're an industry newcomer, and have never used CBD before, then yes, CBD OK is surely one of the better CBD provider choices that you could make.
If, however, you're looking for some potent CBD products, or at least a wider choice pool of products, then you're a bit out of luck. Surely, if that's the case, there are much better options for you to pick from, even on the UK market.
With all of that being said, I'd also urge you to check out our list of the best CBD oils, in general. While not all providers found on this list may ship their products overseas, it's still worth informing yourself about the industry leaders, and finding out what are some of the current trends in the world of CBD.
Thanks for reading the review, and best of luck in finding the right products for yourself!
Please keep in mind, though, that before you start using any CBD-based or related products, you should always consult with your family doctor. While I can tell you about the general collective feeling that most people have about certain CBD providers, this information should never substitute that of professional advice.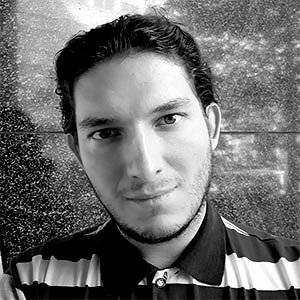 Nikola Djordjevic
MD, Co-Founder of LoudCloudHealth
Contributed By Nikola Djordjevic, MD, Co-Founder of LoudCloudHealth
Nikola is a board-certified family physician as well as co-founder and medical advisor at LoudCloudHealth.com<...
Read Full Bio...
Scientific References

Contributed by
Nikola Djordjevic
, MD, Co-Founder of LoudCloudHealth
1. Lesley Taylor, Julie Crockett, Bola Tayo, Gilmour Morrison: 'A Phase 1, Open-Label, Parallel-Group, Single-Dose Trial of the Pharmacokinetics and Safety of Cannabidiol (CBD) in Subjects With Mild to Severe Hepatic Impairment'
2. Omar Hegazy, Howard Platnick: 'Cannabidiol (CBD) for Treatment of Neurofibromatosis-related Pain and Concomitant Mood Disorder: A Case Report'
Leave your honest OK CBD review
Leave your genuine opinion & help thousands of people to choose the best cbd. All reviews, either positive or negative, are accepted as long as they're honest. We do not publish biased reviews or spam. So if you want to share your experience, opinion or give advice - the scene is yours!