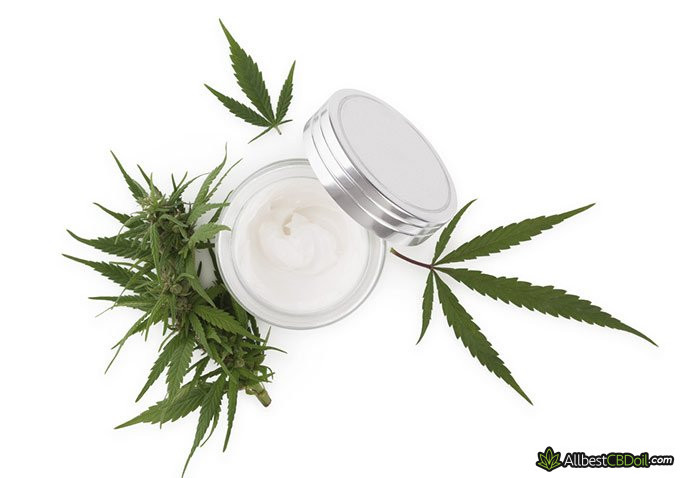 CBD products are taking the U.S. market by storm. You can find CBD in cookies, coffee, gummies, creams, oils, and God-knows-where… There's also CBD Isolate, Full-spectrum CBD Oil, Broad-spectrum CBD oil, hemp-derived, marijuana-derived CBD… How to not get lost in this ocean of names?
If you've come to this article, you probably know something about CBD already, right? We don't need to explain that CBD is a chemical compound of cannabis, yes? And that it's varied health benefits are being confirmed not only by users but also by scientists?
We assume that by coming here, you wish to know more about the pure CBD product called "CBD Isolate" - how it's made, what it's good for, how to use it, etc… If yes, then you've come to the right place!
In this article, we will focus on what is CBD Isolate, how it's made, how to use CBD Isolate, why was it created in the first place, what are its benefits, and where to get the best ones in the market today.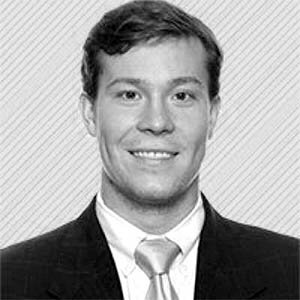 Gus Hanger
CEO of Industrial Hemp Farms
Is CBD isolate a good way to use CBD?
Isolate is great if you want to make your own CBD tinctures. You can purchase 10 grams of isolate online for $70. If you were to use this and mix it with MCT oil or another carrier oil, you could easily make your own tinctures for pennies on the bottle of what others are charging. So yeah, I think it's a great way to use CBD isolate if you have the desire to make your own products.
What is CBD Isolate?
First of all, let's establish the facts - what is CBD Isolate?
CBD Isolate is CBD in its purest form. A 99% CBD extract from the cannabis plant. It comes in the form of crystals, which then are crushed and turned into powder for easier consumption.
A quick reminder to what is CBD - it's one of more than a hundred chemical compounds found in the cannabis plants. Well-known for its varied benefits to our health. Though, unlike another compound THC, which is prevalent in marijuana, does not possess intoxicating qualities.
CBD, as well as other phytocannabinoids (chemical compounds of cannabis), is fat-soluble. Its powder does not dilute in water but only in fat-based liquids, like olive or coconut oil, for example. That's why it could also be sold as an oil tincture.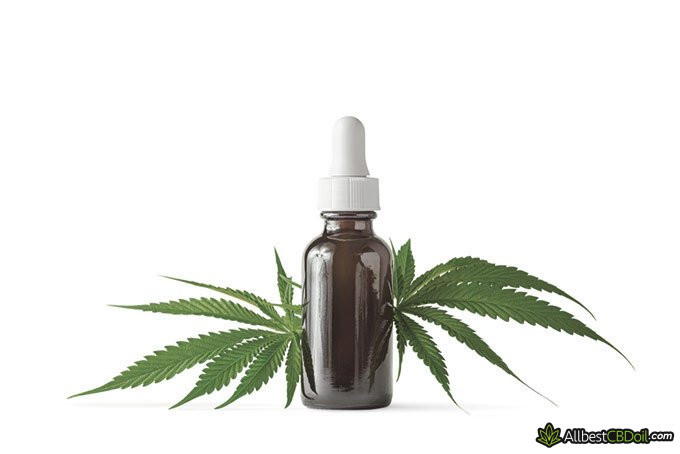 If you prefer to buy CBD Isolate, be careful to not mistake it with a Full-spectrum CBD oil, which is probably the most popular CBD product in the market right now. It also comes in the form of an oil tincture and therefore looks very similar to CBD Isolate.
Full-spectrum CBD Oil vs CBD Isolate
If you're wondering what is the difference between CBD Isolate and Full-spectrum CBD oil, simply put - it's their content and potency.
Full-spectrum CBD oil, as its name suggests, has a full range of phytocannabinoids, including THC. For this reason, scientists argue[1] that Full-spectrum CBD oil is the most effective CBD oil because phytocannabinoids work best together. That is also called the "entourage effect".
For this reason, one might think that Full-spectrum CBD oil is more perspective and efficient than CBD Isolate. However, many people choose to consume CBD Isolate because it is free of the intoxicating component THC. It is also more suitable for those who need to take a drug test for their job.
How Is CBD Isolate Made?
CBD Isolate manufacturing is started in the same way as for all CBD products - through the extraction process of the cannabis plant.
When the extraction process is finished, CBD has to be separated from other components, like cannabinoids, terpenes, flavonoids, fats, and other chemical ingredients. It is filtered out through a series of washing and separation processes.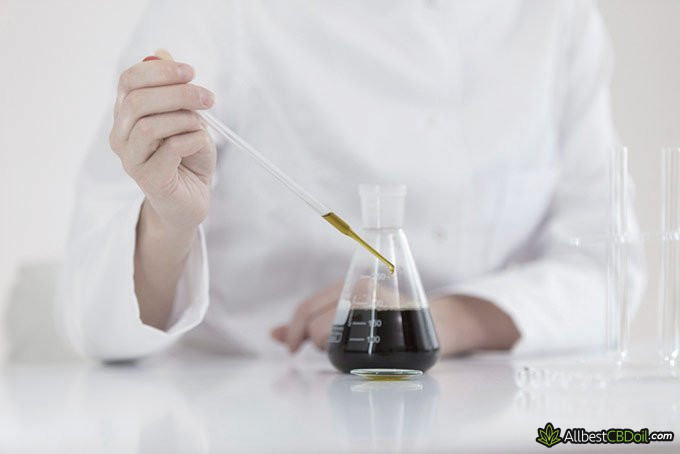 Then what follows are complex purification processes, like 'winterization' (where fats, waxes, lipids are taken out), 'chromotography' (separating remaining components), heat, pressure, vacuum, and finally, what is left is 99% pure CBD crystals.
How to Use CBD Isolate?
If you're wondering how to use CBD Isolate, there are actually more ways to consume it than Full-spectrum CBD oil, which is only sublingual (holding beneath the tongue for a couple of minutes and then swallowing). Let us give you some examples:
You can put the CBD Isolate into your coffee, or another drink. What is important, is that you must put some oil or milk into the drink for the powder to dissolve.
It can also be used in cooking or put into your meals and consumed together.


CBD Isolate can be held beneath the tongue for a minute or two and then swallowed - the same as Full-spectrum CBD oil. This is actually the most effective way for it to be consumed because it bypasses the digestive system and goes directly into your bloodstream.


It can be inhaled through a vaper if it was bought in the form of vaping oil. It is also quite an efficient way, though its effects might not last long.


CBD-induced creams can be put directly on the skin and absorbed through it. Good for topical pain management.


So, as you can see, there are many ways of absorbing CBD Isolate. Don't worry, it doesn't have the strong earthy flavor as other CBD oils have. Actually, CBD Isolate is totally tasteless and odorless.
Benefits of Using Pure CBD
When talking about CBD Isolate benefits, we have to admit, they are similar to all other Broad/Full-spectrum CBD oil main benefits because the main ingredient in all of them is CBD.
However, there is a specific feature related to CBD Isolate doses - if you take too little or too much, the effects will lose their strength. Scientists call this a bell-shaped dose-response curve[2]. Meaning, a therapeutic CBD Isolate benefits can only be achieved upon the right doses, therefore, they have to be decided carefully.
Good thing, though, is that it is very easy to measure the dose of CBD Isolate. In each dose you take - it should be as much CBD as the weight of the dose.
Many people consider its purity to be the best of CBD Isolate benefits. It has no psychotropic THC component and therefore is perfectly safe to use before a drug test.
However, this 2015 study[3] provides evidence that Full or Broad-spectrum CBD oil is more efficient than CBD Isolate, due to "synergistic interactions between CBD and minor phytocannabinoids". In other words, the CBD effects are the strongest when consumed together with other cannabis components.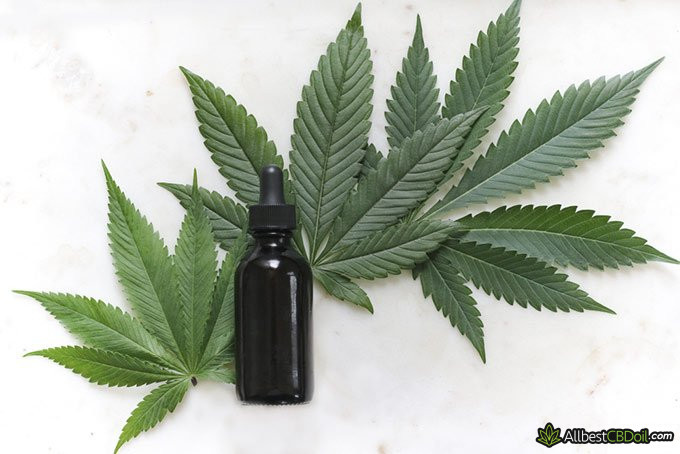 Given the fact that CBD Isolate is relatively cheap, compared to other CBD products, one particular benefit of it could be that it can enhance the potency of those products. So instead of buying the pricy high-concentration Full-spectrum CBD oil, you could buy less concentrated one and add the extra CBD yourself.
So if you consider buying CBD Isolate, either for your own reasons or those listed above, here is our pick on some of the most user-loved and market-leading CBD companies that offer CBD Isolate.
One of the most successful CBD companies in the U.S. market today is Charlotte's Web. They pride themselves in potent, natural and tested CBD products, certified, USA-grown hemp, and a wide selection of products.
What is interesting with Charlotte's Web CBD Isolate is that they already sell it infused with a carrier oil that is unflavoured and colorless. The bottle has a dropper, so you can easily measure and add the product anywhere you like. Though, compared to the other brands, the product might seem a bit pricy.
Another user-loved CBD company - CBDistillery has earned its place with the quality and trustworthiness of its product. They have a huge variety of different CBD products and all their hemp is sourced from licensed production facilities.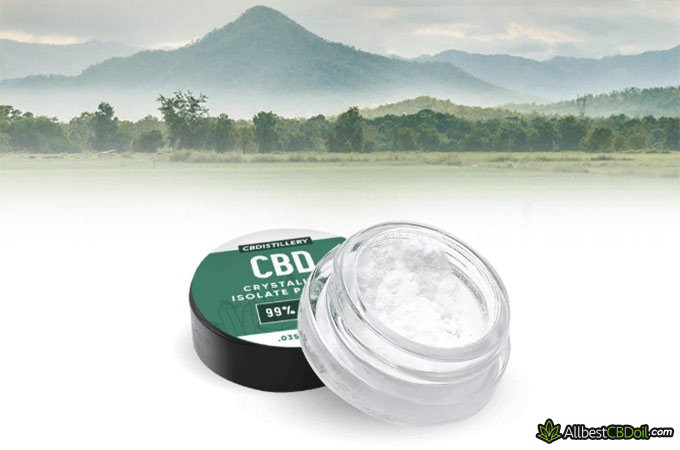 Regarding their CBD Isolate, they can either offer you a completely pure CBD Isolate powder to easily add to any products you like: creams, topicals, food, other CBD oils, etc; or you can choose a CBD Formulation Powder that is specifically designed to enhance your cooking.
This CBD company might not hold a place among the industry leaders but it's definitely notable and getting up there. Their organic hemp is also grown in the U.S. and they too offer a wide range of CBD products.
What is special about their approach is that they are very health-conscious, organic and humanistic (they provide multiple discounts to different sorts of customers and those with low-income). Besides that, their products, compared to other companies, are not expensive at all.
As for their CBD Isolate, they offer both: a powder that comes in 5, 20, 50, 100 and 200-gram quantities and could be used to infuse various other products; or tincture that is ready to use and already comes with a dropper for easier dosing.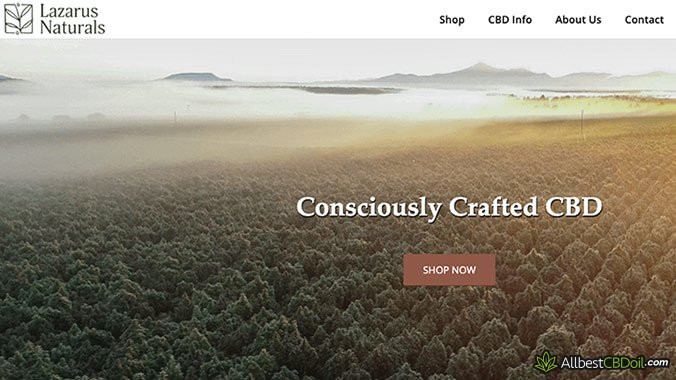 We only covered a tiny fraction of those, who offer CBD Isolate. It would take up a lot more space to talk about all the producers in the U.S. alone.
Why has CBD become such a hype?
Why is cannabis still prohibited in some of the states?
A brief history of hemp and these questions are covered in the next section below.
Hemp in the U.S.
In the U.S. cannabis, or more precisely, marijuana, was banned from public use since almost a century ago. Despite its popularity that seen rise in the 60s with the beatnik culture, in the 70s with the hippie movement and continued use up until present times, marijuana still holds a position in the Controlled Substances Act as a top prohibited drug.
But is it that serious, though?
There are two main species of cannabis: industrial hemp (Cannabis Sativa) and marijuana (Cannabis Indica). The latter one possesses the psychotropic quality which probably was the main reason it was put on the Act.
Industrial hemp, on the other hand, was on this planet long before the common era began. It was used in many spheres of our practical world: from clothes, building material, to food.
Throughout the course of time, it spread all over the world. During World War II, for example, it was the main clothing material for the U.S. army.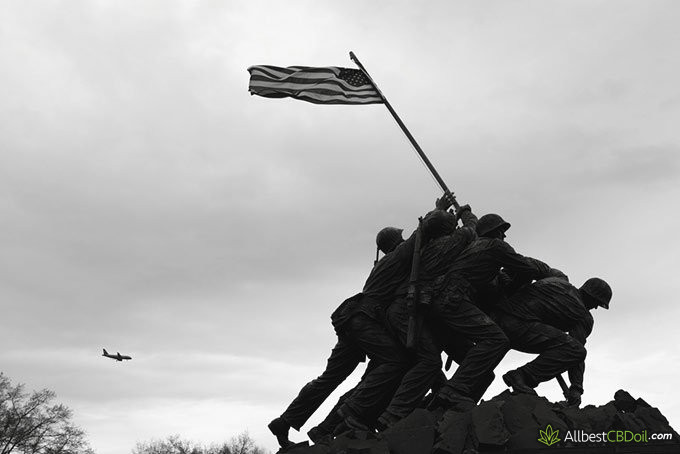 However, because hemp belongs to the cannabis family, upon the prohibition of marijuana, industrial hemp was prohibited too.
In 2018, the U.S Senate passed the Agriculture Improvement Act that included the legalization of industrial hemp as an agricultural commodity. From then on, all hemp-derived CBD products rocketed into the market.
Even though the Act legalized hemp-derived produce in all the states of North America, regional governments still hold authority over the regulations for cannabis use within their borders. This means, there are still some states which prohibit any kind of cannabis product, be it hemp-derived or marijuana-derived.
No cannabis product is allowed in Nebraska, Idaho and South Dakota. Therefore, if you live in one of those states, we do not recommend buying one yet. CBD is gaining its popularity and approval from the science communities, so perhaps in the near future, those laws will change too.
If you're considering purchasing some of the best CBD oils in the market, be sure to check the regulations on cannabis use in your state because there are some that only allow THC-free products. In that case, you could easily try out CBD Isolates.
Conclusions
To round up this article about 'what is CBD Isolate', 'how to use CBD Isolate' and 'what are CBD Isolate benefits', we hope you already gained some knowledge from reading it.
To rewind, CBD Isolate is a 99% pure extract of phytocannabinoid CBD that is commonly found in the form of a powder or crystals. It undergoes complex lab-based purification processes to become 99% pure.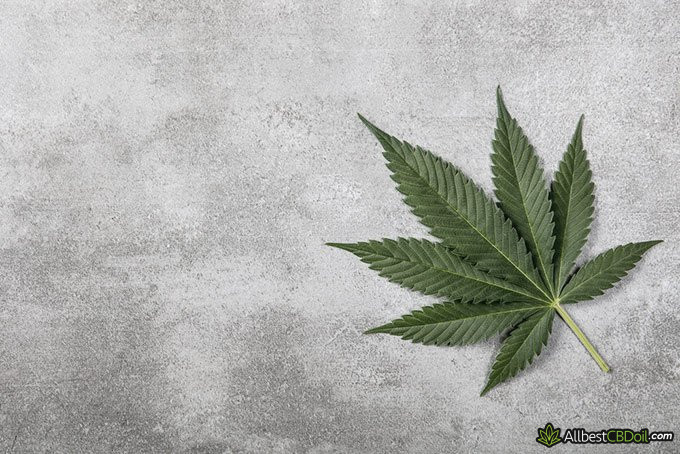 CBD Isolate benefits consist of being THC-free, odorless and colorless substance, with easy dosage and varied consumption options, and similar benefits to those of Full-spectrum CBD oil if dosed rightly.
However, despite the prevailing user opinion, it does not match the efficacy of Full-spectrum CBD oil and therefore is better used to enhance CBD products than to be consumed alone.
Regarding current industry leaders, you can read our reviews about them here.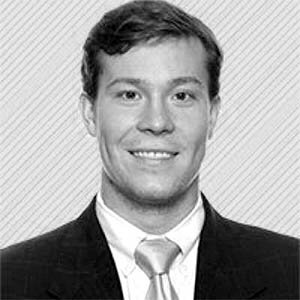 Gus Hanger
CEO of Industrial Hemp Farms
Contributed By Gus Hanger, CEO of Industrial Hemp Farms
Gus Hanger is one of the nation's Hemp experts - from laws and cutting edge news, to the latest research and health benefits, info on agriculture, high-level business insights and, government relat...
Read Full Bio...
Scientific References

Contributed by
Gus Hanger
, CEO of Industrial Hemp Farms
1. Ethan B. Russo: 'Taming THC: potential cannabis synergy and phytocannabinoid‐terpenoid entourage effects'
2. Ila M. Linares, Antonio W. Zuardi, José A. Crippa et al.: 'Cannabidiol presents an inverted U-shaped dose-response curve in a simulated public speaking test'
3. Ruth Gallily, Zhannah Yekhtin, Lumír Ondřej Hanuš: 'Overcoming the Bell‐Shaped Dose‐Response of Cannabidiol by Using Cannabis Extract Enriched in Cannabidiol'
Leave your honest feedback review
Leave your genuine opinion & help thousands of people to choose the best cbd. All feedback, either positive or negative, are accepted as long as they're honest. We do not publish biased feedback or spam. So if you want to share your experience, opinion or give advice - the scene is yours!