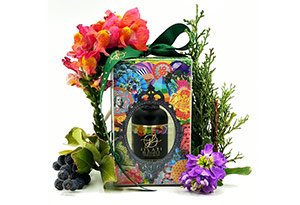 CBD is still a relatively new topic that's not only being praised but also sometimes criticized. Despite the skeptics' opinion, it's clear that the CBD industry is booming. In 2018, the global cannabidiol market was valued at $4.6 billion.
Today, there are already many studies that reveal multiple benefits of CBD, however, it seems that everything depends on the provider you're choosing - quality and potency of their products.
For this reason, I'm here to introduce you to Jilati CBD. It's completely understandable if you haven't heard about this Las Vegas-based company before because it's still very young.
In this Jilati review, I'll go through all the aspects that matter when picking a reputable CBD brand, including all details about their products, ingredients that they're using, and other crucial information.
Without further ado, let's jump straight into it.
Vedict at a Glance
Jilati is a new CBD company that seems to be doing a great job. Even though there's still a lack of products to choose from and the site is not as attractive-looking, you get high-quality broad-spectrum and full-spectrum CBD oil as well as the "Elixir of the Gods" that's the most potent CBD oil in the market. All products are derived from non-GMO organically-grown hemp and are tested in third-party labs.
Pros
Transparent company
Full-spectrum and broad-spectrum CBD
Third-party tested
Organically-grown, non-GMO
Cons
Limited product options
Confusing site
Jilati Review: PROS
I want to start this Jilati review with the positive aspects. Note that while the company has multiple products to choose from, this Jilati CBD review will be focused on CBD drops. I also won't forget such crucial aspects as the safety of ingredients and third-party testing that are applicable to all products offered by the company.
Full-Spectrum and Broad-Spectrum CBD Oil
Since Jilati is still a relatively young company, you won't find that many products to choose from. While this can be an issue for some of you, don't forget that the company is expanding its product list and you'll be able to find more options very soon.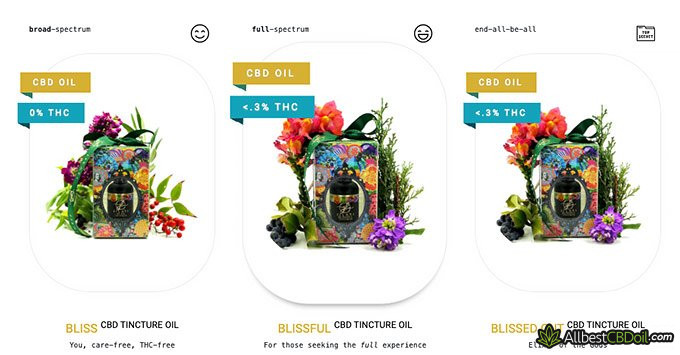 Since I'm focusing on CBD oil in this Jilati review, it's fair to say that there's no issue with limited options, everyone will find a CBD oil based on personal needs. You'll be able to choose from both full-spectrum and broad-spectrum CBD oils together with additional flavor options.
Before moving straight to Jilati CBD review while focusing on different types of CBD, it's crucial to understand the major difference between the two of them.
Full-spectrum means that CBD oil contains all the compounds that are naturally found in the cannabis Sativa plant, including terpenes, other cannabinoids, and essential oils. It's important to note in this Jilati review that full-spectrum CBD oil contains no more than 0.3% of THC and is considered to be non-psychoactive.
People tend to choose full-spectrum CBD because it works together with other phytochemicals that are naturally found in the plant. It's known as the "entourage effect"[1] without THC.
Broad-spectrum CBD oil is almost the same as full-spectrum. It also contains the majority of compounds that are naturally found in the plant, however, THC is completely removed. Such oil is also known to provide you with the "entourage effect".
Since this part in Jilati review is clear, let's take a look into the products that they're offering more closely.
Bliss CBD oil tincture is a broad-spectrum CBD that's combined together with a beta-caryophyllene that is a powerful phytocannabinoid, and multiple other terpenes. Jilati is using an MCT oil that's made of coconut oil as a carrier. The majority of reputable brands are choosing this option as well.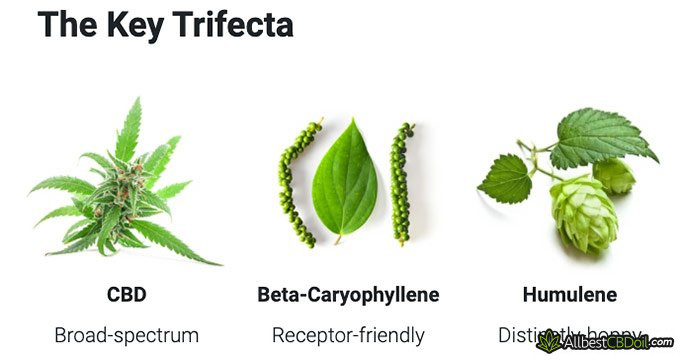 Bliss CBD oil tincture comes in three flavor options, including Naturally Bare, Pineapple Express and Tropicana. You can choose from two potencies: 750mg and 1500mg. Also, as already mentioned previously in this Jilati review, broad-spectrum CBD oil contains 0% of THC.
Jilati offers full-spectrum CBD oil as well. It's called Blissful. It's very similar to the Bliss CBD oil tincture, however, it additionally contains up to 0.3% of THC. Flavors and strength options are also the same.
The final CBD oil offered by the company is called Blissed Out CBD oil tincture, or as the company says "Elixir of the Gods". It's full-spectrum CBD oil that contains 15000mg of CBD!
Since I'll be focusing more on this "Elixir of the Gods" further into this Jilati CBD review, that's all you get for now.
Elixir of the Gods - The Most Potent CBD Oil in the Market
The exceptional aspect of Jilati is that the company offers the most potent CBD oil in the market! Their Blissed Out CBD oil tincture contains 15000mg of CBD in one bottle. That's why it's called the "Elixir of the Gods".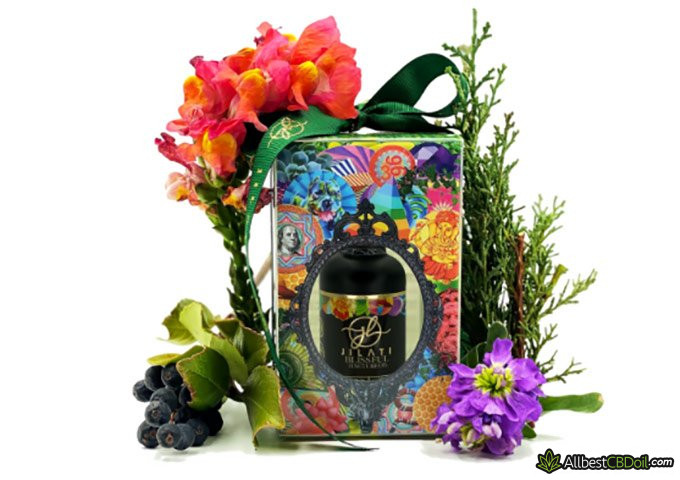 It's a full-spectrum CBD oil that also contains MCT oil, hemp seed oil, beta-caryophyllene, humulene, alpha pinene, beta pinene, and multiple other terpenes.
Although there aren't that many Jilaty reviews to make certain assumptions, the ones that I managed to find claimed that Jilati full-spectrum CBD oil is the most potent and effective product that they've tried so far. Also, it allows them to sleep better and promote a sense of calmness. These are the benefits[2] that you can expect from a high-quality CBD oil.
Therefore, if you're looking for potent and powerful CBD oil, you should definitely consider Jilati.
Transparent Company
When it comes to CBD brands, not all of them can be trusted. Many providers claim that their products are tested in labs and are derived from US-grown hemp, however, that's not always the case.
Some companies test products in their personal labs and provide you with the test results. Such testing might not reflect reality as the company can easily tamper with the results.
The most important aspect that you should pay attention to is "third-party" testing. Brands that send their products to independent labs and test each batch are the ones that can be trusted. Those results should also be available to everyone.

Moving to Jilati review, the company is very transparent. All of their products are derived from non-GMO, USA-grown hemp and each batch is tested in third-party labs.
Of course, words are just words if there is no proof. That's why Jilati provides you with a full list of ingredients and batch lab test results together with certificates of analysis (CoA) on their site. Hence, if you want to make sure that you get what's advertised, you can simply check the results.
25% Donation to the Cause of Your Choice
One of the reasons why choosing Jilati is an amazing idea is that you're not only improving your health but also help others. When purchasing any of the Jilati products, you can choose an ARK at the checkout and choose the cause of your choice that will get 25% of your order value.
An Act of Random Kindness (ARK) is about helping those in need. It teaches younger generations how to give back. Since there are so many organizations that need financial help, you'll help them without losing anything - Jilati takes care of it.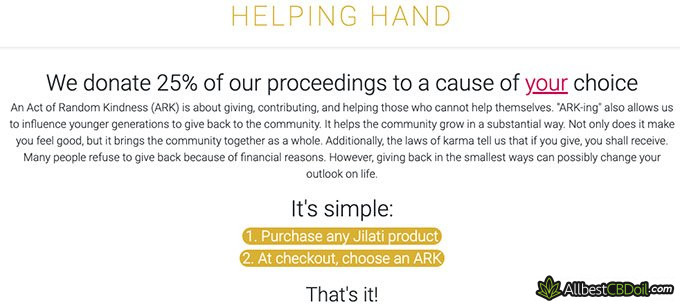 Therefore, you shouldn't forget that even the smallest things can help others more than you can imagine. Even if you're not feeling financially safe, Jilati provides you with an opportunity to donate 25% of their product value without paying extra.
Jilati Review: CONS
Since all the positive aspects that I wanted to include in this Jilati review are already clear, it's time to move to a less pleasant part and see what the company is missing. Although the company doesn't have that many flaws, there are a few aspects that can be pretty annoying.
Lack of Products
The major problem with Jilati is the lack of products to choose from. At the moment you can pick from three CBD oils, salve, lip balm and cream. Needless to say, such an amount of products might not be enough for some customers.
However, the aspect to mention in this Jilati review is that the company is still very young, meaning that the list of products is still growing.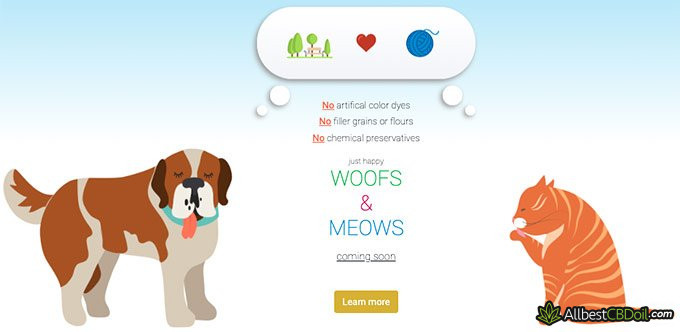 If you go to the Jilati official site, you'll see that there are new products that you can expect to see very soon. It seems that you'll also get some products for your furry friends shortly. Thus, it should no longer be an issue.
Confusing Site
I understand that the quality of the products is more important than the visual appeal, however, user experience matters as well. The problem with some sites is that there's just too much of everything and you cannot find what you're looking for.
It's fair to say in this Jilati review that the company could put more effort into the customer experience as their site simply contains too much of everything.
The first thing you'll notice once you go to the official Jilati site is how confusing it is. There are so many colors, text, additional details and effects that make it very difficult to navigate.
While this issue can be solved quite easily, I believe that it's something that Jilati could lose customers over. Hence, my recommendations would be for the company to put more effort into improving their site - making it more straightforward and visually-appealing.
Jilati CBD Oil Pricing and Additional Details
It's obvious that your decision can be strongly affected by the price tag. For this reason, in this Jilati review, I want to provide you with the prices of their CBD oil as well as information on shipping and returns.
What is Jilati CBD Oil Pricing?
Jilati pricing depends on which of their CBD oils you decide to go for. Here's the whole list:
As you can see, Jilati CBD oil is of a fair price-quality ratio. At first, the price of Blissful CBD oil tincture might seem surprisingly expensive, that's exactly what I thought as well. However, you get 15000mg of CBD, that's the amount that I've never seen before… It's fair to say in this Jilati CBD review that they're offering the most potent CBD oil in the market!
When it comes to shipping, orders over $50.00 within the U.S will be shipped without additional charges. You can expect to get them delivered in 4-7 business days if you choose standard shipping. I'd say that's completely fair.
Now, if you're not satisfied with Jilati products, you can return them within 30 days. However, there's a catch. You won't be able to try them and then decide. If you want to get your money back, the product must be unopened.
If it happens so that the product is damaged during the shipping, you can contact Jilati within 48 hours and get your money back as well.
Conclusions
Therefore, even though Jilati is still a relatively new company, it already has a lot to offer. Jilati provides both broad-spectrum and full-spectrum CBD oil to choose from.
Their most exceptional product is Blissed Out CBD oil tincture that contains 15000mg of CBD and is the most potent CBD oil that I've ever seen. It's perfect for customers who are looking for powerful and effective CBD products.
What is more, Jilati is one of the most transparent companies in the market. They test each batch of their products in third-party labs and provide you with results as well as ingredients on their site. Thus, they're accessible to everyone.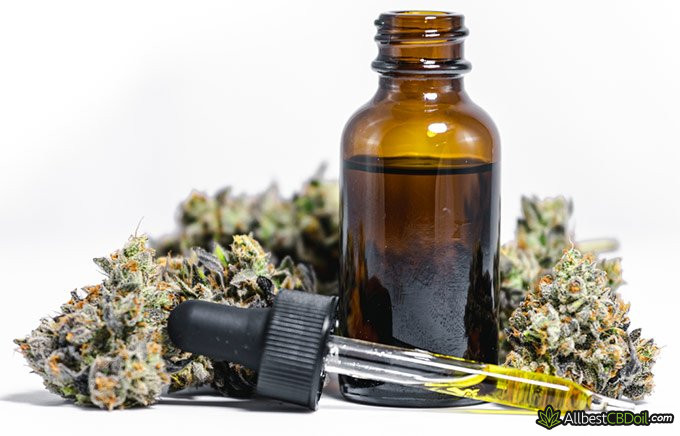 Also, their products are derived from non-GMO, organically-grown hemp, meaning that you shouldn't worry about the safety of their products.
All things considered, I would definitely recommend Jilati to everyone. The company seems to know what they're doing and should fulfill the needs of even the pickiest customers, especially if you're looking for the most potent CBD oil in the market.
I hope that this Jilati review was helpful and you managed to find all the answers!
Please keep in mind, though, that before you start using any CBD-based or related products, you should always consult with your family doctor. While I can tell you about the general collective feeling that most people have about certain CBD providers, this information should never substitute that of professional advice.
Scientific References

1. Ethan B. Russo: 'The Case for the Entourage Effect and Conventional Breeding of Clinical Cannabis: No "Strain," No Gain'
2. Kerstin Iffland and Franjo Grotenhermen: 'An Update on Safety and Side Effects of Cannabidiol: A Review of Clinical Data and Relevant Animal Studies'
Leave your honest Jilati review
Leave your genuine opinion & help thousands of people to choose the best cbd. All reviews, either positive or negative, are accepted as long as they're honest. We do not publish biased reviews or spam. So if you want to share your experience, opinion or give advice - the scene is yours!