History of CBD in Texas
Out of all of the states located in the US, Texas is often considered to be among the most conservative ones. This can be seen when it comes to CBD-related laws, too. For the longest time, any and all substances containing THC or derived from the Cannabis Sativa plant were illegal to be grown, purchased and used.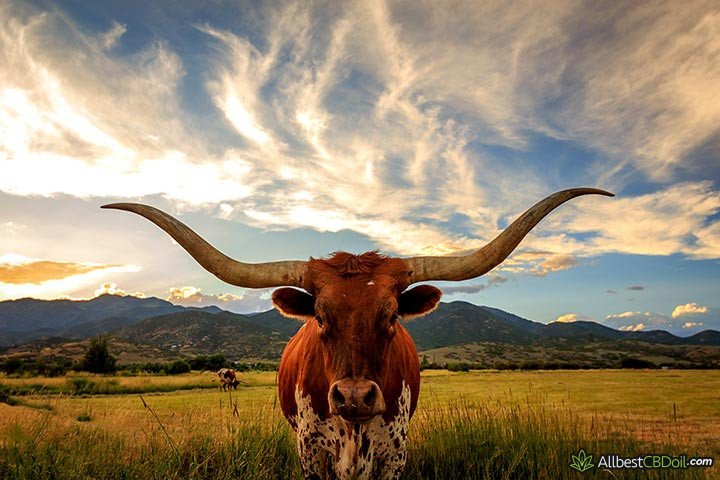 That said, CBD oil in Texas started gaining in popularity as of 2015. That year, the Compassionate Use Act[1] (CUA) was passed into law. The act allowed people who struggle with epilepsy to use CBD products that had very low levels of THC in them.
These products would have to be prescribed by physicians, however, and there were many different issues that needed to be tackled before you would actually get your hands on CBD oil Texas. For anyone trying to find out is CBD oil legal in Texas today, rest assured - the situation is much more lenient.
Texas - An Amber-Red State
When it comes to cannabis laws, all of the states in the US have their own color-coding. It ranges from Green all the way up to Red. A short explanation would look like this:
Green states

. The use of cannabis and cannabis-derived CBD is completely legalized.

Amber states

. Within amber states, you'll be able to use hemp-derived CBD products for medicinal purposes.

Amber-Red states

. If you're wondering is CBD oil legal in Texas, you should know that this state is considered to be an Amber-Red one. Basically, you can use CBD products for medicinal purposes, but no other cannabis-based products are legal.

Red states

. Red states prohibit the use of cannabis- and hemp-derived products, altogether.
So, Texas is an Amber-Red state… Or is it? Truth be told, it's one of the most confusing states to figure out - the laws here are very complicated and mixed up, but from late 2019, you can actually buy and use CBD products freely.
A Brief Note about Federal Law
Before we get to talking about medicinal and recreational uses of CBD within Texas, you should understand how the federal law concerning CBD works in the US.
Under the federal law, all CBD products that are derived from hemp are legal to be bought, as well as industrial hemp being legal to be grown. The catch, however, is that they must not exceed the limit of 0,3% of THC.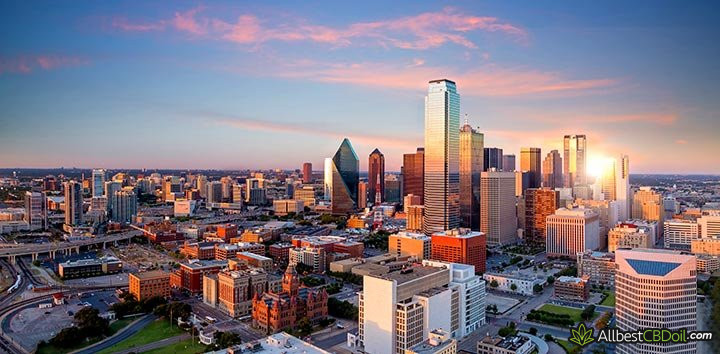 Pretty self-explanatory, right? Well, discussing the topic of CBD oil Texas, there's an important note that needs to be mentioned - each individual state can override the federal law with its own laws. Texas is no exception.
In all honesty, this is where the biggest confusion concerning CBD laws stems from, in the first place. If the federal law was the only thing that needed to be taken into account when finding out is CBD legal in Texas, it would make things pretty simple. Now, however, you must take into account all of the laws of the state, too.
Medicinal VS Recreational
If you're still not sure is CBD oil legal in Texas, let me be as clear as possible - if the product doesn't breach the federal norm of 0,3% THC, and the hemp is sourced from a reputable source, purchasing CBD oil in Texas is completely legal.
That's right - no matter if you're looking for CBD oil for the calming and relaxing benefits, or to help your pet deal with some physical pain issues, you'll be able to buy CBD oil in Texas for those reasons.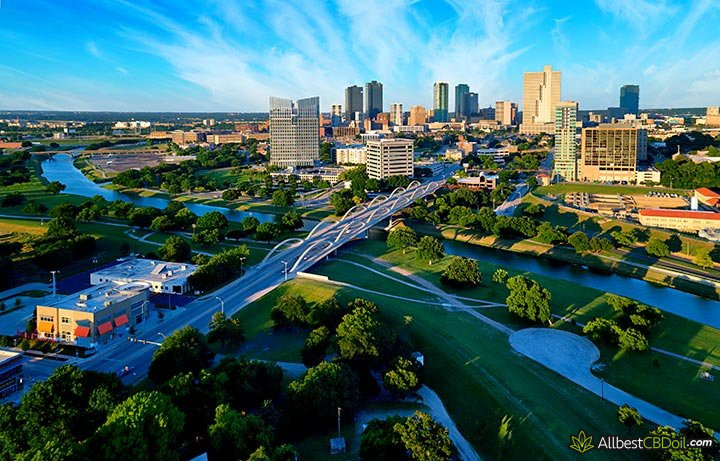 Whether it be for medicinal or recreational use, the legality remains the same. Thing is, the laws are much stricter when it comes to other cannabis-based products that have above 0,3% of THC within them.
Texas is no different. If you want to use cannabis-derived products that have 0,5% of THC or above, you'll have to be a part of some very specific group of medicinal patients, and have all of the documentation to prove it. As you might have gathered already, the situation is quite different for anyone looking for CBD oil Texas legalities.
Where to Buy CBD Oil in Texas?
So, then - we've figured that CBD oil Texas is legal for both medicinal and recreational purposes (up to 0,3% THC, that is). Now, the next step is to figure out where to purchase your CBD, right?
Truth be told, if you were to take a single stroll around Austin, Dallas or Houston, you'd notice that there's a huge number of CBD shops popping up all around. It's an ever-growing phenomenon - ever since the new laws in Texas came into fruition, there have been shops opening up left, right and center.
Naturally, another option is to purchase CBD online. There, you'd be able to find some of the top products of the industry, with various different discounts, deals and so on.
Since we've figured out that the answer to the question "is CBD oil legal in Texas?" is a "yes", we should look into some of the best places to buy it. We'd always recommend purchasing your CBD online, but you can also do it in a physical shop, too.
Buying CBD Offline
Let's start by looking at some offline alternatives, shall we?
SA Botanicals - Potent and Good for Pain Relief
SA Botanicals is located in the River Center Mall, in San Antonio. Customer reviews note that the CBD products sold in this shop are rather potent, and that there's a pretty good variety of items to pick from. Also, it would seem that the products sold by SA Botanicals are decent at alleviating various pains and aches, at least judging from the customer feedback.
Your CBD Store - Very Helpful and Informative Staff
If you're looking at where to buy CBD oil in Texas, you'll find "Your CBD Store" located in Keller. Judging by the overwhelming number of positive customer reviews, it would seem that it's definitely a decent place to purchase your CBD from! The biggest point here is that the staff is very helpful and will tell you everything you need to know about your CBD - that's great!
Smoke Alley - Big Selection, Good Service
Smoke Alley is based out in Houston. It's yet another very popular place for anyone wondering where to buy CBD oil in Texas. The shop sells various different smoking products, vapes and e-liquid, and also - naturally - CBD oil. According to the customer reviews, while the prices over at Smoke Alley might be a bit higher, the products are of good quality, and the staff is helpful.
Buying CBD Online
With the brick and mortar shops out of the way, let me clear - while CBD oil Texas is a big topic both online and offline, you should always resort to purchasing your CBD products from reliable and trustworthy brands found on the internet.
There are many different reasons for why that's the case, too. First of all, when you purchase your CBD products online, directly from the official provider, you can be sure that the price is almost always going to be better than the one you'd find in a shop. That's because retailers need to make a profit, so they place extra charges on the products.
Furthermore, whenever you purchase a product online, it's going to be of the highest quality possible (assuming that you buy it from a top-rated provider, that is). This isn't always the case with physical shops - there are many reports about low-quality products floating around.
So, in short, if you want to know where to buy CBD oil in Texas, I'd highly advise you to turn to the online industry leaders. More specifically - CBDistillery, cbdMD and Charlotte's Web.
CBDistillery - Multiple Different Products and a Coconut Oil Base
CBDistillery is an industry leader as far as trustworthy and high-quality CBD products are concerned. The company offers a huge assortment of products, all tested by independent, third-party labs. The carrier oil used by CBDistillery is based out of coconuts - by popular opinion, it's one of the best carrier oils to be used with CBD!
Purchasing CBD oil from CBDistillery, it will cost you anywhere from $30 up to $260, depending on the preferred potency of the product. Note that the oil is full-spectrum, but doesn't breach the legal 0,3% THC limit.
Latest Deal Active Right Now:
30% Exclusive Discount
On All CBDistillery Products
You have an exclusive chance to save 30% on your CBDistillery order. Grab this limited-time promo code & enjoy top-rated CBD products!
Expiration date: 03/12/2023
931 People Used
Only 37 Left
cbdMD - Broad-Spectrum CBD Oil Made from Hemp Grown in the US
cbdMD provides the customer with broad-spectrum CBD products. Anyone looking to purchase CBD oil Texas will be glad to know that, while cbdMD's oils do possess multiple different cannabinoids that create an entourage effect, they are almost THC-free (cbdMD states that the levels of THC within the oils are "undetectable").
The hemp from which the oils are made of are grown in the US, and the products themselves are tested by independent labs.
Price-wise, cbdMD's CBD oil will cost you anywhere from $29,99 up to $339,99.
[featured-coupon review_id="8"]
Charlotte's Web - Potent and Tasty CBD Oil
Charlotte's Web sells tasty CBD oil - that's pretty rare! On top of that, the products offered by the brand are rather potent, especially when compared to other CBD oils you'd find in your local shop.
Customers seem to also love Charlotte's Web because it's a very customer-conscious brand. The support is very helpful, and there are heartwarming stories all over their official website.
Charlotte's Web CBD oil will cost you either $74,99, or $188,99.
[featured-coupon review_id="2"]
Latest Deal Active Right Now:
GET 25% OFF
Exclusive cbdMD Coupon
Don't miss this limited-time opportunity to save big. Use this special coupon code link, save 25% & improve your well-being!
Expiration date: 03/12/2023
2,309 People Used
Only 18 Left
Conclusions
Whether it be physical pain, recreational use or epilepsy, there are many reasons why you might be searching for CBD oil Texas. Whatever the actual reason might be, you can purchase CBD in Texas both online and offline, and can use it at your own leisure.
If you're interested in choosing the better alternative and buying CBD online, do focus on the best providers out there!
Scientific References

1. Texas State Law Library: 'Texas's Compassionate-Use Program'
Disclaimer
While every effort has been made to make sure this article is as accurate as possible, it is not intended to provide legal advice. Since legal situations might rapidly change, we advise you to discuss any legal concerns with an expert, lawyer or relevant legal advisor in your local jurisdiction, or visit your state's .gov page for the most up-to-date information.