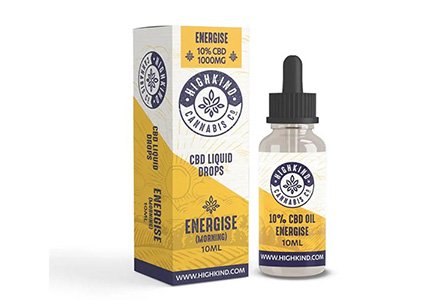 Looking for CBD products in the UK, you're bound to eventually come across a brand called HighKind Cannabis CO. If you've never heard about it before, and can't find any notable customer HighKind reviews, worry not - that's completely normal, since it's actually Synergy Extracts, just with a change in name.
Having said that, though, the brand does promise that it's frankly just a rebranding of the name, and that all of the products that it houses do still retain all of the positive features as before. Is that really the case, though?
Well… Let's jump into the HighKind review and find out, shall we?
TL;DR: Customer HighKind reviews (rather, Synergy Extracts reviews) point out that the company deals in full-spectrum CBD products that fall in-line with the THC legalities of the UK. The products are organic, independently-tested and extracted with the CO2 method, but the brand's product selection is pretty low, and the products that do exist appear to be out of stock.
Pros
Third-party lab-tested
Legal within the UK (>0,2% THC)
Full-spectrum CBD oils
Organic CBD products
Cons
Often completely out of stock
Small variety of CBD product options to pick from
HighKind Review: PROS
While Synergy Extracts might have rebranded, and now people might find HighKind reviews instead of SE ones, our review process won't be different from the usual flow - we'll start off by talking about the pros of HighKind and its products.
Organic CBD Oil Products
Oftentimes, when you browse through various CBD brands and their products online, you'll notice a tag that says "organic CBD" with some of them.
What does that mean in the context of CBD, though?
Well, in most cases (also in this HighKind review, too), it means that all of the CBD products sold by that particular brand are made from organically-grown industrial hemp (or cannabis). This means that there are no GMOs, pesticides, or any other harmful materials within the products.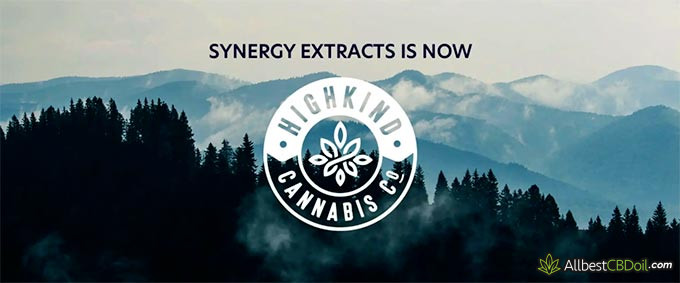 HighKind UK even emphasizes these things on their official website, too. The brand claims that all of the flowers from which they extract their cannabidiol are "flushed 3 weeks before harvest and are contaminant free".
Admittedly, some people don't really care all that much about their products being made from organic materials - that said, though, this shouldn't be the case. If the products are actually organic, this is going to be much better for your health, and it will also boost up the overall quality of the CBD oil (or any other product) that it is that you're using.
Independent Lab Tests
If you've ever read any other CBD brand reviews that we've written here, you might have figured that this is something that's coming - thankfully, though, I can insert this point in the "pro" section of this HighKind review.
It's probably quite self-explanatory, but independent lab tests are an absolutely essential part of any CBD provider that doesn't only want to be taken seriously, but is also adamant on building a reputation for themselves.
Lab tests happen when a CBD brand (in this case - HighKind CBD) takes their product to be tested with a special laboratory. If you were to visit HighKind UK's official website and do some digging around, you'd learn that this particular provider tests its products at the Phytovista Laboratories.
No matter the laboratory, the tests are almost always going to remain the same - the labs are going to test everything from the concentration of CBD within the product, whether or not it falls in the legal realm in regards to THC, the amounts of various chemicals and potentially-harmful materials, and so on.

This information (the test results) is then presented to the potential customer, namely, on some easy-to-find spot on the website. Well, that should be the case - some brands do tuck their test results far away, or even require you to write to them and ask to see the information.
In this HighKind review, though, I'm glad to state that ex-Synergy Extracts do test all of their products with independent labs, and the test results are freely available to be viewed and accessed, too. Now, the "independent" or "third-party" parts are actually very important here, as well.
Whenever a brand tests its products independently, you can rest assured that it won't have a say in the end results of those tests. Some CBD providers perform those tests with their own, in-house labs - frankly, that's the same as not testing the products at all, at least in the court of public opinion.
Let me stress this once again - when it comes to HighKind UK, you have nothing to worry about, since this particular brand tests all of its products with third-party labs, and makes the results easily-available to the potential customer. Definitely a huge win on their part!
Full-Spectrum CBD Products
In the world of CBD, there are a few different types of products that you might be able to come across. Three, to be exact - full-, broad-spectrum ones, and CBD isolates.
All of these types of products are rather different from one another. The core differences, however, lie in a single place - their composition. For example, CBD isolates are pure cannabidiol products that contain no other cannabinoids except for CBD. On the other hand, full-spectrum products have all of the different cannabinoids within them, including THC.
Depending on the brand from which you'd want to purchase your CBD products, the selection will differ, too. Most companies - same as HighKing UK - offer but a single type of CBD products out of the three, but there are also others that deal in all three types, too.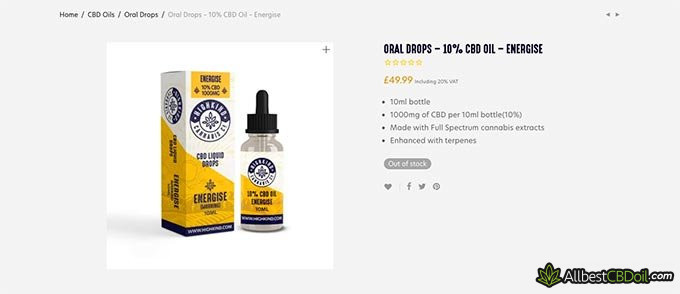 As mentioned by some customer HighKind reviews, though, HighKind CBD will only provide the customers with a single type of CBD oils - full-spectrum ones. That, however, isn't necessarily a bad thing.
You see, full-spectrum CBD products are going to be the most potent option, and are likely to be best for anyone who's looking for effective CBD. Even though many studies relating to the qualities of CBD[1] aren't going to tell you this, it is true.
The reason for why that's the case is simply because, within a full-spectrum product, cannabidiol is going to mix with other cannabinoids, which, in return, will increase the potency of the end product. The process is naturally a bit more difficult than that, but the general idea still remains the same.
In short, if you were looking for HighKind reviews with the intention to find some potent, full-spectrum CBD products for yourself, then you're in luck.
Completely Legal Within the UK
While legalities are usually something that you'd just automatically assume to be in-check when looking at some CBD products sold by a specific provider, unfortunately, that's not always the case.
You see, the thing that usually makes CBD product legalities questionable is THC - tetrahydrocannabinol. It's the drug found in marijuana, and it can make the user feel high after they'd consume it.
Each country has its own laws regarding the legality of THC and CBD - the UK is no different. Here, you can purchase and use CBD products as long as they are being sold as food supplements (and not some sort of an alternative medication), and contain less than 0,2% THC.

Having said that, though, some brands could be doing some shady business, and sell you products that breach the legal THC mark. Undoubtedly, this would get you into some trouble with law enforcement.
Any and all customer HighKind reviews, however, are going to tell you that HighKind UK is completely "off the hook" in this regard - while the company does deal in some full-spectrum CBD products, they are going to be completely legal, meaning that they won't breach the 0,2% THC mark. This is further proven by the lab test results that we discussed earlier.
HighKind Review: CONS
So - those were some of the more notable benefits of HighKind CBD (ex-Synergy Extracts). Now, let's also discuss some of the more crucial issues that customers might have with the products sold by the brand.
A Lack in Product Variety
One of the more notable complaints echoed in many customer HighKind reviews has to do with the lack of product variety that's noticeable on the brand's official webpage.
I have to say - the complaints aren't unwarranted.
While you could say that this is likely the case because of the fact that the company has rebranded and launched a completely separate website, I'd beg to differ - they've stated multiple times that their products are still the same as they were before, in most regards.

Assuming that's the case, you'd have four types of CBD products to pick from if you decide to choose HighKind as your preferred CBD provider - concentrates, vaping, oils and terpenes. Each of these categories are going to have their own specific products, two or three each.
Admittedly, the variety of choice is 'superbly' small - there are other CBD brands out there that offer only one type of CBD products, altogether. Still, when compared to some of the industry leaders, HighKind does still provide only a small product choice pool.
Most Products are Out of Stock
Admittedly, this is a pretty strange con to have to talk about. Having said that, I've come across some customer Synergy Extracts reviews that have pointed this out, and also noticed that it's still an issue with the new website, too.
If you were to go to the CBD oil section of HighKind's official website, as of writing this HighKind review, you'd notice that practically all of the products are out of stock. That's… Not really what you'd expect, now is it?
You could, for a fact, say that hey - they simply sold out, and will restock their inventory sometime soon. That'd be fair - still, however, I'd point back to the fact that it appears to be a reoccurring issue, both with the old brand, and with the new one.
This is where I'd also like to offer a word of caution - if you really like what HighKind has to offer, do wait until they restock, and don't go out buying the company's CBD products from some third-party providers. Quite frankly, you'll probably pay much more money, and might even receive some less-than-ideal quality products.
Price
To finish off this HighKind review, let's discuss the pricing options of the CBD oil products sold by the brand in question.
The prices are:
There are three CBD oil options to pick from (Energise, Focus and Tranquil), but they all come equipped with the same price tags.
I have to say, the prices really aren't all that low. While the products do, for a fact, have many different benefits associated with them, there are actually much more affordable options out there, with some similar benefits, too.
Here is The Best CBDistillery Offer I Found:
30% Exclusive Discount
On All CBDistillery Products
You have an exclusive chance to save 30% on your CBDistillery order. Grab this limited-time promo code & enjoy top-rated CBD products!
Expiration date: 03/12/2023
931 People Used
Only 37 Left
Conclusions
Now, would I personally recommend checking HighKind out?
This is one of the tougher calls to make, to be honest. I would, actually, recommend the brand, at least when it comes to giving them a shot - the only thing that prevents me from being certain is the whole "rebranding" deal.
You see, it's difficult to say what this rebranding will bring to the table - while the company promises that all of the products are going to retain the same standard of quality, you can never know for sure until some time passes.
Naturally, if you're looking for some good CBD UK options for the sake of helping you deal with some inflammations[2] or anxiety, customer HighKind reviews (combined with the Synergy Extracts reviews, that is) will tell you that yes - the brand is worth giving a shot.

Do keep in mind, though, that none of the CBD products sold by HighKind should not be viewed as medicine or, even worse, replacements for medicine. Always consult with your physician before starting out with some new CBD products!
Finally, you can also check out the list of the best CBD oils in the UK. Perhaps there are some better alternatives there - ones that would be more appealing to you, whether it be from a quality, pricing, or simply availability standpoints?
With that, thanks for reading this HighKind review, and until next time!
Please keep in mind, though, that before you start using any CBD-based or related products, you should always consult with your family doctor. While I can tell you about the general collective feeling that most people have about certain CBD providers, this information should never substitute that of professional advice.
Scientific References

1. Han Li, Yuzhi Liu, Danni Tian, et al.: 'Overview of Cannabidiol (CBD) and Its Analogues: Structures, Biological Activities, and Neuroprotective Mechanisms in Epilepsy and Alzheimer's Disease'
2. Sinemyiz Atalay, Iwona Jarocka-Karpowicz, Elzbieta Skrzydlewska: 'Antioxidative and Anti-Inflammatory Properties of Cannabidiol'
Leave your honest HighKind review
Leave your genuine opinion & help thousands of people to choose the best cbd. All reviews, either positive or negative, are accepted as long as they're honest. We do not publish biased reviews or spam. So if you want to share your experience, opinion or give advice - the scene is yours!