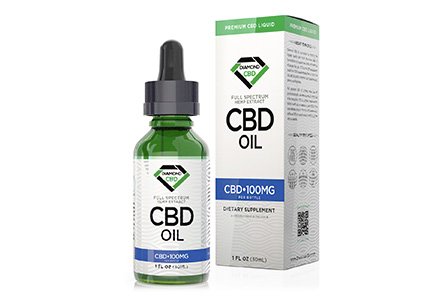 Finding reliable customer Diamond CBD reviews isn't exactly a difficult task, to be honest - I mean, the brand is surely one of the more popular CBD providers in the US, and there's quite a bit of customer feedback out it and its products online. Having said that, it can be rather tricky to sort through all of the opinions, and find actual, substantial information.
Well, worry not - that's what I'm here to help you do.
In this article, we won't only be looking through various customer Diamond CBD reviews, but also trying to answer the question "is Diamond CBD legit?", and discussing some of the more prominent cons of the brand's products. Interested? Let's get to it, then!
Keep in mind that it's crucial to choose reliable and time-tested CBD brands. The most recommended ones include cbdMD, Charlotte's Web and CBDistillery.
Table: cbdMD, Charlotte's Web and Diamond CBD comparison.
TL;DR: Diamond CBD offers customers some high-quality full-spectrum CBD products. The CBD oils, are all independently tested, and made in the US - this means that the quality is going to be up to standard, too. Furthermore, the prices don't bite either!
Pros
Full-spectrum CBD products
US-based brand
Quite affordable
Scandinavian-sourced hemp
Cons
Some complaints about customer support
Some products lack potency
Diamond CBD Reviews: PROS
To start off talking about customer Diamond CBD reviews, we'll take the more positive route and discuss the main benefits mentioned by those very same reviews. If you're wondering is Diamond CBD legit, this will be a pretty good way to see that.
Truth be told, one of the main points that people wonder about when trying to figure out the legitimacy of a CBD provider has to do with independent lab tests. Granted that this is a section about the brand's benefits, you can probably see where I'm going with this.
Independently-Tested by Third-Party Labs
What's the first thing that you think about when you hear the term "independent lab tests"?
Some people are going to think about some studies involving cannabidiol and its effects[1], while others might imagine some high-tech testing facilities where CBD is being extracted.
None of those things are quite right - the truth is actually much simpler.
Some customer Diamond CBD reviews will tell you this, but independent lab tests are performed on CBD products in order to test their potency, purity, and overall quality.
The way that this is done is pretty straightforward, too - a CBD provider would find a third-party laboratory, and would then go on to supply it with samples of their CBD products. These samples would then be thoroughly tested, and the results sent back to the provider.

After reaching this stage, the CBD provider should then publicize those test results on their official website, somewhere next to the products that they relate to, so that the customer could see what it is that they're buying.
Many customer Diamond CBD reviews aren't going to mention this, but some CBD providers try to look for as many possible shortcomings to this process as humanly possible. Hiring their own labs to do the testing, hiding the results somewhere on their website (or on a third-party site, altogether), and so on - not a good look.
Reading through Diamond CBD oil reviews, however, you won't find any complaints in this regard. That's because Diamond does everything the way that they're supposed to - all of the CBD oils sold by the brand are tested by third-party labs, and the results are also published in an easily-spottable spot on the brand's official website.
That's a pretty big deal! It shows both the transparency of the company in question, and also answers the question "is Diamond CBD legit?" pretty well.
Full-Spectrum CBD Products
One of the main things that you're likely to notice mentioned quite often while reading through customer Diamond CBD reviews is that the company deals in full-spectrum CBD oil.
If you're someone who's interested in potent products, this is great news.
Full-spectrum CBD products are the most potent type that you'll find available to be purchased, at least as far as legalities are concerned. On the flip side, you'd have CBD isolates - they are usually considered to be the "weakest" in terms of the perceived effect that they have on the user, but are also the purest form of cannabidiol.
Somewhere in the middle of these two types of CBD products you'd be able to find the broad-spectrum group. Broad-spectrum CBD products are quite interesting, and also pretty rare to come across. They tend to contain a variety of different cannabinoids in their composition, except for THC - the thing that makes you high.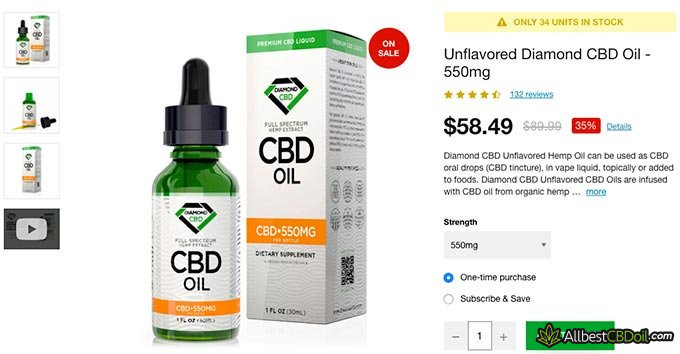 Jumping back to the full-spectrum type of products, this is actually where THC comes in, too - while being the most potent, full-spectrum CBD oil will also contain traces of THC within them. With that, there comes an issue with the legalities, too.
Multiple customer Diamond CBD reviews, however, will tell you that this is something that you don't need to worry about with the products offered and sold by this particular company - operating from within the US, the brand complies with all of the laws and restrictions in place within the country, and the full-spectrum products should not breach the legal 0,3% THC mark.
All things considered, as pointed out earlier, this is actually great for anyone who's looking for the most potent CBD options on the market - Diamond's products are sure to provide you with just that.
High-Quality CBD Oil Made in the US, Hemp Sourced from Scandinavia
The quality aspect of a CBD product is made up of a lot of different factors. Extraction methods, hemp growing location, production processes - you name it!
While this is, yet again, something that you aren't really going to find mentioned on customer Diamond CBD oil reviews, the company produces its CBD oils within the US. This is, without a doubt, a good thing.
The US has some rather strict rules and regulations when it comes to the production processes of various CBD products. Each successful and reputable provider has to comply with all of these regulations in order for their products to be approved and not flagged down by governmental institutions.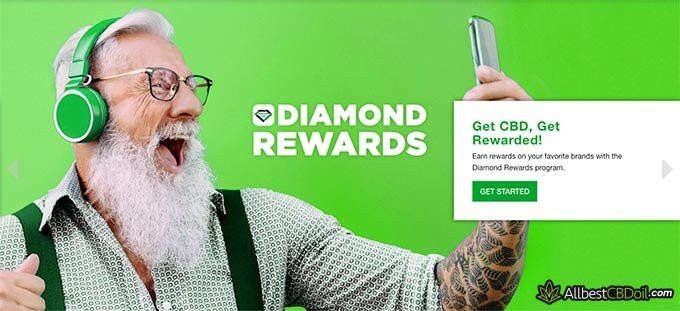 This, in turn, means that you can expect your CBD oil that you've bought from Diamond CBD to be up-to-standard, in all senses of the term.
Now, the interesting part about the company that you probably WILL find mentioned in other customer Diamond CBD reviews is that it grows and sources its hemp from the Scandinavian countries.
Now, look - in most cases, US-grown hemp is going to be superior to that which came from who-knows-where. It's actually often considered to be quite shady if a CBD provider sources their hemp from outside of the country.
As you've probably gathered, though, the key term in that sentence is "in most cases". This isn't one of such cases.

As far as agricultural laws regarding hemp go, Scandinavia is probably the BEST place to source your industrial hemp from. This region has some of the strictest and most quality-ensuring laws in regards to this topic - you can be sure that products made from hemp that comes from one of the Scandinavian countries are going to be superior.
All of these (and some other) factors make Diamond CBD's products truly top-tier, especially as far as the topic of quality is concerned. Definitely some good news for any and all potential customers!
Products Completely Legal Within the US
While this is something that we've touched upon a bit earlier on in the article, it's still worth mentioning separately, nonetheless.
Whenever the topic of CBD legalities arises, the center of attention always turns towards THC. That's understandable, though - you don't really need to read through Diamond CBD oil reviews to learn that tetrahydrocannabinol is surely the more controversial cannabinoid between it and cannabidiol (this can be seen from various studies of the two[2], too).
Since it's psychoactive, the use of THC (and everything that has THC, including full-spectrum CBD products) is rather limited. The actual limits themselves, however, depend on the state in which you reside in - some states have very liberal outlooks on the matter, while others ban everything that's even remotely related to THC.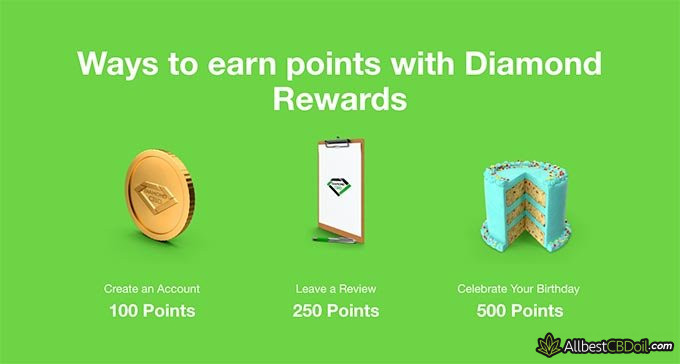 Having said all of that, according to federal law, CBD products are completely legal within the country, as long as they come from industrial hemp and do not contain more than 0,3% THC. Each state can choose to override this law (and some do), but that's the general idea.
Customer Diamond CBD reviews will likely tell you time and time again - the brand's products are completely legal within the country, since they all contain up to 0,3% THC. This is further proven by the brand's lab reports, too.
If you're looking for CBD brands that source products from US-grown hemp, you should check out cbdMD, Charlotte's Web and CBDistillery. These companies offer potent and effective products, based on multiple user reviews.
Table: cbdMD and Charlotte's Web comparison.
Diamond CBD Reviews: CONS
Now that we've mentioned most of the fundamental benefits that are talked about in customer Diamond CBD reviews, let's turn towards some of the complaints that customers have with the brand. Truthfully, though, there isn't really much to talk about in this regard - the only reoccurring issue that I've noticed is one that relates to Diamond CBD's customer support.
Customer Support Issues
While this isn't necessarily something that should be considered "a general rule", there are a few customer complaints that have to do with the customer support aspect of the brand.
Most of these complaints have to do with the fact that customers would either have to wait for a pretty long period of time for a response from the support center, or that the staff seemed a bit…. Well, not knowledgeable when it comes to the company's products.

Admittedly, it should be mentioned that these complaints don't really have anything to do with the actual products that the company deals in, or their quality, either. Still, it's surely something that can become annoying pretty fast, while also lowering the company's reputation by a bit, too (it possessing seemingly not knowledgeable staff).
Price
Now that we're done talking about various customer Diamond CBD reviews, and since we've discussed some of the main pros and cons (well, con) of the brand and its oil products, let's finish off the article by also mentioning the pricing options for the CBD oil in question.
Purchasing some of the Unflavored Diamond CBD Oil drops from the brand's official website, the prices are going to range from $19,99 for the 25mg option, up to $319,99 for the 2500mg option (these are the original price tags, displayed without a discount).
The thing about Diamond CBD, though, is that there are actually quite a few potency options for the customer to pick from - 10, to be exact. That's pretty significant! Frankly, anyone should be able to choose the best option for themselves.
Here is The Best CBDistillery Offer I Found:
30% Exclusive Discount
On All CBDistillery Products
You have an exclusive chance to save 30% on your CBDistillery order. Grab this limited-time promo code & enjoy top-rated CBD products!
Expiration date: 03/12/2023
931 People Used
Only 37 Left
Conclusions
Without a doubt, Diamond CBD is one of the more interesting CBD providers in the US. This is both something that's echoed by other customer Diamond CBD reviews, and also something that I myself can state, too.
The company isn't all that popular when you compare it with some of the industry-leading CBD brands, but that doesn't really do it justice. It offers customers great-quality oil products that are produced within the US and made from Scandinavia-sourced hemp. It's not something that you'd see all that often!
Also, all of the company's oils are full-spectrum, with a good assortment of different potency options for the customer to pick from. Multiple Diamond CBD reviews point this out as being one of the most notable features of the brand and its products - not only can you expect a full-spectrum experience from your CBD oil, but also pick the ideal potency option for yourself.
Furthermore, all of the Diamond CBD's products are completely legal within the country, since none of them are going to breach the legal 0,3% THC mark. This is something that's further-proven by the brand's independent lab test reports, too - all of which are easily accessible and available on the brand's official website.
All in all, Diamond CBD is surely a decent US CBD provider that's actually gained some popularity in other countries, too. Do note, though, that you should always check the legalities of your country or state before deciding whether or not to purchase some CBD products. This will frankly save you a lot of time, money, and perhaps even some trouble with law enforcement!
However, in case you decide that Diamond CBD is not for you, you should check out cbdMD, Charlotte's Web and CBDistillery.
Table: cbdMD, Charlotte's Web and CBDistillery features.
Please keep in mind, though, that before you start using any CBD-based or related products, you should always consult with your family doctor. While I can tell you about the general collective feeling that most people have about certain CBD providers, this information should never substitute that of professional advice.
Scientific References

1. Javier Fernández-Ruiz, Onintza Sagredo, M Ruth Pazos, et al.: 'Cannabidiol for Neurodegenerative Disorders: Important New Clinical Applications for This Phytocannabinoid?'
2. Roberta Pacifici, Simona Pichini, Manuela Pellegrini, et al.: 'THC and CBD Concentrations in Blood, Oral Fluid and Urine Following a Single and Repeated Administration of "Light Cannabis"'
Leave your honest Diamond CBD Oil review
Leave your genuine opinion & help thousands of people to choose the best cbd. All reviews, either positive or negative, are accepted as long as they're honest. We do not publish biased reviews or spam. So if you want to share your experience, opinion or give advice - the scene is yours!