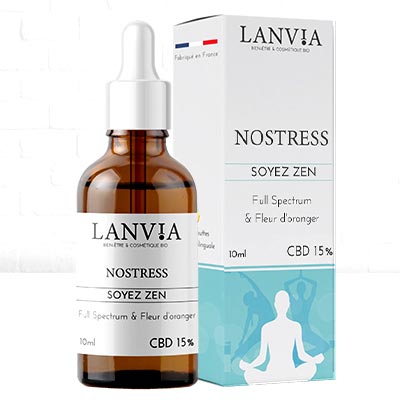 It is no secret that the majority (rather, vast majority) of the best CBD oil providers are located in the US. In most states there, CBD is legal, in one form or another. Today, however, in this CBDologic review, we'll be looking at a provider that comes from Europe - more specifically, France.
If you've never heard about CBDologic, you shouldn't be too surprised - it's an up-and-coming CBD brand, and it orients its sales towards some more-local marketplaces. Speaking of which, we'll have an entire CBDologic marketplace review, too - you see, the brand actually works with 3 other CBD laboratories.
TL;DR: There are very few customer CBDologic reviews as of writing this article, but the ones that do exist seem to note that the company's products are of decent quality. The brand sells full-spectrum CBD products, and ships to many different countries, but there are some inconsistencies with the information found on their official website. As of 2023, the inconsistencies have mostly been addressed, however, and the brand is actively making further improvements to their site and information conveying methods.
Pros
CBD isolates and full-spectrum products
Good variety of products to pick from
Decent pricing
Potent (full-spectrum products)
Cons
Information inconsistencies (that, as of 2020, have been addressed)
Not US-based
CBDologic Review: PROS
It is no secret that you're not going to find many customer CBDologic reviews floating around the internet - in fact, there are very few opinions that customers would have exclaimed about the products in question. That being said, we'll talk about both what users have to say, and about the information presented on the brand's official website, too.
Let's start the CBDologic review on a positive note, shall we?
Product Choice Variety
One of the first things that you'll notice when you visit CBDologic's official website is that there are quite a few different products for you to pick from. CBD creams, oils, pet products, vape liquids… You name it!
Thing is, CBDologic actually works with three brands, in total - Lanvia, Vapodiol and Vetlab. While our CBDologic review concentrates on Lanvia - rather, the sublingual "Nostress" oil sold by the company -, it's worth mentioning the rest of the laboratories, too.
Vetlab, as the name might imply, sells pet products. To be more specific, while writing this CBDologic review, I came across two different products aimed at pets - a dog supplement, and a cat one.
The dietary supplements were made by the Vetlab laboratories, and are 100% natural and organic. According to the description found on the site, the supplements should act on your pet's digestion and nervous systems, without causing any notable side effects - pretty standard stuff for CBD pet products!

Vapodiol, in its own right, provides e-liquids - in other words, liquids that are used to fill your vape. The choice is quite varied, and the company markets the products as a good alternative to smoking cigarettes. Thing is, the liquids are made from CBD isolate - this is actually something that customer CBDologic reviews do fail to mention.
I'll get to the specifics of this later on, but for now, suffice to say that pure CBD isolates are some rather high-quality products. So, if anything, you can at least be sure that the e-liquid offered by the company is up-to-par with that sold by some of the industry leaders.
Finally, the focus of this CBDologic review - Lanvia. Another French laboratory, Lanvia offers customers the widest assortment of CBD products on CBDologic's official site. Everything from tea to oils and anti-inflammatory balms, Lanvia covers most of the usual CBD products that you'd expect to find with a high-end CBD provider.
CBD Isolates and Full-Spectrum Products
Something that I didn't find mentioned on any of the customer CBDologic marketplace reviews is that both CBD isolates and full-spectrum products are available to be purchased from the company.
Notably, however, the products are designated - this means that you'll find full-spectrum oil, but no oil isolates. The same goes for vaping liquids - they're made from CBD isolate, but there are no full-spectrum ones.
CBD isolate is the purest form of cannabidiol out there. The isolate itself comes in powder form, and is insanely expensive. Worry not, since CBD providers use that powder and, mixing it with other materials, create the end-product, whatever it may be - CBDologic is no exception.
Isolates are completely THC-free, which means that they are legal in more places around the world, and won't cause you to fail a drug test. The same, however, cannot be said about full-spectrum CBD products.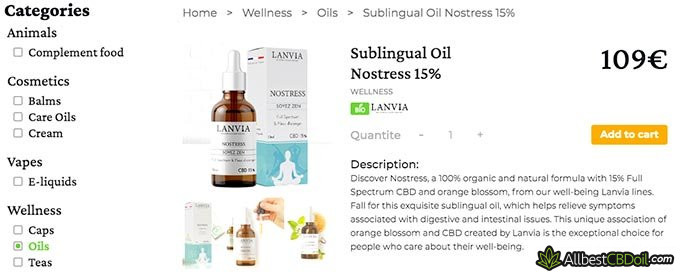 Full-spectrum CBD products, as you can probably already tell, contain all of the cannabinoids found in the Cannabis Sativa plant (hemp, to be exact) - over 100 of them! Among those cannabinoids, there's also THC (tetrahydrocannabinol) - the psychoactive drug (although CBD is psychoactive too[1] - just not in the same sense) that makes people high when they smoke weed.
Now, since the amounts of THC in hemp plants are very low, there are some countries that permit full-spectrum products if they don't surpass the 0,2% or 0,3% limits.
Various places around the globe have different legalities concerning this topic - it all depends on where it is that you live. For this CBDologic review, it should suffice to say that full-spectrum products are much more potent than those that are made from CBD isolates.
Now, I'll talk about this a bit more later on, but there are some inconsistencies with how CBDologic presents their products. Assuming, however, that there are indeed the two choices mentioned above - full-spectrum and isolate products -, it's then pretty cool that most customers will be able to find a product that would suit them best.
Different Flavors, Different Potency Options
Another thing that you might notice while reading customer CBDologic reviews and checking the brand's site is that there are different options of the same type of product available for you to pick from.
Now, let's take oil as the prime example. Judging by the names of the oil products sold by the brand, the different potencies are there for different uses. Say, you're suffering from anxiety or even simple, everyday stress - the main product that we're looking at today, "Nostress" would be the right pick for you.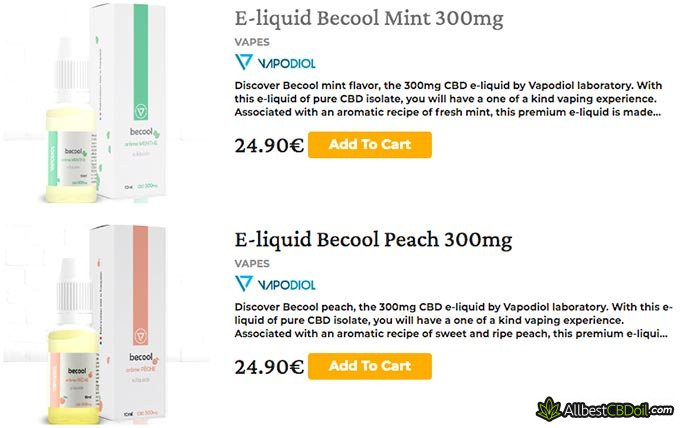 On the other hand, perhaps you're having trouble sleeping, and know that CBD might help you rest better and in a calmer fashion? It's likely that the "Good Night" oil will help you there.
Digestive problems? No worries - CBDologic (together with Lanvia) has the "Digestive" oil.
As you can see, there's a type of oil for most of the main scenarios because of which people would turn towards CBD, in the first place. A similar trend can be seen when looking at the vaping products from Vapodiol - there are e-liquids for smoking and relaxation, or simply different taste options, too.
CBDologic Review: CONS
Now, those were some of the main pros that you could find mentioned by different customer CBDologic marketplace reviews, or even on the company's site itself. With that said, there are still a few things worth talking about that aren't as positive, though.
France-Based
You probably saw this coming, didn't you?
CBDologic is located in France. As a standalone statement, this doesn't really say all that much, does it - so what, you may ask? Well, if you're based in the US, that's a pretty big deal.
Some of the most essential features of a reliable and trustworthy CBD product provider when it comes to the US are hemp farming location and production regulations.
Whenever hemp is grown in the US, you can rest assured that it falls in-line with all of the farming acts, production standards and so on. The story is a lot different when it comes to France - it's on the other side of the world!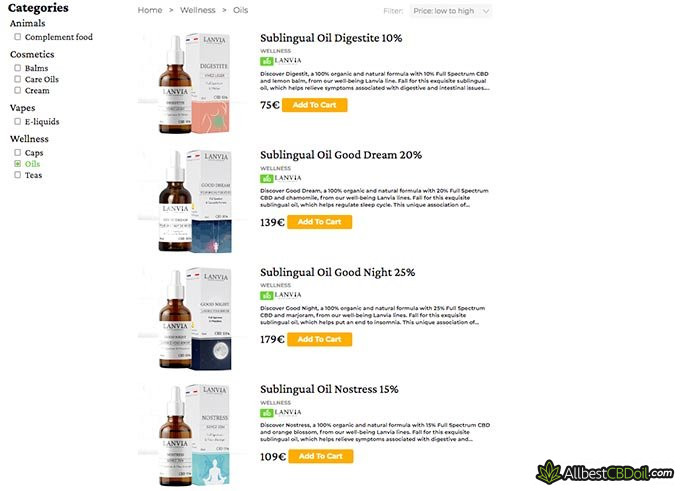 Now, notably, this does not mean that hemp grown outside of the US is "bad" - far from it! A good example here would be the Scandinavian countries - they have such strict rules and guidelines concerning this topic, that even some US-based CBD providers ship their hemp from them!
Still, if you live in the US, you'd probably choose one of the top-rated brands there, instead of purchasing oil from France and having to wait double or triple the time it takes to get to your doorstep.

Did you know?
Information Inconsistencies
Now, this is likely the strangest point yet. It has to do directly with the product in question - the "Nostress" CBD oil offered by CBDologic (although it applies to the brand's entire oil selection, too).
Entering the oil's product page and reading the description, the brand states that the product is full-spectrum. The same is labeled on the packaging of the oil - it makes sense, right?
Well, yes. Until you scroll down and read the "Infos" tab.

As you can clearly see for yourself, it says "0% THC".
The issue here is that full-spectrum products can't really be "THC-free".
If the product is full-spectrum, it will always contain some traces of THC. It's even coded in the name - "FULL-spectrum", as in, containing the full variety of cannabinoids, THC included.
Now, I admit that the brand might have meant that the oil contains "undetectable" amounts of THC - that might very well be the case. Still, it would be odd considering that using CBD products in France is illegal and the law has been active for more than 2 years now.
It's not the worst thing, but it's definitely confusing. CBDologic should probably look into this issue.
UPDATE 2023:
As of late, CBDologic has been improving everything from their website up to the products themselves.
Some of the main improvements information-wise are those that relate to the products that the brand offers. CBDologic now clearly states the concentration of cannabidiol in their product descriptions - that's much appreciated!
On top of that, the company has also attached lab reports to their products - these can be found in the "Info" tabs of their descriptions. And, according to those results, the products truly do contain undetectable amounts of THC!
For clearance sake, it would seem that the "0 THC" aspect that the company boasts about concerning their full-spectrum CBD products has to do with the fact that the THC levels are actually undetectable. While the reports could specify the actual lab in which the tests were performed, the clarification is truly appreciated!
Poor Site Optimization
Quite frankly, this doesn't even have to do with the CBDologic review itself, but it's still an annoyance, if anything.
Say, you decide to purchase some of the "Nostress" oil for yourself. You add it to your cart, navigate to the checkout, but think that you want to read up a bit more about the company's shipping policies before making the purchase. Well, this is what you'd see on the "Delivery Policy" section of the website:

I don't know about you, but that doesn't look like English to me.
The vast majority of the website is, indeed, presented in English. It's rather odd that the company decided to not translate some of the most important parts of their site, though - the Delivery and Returns pages.
UPDATE 2023:
With the recent changes to their website, CBDologic has now included English versions of everything from the Privacy Policies up to the Return Policies and their Terms & Conditions. It is truly a relief, and it's well-appreciated that the brand is making progress even in areas that do not directly relate to their products.
Price
With the pros and cons out of the way, let's finish this CBDologic review off with the pricing options for the "Nostress" CBD oil offered by the brand.
Well… There are none. You won't be able to choose potencies or sizes with CBDologic, since there's only one option available:
Quite frankly, it's worth stating that the price does make sense. It's actually pretty affordable, granted that you receive 1500mg of CBD concentration (especially given that it's full-spectrum oil).
CBDologic also offers free delivery, but that's only available "from your second purchase". A pretty odd delivery option, but hey - if you like the product, and will buy it again, you'll get it even cheaper! I would also tell you about their return policy, but, well... I don't speak french.

All in all, while the brand does have some non-standard delivery practices, the overall view is pretty good! Judging by the dropdown menu that you'll see upon checking out, it's also apparent that CBDologic ships their products all around the world - good to know!
Here is The Best CBDistillery Offer I Found:
30% Exclusive Discount
On All CBDistillery Products
You have an exclusive chance to save 30% on your CBDistillery order. Grab this limited-time promo code & enjoy top-rated CBD products!
Expiration date: 03/12/2023
931 People Used
Only 37 Left
Conclusions
Cannabidiol was first obtained and used all the way back in 1940, from American hemp[2]. From that point, things have changed rather drastically - today, CBD is one of the most popular topics when it comes to health supplements, whether it be physical or mental ones. Naturally, none of such statements are endorsed by the FDA, but many users still uphold them.
Whatever the actual case might be, it's important that you purchase your CBD products from reliable, high-end providers. Is CBDologic one of them? Well, to tell you the truth, it's really hard to say - there's very little information about the company out there, but existing customer CBDologic reviews would tell you that yes - the brand does offer some pretty decent products.
Sure, there's a long way to go - this is especially true when you consider the inconsistency of information and poor site optimization. As for the products themselves, well… It would seem that they are, indeed, worth paying attention to.
Update 2023: CBDologic has been making improvements to their site and product descriptions, and are now providing much more information about both their shipping and return policies, and the CBD products themselves. Definitely a step in the right direction!
Table: Top 3 CBD brands and their products
I hope the article was informative to you, and that you now know more about CBDologic, in general!
Please keep in mind, though, that before you start using any CBD-based or related products, you should always consult with your family doctor. While I can tell you about the general collective feeling that most people have about certain CBD providers, this information should never substitute that of professional advice.
Scientific References

1. Brigitta Kis, Feng Chen Ifrim, Valentina Buda, et al.: 'Cannabidiol—from Plant to Human Body: A Promising Bioactive Molecule with Multi-Target Effects in Cancer'
2. István Ujváry and Lumír Hanuš: 'Human Metabolites of Cannabidiol: A Review on Their Formation, Biological Activity, and Relevance in Therapy'
Leave your honest CBDologic review
Leave your genuine opinion & help thousands of people to choose the best cbd. All reviews, either positive or negative, are accepted as long as they're honest. We do not publish biased reviews or spam. So if you want to share your experience, opinion or give advice - the scene is yours!