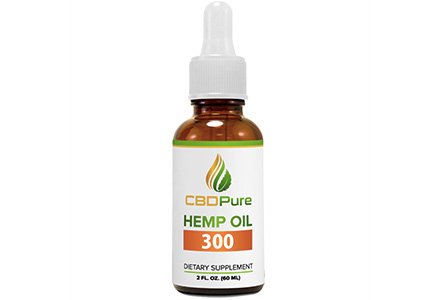 These days, it can be pretty easy to feel lost when it comes to the topic of CBD. There's a lot of differing information floating around in social media[1], and if you're completely new to the topic, it can feel overwhelming. Having said that, though, reading through customer CBD Pure reviews can surely help you improve your knowledge.
Admittedly, CBD Pure isn't exactly the most well-known CBD provider on the market. Still, that doesn't really mean that it's not worth paying attention to, though - the brand does actually have quite a few noteworthy perks to offer to its customers.
That's exactly what we'll check out first - the perks and benefits of CBD Pure.
TL;DR: Customer CBD Pure reviews will tell you that the brand deals in full-spectrum CBD products. They are made from organically-grown hemp, extracted via the CO2 method, and tested by independent labs, too. While the brand does ship the oils internationally, there might be issues when it comes to the legality of its products worldwide.
Pros
CO2 extraction process
Full-spectrum CBD products
Products ship internationally
Independent lab tests
Cons
Not the biggest selection of products
Questionable legalities when bought overseas
CBD Pure Reviews: PROS
As noted in the introductory part of the article, we'll start off by taking a look at some of the more positive customer CBD Pure reviews. Admittedly, there are quite a few aspects to cover - while not being super well-known, the company does offer a lot of benefits to any and all potential customers.
Full-Spectrum CBD Oils
Right, so - there's quite a bit to unpack here, so let's take it from the top.
Whenever you're trying to find the best CBD products for yourself, you'll soon notice that one of the main things that you need to decide on first is the actual type of the product.
When I say "type" in this context, I'm not talking about the debate of, say, "CBD oils VS edibles". Instead, here, "type" refers to the sort of potency and composition of the product of your choice.
Reading through customer CBD Pure reviews, you will soon find that there are three types of CBD that you can pick from - isolates, broad-spectrum and full-spectrum products. Each of them pack some different pros and cons, too.

At the lower part of the spectrum (pun intended), you'd find CBD isolates. Now, judging by the name of the brand that we're talking about today, you'd think that it would deal in these exact products, but alas - CBD Pure is actually located on the opposite side from isolate products.
I say that because CBD isolates are basically pure CBD products. Depending on whether you buy them in oil or powder form, you can expect the products to be comprised out of pure cannabidiol, without any other cannabinoids present.
Broad-spectrum CBD products are usually similar to isolates, except that they do contain some other cannabinoids in their composition. The thing that makes these products special is the fact that they contain no THC within them.
The type of products that DO contain some traces of THC, though, are the ones mentioned in customer CBD Pure oil reviews. That's right - the CBD provider that we're discussing today deal in full-spectrum CBD oils.
As with the other two types of CBD products, full-spectrum CBD oils are going to have their own, specific pros and cons. To put it simply, full-spectrum CBD products are going to be the most potent of the three groups, but are also going to contain some traces of THC.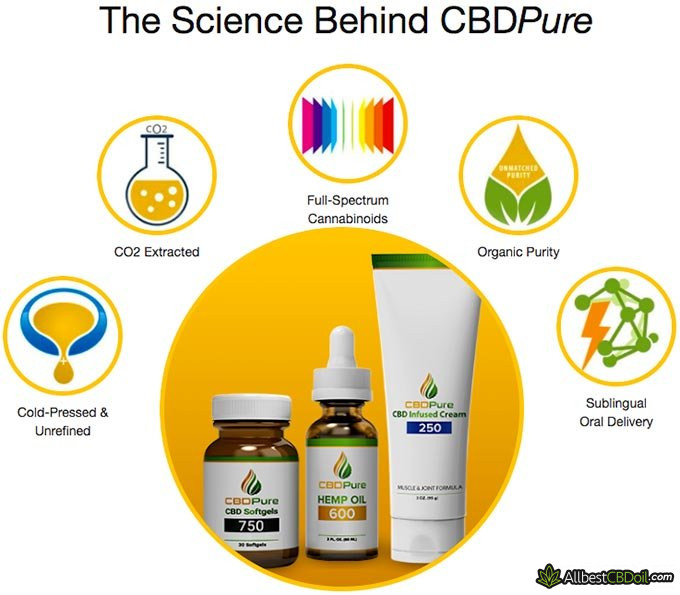 Most customer CBD Pure reviews, however, appear to be quite happy about the fact that the brand sells full-spectrum products.
Frankly, people who are suffering from various intense physical pains or even emotional stress issues tend to choose this type of product, since it's considered to be the best at helping one deal with those issues. The effects of CBD on pain has been a reoccurring topic of various studies[2], too.
Organic CBD Oils + CO2 Extraction
The topic of "organic CBD products' is one that gets pushed aside quite often - this isn't only true with customer CBD Pure reviews, but also any other reviews that would concentrate on a specific CBD brand or even product.
More often than not, this is simply the case because people tend to concentrate on the "flashier" aspects - potency, product types and their variety, price tags, and so on. Having said that, the fact that CBD Pure deals in organic CBD oils should definitely be taken into account.
That said, though, what does that mean, exactly?
"Organic" CBD products usually mean that the end product - in the case of customer CBD Pure oil reviews, that would be the CBD oil - is made out of organically grown hemp. Frankly, the industrial hemp is GMO-free, and thus grown in an organic fashion, and also farmed without being subject to some chemicals, too.

CBD Pure states that they grow their hemp in Colorado. That's actually pretty good news, since this particular state is very popular as far as organic and additive-free hemp goes - many of the CBD industry-leading brands actually source their hemp from Colorado, too.
All of that being said, there's also the fact that CBD Pure does also extract their CBD oil via the CO2 method. If you're not aware, CO2 is famously considered to be the best method of CBD extraction, by far - while it's quite complicated, it is believed that the end result is worth the process.
Basically, the CBD products made with such an extraction method are more fresh and pure, and of higher quality, too. In short, if you're reading through customer CBD Pure reviews trying to figure out is the brand worth checking out, as far as product quality and the natural aspects are concerned, that does appear to be the case.
Independent Lab Tests - Check!
When speaking about the core features of a CBD product, it would be impossible not to mention independent lab tests. A single look at some customer CBD Pure reviews, and it should be clear that this is surely at the top of the chain of importance.
When a lab test is performed on a CBD product, it then shows all of the important information about that product - the amounts of CBD and THC (and other cannabinoids) found within the product, whether or not it's GMO-free, what other toxins could reside within it, and so on.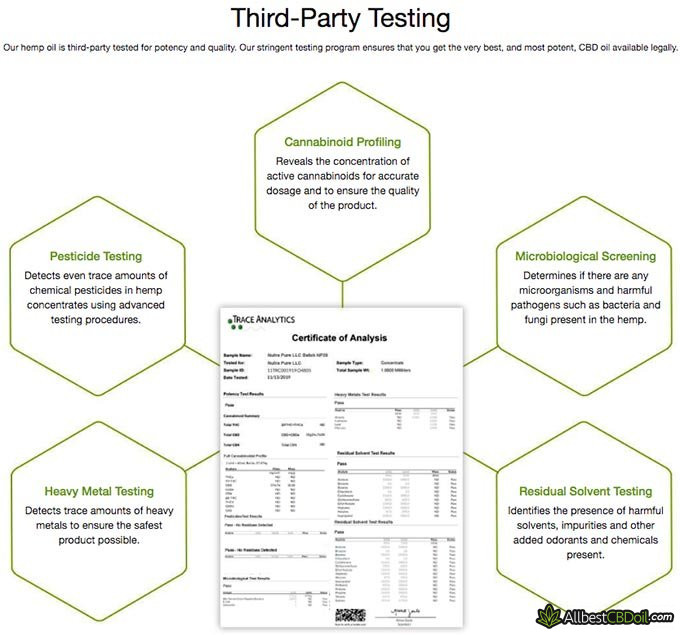 It's absolutely crucial that these tests would remain independent, though. Some CBD providers could go ahead and hire some of their in-house labs to perform such tests - undoubtedly, this would skew the results, and make the product out to be better (and safer) than it actually is.
Now, as noted above, multiple customer CBD Pure reviews are going to tell you that the company in question does test all of its CBD products with independent, third-party laboratories. That's superb news for anyone who's planning on choosing CBD Pure as their preferred CBD brand.
CBD Pure Reviews: CONS
Now that we've covered all of the more commonly-mentioned (among customer CBD Pure oil reviews, that is) benefits of the brand and its products, let's move on and also talk about the less-ideal sides of CBD Pure.
Small Product Selection
One thing that's really cool when first getting into CBD is the huge variety of different products that you can pick from. While it is generally advised that you concentrate on the traditional CBD oil if you're just starting out, having a choice is still cool.
Unfortunately, if you were to reference some customer CBD Pure reviews, this isn't really the case with this company. CBD Pure offers a relatively small selection of different CBD products. There are 4 types to choose from - oils, softgels, cream and pet products.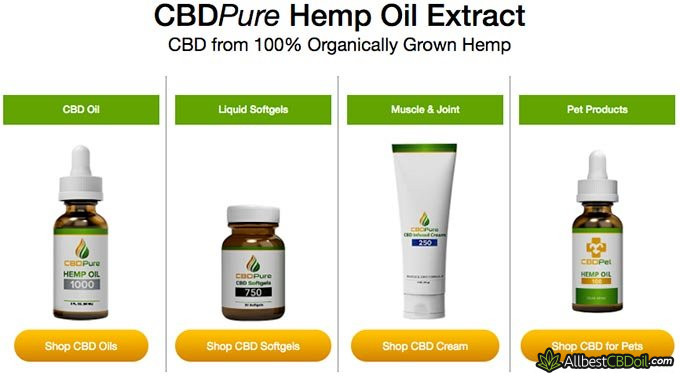 While this isn't really a huge issue (it has nothing to do with, say, the actual quality of the CBD oil sold by CBD Pure), it can still be annoying for anyone who's fixated on using a different type of CBD, and not taking the traditional oil route.

Did you know?
Might be Illegal in Some Countries
If you'd like to purchase some of the CBD Pure oil, you should be aware that you can do so not only if you're located in the US. The brand ships its products to two other countries - namely, Puerto Rico and the United Kingdom.
Now, in theory, and to put it simply, this would mean that the CBD products offered by the company are going to be legal within those countries, right?
Well, yes and no.
Let's take the UK as an example. Here, CBD products are legal if they are sold as food supplements and if they don't breach the legal 0,2% THC mark. This is where the issue stems from - in the US, the legal THC mark is 0,3%.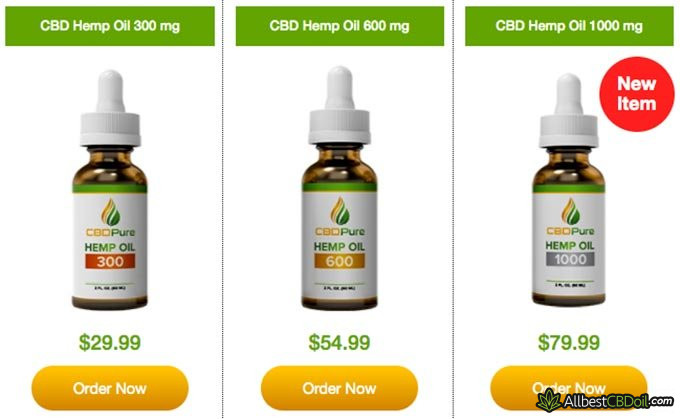 Naturally, CBD Pure likely knows this, and thus makes their CBD oils ensuring that the amounts of THC within them are undetectable. That being said, though, this was just a single example.
You need to understand that the legalities of CBD (and everything that's related to CBD) do differ constantly. What's legal one day can be swiftly banned the other, and vice versa.
The core idea here is simple - do always make sure that you're aware of the legalities of CBD in your country or even your state before purchasing some products of your choice. This is especially important with CBD Pure, since the brand deals in full-spectrum CBD products.
Notably, there aren't any significant customer CBD Pure reviews that would point this out as a major issue. Nonetheless, it's surely something that should be kept in mind.
Price
So, now that we've figured out all of the essential pros and cons of CBD Pure and the CBD oil products that the brand deals in, let's finish off the review by taking a look at the pricing options of the products in question.
The prices for the CBD Pure full-spectrum oil look like so:
Truth be told, when you consider all of the features of the CBD oils in question, and the overall standing of the brand that supplies them, these price tags are quite alright!
On top of that, CBD Pure does also offer its customers a 90-day refund guarantee. This means that, if you change your mind about the product that you've purchased, you can return it in 90 days and receive a full refund.
90 days is quite a long period of time! Most CBD providers offer only 30 or even 14-day refunds. Having said that, though, it's not exactly clear on whether the product can be opened or not if you wish to return it.
You see, it's not something that you'd find mentioned on any customer CBD Pure reviews, either. Most CBD providers will only allow you to return the product if it's unopened - that's considered to be the norm. CBD Pure, however, does not specify this on their official website. Better to remain on the safer side and not open it, if you plan to return it!
Here is The Best CBDistillery Offer I Found:
30% Exclusive Discount
On All CBDistillery Products
You have an exclusive chance to save 30% on your CBDistillery order. Grab this limited-time promo code & enjoy top-rated CBD products!
Expiration date: 13/12/2023
931 People Used
Only 37 Left
Conclusions
With all of that being said and done, and with the main features of the CBD Pure's oil (and the company itself) discussed, only one question remains - is CBD Pure worth checking out?
Well, thing is, there are much better options to pick from. If you're not too keen on purchasing your CBD from one of the industry-leading brands, and would instead like to try out something new, then yes - CBD Pure is definitely one of the "safer" picks here.
By "safer", I simply mean that the brand doesn't really raise any red flags. Apart from the questionable-quality website, the products sold by CBD Pure have all of the main aspects in place - independent lab tests, quality components (organic hemp), different potency options, and some fair pricing plans.
All in all, CBD Pure is definitely one of the better CBD provider alternatives, no matter how you look at it. With that, I want to thank you for reading the article, and I hope that the summaries of customer CBD Pure reviews were useful to you. Do check out some of the top-rated CBD providers, though - maybe you'll find some great alternatives there?
Please keep in mind, though, that before you start using any CBD-based or related products, you should always consult with your family doctor. While I can tell you about the general collective feeling that most people have about certain CBD providers, this information should never substitute that of professional advice.
Scientific References

1. Tung Tran, Ramakanth Kavuluru: 'Social Media Surveillance for Perceived Therapeutic Effects of Cannabidiol (CBD) Products'
2. L Cuñetti, L Manzo, R Peyraube: 'Chronic Pain Treatment With Cannabidiol in Kidney Transplant Patients in Uruguay'
Leave your honest CBD Pure review
Leave your genuine opinion & help thousands of people to choose the best cbd. All reviews, either positive or negative, are accepted as long as they're honest. We do not publish biased reviews or spam. So if you want to share your experience, opinion or give advice - the scene is yours!