History of CBD in West Virginia
To start off talking about all-things-CBD oil WV, we should first address the burning question that's likely the main reason why you stumbled upon this article, in the first place - is CBD oil legal in WV?
Well, look - the super-short answer is "yes". But (and it's a huge "but"!) things are actually as simple as that - in order to discuss questions such as "is CBD oil legal in West Virginia?", we need to first take a look at the laws regarding CBD products within the state in question.
In all honesty, though, the laws and regulations that WV has towards CBD are actually very lenient. Well, for the most part - this is actually true if you're looking for hemp-derived CBD products, since in this case, West Virginia follows the federal law (we'll talk about it in a bit).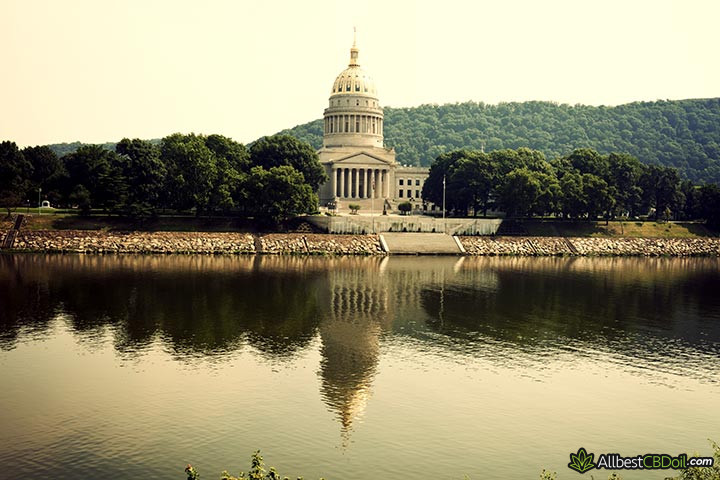 There's another type of CBD products, though - ones that are derived from the cannabis plant. These are a bit more difficult - West Virginia has only established a medical cannabis program in 2017[1]. This makes cannabis-derived CBD products legal for medicinal use within the state.
Combine that with the state's outlook on hemp-derived cannabidiol products, and you have yourself a pretty typical Amber state.
West Virginia - An Amber State
If you're someone who follows the various political processes that take place within the country, you're likely aware of the fact that each individual state has some specific colors assigned to it, in order to help people distinguish them according to their political standings. Well, when it comes to questions such as "is CBD oil legal in WV?", things aren't all that different, either.
Color-coding that indicates a state's position on CBD is there to help people understand and get a very general idea of what are the laws and regulations regarding CBD in that specific state. The colors in question are:
Green states. Green states allow residents to use all types of CBD products, for all types of different purposes.
Amber states. Within an Aber state, you can use hemp-derived CBD products for all types of purposes, but cannabis-derived products are only legal for medicinal use.
Amber-Red states. These states are tricky, but the general idea is that you can use hemp-derived CBD for medicinal purposes, while cannabis-derived products are completely illegal.
Red states. All cannabis and hemp products are illegal to be used within a Red state.
So, with the colors out of the way, what does this tell us about West Virginia? Well, while discussing the question "is CBD oil legal in WV?" earlier on in the article, I mentioned that this state is considered to be an Amber one.
Quite frankly, this means that all hemp-derived CBD oil WV is legal to be bought and used within the state, for both medicinal and recreational purposes, alike. Furthermore, cannabis-derived CBD is also legal, but only to be used for treating some specific medical conditions.
While this is great news for anyone asking is CBD oil legal in West Virginia, it needs to be acknowledged that the laws in the state are so lenient partially thanks to the 2018 Farm Bill.
A Brief Note about Federal Law
In 2018, the federal government passed the Hemp Farming Act. According to that act, cannabidiol (rather, the plant that CBD is extracted from - industrial hemp) has been removed from the controlled substance lists around the country. By extension of that, and for anyone wondering "is CBD oil legal in WV?", this makes hemp-derived CBD legal (if it contains less than 0,3% THC).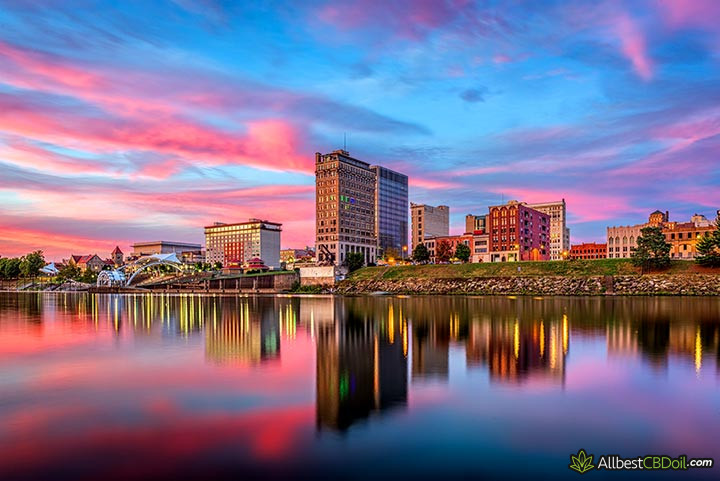 This would be really cool for CBD enthusiasts, but the catch here is that all states have the legal right to oppose this bill, and place various restrictions that would limit its capabilities.
Thankfully, though, this isn't the case with CBD oil WV - anyone wondering is CBD oil legal in West Virginia can rest assured that the state has definitely embraced the federal hemp farming bill.
Medicinal VS Recreational
Before we move on to talking about where to buy CBD oil in WV, let's discuss one more thing - medicinal and recreational uses of CBD.
Medicinal use of CBD is a very popular concept - many studies that showcase the benefits that cannabidiol might have when it comes to dealing with anxiety[2], cancer and other physical and mental health issues second this notion. If you want to use CBD for medicinal purposes, however, you are going to have to enroll in a state's medical marijuana program.
Recreational use is very different. If you're someone who doesn't necessarily suffer from an underlying health condition, and would just like to use CBD for your own, private purposes, this would be called recreational use.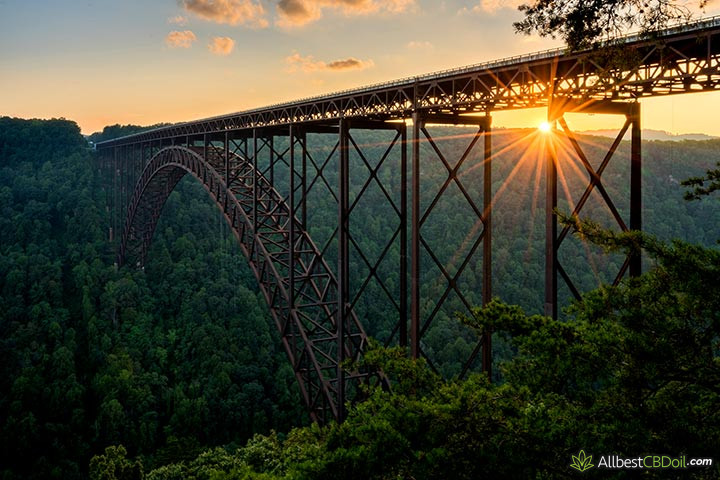 Now, when it comes to questions such as "is CBD oil legal in WV?", recreational use of hemp-derived CBD is completely legal. This also means that, if you were to use CBD products made from the hemp plant for medicinal purposes, you wouldn't need any doctor's notes or marijuana program enrollments.
Cannabis-derived CBD is different - if you want to use this type of cannabidiol (one that comes from the marijuana plant), you are, in fact, going to have to seek enrollment into the before-mentioned program.
Where to Buy CBD Oil in West Virginia?
The last thing left to discuss is where to buy CBD oil in WV. Since we've figured out that you no longer need to wonder "is CBD oil legal in WV?", the choices here lie directly on your own, personal preferences.
There are two options - either buying the products from a local shop, or from an online provider. Well, OK, there's actually a third option, too - if you're seeking cannabis-derived products, you're going to have to visit some dispensaries. For the sake of the argument, however, let's assume that what you need is hemp-derived CBD.
Now, it's always advised that you turn towards online providers. We'll talk a bit more about why that's the case soon enough - first, let's take a look at some of the more popular CBD stores found within the state.
Buying CBD Offline
For anyone wondering where to buy CBD oil in WV, here are three of the more popular stores you could visit.
Appalachian Cannabis Company - Great Service
Customers report that the Appalachian CBD Company has some very friendly staff working in the shop. If you're an industry newcomer, the people working over at the shop should help you find all of the best CBD products for yourself.
WV Hemp Works - Good Quality
If you need high-quality CBD products, WV Hemp Works might be a good option for you. Reading through the customer reviews, it seems that people are very happy with the quality of the shop's CBD products.
The Purple Leaf - Top-Tier Customer Service
Same as with the Appalachian Cannabis Company, The Purple Leaf is reported to have some of the best customer service around. Customers are very happy with the atmosphere in the shop, and note that the staff is super-friendly and helpful.
Buying CBD Online
So, we've mentioned some of the better offline alternatives for getting your CBD products within the state of West Virginia. Now, let's move on to what's often believed to be the better option - online CBD providers.
Buying your CBD online, you can guarantee yourself some better prices, better product quality and even come across some promotional offers and various different discounts.
On top of that, you should also keep in mind the fact that, while shopping in a store, your selection is limited to what you see on the shelves. Online, however, you can choose any one of the best CBD providers in the entire industry!
With all of that being said, let me quickly tell you about some of the best CBD companies that are currently dominating the market.
Charlotte's Web - A Brand With a Natural Mindset
Charlotte's Web sells some of the best, most appreciated CBD products on the entire market. The oils offered by the company are full-spectrum, which means that they are going to be potent enough even for CBD veterans. That said, the brand does also maintain a natural mindset in their CBD creation practices.
Charlotte's Web CBD oil prices go from $74,99 up to $188,99.
Latest Deal Active Right Now:
GET 20% OFF
Charlotte's Web Top-rated CBD Products
The best time so save has come - grab this limited 20% discount promo code and save big on the most trending Charlotte's Web products NOW!
Expiration date: 13/12/2023
691 People Used
Only 25 Left
CBDistillery - Potent CBD Oil
CBDistillery, same as Charlotte's Web, offers customers potent, full-spectrum CBD oils. If you're looking for some of the strongest CBD products out there, CBDistillery is one of the best choices you could make. The company also uses MCT coconut oil as the carrier for its CBD, and tests all of its products independently.
CBDistillery CBD oil cost from $30 up to $260.
[featured-coupon review_id="1"]
cbdMD - No THC, but Not an Isolate
cbdMD's products come with "undetectable" levels of THC within them. That said, they are not CBD isolates - they are broad-spectrum CBD oils. Such oils are pretty rare, but they have multiple different cannabinoids in their composition, without possessing THC. A very interesting CBD oil WV alternative indeed!
The costs for the cbdMD oil ranges from $29,99 up to $339,99.
[featured-coupon review_id="8"]
Latest Deal Active Right Now:
GET 25% OFF
Exclusive cbdMD Coupon
Don't miss this limited-time opportunity to save big. Use this special coupon code link, save 25% & improve your well-being!
Expiration date: 13/12/2023
2,309 People Used
Only 18 Left
Conclusions
One last time - if you're someone who's not sure is CBD oil legal in WV, you should keep in mind that fact that hemp-derived CBD products are legal to be used for both medicinal and recreational purposes, while cannabis-derived ones are only legal with some specific documentation, and only for medicinal use.
Now, where to buy CBD oil in WV? Well, while you could do so in a local CBD shop, it is a much better idea to purchase your desired products from reliable online CBD providers instead.
Scientific References

1. West Virginia Department of Health and Human Resources, Bureau for Publick Health: 'Office of Medical Cannabis"
2. Jonathan L C Lee, Leandro J Bertoglio, Francisco S Guimarães, and Carl W Stevenson: 'Cannabidiol regulation of emotion and emotional memory processing: relevance for treating anxiety‐related and substance abuse disorders'
Disclaimer
While every effort has been made to make sure this article is as accurate as possible, it is not intended to provide legal advice. Since legal situations might rapidly change, we advise you to discuss any legal concerns with an expert, lawyer or relevant legal advisor in your local jurisdiction, or visit your state's .gov page for the most up-to-date information.