History of CBD in Virginia
When it comes to questions such as "is CBD legal in Virginia?" or anything that relates to CBD oil Virginia, in general, the state is actually one of the more interesting ones out there. The legalities seem to be rather confusing to many people, and in order to clear out all of that confusion, we need to step back and check out the history of CBD in the state.
When I say that Virginia is one of the more interesting states as it relates to cannabis laws, what I mean is that, depending on where you look online you'll notice conflicting information concerning the topic - some sources note that Virginia is an Amber-Red state (we'll get to that in a minute), while others label it as "progressive".
So… Who's wrong?
Actually, both of those statements are correct. Let me explain.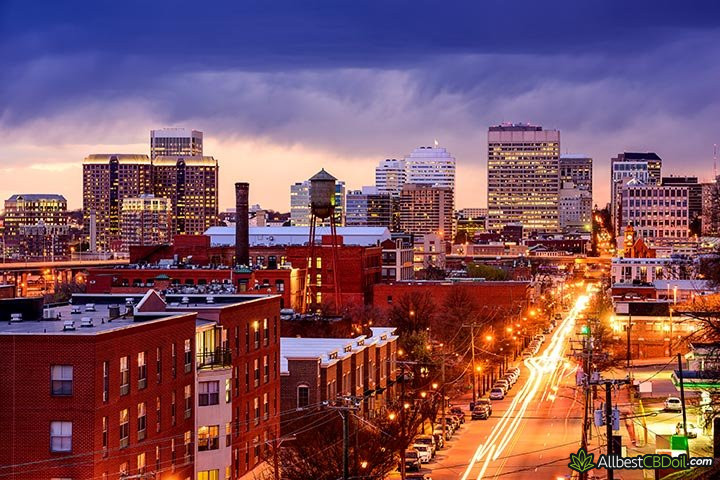 In order to understand the intricacies of CBD oil Virginia, you need to know that this state is actually rather curious about the benefits that cannabidiol could have for some specific groups of people, and actually views the matter in a very progressive manner.
That being said, this is true when it comes to THC-free CBD products - if you need CBD oil Virginia that's THC-free, you'll have no issues purchasing and using it here.
On the other hand, when it comes to products that do, in fact, contain THC, you're going to need a doctor's prescription to purchase these. Since 2017, Virginia has legalized the use of CBD for epilepsy symptom alleviation, and has updated the law ever since. Cannabis-derived CBD, however, is not legal - these points relate solemnly to hemp.
Virginia - An Amber-Red State
Each state in the country has its own, specific color-coding when it comes to cannabis laws and regulations. Anyone wondering is CBD oil legal in Virginia should know this, too! With that in mind, here are the colors that you might encounter:
Green states. Within a Green state, both cannabis-derived and hemp-derived products are completely decriminalized and legal.
Amber states. Amber states allow the usage of both cannabis- and hemp-derived products, but only for medicinal purposes.
Amber-Red states. The (usually) most confusing group, Amber-Red states outlaw the use of cannabis-derived products, in general, but may allow some hemp-based CBD products to be used medicinally. The actual laws here depend on the state in question.
Red states. Both cannabis- and industrial hemp-derived CBD products are completely illegal, under any circumstances.
As noted earlier on in the "CBD oil Virginia" article, Virginia is considered to be an Amber-Red state. While this means that many people are going to be a bit confused about the specific legalities of the matter, Virginia's laws are actually much more understandable than those of, say, North Carolina.
Quite frankly, you should decide what it is that you need - THC-free CBD products (in other words - isolates), or broad- and full-spectrum ones. If it's the former, you can purchase them anywhere (online or offline, that is). If it's the latter, however, you're going to need a doctor's note.
Now, another important factor when it comes to the question "is CBD legal in Virginia?" is the federal law.
A Brief Note about Federal Law
Each individual state in the US has its own, specific laws governing cannabis, hemp, CBD, THC, and everything else in between - the topic of CBD oil Virginia is no exception. That being said, there's actually an overarching federal law in place, too.
The federal law states that using hemp-derived (that's important!) CBD is legal within the country, as long as it doesn't surpass the 0,3% THC mark.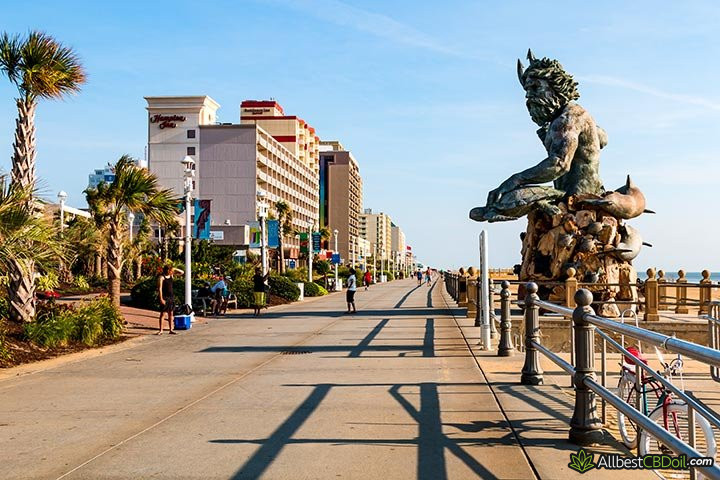 Pretty awesome news, right? Simply put, this means that you can use CBD products anywhere in the US, as long as they are derived from the hemp plant, and have less than 0,3% THC in them?
Well, no, not really.
You see, each state has the ability to override the federal law. Most states do so - they have their own laws and regulations in place, and that's another factor that simply adds to the general confusion.
Medicinal VS Recreational
It would be impossible to ask the question "is CBD oil legal in Virginia?" without first figuring out the difference between medicinal and recreational uses, would it?
As you might have gathered by now, given that Virginia is an Amber-Red state, it means that you won't be able to use CBD products here recreationally, whether it be CBD oil Virginia made from the hemp plant, or the cannabis one. The single exception here, however, seems to be THC-free CBD - in other words, you can use CBD isolates.
Medicinally, though, things are different. While there are some inconsistencies with the law, the general idea is that you can't use cannabis-derived CBD, but there are certain medical conditions that allow your doctor to prescribe hemp-derived CBD with up to 0,3% THC. To put it simply, CBD is legal for medicinal use.
Where to Buy CBD Oil in Virginia?
Finally, with all of the CBD oil Virginia legalities out of the way, there's but a single thing left to figure out - how to get CBD oil in Virginia?
There are actually a couple of ways to do this. First of all, you could go out and purchase the CBD product from one of the local shops. You should be able to buy CBD oil Virginia that's THC-free without too much issue. In order to purchase CBD that has some THC in it, however, you're going to need a doctor's note.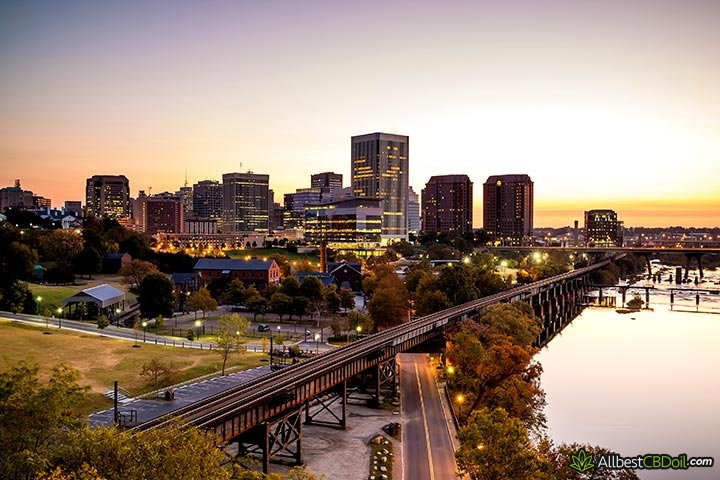 An alternative to this would be to buy your CBD products online, for trustworthy providers. This would allow you to get your cannabidiol directly from the brand itself (without a retailer acting as the middle man), and there are actually more benefits of doing so, in the first place.
Now, let's take a look at some CBD oil Virginia options, shall we?
Buying CBD Offline
For starters, let's check out some physical shops that are located in Virginia.
Virginia Vapes CBD / Hookah / Cigars - Good Selection
Virginia Vapes CBD is a shop located in Dumfries. If your preferred method of using CBD is vaping, this is just the place for you - the shop has a huge selection of items, and is one of the more popular answers to the question "how to get CBD oil in Virginia?", at least as far as vaping oil (e-liquid) is concerned.
Your CBD Store - Helpful and Nice Staff
Your CBD Store is a customer-favorite all throughout the nation, and Virginia is no exception. The store is located in Richmond, and has some very knowledgeable and helpful staff that will help you choose the best CBD products for yourself out of the wide selection that the store has.
CBD Wellness Products - Great Prices
You'll find CBD Wellness Products over at Jefferson Ave. The store has multiple different products in stock, and customers report that the prices are quite difficult to beat!
Buying CBD Online
As noted earlier, the other option is to purchase CBD products online. This is actually the preferred method to go about it, and there are many reasons for that, too.
First of all, purchasing CBD oil Virginia online, you'll be able to remain assured that the products are of the highest quality possible, and have been tested by independent laboratories.
Also, pricing - online, the same products are usually going to cost much less than those found in a store. This is because retail stores increase the price in order to make a profit.
With that, let's take a look at some of the top online providers.
CBDistillery - Multiple Product Selection
If you're someone who wants to experiment with various CBD products (oils, topicals, balms, and so on), CBDistillery is going to be one of the better options as far as online shops go. The brand has various products in store, all checked by third-party labs.
CBDistillery also uses coconut oil as the carrier oil. Since it's one of the best carriers out there, that's some pretty good news!
The oil prices over at CBDistillery vary from $30 up to $260.
Latest Deal Active Right Now:
30% Exclusive Discount
On All CBDistillery Products
You have an exclusive chance to save 30% on your CBDistillery order. Grab this limited-time promo code & enjoy top-rated CBD products!
Expiration date: 13/12/2023
931 People Used
Only 37 Left
cbdMD - Broad-Spectrum, Independently-Tested CBD Products
cbdMD sells broad-spectrum products. According to the brand itself, these products are going to contain multiple different cannabinoids, but are also going to have "undetectable" amounts of THC. Theoretically, this would make such CBD oil Virginia legal within the state, as far as recreational usage goes - still, you should do some more research on this point!
The price tags range from $29,99 up to $339,99.
[featured-coupon review_id="8"]
Charlotte's Web - Potent, High-Quality Products
Charlotte's Web grows and farms their hemp in the US - this means that it falls under all of the essential rules and regulations, and thus remains pure and free of any potentially harmful materials.
Customers report that the CBD products sold by Charlotte's Web are also rather potent, and are all of the highest quality in the industry.
Charlotte's Web CBD oil will cost you from $74,99 up to $188,99.
[featured-coupon review_id="2"]
Latest Deal Active Right Now:
GET 25% OFF
Exclusive cbdMD Coupon
Don't miss this limited-time opportunity to save big. Use this special coupon code link, save 25% & improve your well-being!
Expiration date: 13/12/2023
2,309 People Used
Only 18 Left
Conclusions
Today, there are increasing amounts of research that shows how CBD can help people deal with various different health issues, ranging from epilepsy all the way to some certain cancers[1]. While not all states in the US acknowledge this, with time, the situation seems to be getting better and better.
As far as CBD oil Virginia goes, it is legal to use CBD products within the state for medicinal purposes. Recreational use-wise, the laws are still a bit unclear, but it seems that you could use products containing no traces of THC. It is also legal to grow hemp within the state.
If you'd like to purchase CBD in Virginia, there are local shops where you could do that, but making your purchases online is considered to be the smarter thing to do.
Scientific References

1. Uchini S. Kosgodage, Rhys Mould, Aine B. Henley, et al.: 'Cannabidiol (CBD) Is a Novel Inhibitor for Exosome and Microvesicle (EMV) Release in Cancer'
Disclaimer
While every effort has been made to make sure this article is as accurate as possible, it is not intended to provide legal advice. Since legal situations might rapidly change, we advise you to discuss any legal concerns with an expert, lawyer or relevant legal advisor in your local jurisdiction, or visit your state's .gov page for the most up-to-date information.