History of CBD in New York
In order to better understand questions such as "is CBD oil legal in NY?", and the topic of CBD oil New York, in general, you're going to need to know at least a bit about the history of cannabis laws within the state.
As you're probably aware of, all of the different states in the US have their own, often unique timelines when it comes to cannabis products and their legality. When it comes to NY, the state has actually had a few different issues with the topic of cannabis.
All of those issues, however, led to the legalization of medical cannabis back in 2014[1]. From that point in time, it has become legal to purchase medical cannabis products in the state of NY, for medicinal use and with all of the proper documentation in-check.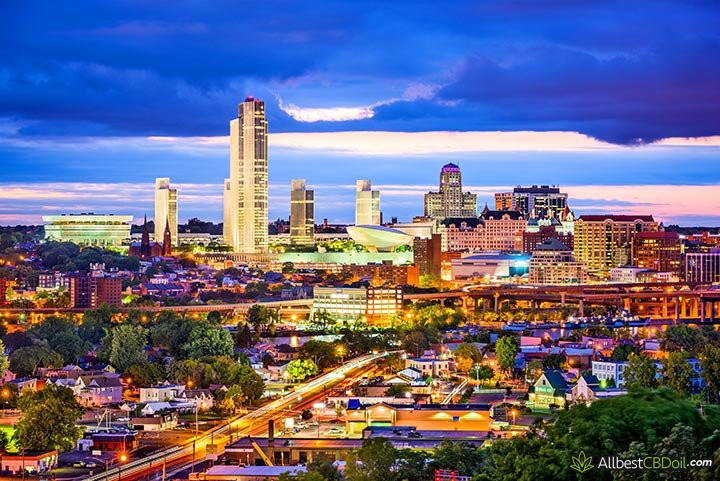 Now, one of the most important points that need to be differentiated in this CBD oil New York article has to do with hemp- and cannabis-derived CBD. You'll also find that this is something that often leads to a lot of confusion when trying to learn is CBD oil legal in NY, too.
You see, cannabis-related rules, in this case, only apply to cannabis-derived products - it makes sense. When it comes to industrial-hemp and CBD that comes from this plant, though, NY is actually considered to be an Amber state.
New York - An Amber State
All of the 50 states within the country have their own, specific colors that distinguish them when it comes to questions such as "is CBD oil legal in NY?". In total, there are 4 different colors - each of them should give you an idea of just how strict that specific state is when it comes to CBD-related rules and regulations.
Notably, though, sometimes these colors can do more harm than good. They don't tell you the full story, and without proper context, can unintentionally mislead the reader. In the case of CBD oil New York, however, it's not something you'd need to worry about. Now, let's get to know the colors themselves:
Green states. A Green state is one that has legalized cannabis- and hemp-derived CBD products for all types of possible usages.
Amber states. Amber states allow you to use hemp-derived products quite freely, but cannabis-derived CBD is only going to be legal for medicinal usage.
Amber-Red states. The actual laws and regulations within Amber-Red states are usually very state-dependent. In short, however, Amber-Red states only allow you to use hemp-derived CBD for medicinal purposes.
Red states. Cannabis- and hemp-derived CBD products are completely illegal.
As mentioned earlier in the article, when it comes to the topic of CBD oil New York, NY is actually an Amber state. So... What does this mean, exactly?
Well, it's pretty simple, really. Anyone wondering is CBD legal in NY should know that if the CBD products in question are derived from industrial hemp (all of the top-tier brands sell such products), they are completely legal to be used both for medicinal purposes, and recreationally.
Since medical cannabis has been legal in the state since 2014, cannabis-derived CBD is legal, too, but you'll have to possess some form of documentation in order to prove that you are, in fact, going to use them for medicinal purposes.
A Brief Note about Federal Law
One more thing that's worth noting in this CBD oil New York article is the federal law.
Since 2018, companies may sell industrial hemp-derived CBD products in the entirety of the US, as long as these products do not breach the legal 0,3% THC mark.
The thing that complicates this, however, is the fact that each individual state can choose to place certain restrictions and regulations that would oppose the Farm Bill, or at least limit the extent to which it legalizes sales of CBD.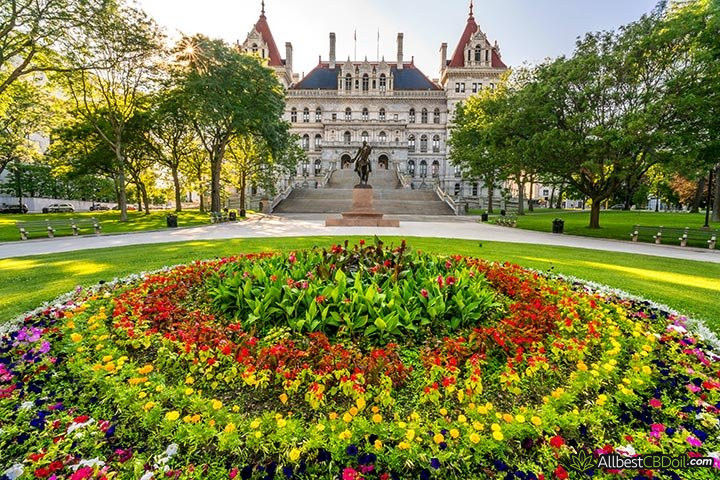 Thankfully, this is not the case with CBD oil New York. The state has not placed any notable hurdles that you'd need to pass in order to get your CBD here - it's legal to be purchased for all types of uses, and you can grow industrial hemp within the state's borders, too.
Medicinal VS Recreational
Before we move on to talking about where to buy CBD oil in New York state, there's still one more thing that we need to address - medicinal and recreational uses of CBD.
If you're looking for CBD oil New York in order to use it medicinally, you likely have some form of identification or documentation that states that you are, in fact, sick with a specific type of illness and need CBD to help you deal with that.
It's not an uncommon concept. On the contrary - studies show that CBD might have positive effects on anyone who's dealing with everything from inflammations[2] all the way up to epilepsy!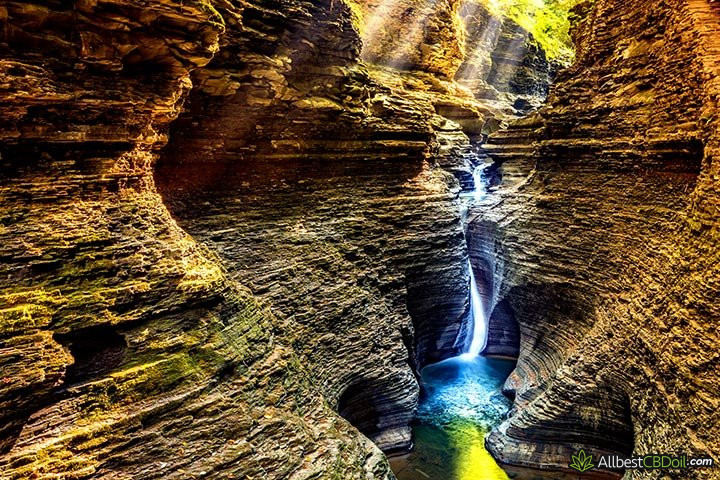 If, however, you're not looking for CBD products for medicinal purposes, you likely want to use CBD oil New York recreationally. Recreational use happens when you go out to a store, buy as much CBD as you want without any form of documentation, and then use it at your own, free will.
I don't want to be repetitive, but allow me to reiterate - anyone looking for answers to questions such as "is CBD legal in New York?" can rest assured that hemp-derived CBD is legal to be used for both types of purposes.
Where to Buy CBD Oil in New York?
Now, then - since we've figured out that CBD oil New York is legal for all types of uses, the next logical question would probably sound a little something like this - where to buy CBD oil in New York state?
Well, you have two big choices in front of you - either you go out and buy your cannabidiol in a local shop, or choose the online alternative and visit one of the best CBD providers there.
Need I tell you that "the online way" is the better way? I'll explain why that's the case a bit later on, when we get to talking about this method of purchasing your CBD oil New York. First, let's tackle the retailers.
Buying CBD Offline
Here are some options of the top-rated CBD product shops in NY.
Green Angel CBD - A Top-Rated Brand
All it takes is a single look at some of the reviews that customers leave about Green Angel CBD online and it becomes evident that this company truly does sell some of the best products that you'd find in a retail shop in NY.
Hemp Garden - Quality Service
Customer Hemp Garden reviews talk about how the shop has some rather informative and helpful staff, and how the products sold there are potent and come in a wide variety of different options.
Columbia Care Manhattan Dispensary - Decent Product Prices
The dispensary sells a few different CBD products, all apparently coming in some decent price tags. Customers also note that the atmosphere of the shop is cozy and inviting, which is always a nice added bonus!
Buying CBD Online
So, then - now you're aware of some of the best retail CBD providers in the state of NY. Since we've figured out that the answer to the question "is CBD legal in NY?" is a profound "YES!", you can just go off and purchase the products that you desire, right?
Well, sure, you can do that, but allow me to be the first one to say - it's a much better idea to buy your CBD products online than in a physical, brick and mortar store.
Now, why is that the case, you may wonder? There are actually many answers to that question.
First of all, anyone wondering where to buy CBD oil in New York state should know that, if you want the best possible prices for your CBD products, you won't find better ones than those displayed online. Since retailers need to make a profit, they put on a percentage on the products that they sell - not a problem when you buy directly from the providers themselves.
Also, buying your CBD oil New York, you can rest assured that the quality of the products is going to be top-tier, too. In a shop, you never know what you're paying for - online, with all of the different types of information available, this is not something that you'd need to worry about.
With all of that said, let's take a look at some of the best CBD providers in the industry, shall we?
CBDistillery - Coconut Oil as the Carrier
CBDistillery, quite frankly, is one of the best CBD product providers in the entire industry. The company sells potent and high-quality CBD products. The oils offered by the brand are independently-tested, and use MCT coconut oil as the carrier substance - one of the best CBD carriers around!
CBDistillery oil prices go from $30 up to $260.
Latest Deal Active Right Now:
30% Exclusive Discount
On All CBDistillery Products
You have an exclusive chance to save 30% on your CBDistillery order. Grab this limited-time promo code & enjoy top-rated CBD products!
Expiration date: 04/10/2023
931 People Used
Only 37 Left
Charlotte's Web - Natural CBD Oil
Charlotte's Web offers customers natural CBD products. The company sells GMO- and toxin-free CBD oils that, by popular belief, are among the tastiest in the industry. The products are quite potent, too, so that should be a great sign to anyone looking for the strongest CBD oil New York!
Charlotte's Web CBD oil cost from $74,99 up to $188,99.
[featured-coupon review_id="2"]
cbdMD - Entourage Effect Without THC
cbdMD sells broad-spectrum CBD oil. These products contain multiple different cannabinoids, and will thus be able to provide you with the entourage effect, but this isn't everything - they are also THC-free! So, if you want potent, yet THC-free CBD oils, cbdMD is the way to go!
The costs for the cbdMD oil ranges from $29,99 up to $339,99.
[featured-coupon review_id="8"]
Latest Deal Active Right Now:
GET 25% OFF
Exclusive cbdMD Coupon
Don't miss this limited-time opportunity to save big. Use this special coupon code link, save 25% & improve your well-being!
Expiration date: 04/10/2023
2,309 People Used
Only 18 Left
Conclusions
CBD oil New York is legal to be purchased both online and offline, without needing any form of marijuana ID cards or other documentation. Note, though, that this only applies to hemp-derived CBD - cannabis-derived products are only legal to be used for medicinal purposes.
If you're looking for the best CBD products in the state, it is always advisable to buy them from the top-rated cannabidiol providers found online.
Scientific References

1. Susanne Craig and Jesse McKinley: 'New York State Is Set to Loosen Marijuana Laws'
2. Hongbo Li, MD/PhD, Weimin Kong, PhD, Christina R. Chambers, PhD, et al.: 'The non-psychoactive phytocannabinoid cannabidiol (CBD) attenuates pro-inflammatory mediators, T cell infiltration, and thermal sensitivity following spinal cord injury in mice'
Disclaimer
While every effort has been made to make sure this article is as accurate as possible, it is not intended to provide legal advice. Since legal situations might rapidly change, we advise you to discuss any legal concerns with an expert, lawyer or relevant legal advisor in your local jurisdiction, or visit your state's .gov page for the most up-to-date information.