History of CBD in North Carolina
Strap in, since this is going to be a difficult one.
North Carolina has always had a reputation of being rather strict with its outlook on cannabis and all cannabis-related substances. That why wondering is CBD legal in NC is a pretty normal and rather popular thing - if cannabis is illegal, then should CBD be legal if it comes from a different plant?
Well, to tell you the truth, it's actually really confusing and almost impossible to say for certain. You would think that it's either one of the two - either CBD oil NC is legal, or it's not, right? Well, bare with me.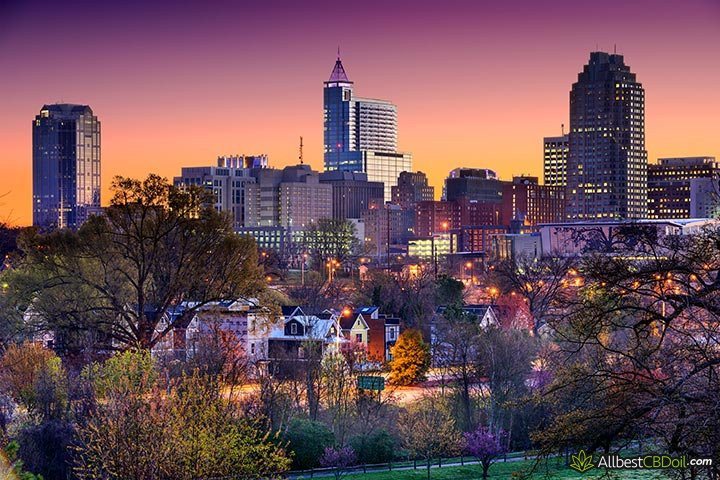 In NC, both cannabis and CBD products are illegal. You wouldn't be able to tell, however - there are shops that sell CBD products right out in the open, and people even order them online and face no issues with this.
Makes zero sense, right? Well, thing is, no matter how you look at it, it truly is confusing - let me reiterate this point when it comes to state colors.
North Carolina - An Amber-Red State
Depending on some certain pre-existing cannabis laws, each individual state in the US is going to be prescribed a specific color. These are, as follows:
Green states. Cannabis and hemp-derived CBD products are completely legalized, and can be used freely and without any restrictions.
Amber states. Within an Amber state, both cannabis and CBD products are usually legal for medicinal purposes.
Amber-Red states. Amber-Red states outlaw any and all use of cannabis-based products, but may allow some certain CBD products to be used for medicinal purposes. It's a case-by-case scenario, and is thus usually rather confusing.
Red states. No cannabis- or hemp-based products are legal, under any circumstances.
Theoretically speaking, North Carolina is an Amber-Red state. This means that, while cannabis-based products are illegal, hemp-based ones might be legal under certain circumstances.
What are those circumstances? Well, some sources note that, when it comes to CBD oil NC, it is legal to be used to ease epilepsy symptoms. Then again, doctors do not have the right to prescribe CBD in NC, which means that you won't have a prescription, and thus still won't be able to purchase any CBD products.
If you're completely and utterly confused by this point, worry not - it would be odd if you weren't. Quite frankly, this is what happens when the state does not know the difference (or simply does not differentiate) between cannabis-derived products and hemp-derived ones.
A Brief Note about Federal Law
Within the US, there's an overarching federal law that states how CBD products that contain less than 0,3% THC and that are made from industrial hemp that's grown in the country are legal.
That's awesome, right? Basically, this means that you can grow hemp and use CBD products in the entirety of the country, CBD oil NC included?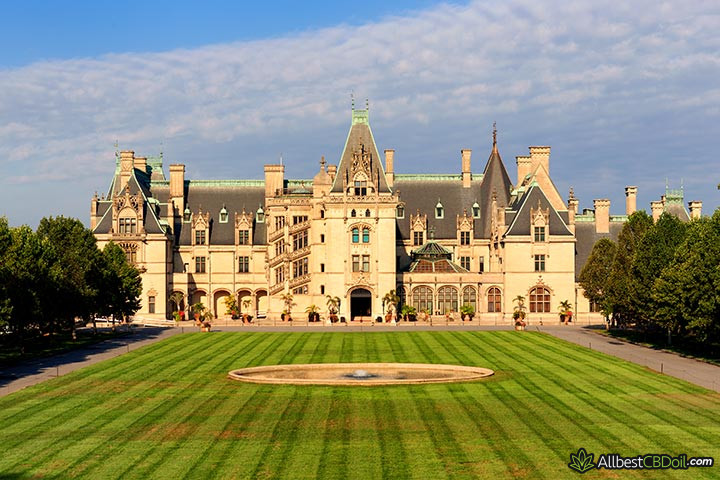 Well, no. As with everything, there's a catch here, too - each of the individual states can choose to override this law.
NC is no exception. While it is true that you can, indeed, grow industrial hemp here (with proper licensing, that is), this does not help answer questions such as "where can I buy CBD oil in North Carolina?" or "is CBD legal in NC?".
Medicinal VS Recreational
One of the main points of confusion that arise when talking about CBD oil NC has to do with medicinal and recreational uses of industrial hemp-derived cannabidiol products.
We've already established the fact that North Carolina is an Amber-Red state. Basically, this answers half of the question - you cannot use CBD recreationally within the state.
OK, that's rather simple. But what about medicinal usage - are there any exceptions regarding the CBD oil NC laws?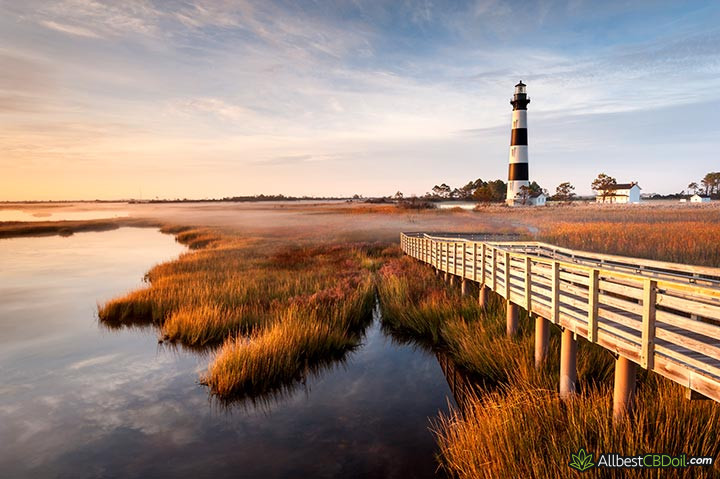 As noted earlier in the article, there are talks about being able to use CBD products if you have a certain form of epilepsy and suffer from seizures (CBD has been found time and time again to have a positive effect on epileptic people). Still, however, doctors cannot legally prescribe you with cannabidiol products.
No prescriptions - no legal purchases.
As it stands today, there are simply too many loopholes within the law. To put it very simply, there are certain exceptions that could allow you to use hemp-derived CBD products medicinally, but the criteria for these exceptions are impossible to meet (even though people still risk and purchase the products).
Where to Buy CBD Oil in North Carolina?
Now that we've established that CBD oil NC is, quite frankly, illegal, there's still one topic that needs to be talked about - purchasing CBD North Carolina.
Now, I know what you're thinking - but if it's illegal, why even bother talking about it, in the first place?
It's pretty simple, really. One thing that's obvious is that, while the current answer to the question "is CBD legal in NC?" is a negative one, that might change pretty soon. Different states around the country are progressively becoming more and more lenient towards laws governing the purchasing and use of hemp-derived CBD.
Also, if you're a frequent visitor to some other states that have clearer and better-defined CBD laws, you might be able to purchase and use cannabidiol products there - it's always better to learn about the best ways of going about it beforehand, and use that knowledge when you actually need it.
One of the first thoughts that people have when they ask "where can I buy CBD oil in North Carolina?" has to do with physical, brick and mortar stores, so let's start with those, shall we?
Buying CBD Offline
Physical CBD shops do exist in North Carolina. All it takes is a single google search of "CBD oil NC" and you'll notice different retailers pop up on the map - some local, some well-known in other states, too.
The fact of the matter, however, is that they are all participating in a sort of unclear and uncharted territory - they risk being fined and their businesses shut down at any given point in time.
At the beginning of this article, when we were discussing the intricacies of the question "is CBD oil legal in NC?", I've hinted at the fact that law enforcement doesn't really do all that much concerning CBD purchases and sales within the state. This, yet again, has to do with the lack of clarity with the laws.
Still, however, the businesses and their customers could theoretically be fined at any point, and it's thus not advisable that you purchase CBD products from such shops. Instead, it's a much better idea to educate yourself about the best online CBD providers.
Buying CBD Online
If you choose to purchase CBD oil NC online, there are a few things to keep in mind before going ahead and doing just that.
First of all, remember that it is still technically illegal to buy CBD oils and other products online if you live in North Carolina. Instead, you should refrain from this activity so as to not get yourself in legal trouble, and only purchase the products if you're in a state that allows you to do so.
That being said, there are actually a lot of advantages to buying CBD online. Better prices, more items to choose from, reliable testing information, different discounts - the list goes on! If this is something that you're interested in, let me tell you about the three of the best online providers out there - CBD North Carolina or any other state-related!
CBDistillery - An Industry Leader with a Wide Assortment of Products
CBDistillery sells a wide assortment of different cannabidiol products - no matter how you prefer to consume your CBD, you should be able to find some that would fit your wants and needs.
The company also uses coconut oil as the carrier oil for their cannabidiol - this allows your body to consume the CBD much faster and better than with most other carrier oils out there!
CBD oil from CBDistillery will cost you anywhere from $30 up to $260, depending on your preferred potency of the product.
Latest Deal Active Right Now:
30% Exclusive Discount
On All CBDistillery Products
You have an exclusive chance to save 30% on your CBDistillery order. Grab this limited-time promo code & enjoy top-rated CBD products!
Expiration date: 04/10/2023
931 People Used
Only 37 Left
cbdMD - Broad-Spectrum CBD Oil
cbdMD is one of the rarer companies that sell broad-spectrum CBD oil. Broad-spectrum CBD products contain multiple different cannabinoids from the hemp plant, but are usually almost completely clear of any THC. cbdMD does note that the traces of THC found within their products are going to be "undetectable".
The price tags range from $29,99 up to $339,99.
[featured-coupon review_id="8"]
NuLeaf Naturals - Natural Full-Spectrum CBD Oil
NuLeaf Naturals, as the name likely implies, offers customers natural and organic CBD oil. While the brand's product selection is somewhat scarce (especially when compared to some other companies out there), it's seen as one of the most reliable CBD providers in the industry, and sells some rather potent CBD oil.
That's the other thing, too - potency. NuLeaf Naturals deal in full-spectrum CBD products - while they are going to contain a bit more THC than broad-spectrum ones, it still shouldn't exceed the 0,3% legal limit, and will be much more potent.
NuLeaf Naturals CBD oil will cost you between $38,50 and $439.
[featured-coupon review_id="7"]
Latest Deal Active Right Now:
GET 25% OFF
Exclusive cbdMD Coupon
Don't miss this limited-time opportunity to save big. Use this special coupon code link, save 25% & improve your well-being!
Expiration date: 04/10/2023
2,309 People Used
Only 18 Left
Conclusions
By now, we've covered all of the essential topics concerning CBD oil NC - as you might have gathered, it's a pretty difficult state as far as CBD and cannabis laws go. To summarize, if you're still not sure is CBD oil legal in NC, let me reiterate - no, CBD products are not legal in North Carolina, although you might be able to find some certain loopholes and exceptions.
If you're still adamant on getting yourself some CBD oil, however, I'd advise you to avoid physical retail shops, and visit one of the best providers found online, whenever you venture out to some other state that has clearer CBD laws.
Disclaimer
While every effort has been made to make sure this article is as accurate as possible, it is not intended to provide legal advice. Since legal situations might rapidly change, we advise you to discuss any legal concerns with an expert, lawyer or relevant legal advisor in your local jurisdiction, or visit your state's .gov page for the most up-to-date information.