CBD Oil Maryland History
When it comes to CBD oil Maryland history, there have been many changes in recent years that you'll probably want to know about.
In 2015, Maryland passed the House Bill 803, which allowed people to grow, possess, sell and buy industrial hemp in Maryland. Of course, before doing any of these activities, a person had to be registered to the Department of Agriculture.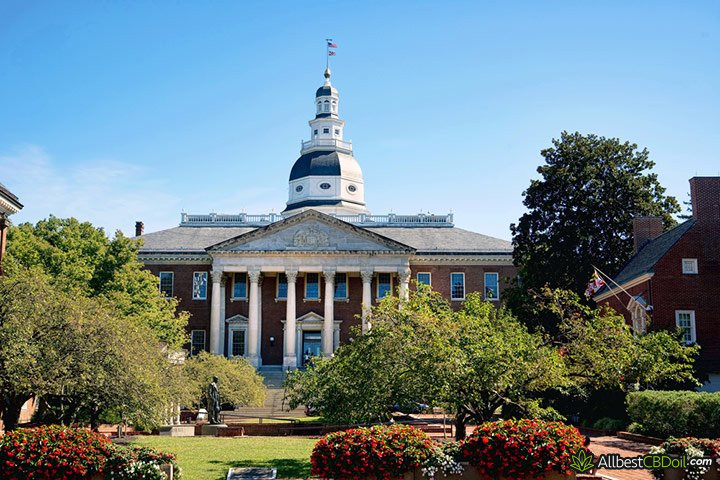 A year later, the House Bull 443 was signed by Governor Hogan. It allowed higher education institutions and the Department of Agriculture to grow industrial hemp for research purposes.
Later, in 2018, after the House Bill 698 was signed, an Industrial Hemp Pilot Program was established. It led to more research on the hemp, which revealed even more positive effects this plant can provide.
Finally, when House Bill 1123 was signed in 2019, the Hemp Farming Program was established and it allowed to sell hemp and hemp products not only within but also outside the state.
Thus, is CBD oil legal in Maryland right now? Yes! It's completely legal as long as CBD is derived from hemp and contains no more than 0.3% of THC.
Maryland - An Amber State
The law regarding CBD oil Maryland and other states can be pretty confusing, so what's the best way to figure out the CBD legality in different states? If you haven't heard about the color-coding before, I would like to give you a quick explanation.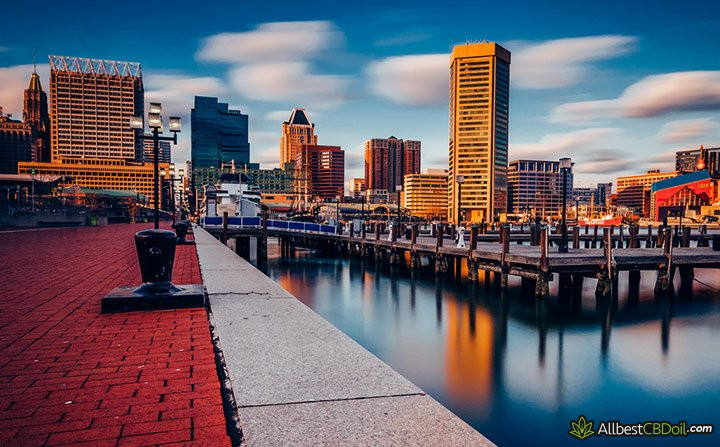 The states are distinguished into four different categories that each are marked with a different color based on the cannabis laws. Let me explain to you how it works:
Green States - these states allow you to use cannabis and cannabis-related products legally. Of course, there are certain rules and restrictions that you have to follow. More and more states each year legalize marijuana for recreational purposes.
Amber States - in these states you can use marijuana only for medical purposes. Thus, you'll need a medical marijuana card to legally buy, use and possess cannabis-related products that contain high amounts of THC.
Amber-Red States - you can use only CBD products under certain conditions in these states. Most often, the amount of THC that CBD oil can contain is very limited.
Red States - you should be careful if you live in one of the Red States because cannabis-related laws are very strict in all of them. At the moment there are three Red States: Nebraska, Idaho and South Dakota.
Remember that the laws regarding CBD oil Maryland and all the other states are changing all the time. For this reason, you should check the official .gov site of your state to get the most up-to-date information.
If you're concerned is CBD oil legal in Maryland, you can always check the color of this state. Currently, Maryland is an Amber State, meaning that marijuana is legal for medical purposes, whereas hemp-derived CBD oil is not forbidden.
The Federal CBD Law
Since you already know is CBD legal in Maryland, let's check the Federal law regarding CBD within the US.
After the Farm Bill 2018 [1]was signed, industrial hemp was removed from the controlled substance list and became completely legal within the US. However, there are a few main points that you should be aware of.
Hemp was defined as a "Cannabis sativa L. and any part of that plant, including the seeds thereof and all derivatives, extracts, cannabinoids, isomers, acids, salts, and salts of isomers, whether growing or not, with a delta-9 tetrahydrocannabinol concentration of not more than 0.3 percent on a dry weight basis.".
That being said, hemp-derived CBD oil that contains no more than 0.3% of THC by weight became legal for both medical and recreational purposes within the US. However, if that's the case then why so many people are concerned about CBD oil Maryland legality?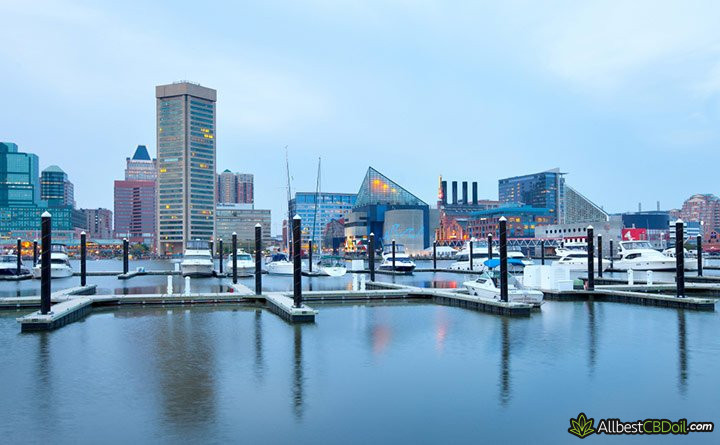 The thing is that even if Farm Bill 2018 legalized hemp on the federal level, individual states have a right to override this law by their own law. That's exactly what some of the states did, creating a confusion of CBD legality within the US.
Therefore, you should find out what's the situation with CBD oil legality in your state before purchasing it. At the moment, there are three states that strongly forbid cannabis and cannabis-related products for any purpose. That's why you should be careful.
Medical VS Recreational
Now you know the situation with CBD oil Maryland, however, I know that there still might be some confusion about the medical and recreational utilization of CBD in this state. Let me explain it to you once and for all.
No matter if you're using CBD for medical or recreational purposes in Maryland, it's completely legal in both cases. Of course, it should be derived from hemp and contain up to 0.3% of THC by weight.
The state is more strict when it comes to marijuana. It's allowed for medical purposes only. That being said, if you want to purchase a marijuana-derived CBD oil, you must have a medical marijuana card.
Getting back to CBD oil, there are many reasons why people use it not only for recreational but also for medical reasons. Studies show that CBD can help to relieve stress and anxiety[2] as well as help you to sleep better.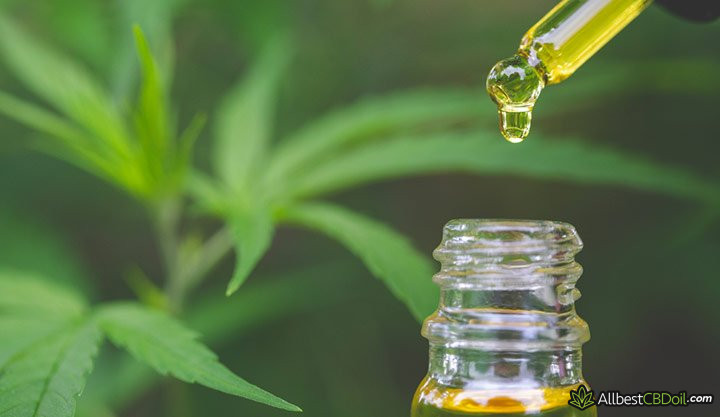 What is more, it can be used as an alternative treatment for epilepsy-induced seizures[3]. The results are rather optimistic.
Many people are also taking CBD as a daily supplement for their well-being and notice really positive results, such as better skin condition, more energy, better concentration, etc.
Since you know how effective CBD can be, you're probably wondering where can I buy CBD oil Maryland. Let's get to it in the further section.
Where Can I Buy CBD Oil in Maryland?
Finding a cannabis store in Maryland is not that difficult. After all, it's completely legal in the state. Now, you can look for local CBD shops or simply order products online, which is a way better idea. Let me explain why.
When shopping CBD oil Maryland online, you can choose from the products that are available in the entire US. That being said, if you want to experience the benefits of CBD oil, you'll need to find the most potent and effective CBD oil.
I'm not saying that CBD stores within the state are a bad idea, they're actually a safe option. But if there's no cannabis store near your home, you'll be wasting a lot of time just to get to it. Thus, that's why I think it's better to consider online alternatives.
The choice is all yours, however. Whichever option you decide to pick, I'll provide you with alternatives to choose from. So, let's move to the most recommended physical CBD oil Maryland shops as well as the best online providers.
Offline
I would like to begin with brick & mortar stores and answer your question where can I buy CBD oil in Maryland.
Embrace CBD Glen Burnie - Wellness Center
Embrace CBD Glen Burnie is a wellness center that's located in Glen Burnie, Maryland. It provides you with multiple options to choose from, including CBD oils and tinctures, edibles, capsules, topicals, vape products, and even more.
People tend to choose Embrace CBD Glen Burnie due to the friendly and knowledgeable staff that helps to answer all of their questions, nice atmosphere and effective products.
CBD Supply MD Towson CBD Store - Local CBD Oil Shop
The store is located in Towson and provides you with a fair list of CBD products to choose from. That includes CBD drops, edibles, vapes, bath products, and a few more options.
This CBD oil Maryland supply store is recommended because of the good price-quality ratio and helpful customer service. Therefore if you're looking where to purchase CBD oil in Maryland, you should consider this alternative.
Online
Now let's move to the online providers. I'll be introducing you to the most reliable companies that offer the highest quality and the most effective CBD products.
Charlotte's Web - The Most Reliable CBD Company
Charlotte's Web is one of the most experienced CBD providers that was founded back in 2011 by Stanley Brothers. The company has a natural mindset and, therefore, source CBD oil from non-GMO, organically-grown USA industrial hemp.
To ensure the quality and the potency of their products, the company sends each batch to independent labs for testing. Even though most of Charlotte's Web products are of the natural flavor, it seems that customers really like it. If you're looking for CBD oil Maryland, this is a perfect alternative.
Latest Deal Active Right Now:
GET 20% OFF
Charlotte's Web Top-rated CBD Products
The best time so save has come - grab this limited 20% discount promo code and save big on the most trending Charlotte's Web products NOW!
Expiration date: 09/06/2023
691 People Used
Only 25 Left
The price of Charlotte's Web CBD oil goes from $74,99 to $188,99. The company maintains an amazing price-quality ratio.
CBDistillery - Effective and Potent CBD Oil
CBDistillery is one of the most popular brands in the US that was founded in 2016. The company manages to maintain an amazing reputation as they offer the highest-quality full-spectrum CBD oil that can be used to solve multiple health issues or simply taken as a daily supplement.
CBDistillery is a transparent company, that being said, they offer third-party tested products. Their CBD oil is sourced from high-quality USA-grown industrial hemp.
[featured-coupon review_id="1"]
CBDistillery full-spectrum CBD oil costs from $30,00 to $260,00 depending on the strength option you choose.
cbdMD - Very Potent Broad-Spectrum CBD Oil
cbdMD was founded in 2015, the company is one of the industry giants. Since cbdMD offers broad-spectrum CBD oil, it contains 0% of THC. Thus, it's perfect for those who are afraid that CBD will show up on a drug test.
cbdMD CBD oil and other products as they're sourced from the highest-quality, USA-grown industrial hemp. What's more, they send each batch to third-party labs to test the potency and purity of their products.
[featured-coupon review_id="8"]
cbdMD broad-spectrum CBD oil pricing varies from $29,99 to $339,99.
Latest Deal Active Right Now:
GET 25% OFF
Exclusive cbdMD Coupon
Don't miss this limited-time opportunity to save big. Use this special coupon code link, save 25% & improve your well-being!
Expiration date: 09/06/2023
2,309 People Used
Only 18 Left
Conclusions
Therefore, you came here looking for an answer to the question "is CBD legal in Maryland?", and now you know the answer. CBD oil Maryland is completely legal as long as it's derived from hemp and contains no more than 0.3% of THC by weight.
Since CBD legality in Maryland is not an issue, you'll be able to find multiple stores within the state. However, you can also order products from the most recommended CBD providers online, which is actually even better.
If you want to get the most of CBD benefits, you should pick from the most reputable CBD providers, such as Charlotte's Web, CBDistillery and cbdMD. These companies ensure the potency and purity of their products by performing third-party lab testing.
I hope that this article was helpful and I managed to answer all of the questions that you were looking for!
Scientific References

1. U.S. Department of Agriculture: 2018 Farm Bill
2. Esther M. Blessing, Maria M. Steenkamp, Jorge Manzanares, et al.: 'Cannabidiol as a Potential Treatment for Anxiety Disorders'
3. Abhimanyu S. Ahuja: 'Cannabis-based treatments as an alternative remedy for epilepsy'
Disclaimer
While every effort has been made to make sure this article is as accurate as possible, it is not intended to provide legal advice. Since legal situations might rapidly change, we advise you to discuss any legal concerns with an expert, lawyer or relevant legal advisor in your local jurisdiction, or visit your state's .gov page for the most up-to-date information.