History of CBD in Iowa
Time to time, there seems to be a constant flow of different research that supports the idea that CBD could help people who are struggling with different diseases (i.e. Alzheimer's[1], epilepsy, etc.) and physical impairment conditions. That said, some states in the US still have some very confusing laws concerning the usage of CBD - CBD oil Iowa is no exception.
Iowa has a history of some pretty strict laws that concern cannabis. There have been multiple decriminalization attempts throughout the years, many of which had no avail.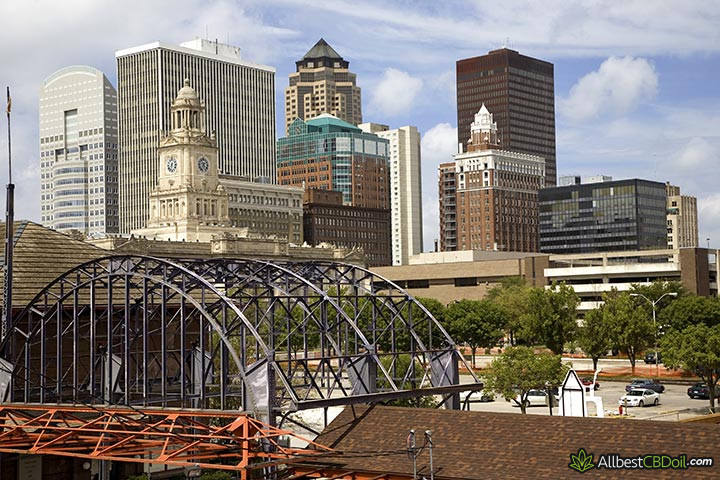 As far as CBD oil in Iowa is concerned, it was theoretically legalized for medicinal use back in 2014 (the Medical Cannabidiol Act[2]). Since then, there have been multiple different law iterations released, but it all still leads to one, single fact - there is no single consensus on the issue is CBD oil legal in Iowa.
The fact of the matter is, while CBD oil Iowa is currently considered to be legal for medicinal use (for certain medical conditions), cannabidiol is still considered a controlled substance under the state law. This, in turn, makes it illegal for shops to sell it to the general public - there have been police raids that enforce this even further.
Iowa - An Amber-Red State
In order to make it a bit easier for people to understand the intricacies surrounding CBD oil Iowa and other states, there's some specific color-coding in place. Each state is assigned an individual color that reflects that state's stance on cannabis and CBD. The colors are:
Green states. Green states are those that have completely legalized cannabis and CBD for both medicinal and recreational uses.
Amber states. Amber states allow you to use cannabis and CBD for medicinal purposes.
Amber-Red states. The most confusing color of them all, Amber-Red states differ in their laws and regulations concerning cannabidiol. In general, however, the situation is usually in the lines of hemp-derived CBD being legal for medicinal use, while cannabis-derived products being outlawed completely.
Red states. Anything and everything relating to cannabis or hemp is illegal.
So, then - Iowa is an Amber-Red state, right? Well… Yes, kind of. Reading through some laws that relate to CBD oil Iowa, you might notice some discrepancies, however.
An example of this is that, medical marijuana is legal to be administered within the state. Since CBD is usually extracted from hemp, the situation here is more lenient - if the CBD product has less than 3% THC within itself, it is legal to use it for medicinal purposes, with a doctor's prescription.
As noted earlier, however, the only issue is that doctors aren't too keen on prescribing CBD to the patients, since there's a pretty good chance that the products would get confiscated by the law enforcement. Ya - it's chaos.
A Brief Note about Federal Law
In 2018, with the federal Farm Bill being passed into law, it has become legal to produce CBD products that contain no more than 0,3% of THC within them. Quite frankly, this refers to CBD that's derived from industrial hemp, and not cannabis.
So, the federal law is a big step-up as far as CBD goes, right? Well, as you might have noticed in this article about CBD oil Iowa, it's not that simple - some sates still impose their own laws and regulations on the matter.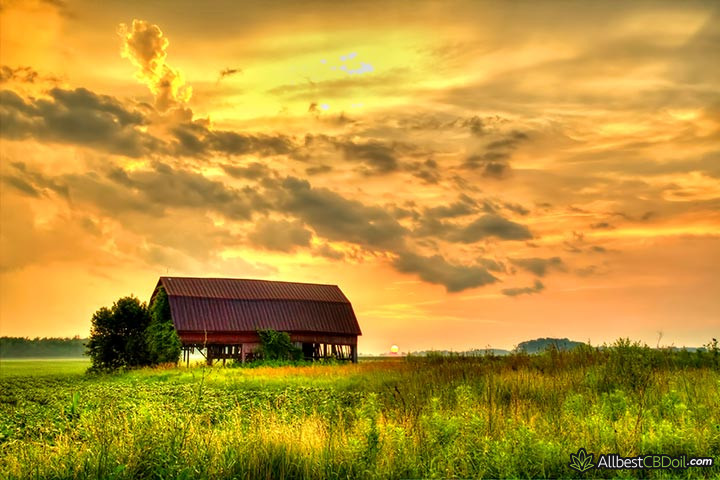 Thing is, they are completely free to do so, too - the laws of each state, if they oppose the federal one, do also override it, meaning that it's still a state-dependent matter. Not the best news if you were wondering where to buy CBD oil in Iowa.
While it is true that Iowa is making progress in the regard, it all still falls back on CBD being considered a controlled substance by the law - until this issue is solved, there's little chance that residents of this state will receive some clarity.
Medicinal VS Recreational
It would be impossible to discuss questions such as "is CBD oil legal in Iowa?" without differentiating medicinal and recreational uses, now wouldn't it?
Medicinal use refers to using cannabidiol in order to alleviate some certain medical issues. A doctor might prescribe their patients some CBD, and the illnesses for which this can be done are very state-dependent. Since CBD has been shown to have positive effects on everything from anxiety all the way to psychosis[3], the list can get pretty long.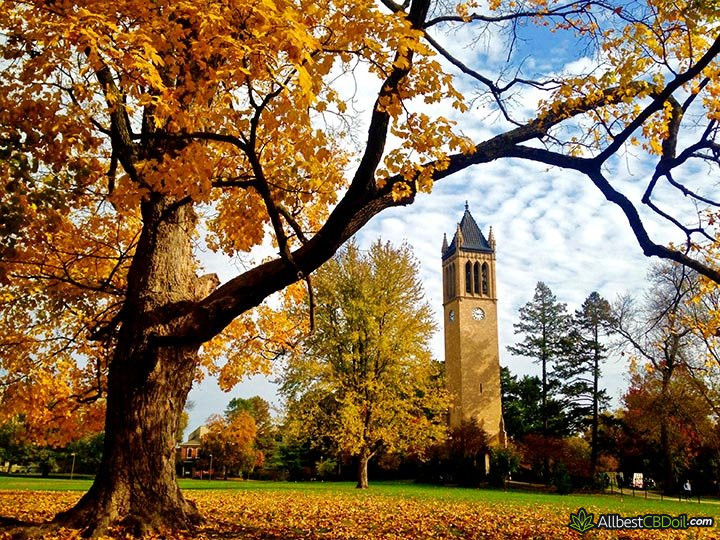 Recreational use refers to using CBD to self-medicate - in other words, without any recommendations or prescriptions from your doctor. Doing research for the topic of CBD oil Iowa, it's evident that many states in the US still do not differentiate cannabis-derived CBD form its hemp-derived form.
This, in turn, means that you might have a difficult time using CBD recreationally, at least as far as legalities are concerned.
To reiterate the point made earlier, CBD oil Iowa is legal to be used medicinally. The state has not removed it from the "controlled substance" list, however, which can and will cause difficulties, even though it is theoretically legal.
Where to Buy CBD Oil in Iowa?
Having discussed the legalities of CBD oil Iowa, we should also discuss some methods of where to buy CBD oil in Iowa, too. Let me tell you in advance, though - this is not an easy task to do.
In general, no matter where it is that you're located in the US, you have two big options - either purchasing the products online, or from a local retail shop (or dispensary). Each of these options have their own benefits and drawbacks, but the general idea remains the same - it's much better to purchase your CBD products online.
Now, before we dive into the reasoning for why that's the case, let's briefly talk about physical retail stores found within the state and that sell CBD oil Iowa.
Buying CBD Offline
I'm going to make this very simple - yes, there are stores in Iowa that sell CBD products. No, you shouldn't purchase the products there.
While it can be really confusing trying to navigate the legal matters concerning CBD oil Iowa for the user, it's even more difficult when it comes to selling the products. The same sentiment that we've dragged through the entire article is applicable in this situation, too - it's legal, but it's not.
With some grand confusion about the meaning of "pharmaceutical CBD" and "supplement CBD", there have been instances where police would raid certain CBD shops and seize the products found within. Needless to say, this is less-than-ideal.
Naturally, with the danger of getting in trouble with the law enforcement constantly in the air, it's not the best idea to go out and try to purchase CBD oil Iowa in a physical store.
This leads us to the online alternative.
Buying CBD Online
It is true that, same as retail stores, you could theoretically get in trouble for purchasing CBD oil Iowa online, even if you have a marijuana card or a doctor's prescription. That being said, if you're someone who travels a lot, you could actually just order the products while you're in a state where this is completely legal.
Whatever the case might be, it will always be more beneficial to purchase CBD products online than in a store. Better prices, more products to pick from, reliable sources - you name it!
With so many different benefits in mind, I'd advise you to stop worrying about where to buy CBD oil in Iowa, and simply turn towards the top-rated providers in the industry. Keep them in mind when you're out of state or when the laws in Iowa start making sense!
cbdMD - Broad-Spectrum CBD Products
cbdMD is one of the more interesting CBD providers around. The company sells customers broad-spectrum CBD products. These products contain various cannabinoids within them, but are considered to be "THC-free". Legality-wise, as soon as Iowa sorts out the "controlled substance" issue, you should be able to purchase and use cbdMD's oil medicinally.
The prices for the cbdMD oil range from $29,99 up to $339,99.
Latest Deal Active Right Now:
GET 25% OFF
Exclusive cbdMD Coupon
Don't miss this limited-time opportunity to save big. Use this special coupon code link, save 25% & improve your well-being!
Expiration date: 04/10/2023
2,309 People Used
Only 18 Left
CBDistillery - Multiple Products, Reliable Company
CBDistillery offers customers a pretty wide variety of different CBD products, all of which are independently tested by third-party labs. The products are also potent and made from US-grown industrial hemp, so you can rest assured that the quality is going to be top-tier.
CBDistillery oil prices vary from $30 up to $260.
[featured-coupon review_id="1"]
Charlotte's Web - Potent CBD Oil
If you're interested in CBD oil Iowa and are looking for the most potent products out there, Charlotte's Web should be on your radar. The brand sells full-spectrum CBD products - they are going to be quite potent, but shouldn't exceed the legal 0,3% THC limit. If you find yourself in a state where it's completely legal to purchase CBD oil, keep this brand in mind!
Charlotte's Web CBD oil price go from $74,99 up to $188,99.
[featured-coupon review_id="2"]
Latest Deal Active Right Now:
GET 25% OFF
Exclusive cbdMD Coupon
Don't miss this limited-time opportunity to save big. Use this special coupon code link, save 25% & improve your well-being!
Expiration date: 04/10/2023
2,309 People Used
Only 18 Left
Conclusions
To recap, CBD oil Iowa is theoretically legal if it doesn't breach the 3% THC mark, and is used for medicinal purposes (that is, you have a doctor's note or a marijuana card while purchasing it). That said, since cannabidiol is still in the state's "controlled substance" list, this nullifies the legality, and makes things very confusing.
If you're looking to visit a state that has less-confusing laws regarding the topic, and would like to purchase some CBD there, you should always resort to online providers. With this, you'll be able to rest assured that you're receiving the highest quality products possible, for the best prices out there.
Scientific References

1. Georgia Watt and Tim Karl: 'In vivo Evidence for Therapeutic Properties of Cannabidiol (CBD) for Alzheimer's Disease'
2. Helping services: 'Iowa's Medical CBD Law'
3. Albert Batalla, Hella Janssen, Shiral S. Gangadin, and Matthijs G. Bossong: 'The Potential of Cannabidiol as a Treatment for Psychosis and Addiction: Who Benefits Most? A Systematic Review'
Disclaimer
While every effort has been made to make sure this article is as accurate as possible, it is not intended to provide legal advice. Since legal situations might rapidly change, we advise you to discuss any legal concerns with an expert, lawyer or relevant legal advisor in your local jurisdiction, or visit your state's .gov page for the most up-to-date information.