History of CBD in India
India does actually have a pretty rich history concerning the topics of cannabidiol and cannabis. That history is also quite varied - the country has been moving towards legalizing cannabis-based products for quite some time now, and while there's a lot of success regarding the matter, that does not mean that there weren't quite a few struggles in the process.
The one thing that India has over many other countries around the world (and that allows CBD oil India to be a positive topic, in general) is that the nation places some very clear and simple distinctions between hemp- and cannabis-derived CBD products.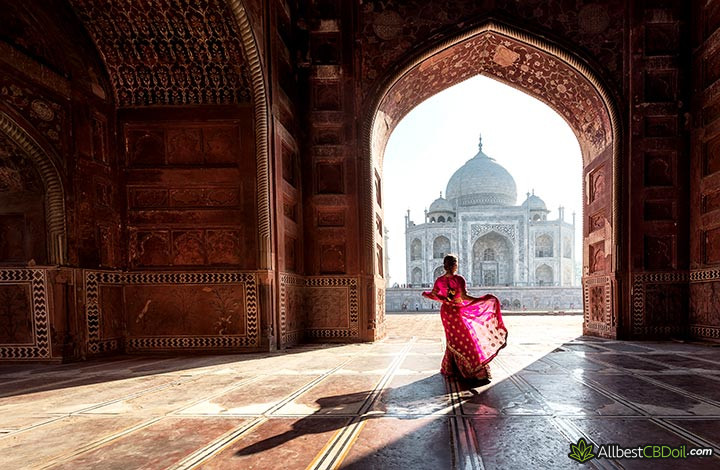 Now, if you're a CBD enthusiast, it might seem like something quite obvious to you - of course they're different! Well, there are still many people asking "is CBD hemp oil legal in India?" - for anyone who's not CBD-savvy, the topic can be quite a confusing one. This is further proven by the laws that some other countries possess - if it comes from any cannabis-related plants, it's bad!
CBD that comes from industrial hemp is going to have small amounts of THC within it, while cannabis-derived CBD products are going to be rich with THC - that's the main difference. Concerning the situation with CBD oil India, though, the country can easily be considered to be an Amber one.
India - An Amber Country
CBD enthusiasts over at the US have come up with a very useful color-coding system for each of the states located within the country. They are each prescribed a specific color, and this allows people to easier distinguish between the different CBD laws and regulations that a state might have.
While the system was developed and created for the US, with some adjustments, it can surely be applied to the rest of the countries in the world, too. It's actually quite helpful in analyzing the topic of CBD oil India, too! The colors in question are:
Green countries. All CBD products are legal, without any restrictions.
Amber countries. Hemp-derived CBD products are legal, and there's a positive outlook towards cannabis-derived products.
Amber-Red countries. Hemp-derived products are only legal for medicinal use, and there's a negative outlook towards cannabis-derived products.
Red countries. All CBD products are illegal.
Naturally, all of these colors are very… Limited in their explanations. You shouldn't be taking the above-presented information at face value! That being said, it does serve the purpose of allowing people to get a pretty simple and straightforward answer to questions such as "is CBD hemp oil legal in India?", and talk about CBD oil India, in general.
Speaking of which, out of all of the information presented up to this point, it is pretty obvious that India is an Amber country. Frankly, this means that all hemp-derived CBD products are completely legal to be used within the country, for any and all purposes, and that India also has a pretty positive outlook towards cannabis, too.
Hemp Seed Oil - Don't Get Tricked!
Oftentimes, when you're out and about shopping for CBD oil India, you might encounter what is known as "hemp seed oil" in some of the local shops around the country.
Well, you should know that these products are NOT the ones that we're talking about here, in this "CBD oil India" guide.
Hemp seed oil, as the name implies, is made from the seeds of the industrial hemp plant. CBD oil - the one that we ARE talking about in this article - is made from other parts of the plant, seeds excluded.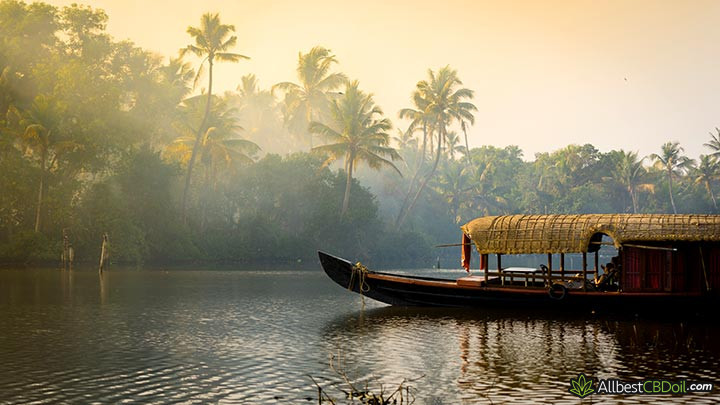 While hemp seed oil is considered to be good for your body, it's not really going to provide you with the effects that you'd expect from CBD. Cannabidiol has been shown to be effective when it comes to treating everything from inflammations[1] all the way to some more severe diseases - since hemp seed oil does not have much actual CBD in it, it's not going to be effective, as a result.
When looking for answers is CBD oil legal in India, you might encounter individual sellers and even some bigger shops trying to sell people hemp seed oil as CBD oil. Well, be sure to not fall for it, and find yourself real CBD oil India!
Medicinal VS Recreational
Anyone looking for CBD oil in India should also be aware that the country does have some very specific distinctions between using CBD products for medicinal and recreational purposes.
In India, it's legal to use hemp-derived CBD products for medicinal purposes, though you don't need any formal documentation in order to do so. I'll get to why that's the case in a bit, but it's definitely something worth keeping in mind.
Cannabis-derived CBD products, however, are a bit different. While the country has a pretty positive outlook towards cannabis, that doesn't mean that such products are legal here! In fact, you might struggle getting this type of product even for medicinal use, too!

Now, the reason why you don't need any prescriptions in order to use CBD oil India for medicinal purposes is because recreational use of hemp-derived CBD products is legal within the country, too. As you've probably gathered by now, that's not the case with cannabis-derived products - just something to keep in mind!
In any case, while both medicinal and recreational use of CBD is legal in India, you should always also check what products you're looking to purchase! CBD comes in many different shapes and forms, and while CBD oil might be legal, some pills or creams might not. Also, always make sure that the CBD products that you're purchasing contain less than 0,3% THC.
Where to Buy CBD Oil in India?
Lastly, let's discuss the methods of how you could purchase some hemp-derived CBD oil in India.
There are two possible ways you could go about purchasing CBD oil India - either in a shop, or online.
While buying CBD products from your local CBD retailer might be a tempting option, it's actually a much better idea to stay at home and buy all of your products from high-end CBD providers online… If that's possible.
We'll get to talking about the online option in a bit, but first, let's quickly mention some of the more notable CBD shops in India.
Buying CBD Offline
Here are three of the better-known CBD retailers in India.
Bombay Hemp Company - Good Customer Service
Customers report that the Bombay Hemp Company has some of the better customer service that you might encounter, and that all of your wants and needs will be taken care of here.
CBD Store India - Effective Products
CBD Store India appears to sell some of the more effective CBD products in the region. Depending on your own interpretation of the term "effective", the shop might be worth checking out!
Hemp Horizons Pvt. Ltd. - Variety of Different Products
Hemp Horizons offers customers a somewhat wide variety of different CBD products - everyone should be able to find products that'd suit them best!
Buying CBD Online
While many people prefer to go out and purchase their CBD oil India from a local shop, it is always going to be a better idea to do so online.
Now, in general, when you buy CBD online, you can expect top-tier quality, great prices, multiple different discounts, and simply a great overall service, in general. For example, you'd never get tricked into buying hemp seed oil instead of CBD oil if you'd visit the top-rated online CBD providers.
There's but a single, slight issue, though. India doesn't always look very fondly upon foreign CBD brands selling and shipping their products into the country.
The worst part about this is that it's actually really difficult to say which companies will ship their items to India, and which won't, since it's an always-changing situation. That said, allow me to still tell you about some of the best CBD brands out there - perhaps you'll be able to purchase their CBD products, if the laws and regulations are lenient enough at the time you're reading this article!
Charlotte's Web - Potent CBD Products
Charlotte's Web sells full-spectrum CBD products. The oils offered by the brand will provide customers with some optimal potency, and you should be able to feel their effects quite soon! The brand's oils are tasty, and also made from US-grown hemp, too.
Charlotte's Web CBD oil prices go from $74,99 up to $188,99.
Latest Deal Active Right Now:
GET 20% OFF
Charlotte's Web Top-rated CBD Products
The best time so save has come - grab this limited 20% discount promo code and save big on the most trending Charlotte's Web products NOW!
Expiration date: 03/12/2023
691 People Used
Only 25 Left
CBDistillery - Good Variety of Choices
CBDistillery has a pretty good variety of different CBD products to offer to the average customer. This is actually pretty good news for anyone looking for CBD oil India, since the country does allow the use of different CBD products, and not only oil. CBDistillery is a very reputable CBD brand, so it's definitely worth checking out!
CBDistillery CBD oil cost from $30 up to $260.
[featured-coupon review_id="1"]
cbdMD - Broad-Spectrum, THC-Free CBD Oil
cbdMD offers its customers some very unique and interesting CBD products - broad-spectrum oils. These products are going to be potent, yet will possess almost completely no traces of THC within them. Perfect for any CBD industry newcomers, or people who are simply interested in trying something new!
The costs for the cbdMD oil ranges from $29,99 up to $339,99.
[featured-coupon review_id="8"]
Latest Deal Active Right Now:
GET 25% OFF
Exclusive cbdMD Coupon
Don't miss this limited-time opportunity to save big. Use this special coupon code link, save 25% & improve your well-being!
Expiration date: 03/12/2023
2,309 People Used
Only 18 Left
Conclusions
As far as CBD oil India is concerned, the country does allow its residents to use hemp-derived CBD products that contain less than 0,3% THC most completely freely, for both medicinal and recreational purposes.
Cannabis-derived CBD is a bit of a more tricky topic, but some sources do note that it is possible to get such products prescribed to be used for medicinal reasons.
Finally, while it may not be an easy task trying to purchase CBD oil India products online, it's still seen as the better alternative to that of going out to a shop, and should be kept in mind, if anything. Do make sure to check some of the top-rated CBD brands out from time to time - perhaps they'll be able to ship their CBD products to India at that point in time?
Scientific References

1. D.C. Hammell, L.P. Zhang, F. Ma, et al.: 'Transdermal cannabidiol reduces inflammation and pain-related behaviours in a rat model of arthritis'
Disclaimer
While every effort has been made to make sure this article is as accurate as possible, it is not intended to provide legal advice. Since legal situations might rapidly change, we advise you to discuss any legal concerns with an expert, lawyer or relevant legal advisor in your local jurisdiction, or visit your state's .gov page for the most up-to-date information.