History of CBD in Japan
As noted earlier on in the "Is CBD Legal in Japan?" article, the country in question is a pretty conservative one when it comes to laws and regulations regarding the topic of CBD.
Now, you'd think that this is the case mostly because Japan doesn't differentiate between hemp- and cannabis-derived CBD products - at least that's the case with many other countries and states in the world! Well, the fact of the matter is that the situation is actually a bit different with CBD Japan.
You see, the country has always had some pretty strict laws regarding all things that relate to cannabidiol. This is actually true for BOTH hemp and cannabis products - no matter where the CBD comes from, it's going to be illegal in Japan.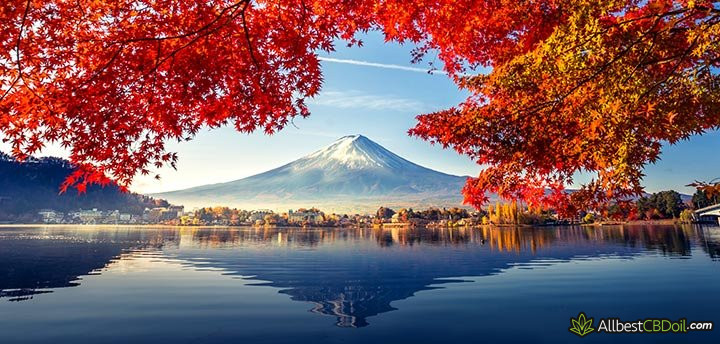 The same is true with growing hemp, too. While, as noted earlier, it is considered to be a grey area in the law, growing hemp with the intent to make some CBD-based products out of it is still seen as an illegal activity - historically, hemp was grown in the country for completely different reasons.
There is one exception to the negative answer to the question "is CBD legal in Japan?", though. That exception is simple - CBD isolates. But we'll get to that in a minute - first, let's talk colors.
Japan - A Red Country… Or is it?
It's actually quite difficult to discuss questions such as "is CBD legal in Japan?" without placing down some general guidelines. The US has a pretty good system to deal with this issue - color-coding. The country has colors for each of its states, and these colors help distinguish the states based on their CBD and cannabis laws.
Whilst asking is CBD legal in Japan, the situation isn't really all that different - in order to answer that question, you should first understand the color that fits Japan the most. While these colors are surely designed for the US, there's no reason for them not to fit countries, either. The colors are, as follows:
Green countries. All CBD products are completely legal.
Amber countries. Cannabis-derived products are legal for medicinal use, while hemp-derived ones are legal for all types of uses.
Amber-Red countries. Generally, Amber-Red countries are those where hemp-derived CBD is legal to be used for medicinal purposes, while cannabis products are completely illegal.
Red countries. All types of CBD products are strictly illegal.
So, which color fits Japan the most? Well, if you were to judge the country based on a first glance, you'd probably go with Red. That said, this doesn't really answer the question "is CBD legal in Japan?" to the fullest extent!
You see, CBD isolates are, in fact, legal in Japan. Isolates are products that contain absolutely no traces of THC in them. Naturally, this would make Japan unfit for the "Red" position - it's more of an Amber-Red type of a scenario, isn't it?
Well, it's actually difficult to tell for sure. As with many other places around the globe, CBD in Japan is a "hot topic" - there are shops popping up left and right, and the government is actively trying to update the laws regarding cannabidiol and its use. Still, though - the outlook that Japan has towards CBD is a very strict one.
Hemp Seed Oil - Don't Get Tricked!
Now, one of the most important topics to tackle when it comes to discussing questions such as "is CBD legal in Japan?" is the difference between hemp-derived CBD oil and hemp seed oil.
While the two types of products do sound similar, let me be as clear as possible - they are completely different from one another.
Hemp-derived CBD oil is the product that you want. Be it full-spectrum oil or a CBD isolate (the latter would be the case with Japan's strict laws), the important fact here is that, if you want to experience the actual benefits of cannabidiol (whatever they might be), hemp-derived CBD if for you.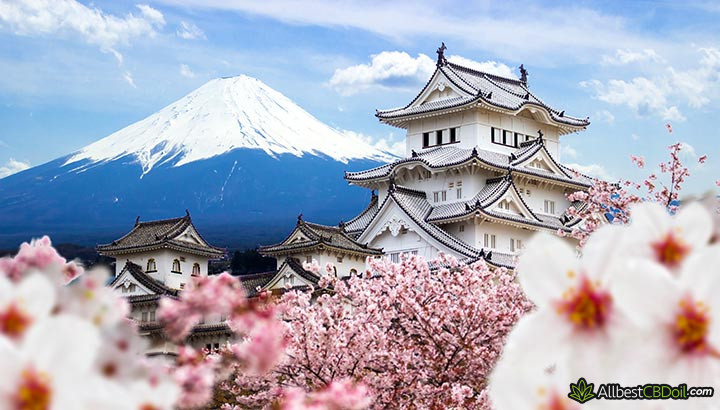 Hemp SEED oil is a completely different product. Think about coconut or olive oil - while both of those products do have some benefits to the human body, those benefits have nothing to do with the ones that are proclaimed and talked-about when it comes to CBD.
For those asking "is CBD legal in Japan?" or "can you bring CBD oil to Japan?", it's also worth mentioning that you shouldn't have any problems bringing both CBD isolates and hemp seed oil to the country, for both are legal.
Medicinal VS Recreational
Over the years, there have been (and still are!) multiple different studies done on the potential benefits of CBD, and even things like the interactions between CBD and THC[1]. The studies and all of that research isn't done just for entertainment purposes, though - researchers help governments in deciding the legalities of CBD products in their countries.
In most of the countries around the world, though, there are two possible ways of how people can access CBD products - either for medicinal use, or recreational purposes.
If you'd like to use CBD for medicinal reasons, you'd have to possess some underlying health condition, and get tested for it in a special location. If all is in order, and the country (or state) allows the use of CBD for the treatment of that health condition, you might be able to enroll in the medical program.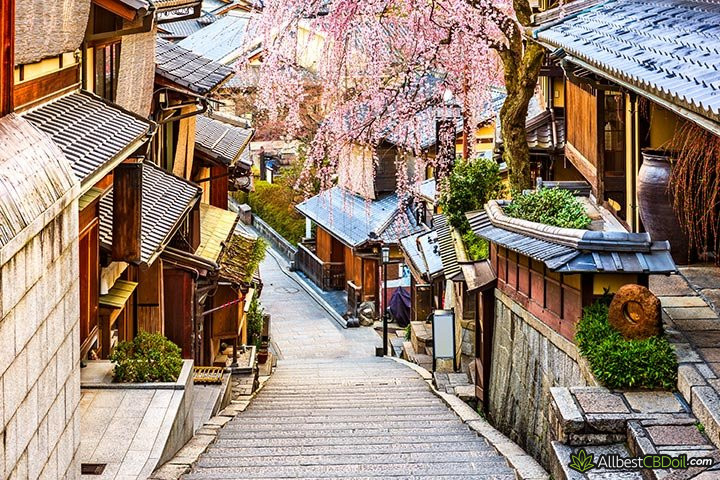 Recreational use is a much simpler topic - quite frankly, it involves nothing more than just going to the shop and getting yourself the CBD products that you want. No need for any tests or doctor approvals!
Now, when it comes to questions such as "is CBD legal in Japan for either medicinal or recreational use?", you should be aware that CBD products that have THC in them are going to be strictly illegal in both cases. CBD isolates, though, can be used both medicinally and recreationally.
Where to Buy CBD Oil in Japan?
So, then - now that we've figured out the legalities of questions such as "is CBD oil legal in Japan?", let's move on to another, very popular inquiry that people have about CBD in Japan - where to get it?
As long as you're looking for CBD isolates (CBD products that are completely free of THC, either in powder form or in that of oil), you can either order the products online, or buy them from a shop in Japan. Anyone wondering "can you bring CBD oil to Japan?" should also know that, if the above-noted conditions are met, you can do that, too.
First of all, let's talk about the offline, Japan CBD shop option. After that, I'll also tell you why that's not really the route that you'd want to take, and why buying your products online is more beneficial.
Buying CBD Offline
Here are some options of places you could visit in Japan that sell CBD products.
CBDMANiA - Good Customer Service
According to customer reviews found on the web, CBDMANiA has some amazing customer service, and is a CBD specialty store - what this means is that you should be able to find all of the products that would interest you there.
CBD Lab - Good Product Variety
CBD Lab sells multiple different types of CBD products. Quite frankly, whatever your preferred method of taking CBD is, chances are that you'd be able to find the right products for yourself here.
HealthyTOKYO - Multiple Locations, Great Customer Service
HealthyTOKYO office, cafe, vegan shop… There are multiple different branches of the business in the country! Customers also report that in all of them, the staff will go the extra mile to satisfy you and make sure that you're happy with your CBD purchase.
Buying CBD Online
Admittedly, there aren't all that many CBD shops in Japan - at least not as of yet, and not ones that would inspire trust and reliability. This is where online CBD providers come in.
Buying your CBD isolates online, you can be sure that the products are going to be of the highest quality, and that you're purchasing the thing that it says that you're purchasing. You see, you can never be sure in a shop - perhaps you're actually buying something very illegal in japan, like full-spectrum CBD oil? That's why it's always better to rely on the online providers.
If you're calm about the question "is CBD legal in Japan?", and would like to try some online options for yourself, let me tell you about three of the best CBD brands on the current market - ones that, among other things, deal in CBD isolates.
CBDistillery - 99% Pure CBD Isolate Powder
CBDistillery does not offer its customers CBD isolate in oil form. Instead, the brand sells 99% pure CBD isolate powder - that's a pretty interesting product! While such isolates are considerably more expensive than, say, isolate CBD Japan oil, they are also purer and usually of higher quality. You could use the powder to make your own oil, or add it to your coffee or even food.
CBDistillery CBD isolate powder costs from $30 up to $2000.
Latest Deal Active Right Now:
30% Exclusive Discount
On All CBDistillery Products
You have an exclusive chance to save 30% on your CBDistillery order. Grab this limited-time promo code & enjoy top-rated CBD products!
Expiration date: 03/12/2023
931 People Used
Only 37 Left
Charlotte's Web - High-Quality Isolates
Charlotte's Web is a very well-known brand in the CBD industry. The company primarily deals in full-spectrum CBD products - in other words, oils that are very potent, but contain THC. That said, the brand does also sell some CBD isolate oils - a great alternative for anyone wondering is CBD oil legal in Japan.
30 mL of Charlotte's Web CBD isolate will cost you $99,99.
[featured-coupon review_id="2"]
cbdMD - Broad-Spectrum CBD Products
cbdMD is a bit of an interesting one. The legality of the company's CBD oils will actually depend on the strictness of the current CBD Japan laws. Why? Well, cbdMD sells broad-spectrum CBD products - they are potent and contain multiple cannabinoids, but have "undetectable" levels of THC in them. Is the "undetectable" part enough to pass Japan's laws? Well, yet again - it depends on the time when you're asking this. Do look into it before making a purchase!
The costs for the cbdMD oil ranges from $29,99 up to $339,99.
[featured-coupon review_id="8"]
Latest Deal Active Right Now:
GET 25% OFF
Exclusive cbdMD Coupon
Don't miss this limited-time opportunity to save big. Use this special coupon code link, save 25% & improve your well-being!
Expiration date: 03/12/2023
2,309 People Used
Only 18 Left
Conclusions
So… Is CBD legal in Japan? It's a difficult matter, that's for sure! To put it very bluntly, all CBD products are illegal in the country, for all types of uses - except one. You are able to use CBD products that do not contain any traces of THC - in other words, CBD isolates.
Is CBD legal in Japan to be bought offline or online, though? Well, both, as long as you're buying isolates. Still, though - it's a much better idea to purchase your CBD from reliable, online providers.
Scientific References

1. Raymond J. M. Niesink and Margriet W. van Laar: 'Does Cannabidiol Protect Against Adverse Psychological Effects of THC?'
Disclaimer
While every effort has been made to make sure this article is as accurate as possible, it is not intended to provide legal advice. Since legal situations might rapidly change, we advise you to discuss any legal concerns with an expert, lawyer or relevant legal advisor in your local jurisdiction, or visit your state's .gov page for the most up-to-date information.