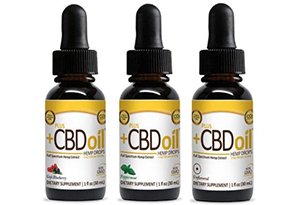 People are speaking of various CBD oil benefits, including chronic pain, anxiety, depression, and stress. However, knowing that so many people use these products, businesses take advantage.
While it might sound unbelievable, some brands consider CBD as an easy way to make money; others are truly inspired by its health benefits. But with so many products to consider, how can you know which products actually work and which ones only take your money and give nothing back?
If you want to get the most of using CBD, you should choose reliable brands that offer time-tested products. A few of them include cbdMD, Charlotte's Web and CBDistillery.
Table: cbdMD, Charlotte's Web and CBDistillery comparison.
This is the main purpose I write CBD reviews - so that you wouldn't need to go through various different sites, checking if the information they say is true. Today, I will present you Plus CBD Oil reviews and include everything starting from the information they provide, all the ingredients, analysis of Plus CBD Oil reviews, and so much more.
At the end of this Plus CBD Oil review, you will know whether or not this product can fulfill your expectations and needs. Just always remember that we're all unique and other people might have different experiences than you.
Verdict at a glance
Plus CBD Oil provides customers with a variety of products that even the pickiest people can choose from. Each of their CBD products is non-GMO, gluten-free, third-lab tested and extracted using chemical-free CO2 extraction process. The only major thing that lacked is the information about their hemp grown location.
Pros
Independent lab tested
All products non-GMO, gluten-free
Wide range of products
Chemical-free extraction process
Cons
Unknown growth location
Not the most potent
Plus CBD Oil Reviews: What is CBD?
If you're one of the experienced people, you can skip to the further part of Plus CBD Oil reviews, but if you want to find out more about CBD and how it's different from cannabis, then continue reading.
CBD oil is extracted from the hemp plant. You should know that it's only one out of more than eighty five cannabinoids found in the cannabis plant.
While hemp and cannabis might seem like the same plant, the major difference is that hemp contains very minimal traces of THC. Cannabis, on the other hand, will get you "high" easily.
THC is not illegal in the US, however, they do have a strict limit of the 0.3% THC. For that reason, you may find many CBD products with an option to choose oils, gummies, etc, with and without THC.
The only problem here is that some brands fail to meet these regulations and there were certain incidents where people failed THC test after using their products. If you don't want this to happen, you should go further into Plus CBD Oil reviews and see if their products are safe.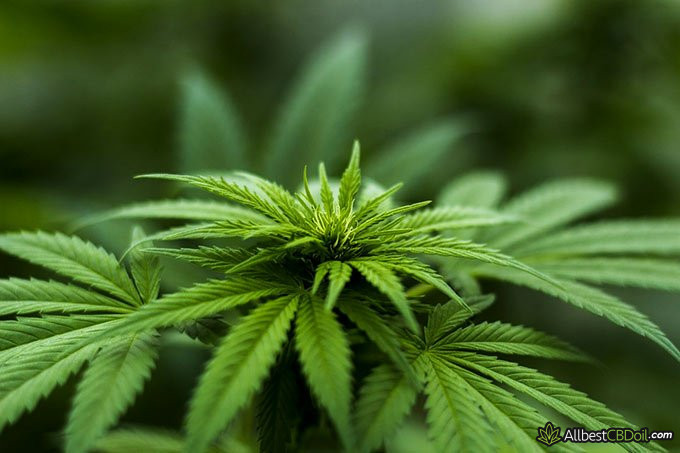 Plus CBD Oil Reviews: PROS
Without wasting your precious time, I would like to begin from the positive sides of Plus CBD Oil review and discuss what the company has to offer.
Wide Range of Products to Choose From
I don't know how about you but I always love to have the ability to choose from a wide range of quality products. Needless to say, Plus CBD Oil definitely gives you such a possibility.
Let's take a look into the Plus CBD Oil products' categories:
Balm
Spray
Drops
Roll-On
Gummies
Capsules
Softgels
Of course, each of the products come in a variety of delivery methods, sizes, concentrations, and some even taste. That being said, even the pickiest customers should find an alternative.
And, you can press on "CBD Deals" and find some amazing offers you cannot miss.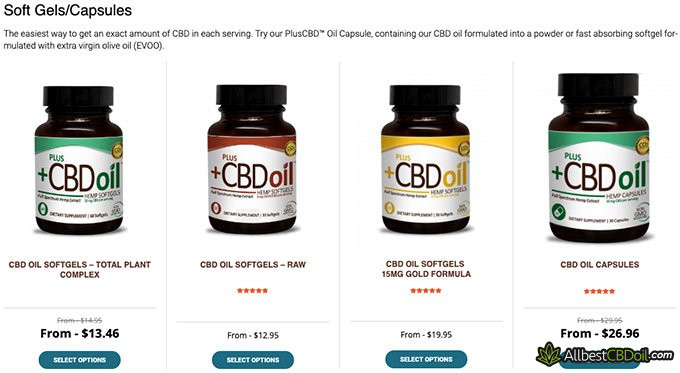 Non-GMO and Gluten-Free
In today's world, it becomes more and more difficult to find natural products that would be not genetically modified (products that had their DNA altered).
It makes me feel so much better knowing that Plus CBD Oil provides you with Non-GMO products, and is even a safe option for those who do not tolerate gluten, as they're gluten-free.
Therefore, for now at least one thing in the Plus CBD Oil reviews is clear - you get rich products - Non-GMO and gluten-free. But that's only the beginning, let's move further and see what's the Plus CBD Oil extraction process and whether or not they're third-party tested.
Chemical-Free CO2 Extraction Process
One of the main aspects you should consider before choosing any CBD-related product is the extraction process. Needless to say, the way the product is made, makes a major difference.
Plus CBD Oil uses chemical-free CO2 extraction process that is cold-based. But what does that mean exactly?
Since Plus CBD Oil uses a cold-based extraction process, it means that there's a high chance that terpenes and cannabinoids will be preserved. Needless to say, those manufacturers that are using heat to extract the CBD oil, are loosing the most valuable elements.
Now, there's one question left. How can you know that Plus CBD Oil meets their label? This is the main question that we'll be focusing on the further section of Plus CBD Oil reviews.
Third-Party Tested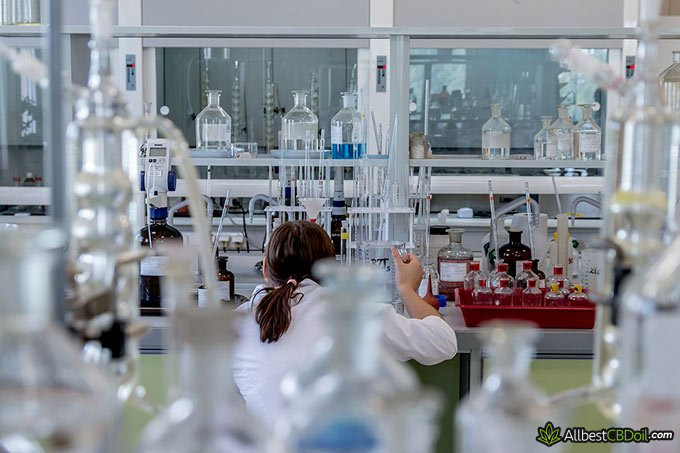 I'm not here to scare you, I just want to give you a splash of reality. There are many claims out there that some of the CBD providers do not give you what's promised. It's disappointing that bad players ruined our trust in good brands.
If CBD products are not third-party tested, then you can never be sure what you're getting. I know it sounds scary but that's why I'm providing with thorough Plus CBD Oil reviews.
Oh, and don't make a mistake here, pay attention to the "third-party". It's the main concept. You should know that so many companies hire their own labs to perform a test. What do you think about that? For me, it doesn't sound too trustful, they can easily counterfeit the results.
But don't worry, each of the Plus CBD reviews will tell you that their products are tested by independent, third-party labs that can provide only truthful results. On top of that, you can easily find all the Plus CBD Oil certificates of analysis on their site. Just go to "CBD Education" on the very bottom of their homepage, and press "Certificates of Analysis".
Table: cbdMD, Charlotte's Web and Plus CBD Oil comparison.
If you don't feel like checking it right now, I have to say that there are no problems with their test results, all according to the US standards. So, if you decide to use Plus CBD Oil products, you should feel completely safe utilizing them.

Did you know?
Gold Formula
I would like to dedicate this section to the Plus CBD Oil Gold review. Many customers have been talking about their product lately, but what's so special about their oil?
Plus CBD Oil Gold formula is their first full-spectrum hemp extract that's Generally Recognized as Safe (GRAS). Full-spectrum means that their products not only contain CBD but also contain other cannabinoids for a stronger effect. Of course, none of their products contain more than 0.3% of THC - they're third-party tested.
What seems to be one of the major pros that is often identified in not one Plus CBD Oil Gold review is that they have peppermint and goji blueberry flavors that can be used to make your smoothies, ice cream, etc, even better.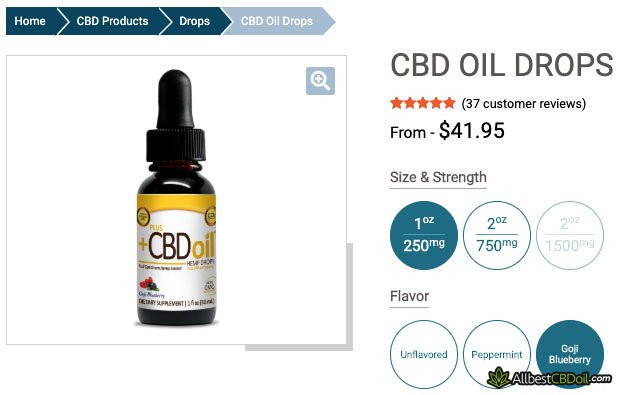 Real Health Benefits
The main reason why people are using CBD oils is the improvement in their overall health, not only physical but also mental. There are some major benefits that CBD brands distinguish. Take a look into them:
Pain relief
Fight anxiety and depression
Might reduce acne
Possible neuroprotective properties
Benefits for your hearth
While there are so many more possible results, how can you know that the oil you're choosing will benefit you? I might disappoint you but before trying you cannot know how Plus CBD Oil will affect you and how much positive impact it will have on your body.
But to make sure in this Plus CBD Oil reviews if those benefits exist, I spent a generous amount of time analyzing each of the Plus CBD Oil reviews until I finally had enough data to make certain conclusions.
I have to say that the results surprised me. Majority of the customers said that Plus CBD Oil helped them to fight insomnia. Some felt instant results, others needed a few months for the oil to kick in.
Also, quite a huge part of people who were struggling with anxiety and depression said that it took a few months to actually feel the results but they do feel a huge change in their mental health.
These Plus CBD Oil reviews are truly inspiring, and as I said, they're the most common benefits that people tend to notice. I also found some reviews that claimed All Best CBD Oil helped with pain relief and reduced acne.
And here are the benefits that All Best CBD Oil provide on their site:

Thus, you can expect conceivable benefits from the Plus CBD Oil, but don't forget that each individual has different reactions. While I didn't find anyone who would feel negative reactions, if you're not sure - contact your doctor first.
Plus CBD Oil: CONS
Now that the pros of this Plus CBD Oil review are clear, I would like to go further and introduce you to the flaws that I noticed.
Hemp Grown Location - Unknown
I've told you in the very beginning that CBD products are booming the market, however, sometimes you simply don't know which products are safe to use and actually have a positive impact on your body and psychological wellness.
Even if I'm quite disappointed with this fact, I have to tell you that Plus CBD Oil does not provide information where their hemp comes from. This is the only aspect that made me unsure about their company.
Pricing and Additional Info
I know that Plus CBD Oil pricing might have a major impact on your decision. So, here is the starting price for each of the CBD oils: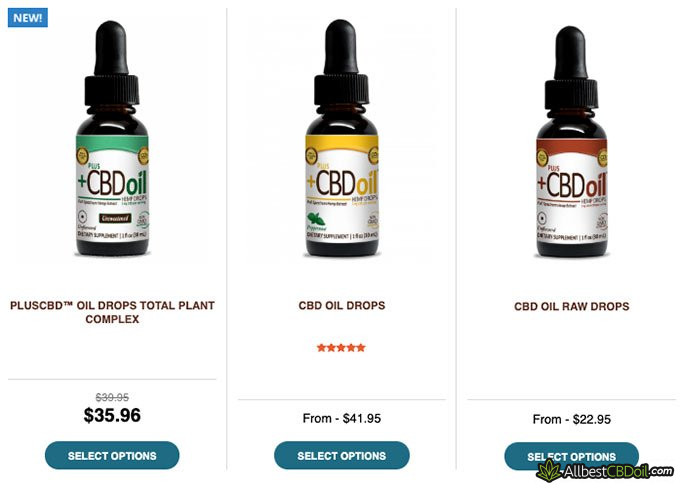 Now let's discuss their refund policy. Once you add products to your shopping cart and continue to check out, you will be introduced with everything you need to know. Shortly, if you want to get all of your money back/full refund, then you should return products within 14-days of the delivery date.
Talking about shipping, it could take about two days to process your order. Once it's done, it might take about 7 days to receive your order. Now, it would be difficult to tell you the pricing as it varies depending on which shipping method you choose and what's your location. You can easily check it during your purchase.
Note that if you order products for more than $75 - it's free.
I believe that by now each of the Plus CBD Oil reviews details is clear, so let's overview everything that was said and allow you to decide if you feel like these are the products you've been looking for.
Here is The Best CBDistillery Offer I Found:
30% Exclusive Discount
On All CBDistillery Products
You have an exclusive chance to save 30% on your CBDistillery order. Grab this limited-time promo code & enjoy top-rated CBD products!
Expiration date: 09/06/2023
931 People Used
Only 37 Left
Conclusions
Plus CBD Oil review has come to an end. Now let's go through the most important aspects once again.
Plus CBD Oil is one of the oldest and most popular CBD product providers in the US, at least according to the company. They offer a variety of CBD-related products, including their Gold formula full-spectrum CBD oil, that is worthy of separate Plus CBD Oil Gold review.
Plus CBD Oil is one of the companies that provide products regularly tested by the independent labs, all of their results are published on their main page, so, they're not hiding anything.
Based on Plus CBD Oil reviews, I can strongly say that people are really pleased with their goods, for the majority of them, CBD oil helped to fight insomnia and anxiety. Others said that they felt pain and stress relief. Overall, none of the major negative reviews were found.
The only major concern is that their hemp growth location is unknown. However, knowing that their products are constantly tested, there is nothing to worry about.
Now, the question is, would I recommend this product based on users' reviews?
Yes. The majority of the customers claimed to be satisfied with the results, so, there are pretty high chances that their products will be great for you as well.
If you want to take other reliable brands into accounts, I'd suggest taking a look at cbdMD, Charlotte's Web and CBDistillery.
Table: cbdMD, Charlotte's Web and CBDistillery comparison.
Please keep in mind, though, that before you start using any CBD-based or related products, you should always consult with your family doctor. While I can tell you about the general collective feeling that most people have about certain CBD providers, this information should never substitute that of professional advice.
Leave your honest Plus CBD Oil review
Leave your genuine opinion & help thousands of people to choose the best cbd. All reviews, either positive or negative, are accepted as long as they're honest. We do not publish biased reviews or spam. So if you want to share your experience, opinion or give advice - the scene is yours!