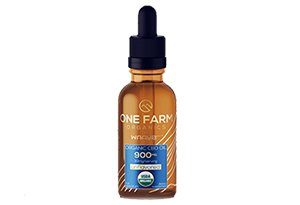 One Farm is the re-brand of WAAYB Organics. WAAYB - the company behind them, was established only in January 2017. Even though the CBD industry is booming at the moment, it's still tricky to find trustworthy brands. One Farm made it their mission to provide you with safe, high-potency CBD products.
The company controls everything from seed to shelf, that's why they can assure that all of their products are made of USDA Certified Organic hemp. They're one of only a few companies that have their own USDA Organic Farm and USDA Organic Handlers licenses. Impressive, right?
Since One Farm is still a relatively new brand, you should also consider checking out industry-leading providers, such as cbdMD, Charlotte's Web and CBDistillery.
Table: cbdMD, Charlotte's Web and CBDistillery comparison.
Now, in this One Farm CBD review, I'll go through everything there is to know about the company's products, their pros, cons, and, of course, pricing. Let's get right to it.
Verdict at a glance
One Farm is like a breath of fresh air. The company is transparent, provides you with USDA approved, third-party tested products. Even though they're still relatively young, it seems that the company is growing pretty fast. At the moment there's a lack of One Farm reviews, however, hopefully, this will change soon.
Pros
High-potency CBD products
3rd party tested
Full-spectrum CBD oil
Made of USDA Certified Organic hemp
Cons
Limited product list
Minimal risk of failing THC drug test
One Farm CBD Review: PROS
There are certain aspects to be considered when choosing CBD products; otherwise, you can make the wrong decision. I'll begin this One Farm CBD review from the positive features.
Third-Party Tested
As I've said at the very beginning of this One Farm CBD review, there are still numerous shady CBD brands out there. Some companies claim to provide "lab tested" results, however, neither the results nor the information about whether they're tested in independent or their personal labs cannot be found.
I don't know about you, but unless I can see all the lab test results, I find it difficult to trust the provider. After all, if you have nothing to hide, then why not make this information publicly available?
Getting back to One Farm CBD oil review, it's fair to say that the company is fully transparent. After their products come out of the lab that's USDA Certified, they order to third-party test every batch. You can visit their official site, go to "CBD Test Results", find the matching eight-digit number that's written on the bottom of the bottle and click on the link with the exact same number. And voila - you can see the results!

Another issue with CBD brands that do not provide you with 3rd party test results is the fact that you can never be sure about the amount of THC traces. The allowed amount of THC is no more than 0.3%. While reputable brands, such as One Farm, provide the results for everyone to see, you can never know what to expect from those who keep this information to themselves.
There have been cases when, after using CBD oil, people failed the THC drug test. If you don't want this happening to you, better pick trustworthy products. When I was researching One Farm reviews, I haven't found any complaints about this issue. That's also reassuring.
Now that this part of One Farm CBD is clear let's move further.
Latest Deal Active Right Now:
Save 15% Instantly
On One Farm CBD Products
Your personal 15% OFF One Farm coupon is ready. Use it & save on locally grown, organic CBD products!
Expiration date: 02/10/2023
391 People Used
Only 72 Left
Full-Spectrum CBD Oil
If this is not your first time looking for CBD products, then you probably noticed that there's a variety of different choices in the market. Some brands offer full-spectrum, other broad-spectrum, or CBD isolates. But the main question is, which one of them is the best option?
To make everything clear, let me briefly introduce you to them. Let's begin with CBD isolates. If you're looking for the purest form of CBD, then isolate is what you should be looking for. All the compounds in this plant, including flavonoids, terpenes, and others, are removed to get the purest product during the oil extraction.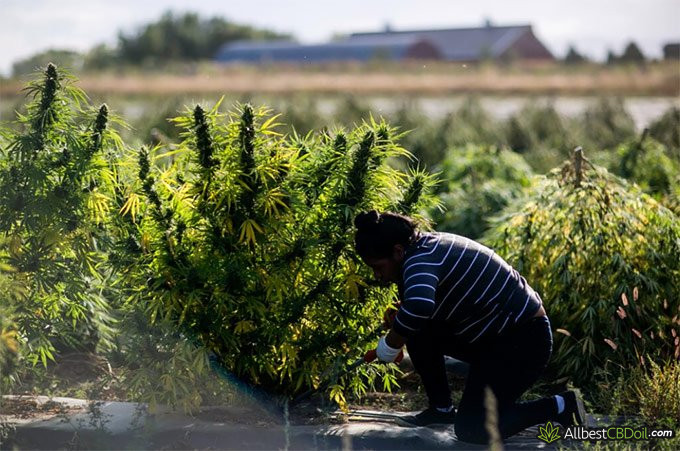 Now let's move to full-spectrum CBD oil. Differently from CBD isolate, full-spectrum oil is extracted from the plant together with all its natural compounds, including terpenes, flavonoids, essential oils, etc. The majority of users, including One Farm CBD reviews, agree that all these compounds together intensify the healing properties of each cannabinoid.
Based on the study[1] performed in 2018, about 62% of CBD users claimed to be using CBD to treat a medical condition. Almost 36% of them noticed the improvement.
Even though when CBD products just came into the market, many believed that the CBD isolate works better than full-spectrum oil; this opinion is no longer popular. It all changed in 2015[2], when Ruth Gallily, Zhannah Yekhtin, Lumír Ondřej Hanuš (Lautenberg Center for General Tumor Immunology in Jerusalem) revealed that full-spectrum oil has more benefits compared to isolate. It gives an even bigger bonus to One Farm CBD.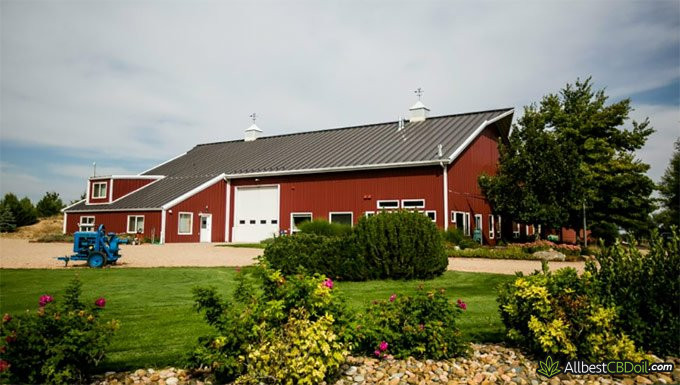 The final product that's still left undiscussed is the broad-spectrum CBD oil. The easiest way to explain it is by saying that it's in the middle of full-spectrum and CBD isolate. Just like in the isolate, all the traces of THC are removed. However, some compounds, like in full-spectrum oil, are still left.
CO2 Extraction Method Used
Not only hemp that the company is using but also the extraction method is what matters. The One Farm CBD oil is extracted using CO2 extraction method. This method is one of the safest - even FDA marked it as harmless for industrial extraction.
CO2 extraction is the only way you can get a clean, high-quality oil that wouldn't contain any chemical residues. When you use other methods, such as isopropyl alcohol, propane, or butane extraction, the high chances are that no matter how hard you try to make it pure, there will still be some residue left.
Therefore, it was crucial to mention in this Farm CBD review that the company is using the safest and cleanest extraction method to get the final product.
Potent Products
It wouldn't be wrong to say that CBD potency is one of the most crucial aspects that each customer should consider. In some cases, the products contain such a small percentage of CBD that there's no way you could ever feel the effect.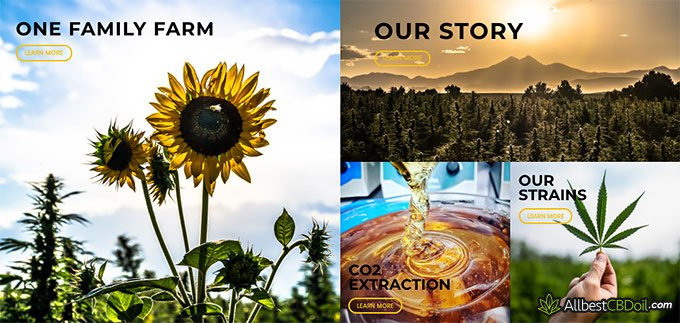 Now, One Farm allows you to choose from four CBD oil strengths in cinnamon, lemon, mint, or natural flavors:
You should pick the oil strength based on your needs. If this is your first time purchasing CBD oil, then it's recommended to start from the weakest option. However, before using it, make sure to always talk to your doctor.
When choosing 10mg/ml and 20mg/ml, you'll be able to purchase only a 30ml bottle, however, if you prefer stronger alternatives, then you can get either 30ml or 60ml bottle. It's recommended to get a 60ml bottle because it will spare you some savings.
Talking about other CBD providers, most often, you'll find products that contain from 15mg/ml to 30mg/ml of CBD. Since One Farm provides you with the 40mg/ml strength, it's fair to say that their CBD oil is of truly high potency.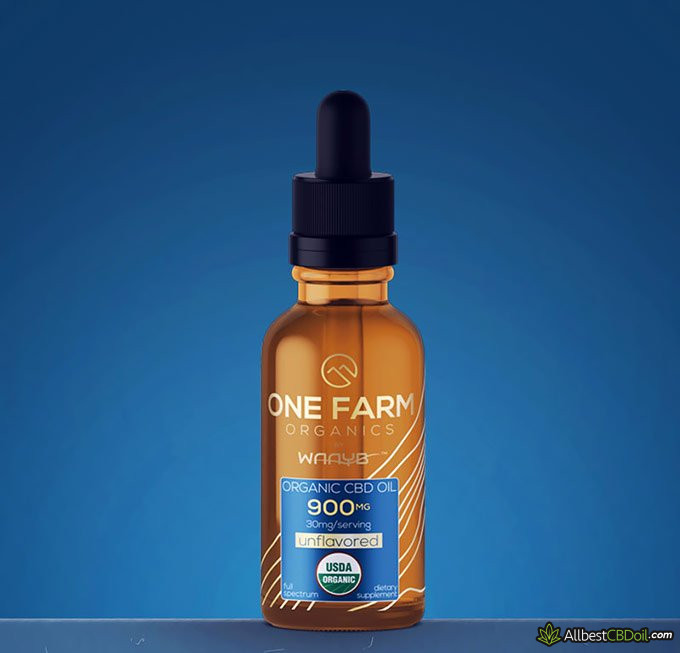 All the good things tend to always come to an end. The time has come to go through negative aspects of One Farm CBD review.
One Farm CBD Review: Cons
There aren't many drawbacks to be mentioned in this One Farm CBD review, however, there are still a few aspects to be considered.

Did you know?
Limited Product List
There's such a long list of CBD products out there. You can choose from CBD oils, vapes, gummies, and so much more… However, the fact that One Farm CBD is still a relatively new brand (re-brand, to be more precise) indicates that there's a limited number of options to pick from. Knowing that some customers prefer specific products might mean that One Farm won't be able to offer them, at least for now.
One the other hand, some respectable brands that have been in the market for a while offer a similar amount of products to pick from. Here are the options available at the moment of writing this One Farm CBD review:
CBD oil of different strengths
Relief Cream
Water Soluble
CBD Softgels
CBD for Pets
You'll notice that there are no CBD gummies, tinctures, capsules, vapes, and some other products. However, if you prefer to use only traditional CBD oil, then the lack of products shouldn't be an issue.
Taking about the variety of products, both cbdMD and CBDistillery provide you with a diverse product list.
Table: cbdMD, CBDistillery and One Farm product comparison.
Very Few One Farm CBD Reviews
Who can better tell if products are good than customers who have already tried and used them for quite some time? I believe that no one. The only issue is that the number of One Farm CBD reviews is quite limited. You'll be able to find customers' feedback only on their Facebook page. They're all positive, though.
Based on a few studies,[3] CBD can help to treat anxiety disorders. Also, many people purchase CBD oil due to the inability to fall or stay asleep. A significant part of them claims that it works after a month or two of usage. But it all depends on the product you're using. Some One Farm reviews claim that their CBD oil also has such an effect, however, more responses are needed to be completely sure.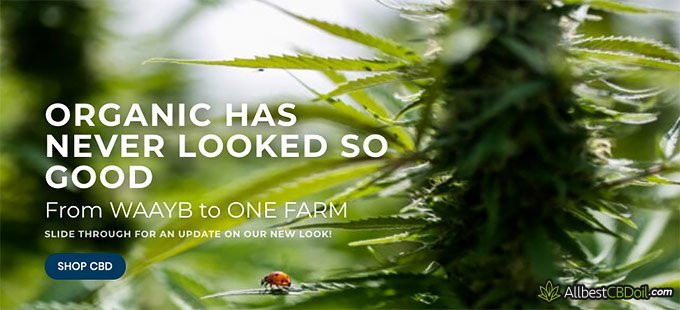 For now, it seems that One Farm provides high-quality, safe CBD products, however, I'm hoping to find more One Farm CBD reviews shortly.
Now that One Farm review is coming to an end, I would like to provide you with some additional details that you should be aware of.
Price and Additional Details
Now, the price is what might change your mind about One Farm CBD oil - all high-potency CBD products are quite pricey. The value of One Farm CBD oil completely depends on the strength you choose. Here the list for CBD oil prices:
And here are the prices for the rest of the CBD products:
CBD Relief Cream - $69.95
Water Soluble - $69.99
CBD Softgels - $53.99/$96.99 (30/60 softgels)
CBD for Pets - $24.99 - $87.99 (3.3-30mg/serving)
If you want to spare some savings, then it's recommended to choose CBD oil in 60ml bottles. Also, you can choose a monthly subscription that will provide you with a significant discount.
All things considered, One Farm CBD product offers an average pricing point. Since you can get high-quality products of high potency, it's definitely worth the value.

All the CBD products that One Farm provides you with are made using high-quality hemp that's grown in their family's farm located in Colorado. If you're not happy with the experience, you can request a refund and get the full value back within 30 days.
Before using products of such kind, it's recommended to consult your doctor.
Here is The Best CBDistillery Offer I Found:
30% Exclusive Discount
On All CBDistillery Products
You have an exclusive chance to save 30% on your CBDistillery order. Grab this limited-time promo code & enjoy top-rated CBD products!
Expiration date: 04/10/2023
931 People Used
Only 37 Left
Conclusions
Therefore, even though it's challenging to find a reputable and trustworthy CBD brand, it seems that One Farm is doing pretty well. The company extracts CBD oil from USDA Certified Organic hemp. All of their products are 3rd party lab-tested - you can see the results on their official site.
What is more, One Farm CBD is using the CO2 extraction method that allows you to get the cleanest and purest CBD oil. This method is FDA approved to be completely safe. Also, since they're making products of high-potency, you can expect quick results.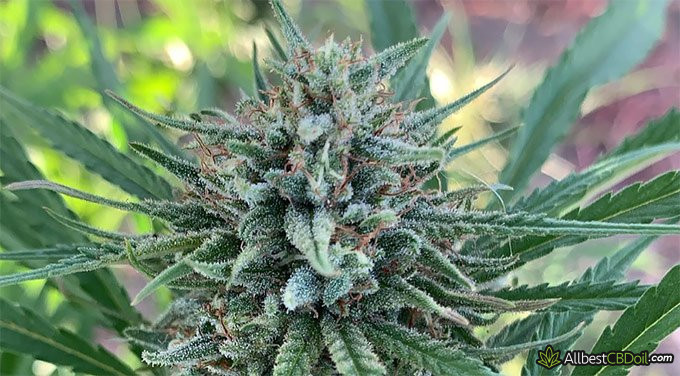 Moving further, the company is offering full-spectrum CBD oil that's known to be more effective than CBD isolate. Even though such oil can contain traces of THC, it's all good as long as it's less than 0.3%, which One Farm seems to comply with.
However, since the company is still relatively new, the product list is very limited compared to better-known companies. Also, you won't be able to find many customer reviews that might help to answer more questions.
If you want to make the best choice, you should also be aware of the top-rated CBD brands. Such options include cbdMD, CBDistillery and Charlotte's Web.
Table: cbdMD, CBDistillery and Charlotte's Web comparison.
Please keep in mind, though, that before you start using any CBD-based or related products, you should always consult with your family doctor. While I can tell you about the general collective feeling that most people have about certain CBD providers, this information should never substitute that of professional advice.
Scientific References

1. Jamie Corroon and Joy A. Phillips: 'A Cross-Sectional Study of Cannabidiol Users'
2. Ruth Gallily, Zhannah Yekhtin, Lumír Ondřej Hanuš: 'Overcoming the Bell‐Shaped Dose‐Response of Cannabidiol by Using Cannabis Extract Enriched in Cannabidiol'
3. Esther M. Blessing, Maria M. Steenkamp, et al.: 'Cannabidiol as a Potential Treatment for Anxiety Disorders'
Leave your honest One Farm review
Leave your genuine opinion & help thousands of people to choose the best cbd. All reviews, either positive or negative, are accepted as long as they're honest. We do not publish biased reviews or spam. So if you want to share your experience, opinion or give advice - the scene is yours!