History of CBD in Ohio
Is CBD legal in Ohio?
For the most part, yes. However, if you were to ask this question some time back, you'd have probably received a quite different answer.
Cannabis itself was decriminalized in the state of Ohio all the way back in 1975. That said, it's still illegal to use it recreationally. In 2016, a bill was signed that made cannabis (and cannabis-based products) legal to be used for medicinal purposes, such as those relating to AIDS/HIV, Parkinson's[1], Alzheimer's, and similar.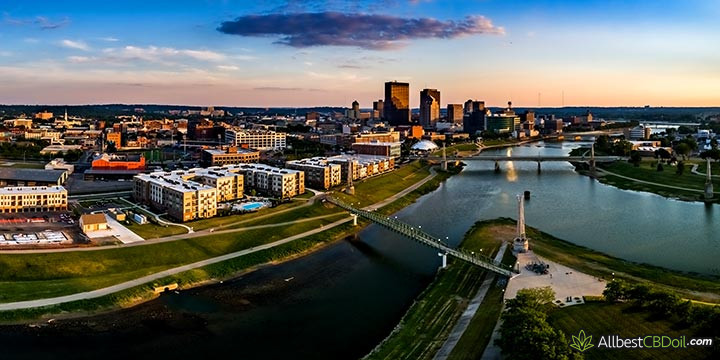 Also, note that smoking cannabis is forbidden still - it can only be consumed via edibles, tinctures, and so on. Vaping, however, is allowed.
Truth be told, there's not much information about the specifics of the history of CBD oil Ohio. Needless to say, however, it's rather obvious that the laws concerning CBD are quite more lenient, granted that it's legal to buy and use CBD products within the state.
Ohio - An Amber State
In order to talk about the question "is CBD oil legal in Ohio?", we must first understand what all of the different colors mean when it comes to the US states.
Green states. Within green states, cannabis and cannabis-derived products are completely legal to use without a doctor's prescription.
Amber states. Amber states are those in which you can purchase and use CBD (or any other cannabis products) for medicinal purposes.
Amber-Red states. Amber-Red states are a bit interesting. These states bar any use of cannabis, but may allow people to purchase and use CBD products medicinally (since CBD is derived from hemp, and not marijuana).
Red states. These states outlaw anything and everything related to cannabis or CBD. Simple.
Right, so - Ohio is considered to be an Amber state. This means that you can only use cannabis-based products for medicinal purposes, right? But what about buying and selling (in other words - retailing) CBD there? Also, what is considered to be "medicinal use", in the first place?
A Brief Note about Federal Law
Before we get into the specifics of "medicinal" and "recreational" CBD use, there's one more thing we need to cover in this "CBD oil Ohio" article - federal law.
According to said law, CBD products are legal within the US if they contain less than 0,3% of THC within them.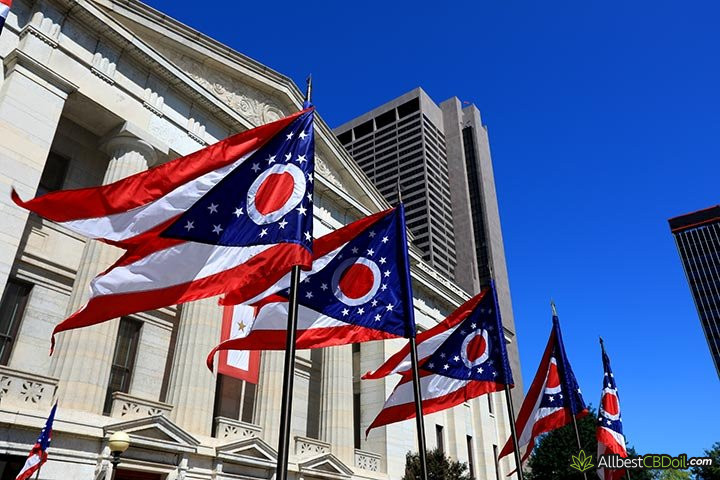 That all being said, this is actually where all of the confusion comes in, both regarding CBD oil Ohio, and in general. You see, each individual state can have its own rules and regulations regarding CBD - these regulations override the federal law in that state. To add to that, many states still don't differentiate CBD from cannabis - Ohio is one of such states.
Research has shown the potential benefits of CBD when it comes to everything from epilepsy all the way to cancer treatment. Still, however, it's considered to be a relatively new and "potentially-dangerous" topic, and so any lawmaker that leans into the conservative side is going to view cannabidiol in the same light as cannabis.
Medicinal VS Recreational
Whenever people talk about CBD oil Ohio, there's always the debate concerning medicinal and recreational uses intertwined in between. While it's pretty simple to figure out is CBD oil legal in Ohio, it's also important to learn about the legalities concerning both of those types of CBD uses.
I've mentioned this earlier on when considering the question is CBD oil legal in Ohio, but Ohio is an Amber state. Quite frankly, this means that you can use cannabis products here for medicinal purposes.
Also, it's important to note that Ohio doesn't really differentiate between cannabis and CBD. This means that you'll only be able to purchase your CBD products from local providers and specific, designated dispensaries, and use them for medicinal purposes.
It all kind of boils down to the amount of THC found within the product. Anyone wondering is CBD legal in Ohio or wanting to learn about CBD oil Ohio laws should know that CBD is usually derived from hemp, not cannabis. According to the above-talked-about federal law, hemp-derived CBD can have up to 0,3% THC in order to be sold nation-wide.
Where to Buy CBD Oil in Ohio?
Right, so - CBD oil Ohio is only legal to be used medicinally, and if you have a specific doctor's note or a designated marijuana card. But what about the purchasing process - where to buy CBD oil in Ohio?
Well, I've hinted to this in the previous chapter, but if you're looking for CBD oil Ohio, you're going to need to find specific, designated dispensaries or local retailers. While you technically CAN purchase hemp-derived CBD oil form an online provider that complies with the Farm Bill, you'd still need a specific ID card to be able to prove that you're using it for medicinal purposes.

In other words, the choice is simple - either you purchase your CBD from one of the local retailers or dispensaries, or take the online route and pick the best deal there. While the latter is always going to be better, let's look at some options for both, shall we?
Buying CBD oil Offline
First up, if you're wondering where to buy CBD oil in Ohio offline, there are a few different places you could visit.
Your CBD Store - Nothing but Positive Customer Reviews
Your CBD Store is located in Lakewood, OH. It's one of the more popular CBD shops found in Texas, too - it would seem that the reputation transcends state boundaries pretty well! Same as in Texas, the store of CBD oil Ohio has amazing staff and a variety of different products for you to pick from.
Ohio CBD Guy - Good Service, Decent Selection
Another option for anyone looking at where to buy CBD oil in Ohio is the Ohio CBD Guy, found in Covington. Customers report that the staff is very friendly and informative, and the products themselves are potent. There's a pretty good selection to pick from, too!
Columbus Botanical Depot - Pricey, but High-Quality Products
You'll be able to find Columbus Botanical Depot in - you've guessed it - Columbus, OH. According to customer CBD oil Ohio reviews, it seems that the place has some higher-than-usual prices, but customers still love it since the quality of the products is up-to-par with the industry standards.
Buying CBD Oil Online
It obvious that's there's a pretty decent number of places where you could purchase your CBD oil Ohio. Truth be told, names such as Your CBD Store have a pretty good reputation, overall! That said, there's a better alternative - purchasing your products online.
According to the US Farm Bill, brands that create hemp-based CBD products that don't exceed the legal THC limits can ship those same products all around the country. Since you no longer need to worry about questions such as "is CBD legal in Ohio?", you do have the option to buy your products online.
Truth be told, buying your CBD products online is actually usually the better alternative. The prices are going to be much better, there are going to be various deals for you to pick from, you'll be able to rest assured that the quality is great, and so on. Nothing but pros!
To put it simply, if you're looking at where to buy CBD oil in Ohio, you would do best by taking the online route. Now, let's take a look at some top-tier providers, shall we?
Charlotte's Web - Multiple Different Products and a Coconut Oil Base
Charlotte's Web is one of the most popular CBD providers in the US. The company sells pretty tasty CBD oil products (at least according to customer Charlotte's Web reviews), which is a pretty welcome surprise!
Furthermore, customers also report that the products sold by the company are rather potent, without breaching the legal 0,3% THC mark.
Charlotte's Web CBD oil will cost you between $74,99, and $188,99.
Latest Deal Active Right Now:
GET 20% OFF
Charlotte's Web Top-rated CBD Products
The best time so save has come - grab this limited 20% discount promo code and save big on the most trending Charlotte's Web products NOW!
Expiration date: 03/12/2023
691 People Used
Only 25 Left
cbdMD - Broad-Spectrum CBD Oil
cbdMD is a company that sells broad-spectrum CBD oil. This means that the oil is going to be rather potent, full of various different cannabinoids from the hemp plant, but will have undetectable amounts of THC within itself. As far as CBD oil Ohio goes, that's pretty good!
Price-wise, cbdMD's CBD oil will cost you anywhere from $29,99 up to $339,99.
[featured-coupon review_id="8"]
CBDistillery - Decent Product Selection
CBDistillery has a lot of different products in stock. This means that you'll be able to pick the type of CBD product that will suit you the most - whether it be oils, topicals, capsules, or anything in between.
Naturally, all of the products are tested by independent, third-party labs - that goes without saying. CBDistillery also uses coconut oil as the carrier for their CBD - it's one of the best carrier oils to be used here!
The oil from CBDistillery will cost you from $30 up to $260.
[featured-coupon review_id="1"]
Latest Deal Active Right Now:
GET 25% OFF
Exclusive cbdMD Coupon
Don't miss this limited-time opportunity to save big. Use this special coupon code link, save 25% & improve your well-being!
Expiration date: 03/12/2023
2,309 People Used
Only 18 Left
Conclusions
To sum up, CBD oil Ohio is legal to be bought and sold within the state, and you can even grow hemp there. As far as usage goes, however, you'll have to have a doctor's prescription, or a special ID card that claims that you're allowed to use cannabis products for medicinal purposes.
Since you can only purchase CBD oil in special dispensaries or specific retail shops, it's better to just buy it online. Here, you'll be able to find all of the most reliable companies in the country, and pick the product that's right for you.
Scientific References

1. José A. Crippa, Francisco S. Guimarães, Alline C. Campos, and Antonio W. Zuardi: 'Translational Investigation of the Therapeutic Potential of Cannabidiol (CBD): Toward a New Age'
Disclaimer
While every effort has been made to make sure this article is as accurate as possible, it is not intended to provide legal advice. Since legal situations might rapidly change, we advise you to discuss any legal concerns with an expert, lawyer or relevant legal advisor in your local jurisdiction, or visit your state's .gov page for the most up-to-date information.