History of CBD in Indiana
Indiana is known as one of the states that have strict cannabis laws. There have been multiple attempts to start a medical marijuana program, however, none of them (including HB 1487 and SB 284) managed to successfully do that. Thus, up until now, cannabis-derived CBD oil Indiana remains illegal.
The law is different when it comes to hemp-derived CBD. It hasn't always been this way, though. Let me provide you with a brief history of CBD oil Indiana.
In 2014 Mike Pence signed the Industrial Hemp Act. According to this act, the growth of industrial hemp crops for research purposes was legalized. It's not all that simple, though, the requirement was to cooperate with Purdue University and get a license from the Office of the Indiana State Chemist and Seed Commissioner.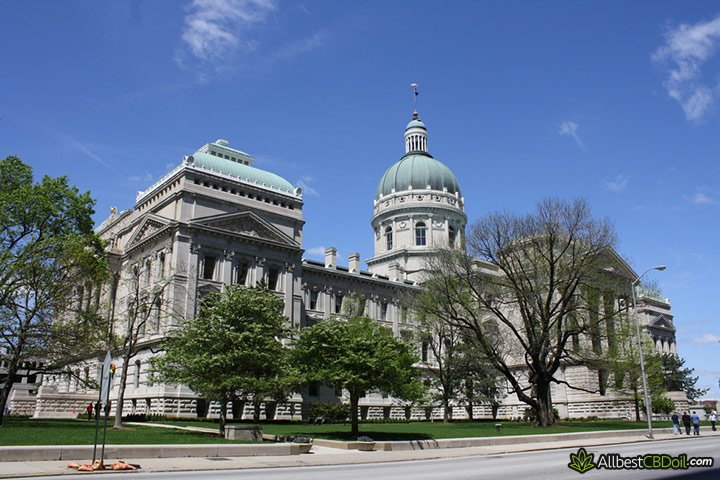 Everything changed in 2017. That year CBD oil that contained less than 0.3% of THC was legalized. There's only one catch - you had to be an eligible patient. The hemp-derived CBD could be only consumed by patients who were experiencing seizures and for which traditional treatments didn't work.
You're probably wondering is CBD oil legal in Indiana right now. Well, I can only say that it's so much simpler than it was before, however, there are still some issues that you should be aware of.
Indiana - An Amber-Red State
If you're wondering is CBD oil legal in Indiana, you should know about the color-coding that reveals cannabis laws of every state in the US. There are four different colors that are differentiated based on the law. Here's more information about each of them:
Green States - both recreational and medicinal usage of cannabis is allowed. Everyone of proper age can easily purchase CBD oil online and in-store, there are no restrictions.
Amber States - in these states, cannabis and cannabis-related products are allowed for medical use only. That being said, if you want to purchase CBD oil, you might need to have a prescription or medical marijuana card.
Amber-Red States - the rules are even stricter than in Amber states. You cannot buy or use any cannabis or cannabis-related products neither for medical nor recreational purposes, except for hemp-derived CBD.
Red States - all cannabis products are illegal, there are no exceptions. At the moment of writing this article, there are three countries on this list, including Idaho, Nebraska, and South Dakota.
If you live in Indiana, you're lucky that it's not Red but Amber state. It means that you can feel free to buy and use hemp-derived CBD (since 2018), however, cannabis-derived CBD for both medical and recreational usage still remains forbidden.
Indiana CBD Law
Since I've provided such an amount of information on CBD oil Indiana, you might get pretty confused. That's why I want to answer the question is CBD legal in Indiana once and for all.
CBD oil in Indiana became legal in March 2018 when Senate Bill 52 was signed. Now you can buy, possess and sell hemp-derived CBD that contains less than 0.3% of THC.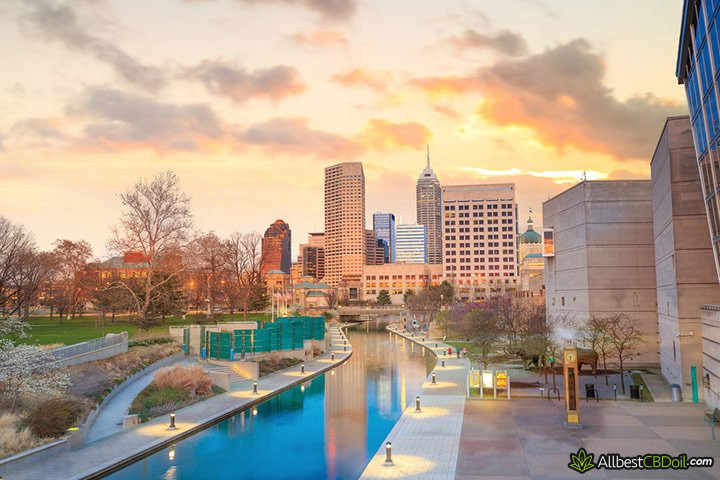 All CBD products that are sold in Indiana have to be batch-tested in independent labs. The package must contain detailed information, including ingredients, batch number, date, etc.
Therefore if you're interested in CBD oil Indiana and wonder is CBD legal in Indiana, you already know the answer. Simply stick to the requirements (less than 0.3% of THC) and purchase CBD products from reputable providers.
Medicinal VS Recreational
I believe that you're already 100% conscious about the fact that you can purchase, possess and utilize hemp-derived CBD products that contain 0.3% of THC and come from reputable brands, which provide batch-tested independent-lab test results, in Indiana completely risk-free.
However, I know that there's still some confusion about the medicinal and recreational usage of CBD. Let me make this clear once and for all. No matter if you're using CBD for medicinal or recreational purposes, the law remains the same - up to 0.3% of THC.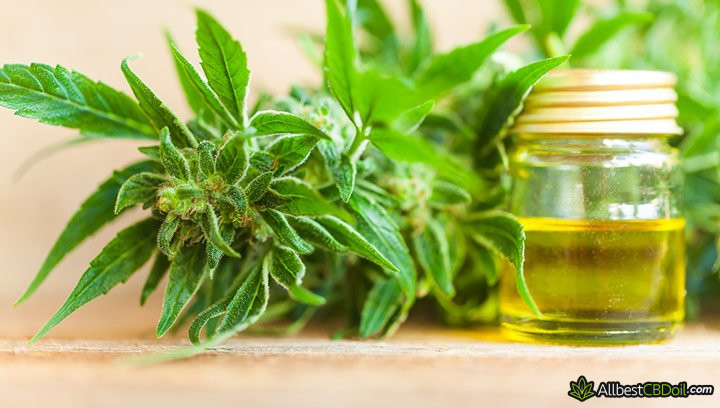 While you're using CBD as recommended by individual providers, it's all good, however, don't even think about increasing the amount of the intake more than it's recommended. Even if the percentage of THC in CBD is very minimal, high amounts of CBD could lead to detectable amounts of THC and get you into trouble. Remember that Indiana has very strict laws when it comes to Tetrahydrocannabinol.
Where to Buy CBD Oil in Indiana?
Now that it's clear that you can use CBD for medicinal and recreational purposes as long as it contains less than 0.3% of THC, it's time to move further and find out where to buy CBD oil in Indiana.
Since Indiana approved CBD usage only recently, I wasn't hoping to find that many CBD shops in this state. However, it seems that you have a long list of options to choose from. The majority of them are in Indianapolis, though.
If you're a busy person and don't have time to go to physical stores, you can always purchase CBD online. There are so many brands that provide you with high-quality, third-party tested products and free shipping. Since time is money, why waste it?
One way or another, if you decide to purchase CBD oil Indiana, I will provide you with both physical and online stores.
Where to Buy CBD Offline
Let's get through offline stores first.
Indy CBD Plus - Great Prices & Amazing Service
Located in the Madison Court in Indianapolis, Indy CBD Plus store was created with the main intention to offer people medical alternative solutions. To provide you with the highest quality products, they perform thorough research and testing of reputable CBD products and their own brand. In this store, you'll be able to find a variety of CBD products for your personal needs, including oils, topicals, vapes, etc. Thus, if you're looking for CBD oil Indiana, this shop is a great option.
Higher Life CBD Dispensary - High-quality Products and Knowledgeable Staff
The shop is located at the corner of 9th and Penn St in Indianapolis. The main intention is to improve customers' health while taking advantage of high-quality CBD and hemp products. You will be able to choose from oils, capsules, skin care, coffees, teas and so much more. Customers who purchase CBD oil Indiana in this store, are happy with the quality they get.
Owlslee CBD - Quality Hemp Products that Can Relieve Anxiety
Located in 435 Virginia Ave #1500, the Owlslee is one of the best-evaluated CBD stores that provide you with oils, tinctures, edibles, and so much more. Their staff will answer all of your questions either in the store or over the phone, no matter if you're a new or already experienced user.
Where to Buy CBD Online
Purchasing CBD oil Indiana in-store seems nice, however, it can be very time-consuming if you need to drive to a totally different part of the city just to buy a product. That's why purchasing CBD oil online can often be way more comfortable than buying from brick and mortar shops. It can be less expensive as well...
So, there's no need to look for CBD oil Indiana, you can simply order products from the most reputable brands online and get them delivered straight to your doorstep. In most cases, there are no additional charges for shipping.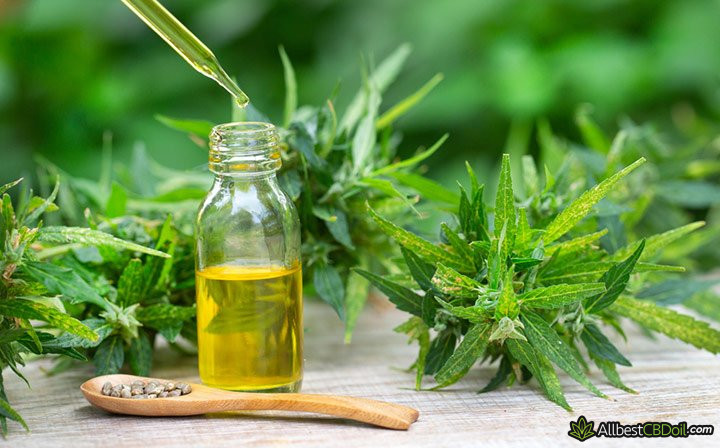 Let me introduce to you some of the most reliable brands that provide you with the purest and the most effective, independent-lab tested CBD products.
CBDistillery
CBDistillery is one of the best-known CBD brands that you've probably heard about before. The company provides you with both full-spectrum CBD oil and CBD isolates.
CBDistillery uses fractionated coconut oil as a catalyst. Coconut oil is considered to be the best base for CBD oil due to quick absorption and fast effects. All of their products are sourced from non-GMO, Colorado-grown industrial hemp and are tested in third-party labs.
CBDistillery provides you with a variety of potency options - from 250mg to 5000mg of CBD per 30ml. You should choose the strength depending on your personal needs. The price varies from $30,00 to $260,00.
Latest Deal Active Right Now:
30% Exclusive Discount
On All CBDistillery Products
You have an exclusive chance to save 30% on your CBDistillery order. Grab this limited-time promo code & enjoy top-rated CBD products!
Expiration date: 03/12/2023
931 People Used
Only 37 Left
If you're still concerned is CBD legal in Indiana online, there's no need. CBDistillery offers products that contain less than 0.3% of THC.
cbdMD
cbdMD is another reputable brand that offers broad-spectrum CBD oil. Broad-spectrum CBD oil is in the middle between full-spectrum CBD oil and CBD isolate. It contains terpenes, cannabinoids, flavonoids and fatty acids that are naturally found in hemp, however, excludes THC.
Even though some say that broad-spectrum CBD oil is not as effective as full-spectrum, it's a safe option for those who are not willing to risk failing the drug test.
cbdMD provides you with multiple potency and flavor options to choose from. The CBD oil strength varies from 300mg to 7500mg of CBD per 30ml bottle, so it's really potent. It will cost you from $29,99 to $339,99 depending on the option you choose.
[featured-coupon review_id="8"]
If you decide to go for cbdMD products, there's no need to continue asking "is CBD oil legal in Indiana?" because they don't contain THC.
Charlotte's Web
Charlotte's Web was founded back in 2011. It's one of the best-known and the most experienced brands in the market. The company grows, farms and produces its CBD products in the US. Needless to say, they're being closely observed to meet the quality standards.
Charlotte's web offers full-spectrum CBD oil that comes in three potency options - 17mg, 50mg, and 60mg of CBD per 1ml. You get to choose from four flavors, including Lemon Twist, Orange Blossom, Olive Oil - natural, and Mint Chocolate. The price varies from $74,99 to $164,99.
[featured-coupon review_id="2"]
Well, now that you know where to buy CBD oil in Indiana and all the aspects related to legality, it's time to move to the conclusions.
Latest Deal Active Right Now:
GET 25% OFF
Exclusive cbdMD Coupon
Don't miss this limited-time opportunity to save big. Use this special coupon code link, save 25% & improve your well-being!
Expiration date: 03/12/2023
2,309 People Used
Only 18 Left
Conclusions
Therefore, when it comes to CBD oil Indiana, you can buy, possess, and sell hemp-derived CBD oil both online and in-stores as long as it contains less than 0.3% of THC.
If you're looking where to buy CBD oil in Indiana, you should not only focus on brick and mortar shops, there are even better CBD providers online that offer safe and potent products!
Disclaimer
While every effort has been made to make sure this article is as accurate as possible, it is not intended to provide legal advice. Since legal situations might rapidly change, we advise you to discuss any legal concerns with an expert, lawyer or relevant legal advisor in your local jurisdiction, or visit your state's .gov page for the most up-to-date information.