History of CBD in Idaho
When you start looking into the history of CBD and cannabis laws around the US, one of the more notable things that pop up are the medical conditions with which you might be granted the right to use CBD. Often times, these would include epilepsy[1], Alzheimer's, Parkinson's, and so on.
With CBD oil Idaho, however, you'll find no such information. That's because Idaho actually made cannabis an illegal drug as early as in 1927. There are many reasons for why such a decision was made, but the fact of the matter remains the same - to this day, anything related to cannabis is outlawed within the state.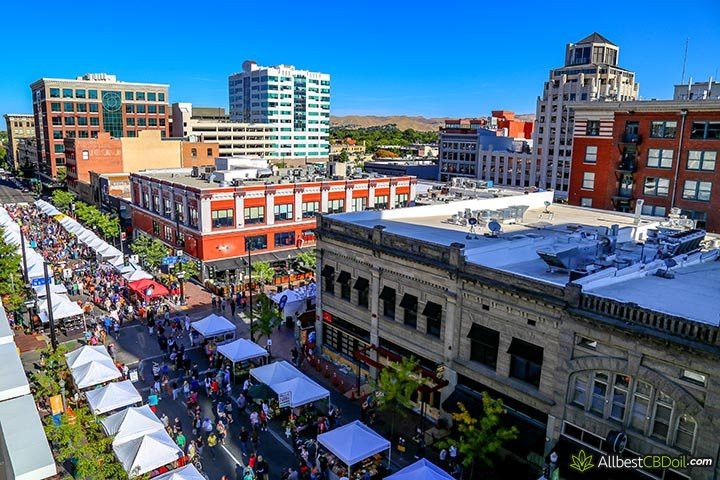 There have actually been many different attempts to legalize CBD within the state, too. People wondering is CBD legal in Idaho will probably remember how the last bill that would have passed and made such products legal for medicinal use was vetoed by Governor Butch Otter, back in 2015.
Idaho - A Red State
Since the legal processes and laws concerning cannabis and CBD can get pretty confusing, real fast, there's actually a color-coding system in place to help people differentiate between state standings on the matter faster. This isn't an exception as it relates to CBD oil Idaho, too. The colors are:
Green states. Green states have fully legalized cannabis and hemp products.
Amber states. These states allow cannabis- and hemp-derived products to be used for medicinal purposes.
Amber-Red states. The laws of Amber-Red states are very, well… State-dependent. The general idea here, however, is that Amber-Red states do not allow any form of cannabis products usage, but it does support hemp-derived CBD products of medicinal purposes.
Red states. All cannabis- and hemp-derived products are illegal within a Red state.
It is clear that, when it comes to questions such as "is CBD oil legal in Idaho?", the answer is a strong "no". This makes Idaho one of the only-three Red states within the US, next to Nebraska and South Dakota.
All of that said, there is but a single exception, if you could even call it that. You could, theoretically, use 0% THC CBD oil Idaho (and other products) that's not extracted from the flower of the hemp plant.
This, however, isn't exactly what people have in mind when talking about CBD products, and it's definitely not what most of the high-end CBD providers sell on their shops, either.
A Brief Note about Federal Law
Anyone looking at questions such as "is CBD legal in Idaho?" or even "where to buy CBD oil in Idaho?" should keep in mind the federal law, too.
According to the federal law, it is completely legal to produce CBD products within the US, as long as they do not contain more than 0,3% THC within them. In other words, you can buy products that are made from industrial hemp, since these usually don't contain higher amounts of THC, overall.
Sounds pretty good, right? Well, if that's the case, then what's the whole issue with Idaho being a Red state?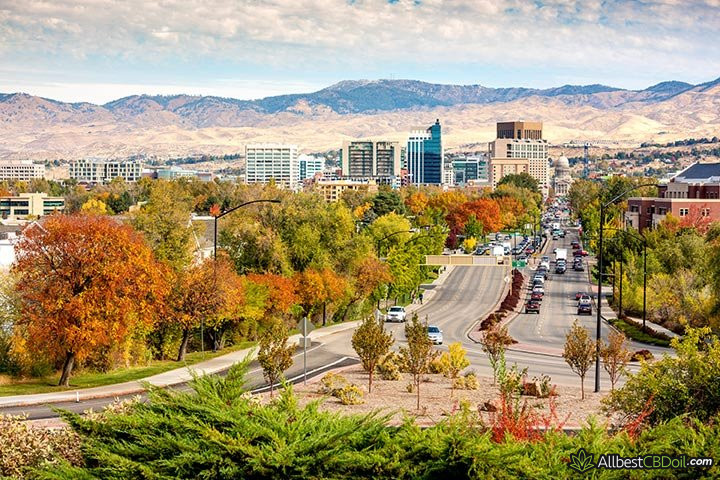 You see, there's a catch - each individual state can choose to restrict the acquisition of CBD in any way, shape or form that they see fit. Quite frankly, they can outright ban it - state laws here override the federal one, in a sense.
Keep that in mind when asking is CBD oil legal in Idaho, and when discussing the CBD oil Idaho topic, in general. It can definitely get confusing, especially if you're not someone who's constantly following CBD-related news or looking up new laws in your state!
Medicinal VS Recreational
One more point that needs to be discussed whenever you're talking about CBD oil Idaho is medicinal and recreational usage of CBD.
You see, most states base their CBD-related laws in one of the two groups - either medicinal, or recreational purposes. Medicinal usage means that you'll have to get a doctor's prescription or a marijuana ID card in order to purchase a set amount of CBD oil, and will have to be a sufferer of a particular kind of illness (state-dependent - chronic pain[2], cancer, Alzheimer's, and so on).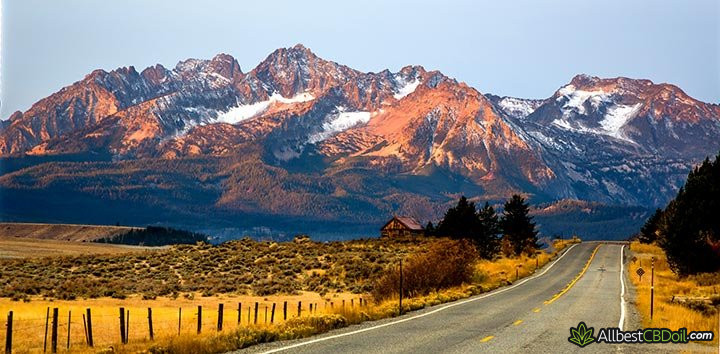 Recreational use, as the name likely implies, is when you go out and purchase as many CBD products as you'd like, and use them at your own leisure. It's definitely the more controversial of the two, and not that many states allow it as of writing this article.
Staying on the topic of CBD oil Idaho, however, none of those two make any difference, whatsoever - anyone wondering is CBD oil legal in Idaho should already know that the state laws are very strict in this regard, and any and all usage of CBD is prohibited (whether it be medicinal or recreational use).
Where to Buy CBD Oil in Idaho?
So, then - we've figured out all of the intricacies surrounding CBD oil Idaho, and it's pretty clear that CBD is completely illegal within the state. But what should you do if you're still wondering where to buy CBD oil in Idaho?
Well, you have two choices in front of you - either you visit a shop that sells who-knows-what (0% THC, not made using the flowers of hemp), or you find the best providers online, check them out and, after picking out your favorite one, purchase an try out some products when you're in a state that's more supportive of CBD.
Two options, but it would seem that there's only one that's actually worth considering, no? Well, we'll see - let's not leave the topic so easily and get to the bottom of purchasing CBD oil Idaho both online and offline, starting with the latter.
Buying CBD Offline
As noted earlier, because of the extremely strict nature of the laws concerning CBD and cannabis products in Idaho, you won't really be able to purchase any reputable CBD oils and other products with local retailers. That said, you might still notice that there are some shops lingering around within the state.
So… What gives?
Well, most of these shops sell CBD products that have 0% THC in them. While this might sound pretty good at first, it's not exactly what you'd think, and it's not what most of the research refers to as the "beneficial effects of cannabidiol".
Thing is, these products will also be devoid of any other cannabinoids, and will thus lose their effectiveness. On top of that, with so many different regulations in place, you can never truly know what it is that you're purchasing from the local store.
Buying CBD Online
The obvious alternative to going out and buying shady CBD products in a store is to visit some of the top industry providers online, pick your favorite products to try out and then do exactly that when you'll visit a state that has more lenient CBD-related rules and regulations.
In all honesty, though, whether it be CBD oil Idaho or any other state, the general consensus is that it's always a better idea to purchase products online than in a physical shop.
Think about it! Online, you'll get the CBD oil straight from the providers themselves - no middlemen means no extra charges, and you might even be eligible for some specific discounts!
Also, the most important and essential part of buying CBD online has to do with quality. Since you'll make an order directly from the provider, you'll be able to rest assured that it's going to be up to par - not something that you could be able to guarantee buying the same bottle of oil from a store.
Now, let me quickly tell you about the top-three providers that are dominating the current industry.
cbdMD - THC-Free, Yet Potent
cbdMD's products are free of THC. Well, they contain "undetectable" amounts of it, while still having a variety of different cannabinoids for increased potency. The company is able to do so by selling broad-spectrum products - not that common of an occurrence!
cbdMD oil will cost you from $29,99 up to $339,99.
Latest Deal Active Right Now:
GET 25% OFF
Exclusive cbdMD Coupon
Don't miss this limited-time opportunity to save big. Use this special coupon code link, save 25% & improve your well-being!
Expiration date: 04/10/2023
2,309 People Used
Only 18 Left
CBDistillery - Reliable, High-Quality CBD Oil
When it comes to the industry leaders, CBDistillery is usually placed at the top. The company sells very high-quality CBD oils and other products, all of which are constantly tested by independent, third-party labs. They also price their merchandise very appropriately, too!
CBDistillery oil prices might vary from $30 up to $260.
[featured-coupon review_id="1"]
Charlotte's Web - Good Taste and Potency
Customer Charlotte's Web reviews will tell you that the company sells some high-end CBD products that in addition to tasting pretty good, are also some of the most potent ones you'll find online. Definitely good news for those looking for strong CBD oils!
Charlotte's Web CBD oil price tags go from $74,99 up to $188,99.
[featured-coupon review_id="2"]
Latest Deal Active Right Now:
GET 25% OFF
Exclusive cbdMD Coupon
Don't miss this limited-time opportunity to save big. Use this special coupon code link, save 25% & improve your well-being!
Expiration date: 04/10/2023
2,309 People Used
Only 18 Left
Conclusions
To put it very simply, CBD oil Idaho is completely illegal for both medicinal and recreational uses. It is not decriminalized, and you can get into some serious trouble if caught with even hemp-derived CBD oil. Quite frankly, Idaho is a true Red state.
If, however, you are still adamant on trying CBD out, and have the possibility to do so in some other state (one that allows the usage of cannabidiol, that is), you should consider looking up some of the top-tier providers online, so that you would already know what might suit you best.
Scientific References

1. Emilio Perucca: 'Cannabinoids in the Treatment of Epilepsy: Hard Evidence at Last?'
2. Michael A Überall: 'A Review of Scientific Evidence for THC:CBD Oromucosal Spray (Nabiximols) in the Management of Chronic Pain'
Disclaimer
While every effort has been made to make sure this article is as accurate as possible, it is not intended to provide legal advice. Since legal situations might rapidly change, we advise you to discuss any legal concerns with an expert, lawyer or relevant legal advisor in your local jurisdiction, or visit your state's .gov page for the most up-to-date information.