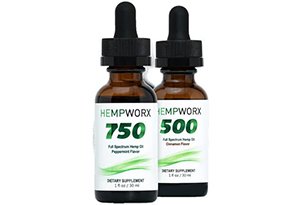 You've probably noticed that CBD is booming the entire market. But what you don't know is that some of the supplement providers are not playing according to the rules. For that reason, it's a must to examine each of the CBD-related products to know whether or not they're safe to use.
If you're tired of looking and want to jump straight to the best CBD brands, you shouldn't hesitate and check out cbdMD, Charlotte's Web and CBDistillery.
Table: cbdMD, Charlotte's Web and CBDistillery comparison.
This time, I will introduce you to HempWorx CBD products and provide you with all the necessary information about the HempWorx CBD oil. You will find everything starting from its ingredients, to a variety of HempWorx customers' reviews. I will even find the answer to the questions: Is HempWorx legit? Is HempWorx scam?
Verdict at a glance
The majority of the HempWorx customers seem to be pleased with their CBD oil. HempWorx CBD oil comes from naturally grown hemp plants that are produced within the US and monitored by the USDA. Overall, products are worthy of the pricing and seem to have a positive impact on its users.
Pros
Natural
Produced within the US
Tested by third parties
Cons
Untraditional ordering process
Not potent enough for some users
HempWorx Reviews: Introduction
Let's begin this HempWorx review with a short introduction to the brand. HempWorx works within the country, which means that every ingredient they use to create their signature CBD oil comes from the US.
Even though they provide an "About Us" page, there's very minimal information about the company itself. However, I managed to find out how they're making their popular CBD oil. First of all, they use CO2 extraction with all of their oils, then dry raw materials to remove all the pathogens, molds, and heavy metals. Such an extraction method gives customers high-quality hemp extracts.
And, since the legal limit of the THC is 0.3%, none of their products fail to meet this norm. I'm completely sure of that because HempWorx is constantly being tested by third-party labs and no one can prove to be otherwise. That's good news, but this HempWorx review hasn't even started.
Now, you should know that HempWorx offers a variety of CBD-related products that I will definitely introduce you to. But, in this HempWorx review, we'll be mostly focusing on their traditional product - HempWorx Hemp Oil.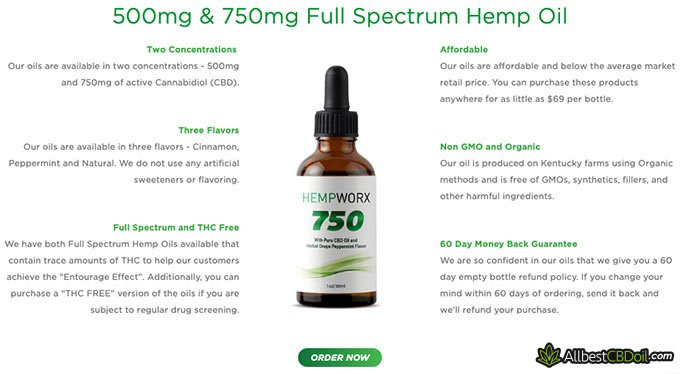 HempWorx Reviews: Pros
I will start off with the positive side of the HempWorx review, then I will discuss its flaws, general information, and conclude everything. So, let's begin.
Wide Range of Products
What you probably expect from a good retailer is the wide range of products you can choose from. It won't be a problem with HempWorx because they provide options for everyone's habits and needs.
Here are the HempWorx products you can choose from:
500mg & 750mg Full Spectrum Hemp Oil
Hemp-Infused Coffee
CBD Keto Coffee Creamers
Renew Anti-Aging Cream
Revive Cream
Relief Icy Pain Rub
HempWorx for Pets
Based on the HempWorx reviews, it's completely sure that their most favored product is Hemp Oil. You can try three different flavors, including cinnamon, peppermint and natural. And, you can either get it with THC or THC free - it's for you to decide.
So, now that you know your alternatives, let's move further.
Grown and Produced in the US
Even if CBD is booming at the moment, you would be surprised how many brands are oriented more into marketing rather than your health. In order to protect yourself, you should be aware of the product you're using, mostly, on the hemp plants your oil is made of.
HempWorx products are made from the industrial hemp plant - it's only one of more than 85 cannabinoids that are found in the cannabis plant. As you may know, hemp is a plant that is very similar to cannabis. However, they have one major difference - hemp contains very minimal traces of THC. Cannabis, on the other hand, well, it's not a secret you can easily get "high".

HempWorx is completely transparent, they grow hemp that is used to extract the oil in Kentucky farms, and produce products within the US. While it may sound like regular information, it's more than that. Considering the fact that they extract the oil locally, their all processes, including growing, managing, and farming is controlled by the USDA (the United States Department of Agriculture).
Even knowing this information, there are still many people asking, is HempWorx scam? I'm completely sure that it's not. While there are so many brands that get their products from who knows where; it's amazing to find a seller that's completely honest.
You should also check out other recommended brands that offer CBD products that are sourced from US-grown hemp.
Table: cbdMD, Charlotte's Web and CBDistillery comparison.
Now, we're getting into this HempWorx reviews but there's still so much you need to know.
Independent Lab Tests
Let's talk about lab tests. Many brands claim that their products are lab tested. But what does it actually mean?
You can hear that many providers regularly perform various tests and that their product is of the highest quality and completely safe. But how should you know for sure if there's no proof? Well, actually, you can't.
If you have been going through some HempWorx reviews, you probably noticed that their CBD products are third-party tested. When this aspect is repeated so many times, you think of it as one of the most important factors. And, you're not wrong - knowing that HempWorx is tested by the independent labs, gives you additional trust.
What is more, not only performs lab tests but also publish the most recent results for everyone to see. All you need to do is go to their store and press on the "Documentation" in the menu section.

Therefore, they always have the clearest and most up-to-date results I've ever seen. For suspicious people like myself, it still may not be enough. That's why I went through various HempWorx CBD oil reviews, just to see if there's something fishy going on.
I didn't find any negative HempWorx reviews concerning the components, and none of the incidents, where customers failed the THC test, were found.
Therefore, it's amazing that HempWorx tests their products in the third-party lab, and then publish them for everyone to see. I believe that every product that we're using, should be similarly monitored.
Naturally Grown
In this HempWorx review, I've already mentioned that their hemp plants are grown in the US (in Kentucky farm, in particular). But one question is still left unanswered - how are their hemp crops grown?
Since we're discussing pros first in this HempWorx reviews, I know that you already hope for good news. And, I'm not going to disappoint you.
HempWorx grows their crops without any chemical fertilizers, herbicides, and pesticides. It means that they're thinking about the quality of their products from the very beginning.
Further into the process, when their hemp oil is extracted, they perform thorough testing to make sure that their products match the potency information, and if they're free of pesticides, herbicides, heavy metals, and mold. And, as I've already told you, HempWorx uses the CO2 method to extract the hemp oil. It's known to be a much healthier option than other potential solvents.
Therefore, one more aspect is clear. HempWorx not only perform the independent lab tests to provide customers with reliable data but they also think everything through from the very basics - the natural growth of their hemp plants.

Did you know?
Health Benefits - Proved
While it's clear that HempWorx is grown naturally and is constantly examined, one of the major questions of this HempWorx review is: is CBD beneficial for you?
If you google "benefits of CBD" you would probably find a wide variety of opinions and articles about it. The most common facts include that HempWorx CBD oil can:
Relieve pain
Reduce anxiety and depression
Alleviate cancer-related symptoms
Reduce acne
Have neuroprotective properties
Benefit your hearth
These are the main perks when we're talking about the usage of CBD. However, don't be one of those users who reads positive HempWorx reviews online and instantly purchase a product. I always say that before using CBD-related goods, you should talk to your doctor.
We went a little of the course. The main intention of this section is that I wanted to introduce you with true stories of people, who were using HempWorx CBD oil regularly. It took me quite some time until I've collected enough reviews to make certain conclusions.
While we're all different, the effect that HempWorx CBD oil has on users also varies. Based on what I've read, I can say that CBD oil helped to fight insomnia and anxiety for the majority of sleepers. Also, almost every CBD oil user that had problems with chronic pain, said that their pain level decreased.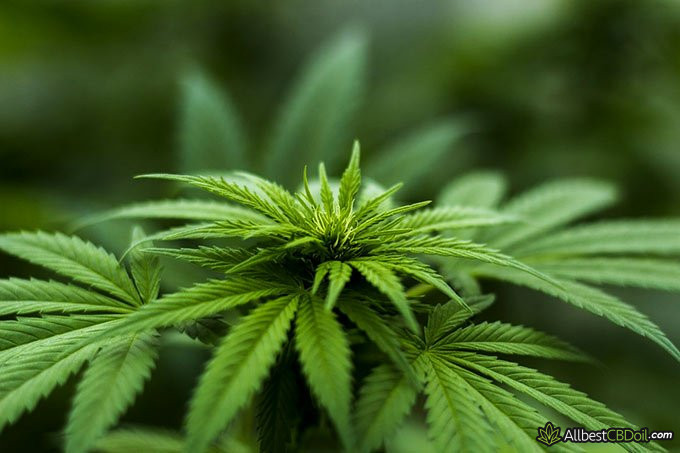 Therefore, for some of us, the benefits of CBD may sound artificial, but real HempWorx reviews have proven to be otherwise.
We're already done with HempWorx reviews pros. I believe that all information is super clear by now. But now let's take a look into other aspects to see what negative HempWorx reviews I managed to find online.
HempWorx Reviews: Cons
You already know all the HempWorx reviews pros. However, as I was analyzing what users have to say about the HempWorx CBD oil, I stumbled up upon some negative comments. Note that the information I'm about to discuss does not represent the experience of the majority of users but rather the few out of many.
Potent
HempWorx reviews showed that people prefer stronger dosages over less potent ones and usually choose 750mg CBD oil. The main difference is that 500mg contains 10mg of CBD and 750mg - 15mg of CBD per serving.
It might sound fine but compared to other brands, it's in the very middle when focusing on CBD dosage. That being said, you will feel the effect but it may not be as strong as using more potent oil.
But why don't they increase the dosage? Is HempWorx scam?
First of all, I don't believe that it's a scam, HempWorx CBD oil reviews proved it. However, the problem with the majority of CBD oils is that they're not strong enough for some. Of course, the major explanation is that it would be too expensive to make a really potent CBD oil. It's not low-priced as it is.
So, while the majority of customers seem to be feeling the effects that they were expecting, some of them are not such happy with the results.
But you should always remember that the effect depends on your organism and I would still recommend choosing the 500mg bottle first and only then moving to the stronger alternative.
Ordering Process
I wasn't sure whether to distinguish this aspect as a benefit or a flaw. I guess that I will leave it for you to decide.
HempWorx works differently than many other providers. When you want to purchase a product, you press "ORDER NOW" and you expect to see more information about the product, and then add it to your cart. But that's not how the HempWorx works. You first must type in your personal information to create an account and only then add products.
While it might seem completely natural for some, it can be pretty annoying for people like me. Of course, when you want to order a product, it's a must to type in those details one way or another.
Therefore, as I've told you, this is an insignificant drawback that is mentioned in some of the HempWorx CBD oil reviews.
Additional Information
I know that you think there's nothing else to add about the HempWorx oil, but the thing is, we haven't yet covered information about the pricing, shipping & returns, refund. So, let's have a look.
HempWorx Prices
HempWorx doesn't give you pricing on their product page, you have to continue to the registration process to see full HempWorx prices list. When you see it, you will be surprised. Not because their prices are lower than average but because they're all the same:
As you can see, HempWorx prices are $69 for each of the products, if you buy more, you will save a visible amount.
Note that if you decide to choose 750mg bottles, it will cost you $20 extra for each bottle.
Shipping & Refunds

I wanted to give you clear info on shipping but it seems that it won't be the case. HempWorx shipping pricing varies depending on which carrier you choose. However, most often, you will be charged $0.12-0.14 per milligram of CBD.
Moving to refunds, they provide you with a 60-day refund policy that will be eligible only if you return the entire order. Partial refunds/returns are not issued.
Here is The Best CBDistillery Offer I Found:
30% Exclusive Discount
On All CBDistillery Products
You have an exclusive chance to save 30% on your CBDistillery order. Grab this limited-time promo code & enjoy top-rated CBD products!
Expiration date: 03/12/2023
931 People Used
Only 37 Left
Conclusions
Therefore, at the very beginning, I promised to tell you all about the Hempworx. Now you know that this company offers a variety of CBD-related products for everyone's needs.
When we're talking about their strongest side, it became clear that they're unique due to their growing processes - it's all-natural and approved. Also, their products are third-party lab tested, which make them so much more reliable.
However, based on users' reviews, some lacked potency and haven't noticed the effect. That said, if you want to consider other CBD brands, you should take a look at cbdMD and Charlotte's Web. You can see how they compare to Hempworx below.
Table: cbdMD, Charlotte's Web and Hempworx comparison.
Please keep in mind, though, that before you start using any CBD-based or related products, you should always consult with your family doctor. While I can tell you about the general collective feeling that most people have about certain CBD providers, this information should never substitute that of professional advice.
Leave your honest HempWorx review
Leave your genuine opinion & help thousands of people to choose the best cbd. All reviews, either positive or negative, are accepted as long as they're honest. We do not publish biased reviews or spam. So if you want to share your experience, opinion or give advice - the scene is yours!